After having been to so many restaurants in the last few years, I thought I've seen it all. Foie gras, Wagyu beef, caviar, sea urchin aka uni, been there done that. But last week's meal at Li Bai Cantonese Restaurant simply blew my mind away.
I'm talking about the steamed hairy crabs I had at Li Bai. Believe it or not, it was actually my first time sampling this delicious delicacy. I've had crabs numerous times in my lifetime, so it didn't occur to me to need to seek out these hairy crabs, which I had assumed all along were just merely crabs with a slightly different flavour.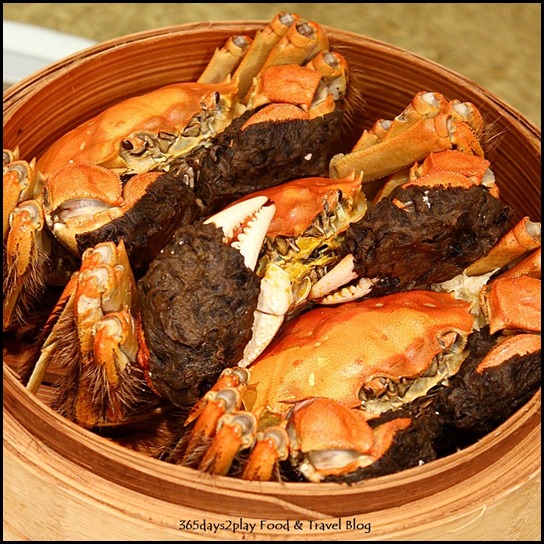 Traditionally Steamed Hairy Crab $60 per piece
The flesh of the hairy crab is not that different from the usual crabs we get in Singapore, albeit sweeter in taste. But the piece de la resistance, the crème de la crème if you will (pun intended), is the hairy crab roe. Alas, I do not have a picture of the glistening golden roe, because for once I was too busy savouring its sublimely rich taste to remember to capture a picture of it.
This hairy crab roe is unlike any other crab roe I have ever tasted. It tasted saltier than usual, almost like a salted egg yolk. But unlike the one dimensional salted egg yolk which is mainly just salty, the hairy crab roe brought about a savouriness that made it taste 100 times more magical than a salted egg yolk, or other crab roes for that matter.
I wanted to utter something to my neighbouring diner, but I'd noticed that the private room we were in was enveloped in a hushed silence the minute the crabs were served, with only the clicking of spoons to crab being heard. Forget about etiquette, it was every man and his crab for himself.