After having been to so many restaurants in the last few years, I thought I've seen it all. Foie gras, Wagyu beef, caviar, sea urchin aka uni, been there done that. But last week's meal at Li Bai Cantonese Restaurant simply blew my mind away.
I'm talking about the steamed hairy crabs I had at Li Bai. Believe it or not, it was actually my first time sampling this delicious delicacy. I've had crabs numerous times in my lifetime, so it didn't occur to me to need to seek out these hairy crabs, which I had assumed all along were just merely crabs with a slightly different flavour.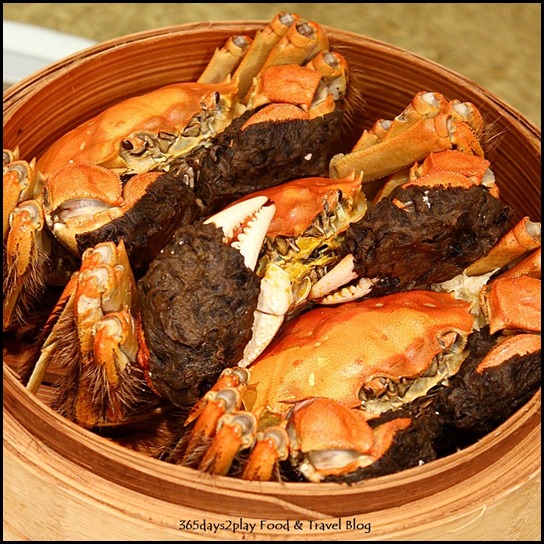 Traditionally Steamed Hairy Crab $60 per piece
The flesh of the hairy crab is not that different from the usual crabs we get in Singapore, albeit sweeter in taste. But the piece de la resistance, the crí¨me de la crí¨me if you will (pun intended), is the hairy crab roe. Alas, I do not have a picture of the glistening golden roe, because for once I was too busy savouring its sublimely rich taste to remember to capture a picture of it.
This hairy crab roe is unlike any other crab roe I have ever tasted. It tasted saltier than usual, almost like a salted egg yolk. But unlike the one dimensional salted egg yolk which is mainly just salty, the hairy crab roe brought about a savouriness that made it taste 100 times more magical than a salted egg yolk, or other crab roes for that matter.
I wanted to utter something to my neighbouring diner, but I'd noticed that the private room we were in was enveloped in a hushed silence the minute the crabs were served, with only the clicking of spoons to crab being heard. Forget about etiquette, it was every man and his crab for himself.
The crab we tried was a male crab, which is in season in October and November. Some people prefer the female crab, which is usually in season in September (dang missed it!). We were told if you rush to eat the crabs before they are fully in season, you'd be in for a disappointment. Don't forget to drink some hot ginger tea to counter the "cooling" effects of the crab.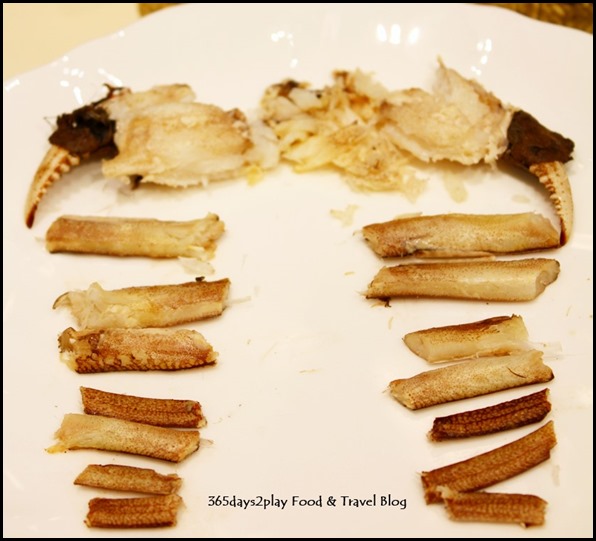 Li Bai restaurant has a de-shelling service if you are too lazy to do it yourself. I found it quite useful especially for the tiny crab legs, but my advice would be to eat the hairy crab body yourself so that you can savour the action of scooping the crab roe into your mouth, one blissful spoonful at at time.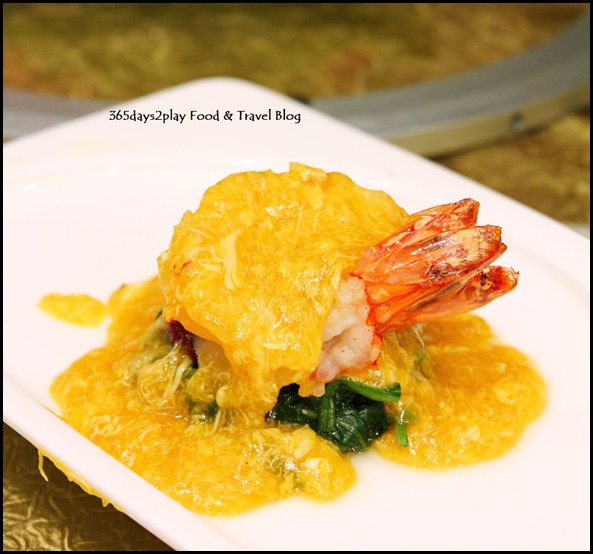 Braised King Prawn and Sweet Potato with Hairy Crabmeat and Crab Roe $36 per person
Although plain and steamed in my opinion is the best way to enjoy the full glory of a hairy crab, Li Bai also has several other creations showcasing the use of the hairy crab. Above, the crab roe is turned into a savoury and slightly salty sauce to accompany the succulently bouncy, somewhat deeper in flavour than usual king prawn. The creative use of sweet potato puree and spinach helps to balance off the saltiness.
There is also the braised bird's nest with hairy crabmeat and crab roe for $88, and the stewed crystal hor fun with hairy crabmeat and crab roe for $78, which we did not sample that evening.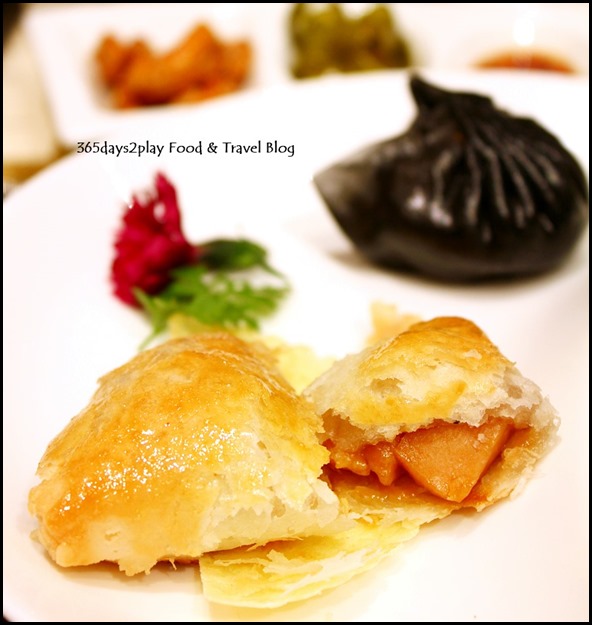 Baked Chicken and Abalone Pie – Steamed Charcoal Skin Shrimp Dumpling
We also got to try a few other new items on the menu such as this baked chicken and abalone pie. This is similar to the char siew puff that you can get at most dim sum places, only it tastes even better when jazzed up with the abalone. I like how the bouncy texture of the chicken and abalone goes so well with the flaky crust. If only all the dim sum places could come up with new dim sum dishes to interest us, but it seems to me most places just stick to the same few favourites.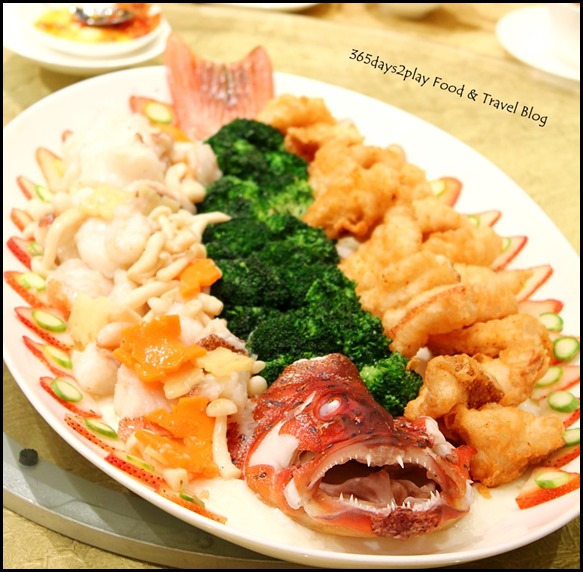 Red Garoupa prepared 2 ways – Sauteed Fillet and Deep-Fried
We all agreed that the deep-fried fillet version tasted much better than the sauteed version, which seemed to be pretty bland.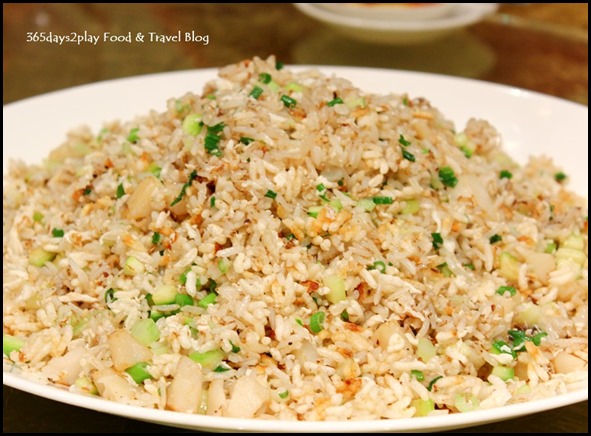 Fried Crispy Rice with Diced Scallops and Asparagus
This is fried rice with a twist, because half the rice has been substituted with crispy puffed rice instead. The puffed rice is probably the reason why the dish was not as oily as fried rice dishes usually are. Definitely worth a try.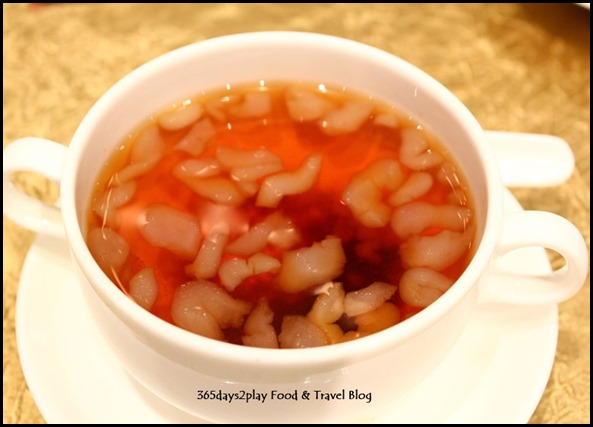 Sweetened Ginger Tea with Hasma
And to end off our dinner at Li Bai, a warming sweetened ginger tea with Hasma. As you can see from the colour, the chef has been very generous in the ginger, although I was told that this was the reduced version already. The first few sips were fine, and I was bravely telling my dining companions "No problem at all!". Then suddenly without warning, the heat hits you. But ginger heat is unlike chilli heat, so you can rest for a while before resuming.  The hasma pieces are pretty tasteless, and have the texture of aloe vera.
Just in case you didn't know, hasma or hashima is made from the dried fatty tissue found near the fallopian tubes of the Asiatic Grass frog. Reported benefits of eating hasma include replenishing vital essence in the lungs, kidneys, and improving skin complexion. Apparently due to the high hormone content, children should not consume hasma or they might risk going into puberty early.
---
Add me on Facebook, Instagram and Twitter if you want to be kept up to date with the latest happenings in the food and lifestyle scene in Singapore! 
---
Li Bai Cantonese Restaurant
Sheraton Towers Singapore
39 Scotts Road Singapore 228230
Tel : 6839 5623
Monday to Saturday: Lunch, 11.30am to 2.30pm
Monday to Sunday: Dinner, 6.30pm to 10.30pm
Sunday: Yum Cha, 10.30am to 2.30pm
http://www.sheratonsingapore.com/li-bai
**Hairy Crabs available from 1st October to 30 November 2014