Finally paid a visit to the much acclaimed Gardens by the Bay. I was there to sample the delights at Supertree Dining so I didn't have much time to explore the park. The short walk from the bus bay to the Supertree Dining left me quite mesmerised. I will definitely have come back again to explore the park fully, both in the day as well as at night. Have you seen the pictures of the Gardens by the Bay at night? It looks alienish and surreal! The views from the Marina Bay Sands Hotel Rooms must be fantastic.
What to eat at Gardens by the Bay
Anyway, those making a trip to the park need not fret about packing their own picnic lunches. The variety of food available here is equally astounding too. Well this after all Singapore, the national pastime being eating, and eating some more. Apart from Supertree Dining, there's also :-
Pollen – A 2-storey restaurant featuring mediterranean-influenced modern European cuisine and helmed by Chef Jason Atherton who owns the Michelin-starred Pollen Street Social back in London
Cafe Crema – Think coffee, sandwiches and brunch) at the entrance. You can get a picnic basket with sandwiches from them too!
Verandah – Asian bistro serving things like XO-sauce Chwee Kuey, Black Pepper Crab Linguine, and Kurobuta 'Kong Bah' on Japanese rice
Seventh Heaven – Handcrafted ice cream shop near the Cloud Forest and Forest Dome
Check out all the Gardens by the Bay dining options here. Bakerzin, Indochine and Satay by the Bay will open later in the year.
Supertree Dining
And….befitting the grandeur of the Supertrees located in the middle of the park, there is Supertree Dining as well! Supertree Dining is made up of 5 distinctive dining concepts combined into 1 unique dining destination. SuperTree Dining comprises of :-
Peach Garden Noodle House
Hill Street Coffee Shop
Casa Verde
Texas Chicken
Canele Patisserie Chocolaterie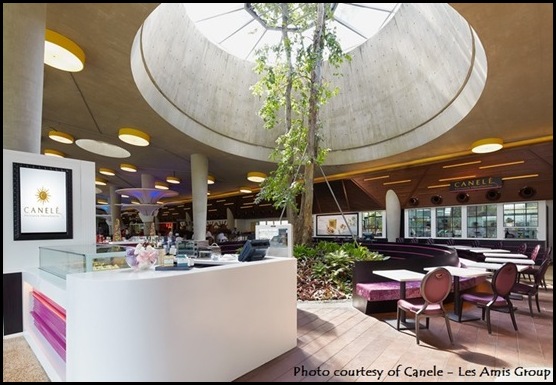 Stepping into Supertree Dining is kind of like stepping into dome number 3. The place is so spacious, with the high ceiling and floor-to-ceiling glass windows allowing you to maintain eye contact with the Supertrees outside. The most amazing thing is that there are even trees housed within the Supertree Dining itself, with openings in the ceiling for the trees to grow. These openings also let the rain in, and the birds! We dined amongst the light rain coming down on the tree, and at one point, 2 little birds were flying and chirping around the tree, and we enjoyed this without getting wet ourselves!
Here are pictures of all the delicious food we tried at Supertree Dining.