Finally paid a visit to the much acclaimed Gardens by the Bay. I was there to sample the delights at Supertree Dining so I didn't have much time to explore the park. The short walk from the bus bay to the Supertree Dining left me quite mesmerised. I will definitely have come back again to explore the park fully, both in the day as well as at night. Have you seen the pictures of the Gardens by the Bay at night? It looks alienish and surreal! The views from the Marina Bay Sands Hotel Rooms must be fantastic.
What to eat at Gardens by the Bay
Anyway, those making a trip to the park need not fret about packing their own picnic lunches. The variety of food available here is equally astounding too. Well this after all Singapore, the national pastime being eating, and eating some more. Apart from Supertree Dining, there's also :-
Pollen — A 2-storey restaurant featuring mediterranean-influenced modern European cuisine and helmed by Chef Jason Atherton who owns the Michelin-starred Pollen Street Social back in London
Cafe Crema – Think coffee, sandwiches and brunch) at the entrance. You can get a picnic basket with sandwiches from them too!
Verandah – Asian bistro serving things like XO-sauce Chwee Kuey, Black Pepper Crab Linguine, and Kurobuta Kong Bah' on Japanese rice
Seventh Heaven — Handcrafted ice cream shop near the Cloud Forest and Forest Dome
Check out all the Gardens by the Bay dining options here. Bakerzin, Indochine and Satay by the Bay will open later in the year.
Supertree Dining
And….befitting the grandeur of the Supertrees located in the middle of the park, there is Supertree Dining as well! Supertree Dining is made up of 5 distinctive dining concepts combined into 1 unique dining destination. SuperTree Dining comprises of :-
Peach Garden Noodle House
Hill Street Coffee Shop
Casa Verde
Texas Chicken
Canele Patisserie Chocolaterie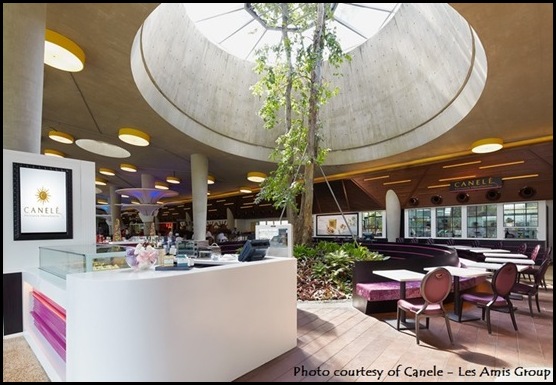 Stepping into Supertree Dining is kind of like stepping into dome number 3. The place is so spacious, with the high ceiling and floor-to-ceiling glass windows allowing you to maintain eye contact with the Supertrees outside. The most amazing thing is that there are even trees housed within the Supertree Dining itself, with openings in the ceiling for the trees to grow. These openings also let the rain in, and the birds! We dined amongst the light rain coming down on the tree, and at one point, 2 little birds were flying and chirping around the tree, and we enjoyed this without getting wet ourselves!
Here are pictures of all the delicious food we tried at Supertree Dining.
Peach Garden Noodle House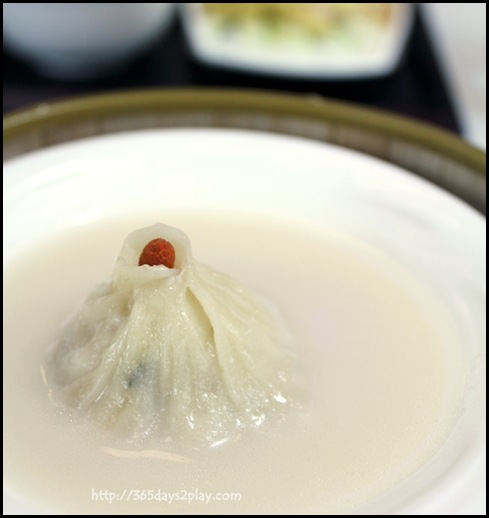 Supertree Dining Peach Garden Noodle House – Steamed Xiao Long Bao with Goose Liver in Double-Bolied Shark's Bone Cartilage Soup $12.80
Ooo this dish was definitely the highlight of my makan session at Supertree Dining. Shark's Bone cartilege soup was fantastic. Every mouthful was thick with rich collagen and it just felt so nourishing to be drinking this. The Xiao Long Bao is not quite so small actually. It's bigger than the spoon so there was a bit of difficulty attempting to eat it without spilling the broth from the bao. There was a secret surprise in the form of goose liver in it, but it's not foie gras.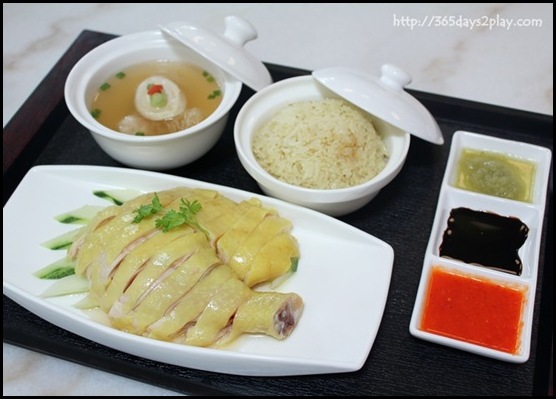 Chicken Rice $18.80
Huge portion of Chicken rice. Chicken is cooked in ginger and hence as a rather neonish yellow tinge to it. Chicken was supremely tender and totally melt in the mouth. The rice on the other hand was a tad hard.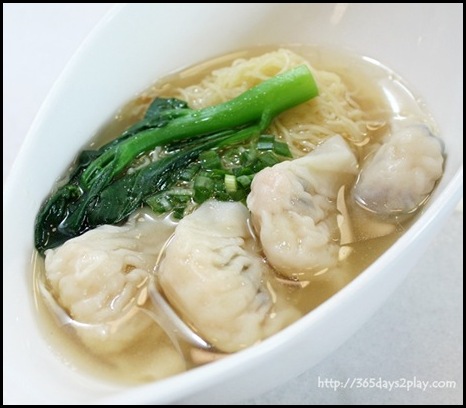 Noodle with Fresh Prawn Dumpling $7
I loved the prawn dumplings. They were delicious bouncy fat parcels of flavour with crunch. Noodles and soup were so so.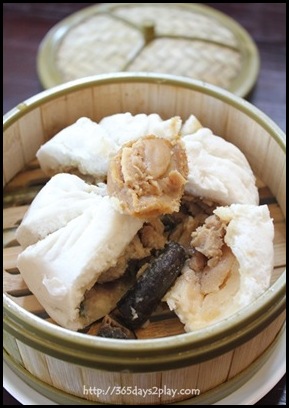 Steamed Giant Chicken Bun with Baby Abalone, Chinese Sausage and Mushroom $12.80
A larger than average bao. While the ingredient list is laudable, the execution was some what lacking as the bao was a little soggy. I ended up eating the ingredients on their own.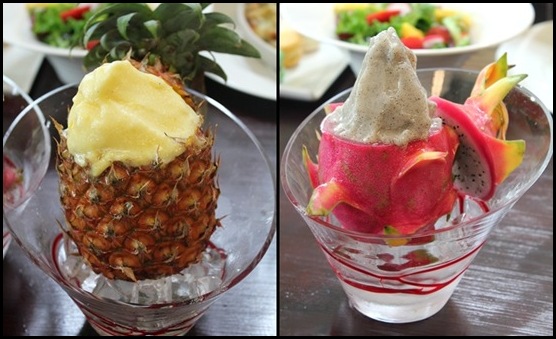 Pineapple or Dragonfruit Shaved Ice $8
A refreshing end to the meal if you're dining at Pearl Garden.
Hill Street Coffee Shop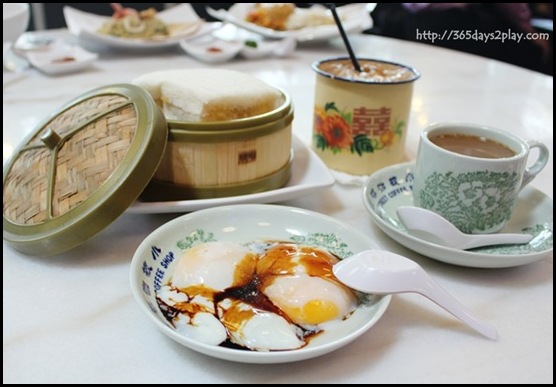 Toast, Eggs and Kopi
A cheap and easy way to start or end off your morning jog? Of the lot displayed here, I tried the steamed kaya bread. The bread was soft like clouds, but they were a bit too generous with the butter and it was oozing out as I held the bread.
Traditional Singapore Laksa $8
The laksa was so so only. Definitely not the best in town. The curry was also very thick and had no kick. The hum/cockle was fresh tasting and delicious and pretty much the highlight of the otherwise very ordinary laksa.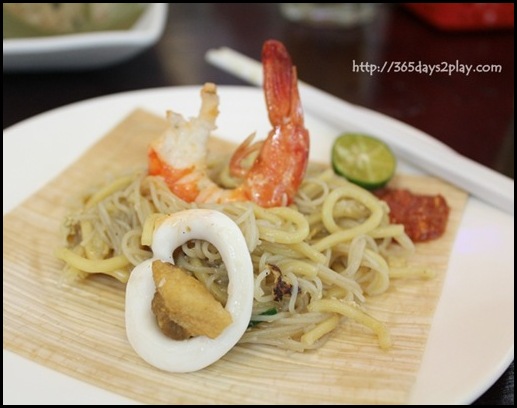 Street Fried Hokkien Mee $9
Also pretty ordinary. The noodles were a bit soggy, and the broth just didn't have the oomph.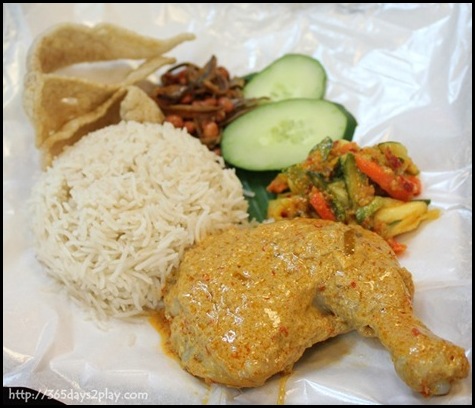 Signature Kampong Rendang Chicken Nasi Lemak $8.90
I would definitely recommend ordering this if you are eating at Hill Street Coffee Shop. Their version of Nasi Lemak is FANTASTIC. Chicken was tender, rendang was super fragrant. The rice used is Basmati rice, and not ordinary white rice. Once again, FANTASTIC and FLAVOURFUL, and not too expensive either!
Casa Verde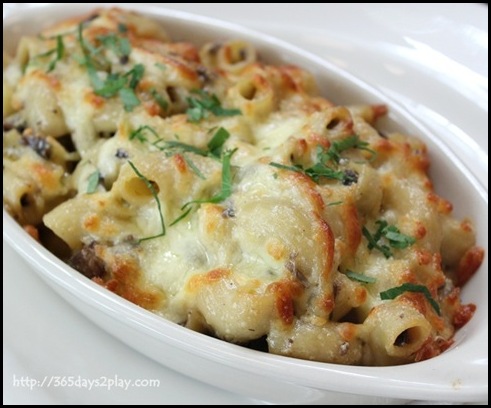 Baked Macaroni with Mushroom and Mozarella Cheese $14
Fans of creamy mac and cheese may not like this, but I loved it! Loved the generous amount of mozzarella cheese on the still al dente macaroni. Underneath, a layer of diced mushrooms which upped the flavour of the dish.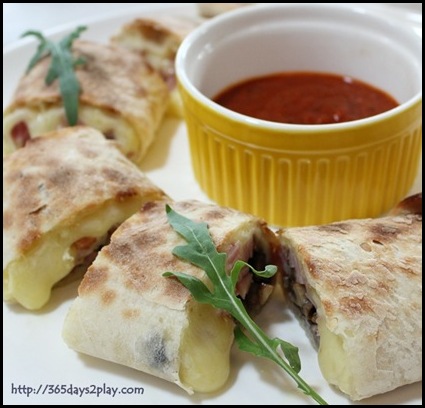 Sfilatino Casa Verde $24
Didn't try this, but don't you think it's pretty eye catching?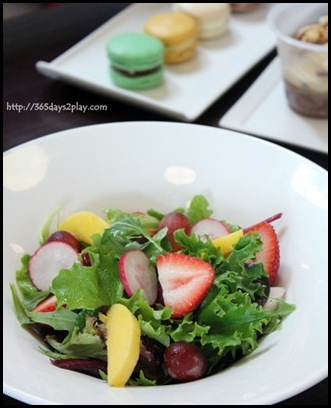 Casa Verde Salad $12
Salad was very fresh, and the leaves were still crisp. A little less oil in the dressing would be appreciated.
Texas Chicken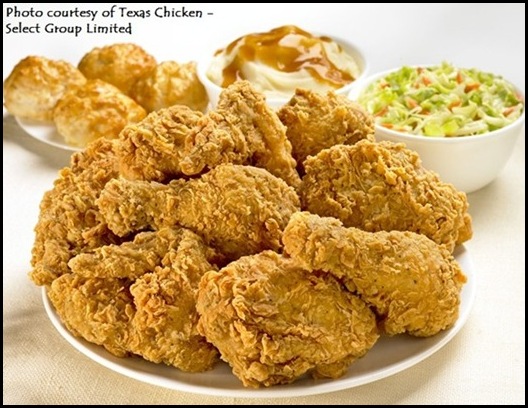 $7.60 nett for a 2-piece meal
Ah well, fried chicken. My favourite! I hate to admit that I devoured the entire piece of skin on the chicken, but it tasted so good! For some reason, Texas Chicken isn't as oily as KFC. They say it's due to the special fryer they have. I tarpowed a piece back home and even my grandmother agreed!
Fire Wrap Tenders $7.80 for a set meal
Crunchy, juicy tender strips with fresh lettuce jalapeno pepper slices, crispy tortilla chips, red onions and tomato, wrapped in a hot toasted tortilla.  This is only available at Supertree Dining and no where else in Singapore! Good for packing into your picnic basket, no?
Canele Patisserie Chocolaterie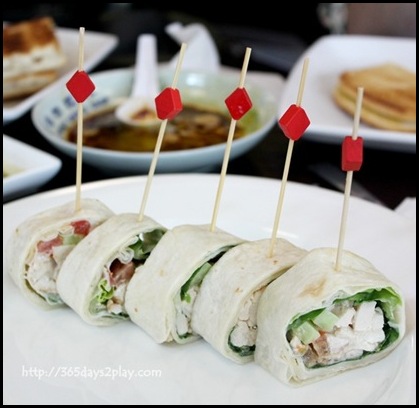 Chicken Caesar Wrap $8
Also good for packing into your picnic basket. The sliced chicken even though wasn't thigh, was still pretty tender. I liked the anchovy dressing which I thought gave it a refreshing taste.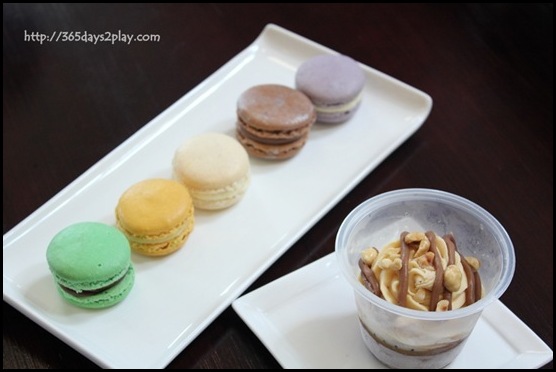 Limited Edition Summer Macarons  $2.50 per piece and Chocolate Caramel Ice Cream topped with hazelnuts $3
I tried the yellow Macaron, and I think the experience was best forgotten. The banana essence tasted so fake. The chocolate caramel ice cream on the other hand was fabulous. Seldom do you get hazelnuts in your ice cream and this was a wonderful touch. For $3, it seems like a steal from Canele.