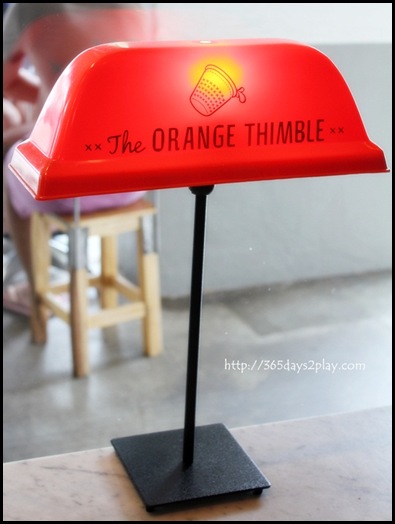 Over the Chinese New Year period, my parents, the Partner and I decided to stop off at a cafe to have a cuppa. We aren't coffee addicts, but somehow, the idea of having a cuppa just puts a smile on our faces. The only thing is, where on earth to find a cafe that's open during Chinese New Year? I was stubbornly hopeful and drove past the Everton and Tanjong Pagar/Bukit Pasoh area hoping to spy some welcoming light from the otherwise darkened shophouses. No such luck.
Of course I wasn't so stupid as to drive around aimlessly, because I already knew that The Orange Thimble in Tiong Bahru was open on the 2nd day of Chinese New Year. It's just that I couldn't believe that The Orange Thimble would be the ONLY 3rd Wave cafe that would prove to be open on the 2nd day of Chinese New Year. After also scouring Tiong Bahru, we finally settled for The Orange Thimble. Don't get me wrong though, the only reason why I didn't head straight for it is because I've already tried The Orange Thimble once, on the 3rd day of Chinese New Year 2012 in fact! Now I'm beginning to wonder if Orange has anything to do with it…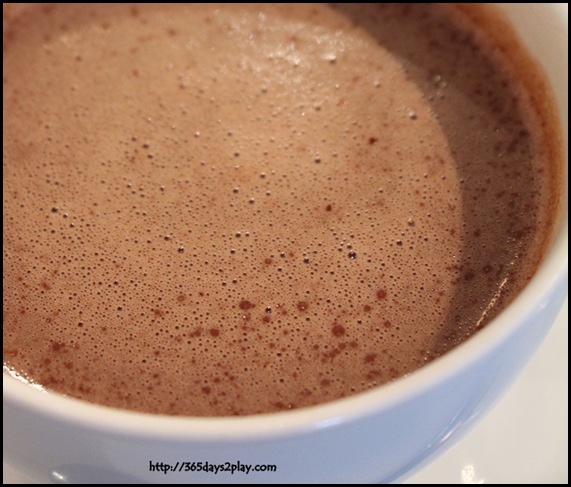 Although I always set off thinking that I will have a coffee, very often, I suddenly switch to hot chocolate instead. I'm not a coffee addict, but I AM a hot chocolate/ice chocolate addict. It's what I really want to drink, even if I think a hot chocolate is easily replicatable at home. Complicating huh.
The hot chocolate from The Orange Thimble is FANTASTIC! It's one of the best hot chocolates I've had in a very long time! The hot chocolate is extremely rich, thick and yet not overly sweet. There a bit of a fluffy texture, like little chocolate clouds floating in the drink. I really love this hot chocolate. If anything, it's a bit on the pricey side at $7.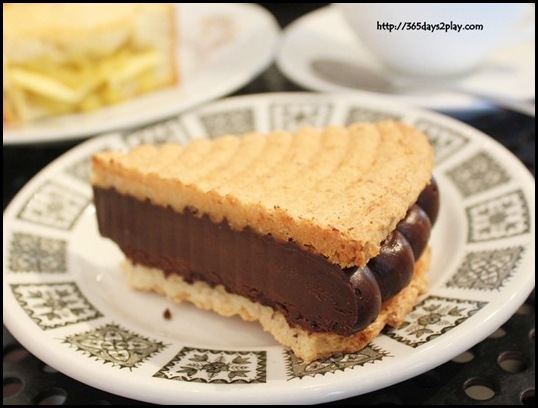 I don't think I've ever had a chocolate dacquoise before. It looks like a huge wad of chocolate sandwiched between two thin slices of biscuit. A dacquoise is traditionally a cake with layers of almond and hazelnut meringue but in this case, the dacquoise refers to the baked crispy nut meringue that now looks like a biscuit.
Obviously, the chocolate just drew me to this cake. But I was a little disappointed that it didn't taste as nice as I expected. I suppose I was expecting a sort of Nutella flavour, but it wasn't Nutella-like at all. And it isn't as chocolately as it looks either, although it is rather chocolatey. I mean it's definitely not like eating chocolate out of a jar. Interestingly, my mother liked it very much. As it was not so sweet, my mother enjoyed it a lot. I do wonder if a more bready or cakey base and top would have been a better match. There was just too little biscuit to go with the huge amount of chocolate.