Japanese Dining SUN has been around since 2005 and it is a place that holds special memories for me because I celebrated my 1st Valentine's Day there! I was young then and enjoyed the romantic evening very much! Since then, I've always had a soft spot for Japanese Dining SUN, also partly helped along by the fact that one of my friends used to be the manager there.
So I was pretty delighted to be invited for a food tasting to try out their new Kyushu Experience promotion. Japanese Dining SUN (Chjimes) & Sun with Moon (Wheelock Place) is working in partnership with the Fukuoka Chamber of Commerce and Industry to launch the Kyushu Experience.  The Kyushu Gourmet Experience will introduce not only regional cuisine from the Kyushu prefectures of Miyazaki, Fukuoka, Saga and Oita, but also feature authentic ingredients air-flown in twice weekly especially for this menu, such as Miyazaki Wagyu, Koji Salt, Kyushu Sashimi etc.
The Kyushu Experience will be available from 16th November 2012 to 8th January 2013,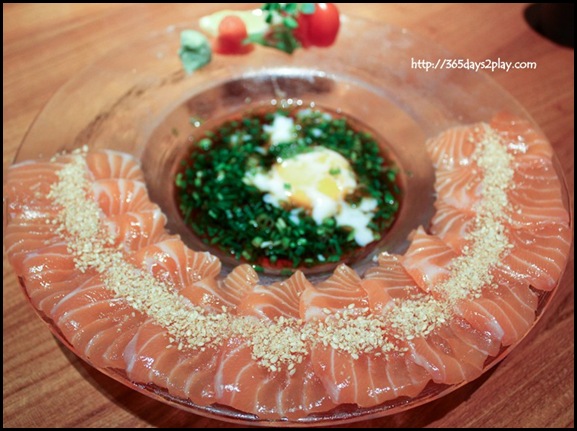 Sun Goma Salmon (Sliced salmon sashimi served with special soya sauce dip and soft-boiled egg) $15.80
Oh, another favourite for me, salmon sashimi with soft-boiled egg! The salmon sashimi was fresh tasting, and for $15.80, quite a generous amount of sashimi was provided. To perk up the dish, we were treated to a soft-boiled egg floating in special soya sauce that was on the sweet side. I have to apologise to my fellow diners because I must have grabbed more than 1/2 the egg. You know how I love eggs in most forms (except hard-boiled). Definitely a must order if you're going to try out the Kyushu Experience!