Japanese Dining SUN has been around since 2005 and it is a place that holds special memories for me because I celebrated my 1st Valentine's Day there! I was young then and enjoyed the romantic evening very much! Since then, I've always had a soft spot for Japanese Dining SUN, also partly helped along by the fact that one of my friends used to be the manager there.
So I was pretty delighted to be invited for a food tasting to try out their new Kyushu Experience promotion. Japanese Dining SUN (Chjimes) & Sun with Moon (Wheelock Place) is working in partnership with the Fukuoka Chamber of Commerce and Industry to launch the Kyushu Experience.  The Kyushu Gourmet Experience will introduce not only regional cuisine from the Kyushu prefectures of Miyazaki, Fukuoka, Saga and Oita, but also feature authentic ingredients air-flown in twice weekly especially for this menu, such as Miyazaki Wagyu, Koji Salt, Kyushu Sashimi etc.
The Kyushu Experience will be available from 16th November 2012 to 8th January 2013,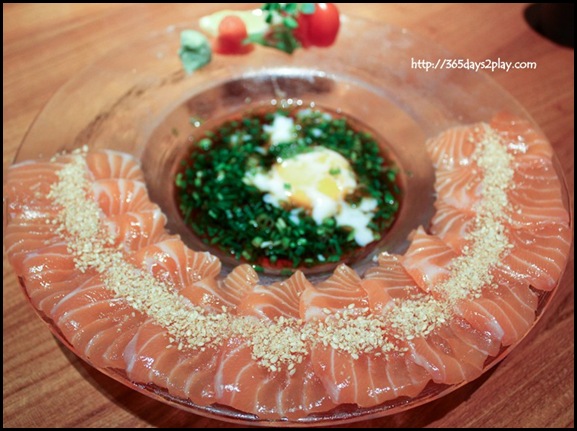 Sun Goma Salmon (Sliced salmon sashimi served with special soya sauce dip and soft-boiled egg) $15.80
Oh, another favourite for me, salmon sashimi with soft-boiled egg! The salmon sashimi was fresh tasting, and for $15.80, quite a generous amount of sashimi was provided. To perk up the dish, we were treated to a soft-boiled egg floating in special soya sauce that was on the sweet side. I have to apologise to my fellow diners because I must have grabbed more than 1/2 the egg. You know how I love eggs in most forms (except hard-boiled). Definitely a must order if you're going to try out the Kyushu Experience!

Kyushu Sashimi Smoked Moriawase (Smoked sashimi platter of salmon, yellowtail and mackerel dressed in mustard and peppercorn) $13.80
This is another must order! First of all, this is really an eye-catching dish. When it arrived, it also elicited several "oohs" and "aahs" from us, and for $13.80, is really a value-for-money dish! The smoked sashimi slices were all very tasty. They didn't have a really strong smoky salty flavour that you associate with the usual types of smoked salmon. It was all pretty light tasting, with the mustard and peppercorn to give an extra dimension.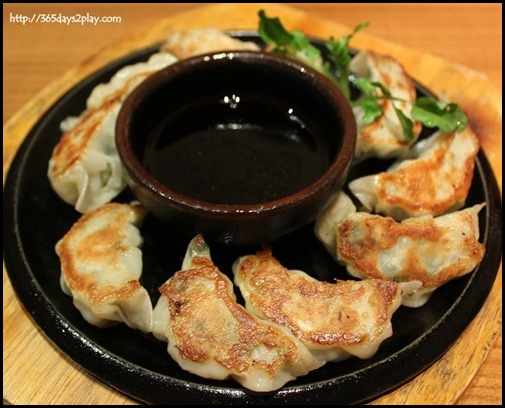 Fukuoka Kurobuta Gyoza (Pan fried bite-sized Berkshire pork dumplings filled with cabbage, chives and garlic) $9.80
I liked the juicy and flavourful gyoza which was served piping hot. Didn't even need the dip because the fillings within the gyoza itself was already full of flavour. The combination of cabbage and Berkshire pork went together very well and in fact, the vegetables were not minced too finely so that there was still a bit of bite.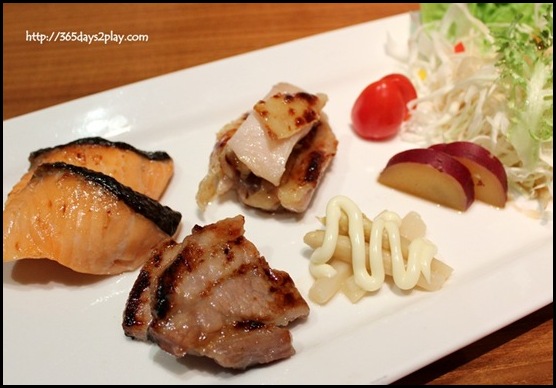 Fukuoka Shiokoji Moriawase (Shiokoji marinated meat platter of Berkshire pork, tender chicken and salmon) $15.80
This moriawase seemed slightly more expensive when compared with the 1st 3 dishes. Thankfully, the meats were tasty. Both the berkshire pork and chicken were extremely tender. Didn't try the salmon.
Fukuoka Tonkotsu Takana Ramen (Tonkotsu ramen served with Japanese preserved mustard leaf) $11.80
I judge Ramen by 3 factors, broth, noodle and meats. Most of the time, the meats are very similar across restaurants so for me, the broth and noodle dictate whether I think ramen stall is of star quality. In this case, the broth was pretty okay, not overly heavy or oily. However, the noodle was just of average quality to me. I like the very QQ type (think Marutama Ramen, or even Ippudo/Tom Ton Black Pig) and this one was more of the squarish chewy kind. The egg yolk was also a little overcooked, as you can see from the picture.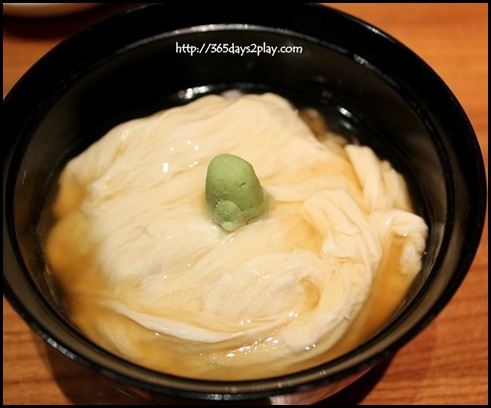 Yuba Gohan (Mini rice bowl of soft tofu skin and savoury gravy) $13.80
Erm, I have to admit that I liked this dish the least of all. The soft tofu skin was true to its description, it was soft and pillowy, almost like eating beancurd. But it was really way too bland for me. The savoury gravy in my opinion was only very slightly into the savoury department. Beneath all the tofu was plain rice. So on the whole, this dish just didn't do anything for me. However, the Japanese lady at the table was raving about how authentic this dish tasted, so I guess this dish just didn't suit my Singaporean palate.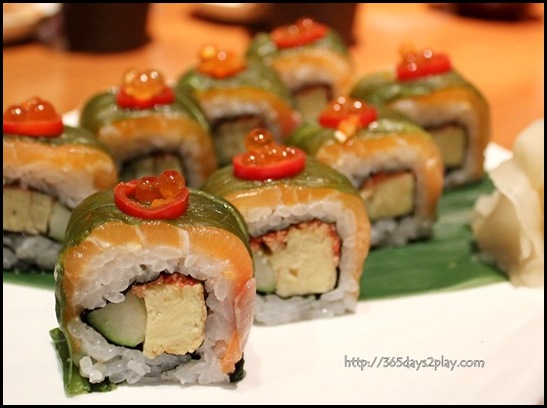 Mentai Salmon Takana Roll (Spicy seasoned cod roe, sweet omelette and cucumber sushi roll wrapped with salmon and Japanese preserved mustard leaf) $18.80
The 1st thing you notice about this dish is that the salmon roll is wrapped with mustard leaf instead of seaweed. For me, I much rather have the usual seaweed because the crisp seaweed lends both texture and taste to the sushi. The mustard leaf was boiled and hence became a mushy pulp when eaten. Also, it tasted distinctively boiled. Once again, I'm sure some people would love the difference, so it's a matter of personal preference.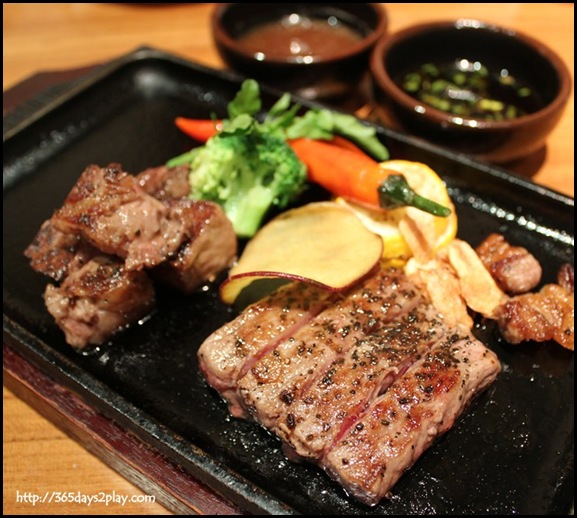 Miyazaki beef steak Ajikurabe (Miyazaki wagyu ribeye and sirloin steak teppanyaki) $88
The piece de la resistance, the Grade A3 wagyu ribeye right smack in the middle. Grade A3 was chosen as many Singaporeans find the taste of the beef to be too fattening for grades higher than A3. I say BRING IT ON! Nevertheless, the wagyu ribeye was well marbled, and nicely charred on the outside while still pink in the middle. The sirloin steak was also delicious, but clearly a distraction given the more saliva-inducing wagyu big brother. $88 feels a little pricey though.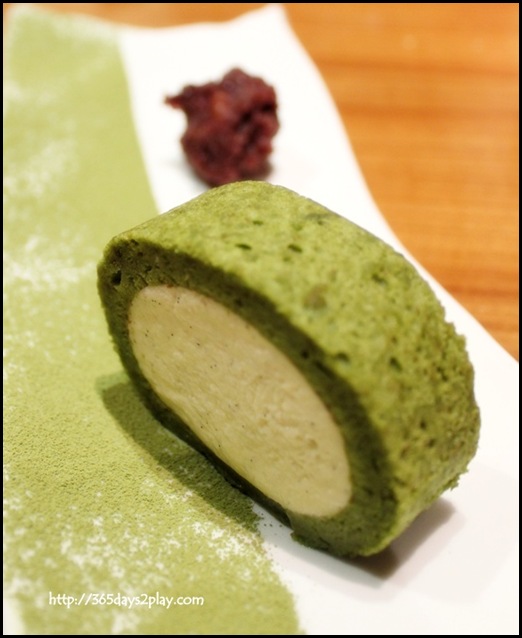 Fukuoka Yamecha Roll Cake (Premium Fukuoka green tea roll with vanilla cream centre) $5.80
Before you leave, you have to leave some space for the unique Kyushu desserts too! I really liked the texture of this roll cake. The green tea portion was so soft, and had a hint of green tea and went very well with the vanilla cream. I only wish there was more cake and less cream! There's even a dollop of red bean to add extra flavour to the green tea cake.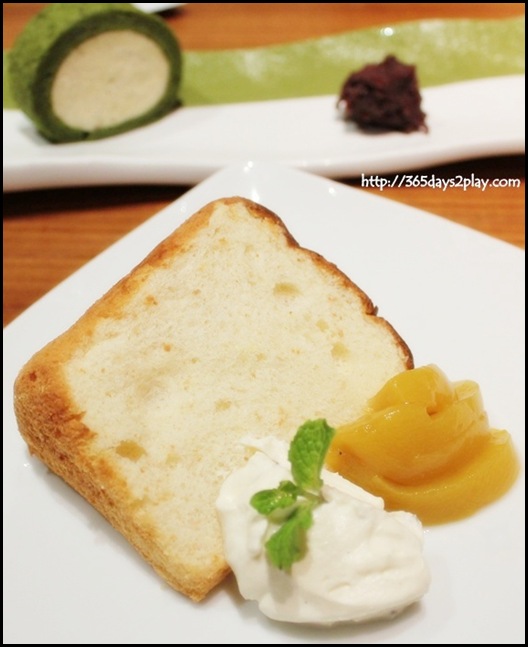 Oita Momo Jam Chiffon Cake (Light and fluffy chiffon cake infused with the flavour of ripe peach jam and served with homemade vanilla cream) $6.50
Japanese Dining SUN is probably one of the few restaurants that dares to serve chiffon cake! Not that chiffon cake is bad, but that chiffon cake tends to be too light to be a proper dessert. But such is the uniqueness of this chiffon cake that you have to try it. The chiffon cake is really as light as air, with a hint of the momo jam. I only hope that it's light due to natural means and not due to chemicals. There are a few slices of peaches for people like me who prefer a stronger taste. And of course, a bit of ice cream to just make things more interesting. You know I'm quite liking the idea of having chiffon cake for dessert! It may not be a decadent way to end things, but I do know of days when I decided to pass over dessert because there just wasn't enough space. Well I might have had space had it been something light like Chiffon!
The Kyushu Gourmet Experience menu will be available at both the Chijmes outlet as well as the Wheelock outlet from 16th November 2012 to 8th January 2013. Don't miss it!
A big thank you to Sun Dining and 360 Productions for hosting the tasting session.
Japanese Dining Sun @ CHIJMES
30 Victoria Street #02-01 Singapore 187996
Tel: (65) 6336 3166
Sun with Moon @ Wheelock
501 Orchard Road #03-15 Singapore 238880
Tel: (65) 6733 6636