Today we treated our boss to a birthday lunch at the "famous" Il Lido. I had heard much about this Il Lido, which is like his most favourite restaurant. And him being a man of high tastes, I expected no less from Il Lido. I'd actually never been to the restaurant before, for some reason, every time there is a special event, we go to some other restaurant instead.
I was slightly disappointed to be frank. The ambience was not good. There were colourful plastic chairs in the restaurant! Which self-respecting restaurant that caters to the business crowd does that? The boss said that they set the tables differently at night, but I'm not so sure if they go to the extent of changing the chairs as well. And if you know me, I place high marks for ambience. The view was very nice though. The restaurant was up on top of the hill in Sentosa, and faced the sea. For this reason itself, I plan to go back again.
Foodwise, I had nothing to complain about though. We all had the $45 set lunch. Today, that comprised of:-
Appetiser:- Cheese and vegetable salad OR Zucchini Soup
Mains:- Red Snapper or Breaded Lamb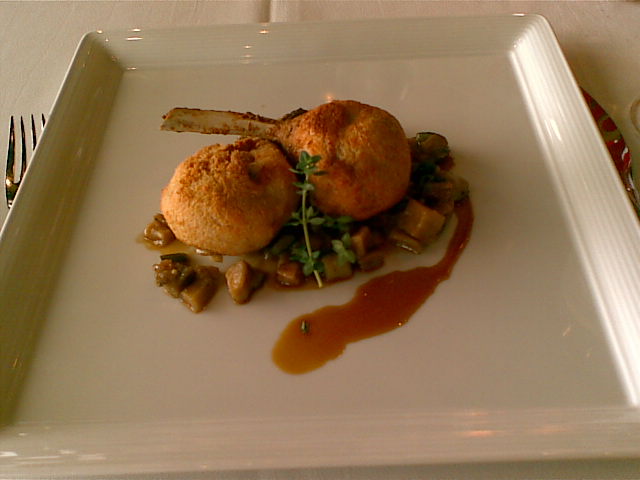 Dessert:- Vanilla Pudding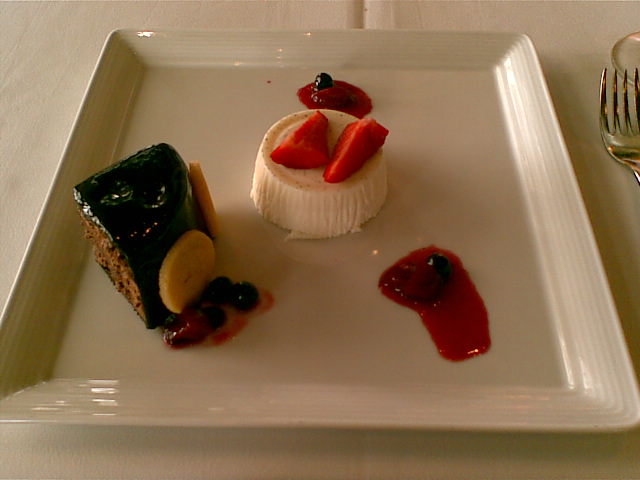 I took the salad. Strangely, the vegetables were cooked. There was a whole piece of melted camembert sitting on top of the vegetables, and if you know me, I never complain about having too much cheese. Everyone found the cooked vegetables strange for the salad, and in fact, those who took the zucchini soup ended up having a greener dish that the salad. Everyone loved the mains, I loved my breaded lamb very much. It's basically what it sounds like, that is lamb in breadcrumbs. As for dessert, we had decadent chocolate cake on the house because of the birthday. For those of you who are in search of the perfect chocolate cake, this one can't go far. There was so much chocolate in it, I had a hard time finding the cake part! We also had the vanilla jelly pudding, which was supposed to be the dessert served. Going beside the chocolate cake, I couldn't taste the pudding anymore.  I only identified it as a vanilla pudding due to the black flecks in it.
In conclusion, I will definitely be back. $45 for a supposedly high class restaurant isn't bad at all. But if you ask me, my favourite is still Garibaldi at Purvis Street.
Read about my more recent visit to Il Lido in Jan 2012.