Everyone knows that Bukit Timah Hill is the tallest hill in Singapore, but did you know that it is not the tallest point in Singapore? Bukit Timah Hill rises to a stately (think Singapore!) height of 164 metres. However, UOB Plaza, Republic Plaza and OUB centre all tower over Bukit Timah Hill, at 280 metres.
"Base Camp"
Nevertheless, Bukit Timah Hill is still the tallest hill, and must be given due respect, ie, please go and climb it!! The place is really peaceful and quiet. You can actually hear the birds chirping and the cicadas, which is a rarity in Singapore. It doesn't even feel like you are in Singapore. Who says Singapore doesn't have nature and stuff, they just haven't been to all our wonderful Nature Reserves and Parks! Look at this list of parks from the National Parks Board website. It's a lie if you say you don't know where to go on a weekend!
It is possible to take public transport to Bukit Timah Nature Reserve, but it will be about a 15 minute walk to the "base camp". We took a bus near town and stopped 1 stop after Beauty World. Then we had to cross an overhead bridge and follow the driving signs in. There is only a tiny shop selling hiking gear and drinks, so if you are hungry, eat before coming.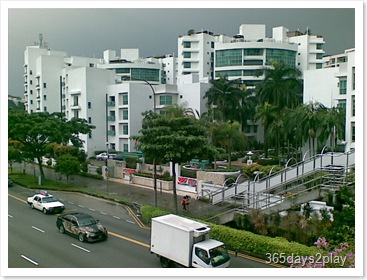 When you see this condo, stop the bus!
Yeah, for some reason there is no dedicated path to walk to the Bukit Timah Nature Reserve
There are actually many different trails that will eventually take you to the summit. The simplest trail is of course Trail A, which is basically a paved path sloping all the way to the top. In fact, the hardest part of climbing Bukit Timah Hill is actually right at the start. I think the incline is at least 30 degrees, if not even more. Mothers, please hold on to your baby prams tightly because if you let go, it will definitely be THE END. After the initial slopey slope, the rest is a gentle gradient up.
The red one is Trail A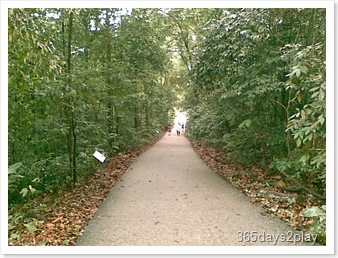 It doesn't look steep here, but it is.
Even though Trail A is the easiest, it will definitely leave you panting and in a sweat, if you seldom exercise. Cuz that's what happened to me, although my partner was fine. We will have to go back again to try out the other Trails. I think most of the others are not nicely paved, so you walk on soil. There are also shot cut stairs to take you up faster, but of course, stairs would be more tiring than gentle incline.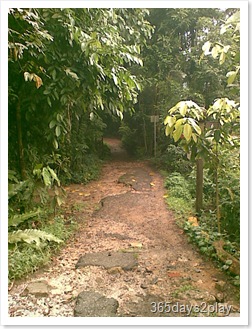 Dirt tracks if you don't want a paved road.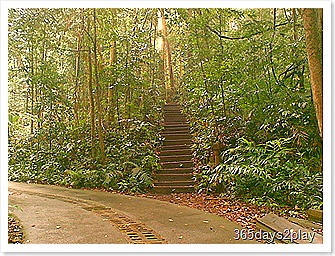 Short cut
Another short cut
There are lots of signboards to tell you about the local flora and fauna. Stop to read and enjoy the peaceful feeling.
And finally, the summit. They say it takes about 1.5 hrs to scale the hill, but who cares about speed if you're there to enjoy the wonderful atmosphere? I must warn you that the summit is a bit of a let down if you are expecting some sort of a view. The plain truth is that there is no view from the summit, because of all the tall trees. But still, it's definitely worth the climb.
Oh and beware of tigers….
All pictures taken using my Nokia E65 camera phone. Not too bad I must say.