I think like many Singaporeans, when we hear the word "Pub", we tend to think of the place as a sleazy, alcoholic's haven, a place not for the family oriented. Apparently, this is totally not the case when the "pubs" in referenced are styled after the British/Irish types. Lots of families dine there for affordable comfort food.
So, don't be surprised when you look at Scruffy Murphy's menu and you find a whole range of dishes on offer from things like Roast Beef, Fish & Chips, a good range of sandwiches and pasta. I love ordering the Daily Roast when I'm here. It's one of the few places where you can get roast beef, and at a very affordable price of $16.00! Compare that to the nearly $90 roast beef I had at Lawry's a month back! Of course, dining at Lawry's comes with other perks such as the excellent service and a more atas feeling, but one can't dine at Lawry's all the time! Another dish that is supposedly very good is the Fish and Chips, although I don't think it is that fantastic. It costs $16 and they give you 4 huge pieces of fish, of which I was unable to finish.
The Gaelic Inns chain which owns Scruffy Murphy's, also owns other pubs like Muddy Murphys, The Penny Black Victorian London Pub, Ballymoons and Durty Nelly's. They are all styled after Irish pubs, but are each slightly different in character. Scruffy Murphys' is the most "open-concept" one as it faces the East Coast beach. I love it that I can have my dinner while watching the cyclists go by. The Penny Black is situated along the Singapore River, so that's also a nice place to people watch.
Rack of lamb $25- Quite nice, but a bit tough. I love the potato triangles dipped in gravy (you can just see it sticking out behind the lamb)
Daily Roast (Roast Beef with mashed potatoes and yorkshire pudding) $16 — For $16, I think this is an absolute steal. The portion of meat is substantial. It was juicy and flavourful and I finished every single bit. For $16, i really have no complaints!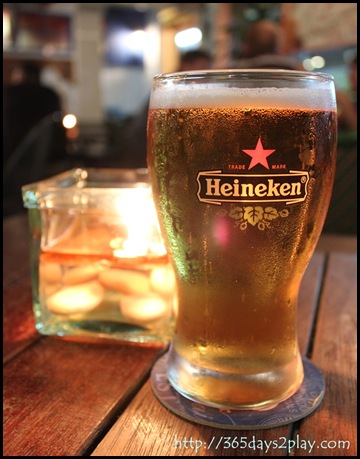 Beer in the dark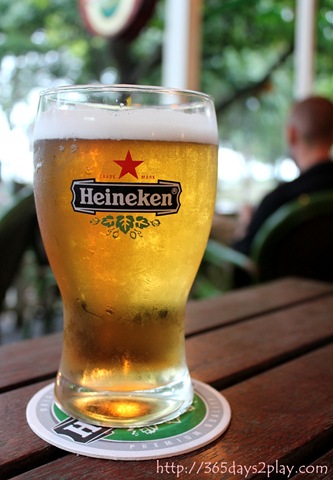 Beer in the day
And no, Heineken did not sponsor this post, although they should seriously consider doing so!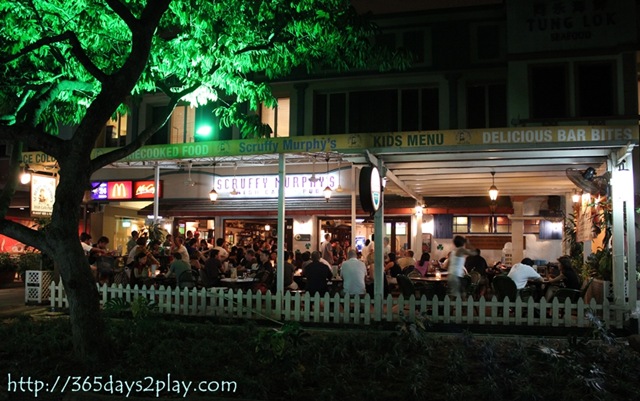 Scruffy Murphy's full house during  the Manchester United vs Arsenal Match on 1 May 2011.
Scruffy Murphy's Irish cafe and Pub
Address: 1000 East Coast Parkway, B7 Marine Cove
(Note: Just in front of MacDonald's facing the beach!)
Tel: +65 6449 7717 Fax: +65 6446 2334
Email: enquiry@scruffymurphys.com.sg
Opening hours:
Monday to Wednesday from 3 p.m. till midnight
Thursday from 3 p.m. to 1 a.m.
Friday and eve of Public Holidays from 2 p.m. to 2 a.m.
Saturday from 9 a.m. to 2 a.m.
Sunday and Public Holidays from 9 a.m. to midnight
Enjoy "Sunset" Happy hours prices daily on draught beer all night!
Happy hour prices on all house spirits and wine till 8 p.m. daily