*Media Invite*
Normally, the only place where you can gorge on unlimited servings of seafood is at hotel buffets. Introducing the new Fisherman's Market Seafood Buffet Restaurant. Need I describe more what they specialise in? Fisherman's Market has its origins in Kobe and Yokohama, and this is it's very 1st restaurant outside of Japan. The seafood buffet spread boasts over 90 dishes made with the freshest seafood flown from South Asia, Australia and around the world. The dishes include freshly made sushi, fresh oysters, sashimi, chilli crabs, bouillabaisse and more. Check out the photos from the wonderful evening my friend and I had.
The restaurant is huge! This is but 1/4 of the restaurant seating area that you are seeing! As it's located on the 2nd floor of Central, if you snag a seat by the window, you get to enjoy views of Clarke Quay and the Singapore River. There's also a part of the restaurant that faces the huge ERP gantry. I don't think I would want to sit close to that area, but just for laughs you definitely have to take a picture of it.
The sushi and sashimi counter is definitely my favourite station in the entire restaurant. I have a soft spot for sashimi and sushi so I was quite happy to spend my energies on gorging on these tasty morsels. The fish served really is very fresh tasting and a feast for the eyes.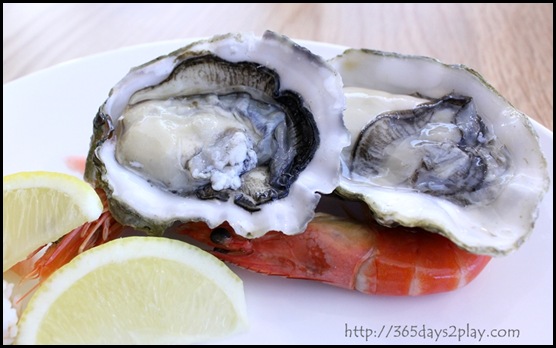 There was a whole oyster station complete with chef shucking the oysters right in front of you.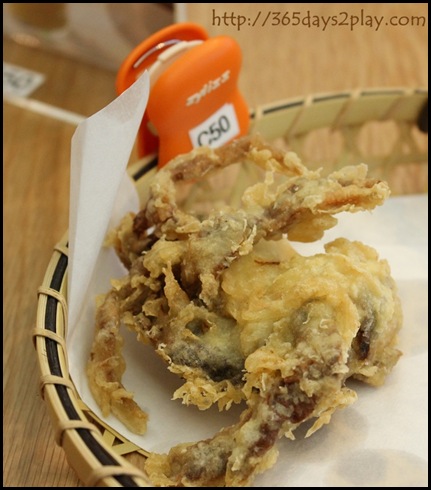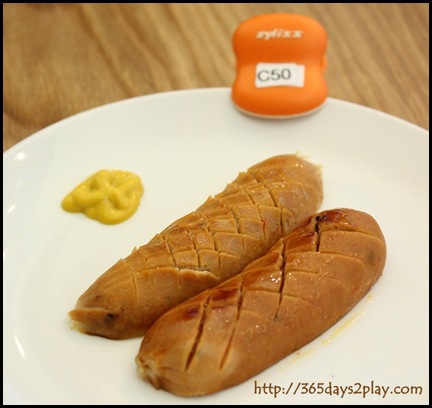 Can give these 2 items a miss. The soft shell crab was very oily while the hot dog was nothing spectacular. Save your stomach space for the more "expensive" items. I wasn't expecting much obviously, and I only tried these so that I could comment about them. The good thing though is that they only cook after you've selected what you want, hence the little clips on the plate. There's also beef and pork teppanyaki to choose from but I didn't as those would have filled me up completely.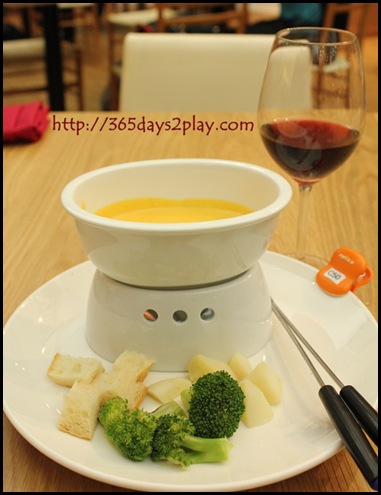 Don't bother with this cheese fondue. We thought it'd be fun to order one, and it was fun. Taste-wise, to be frank, the cheese mixture didn't really have a cheese flavour.
Wide array of raw and cooked food. Check out the escalator in the 4th photo. You have to take the escalator from the ground floor to get to the restaurant on the 2nd floor.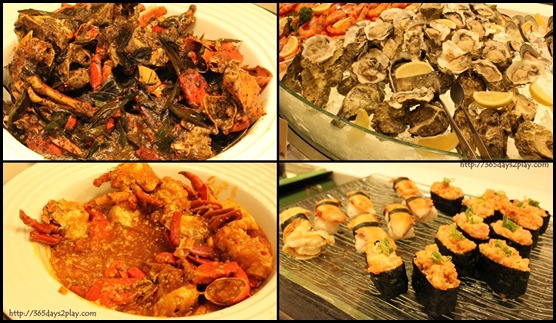 The crabs were a little too small for my liking. I found it hard to prise the limited bits of flesh out of the shell. The sushi and oysters on the other hand were very good.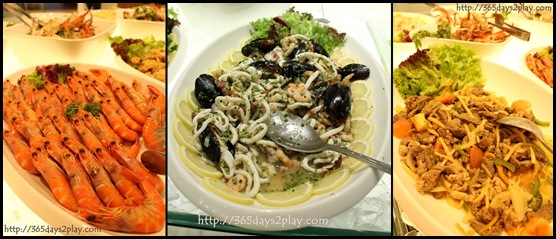 Big succulent prawns for the prawn lover.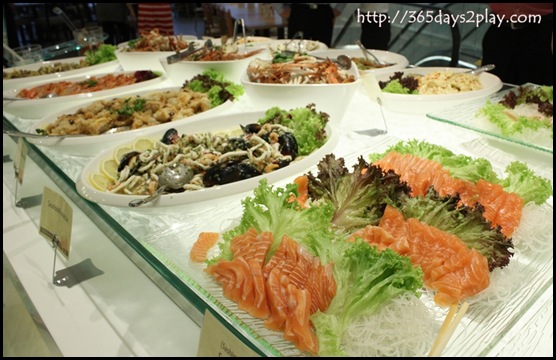 Salmon, one of my favourite fish!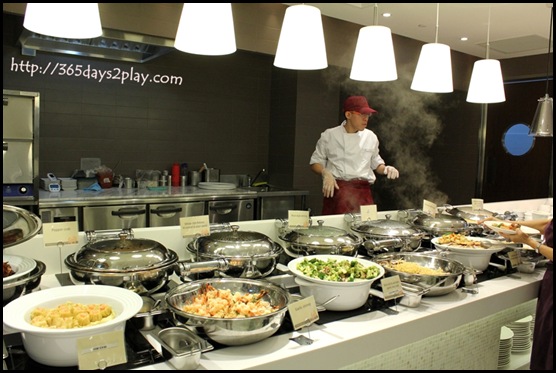 There's a lot of cooked seafood to choose from if you're not into raw seafood. The cooked prawns were really nice, and they're peeled open so you don't have to fiddle with the shells. There's even seafood pasta.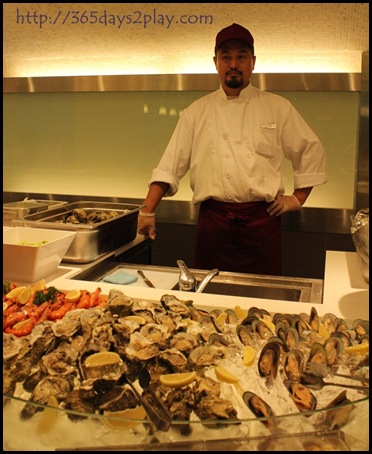 Oyster chef guarding over the pearls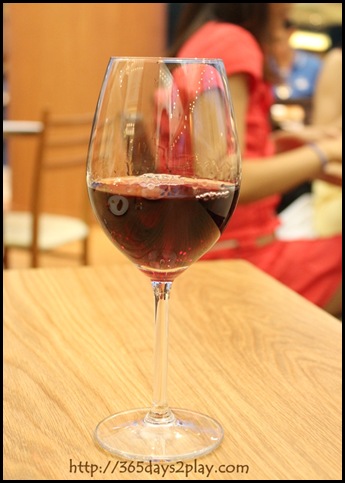 Fisherman's Market has a few selections of wine for those who like to enjoy their food with wine. I happen to be one such person, tee hee hee. And it's strange that only a few years ago, I didn't really like to drink at all. How the taste buds change with age. Take note that the wine is at extra charge.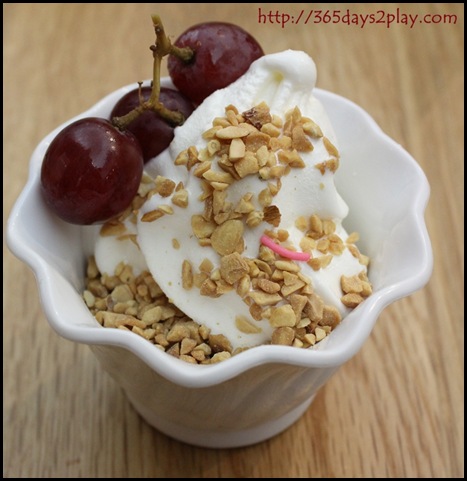 A surprising find at the restaurant. Soft-serve ice cream!!! I thought nothing of the ice-cream machine at first, until my friend brought back a cup of this creamy goodness. It's really nice! I may sound deprived but I've never had this at 7-11 before, and it doesn't taste the same as McDonalds. This ice cream here is sweeter and light. Really just the thing I wanted to end off my meal at Fisherman's Market. I had 3 cups of the soft serve ice cream, can you believe it!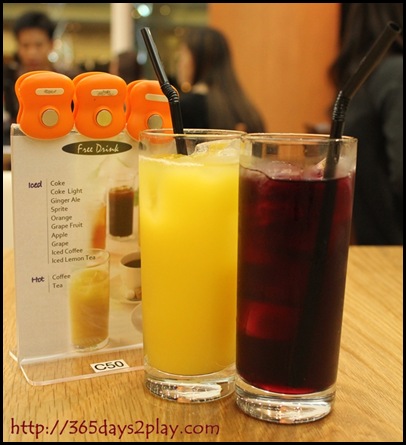 Free flow of soft drinks and tea/coffee, but not for the wine (obviously!)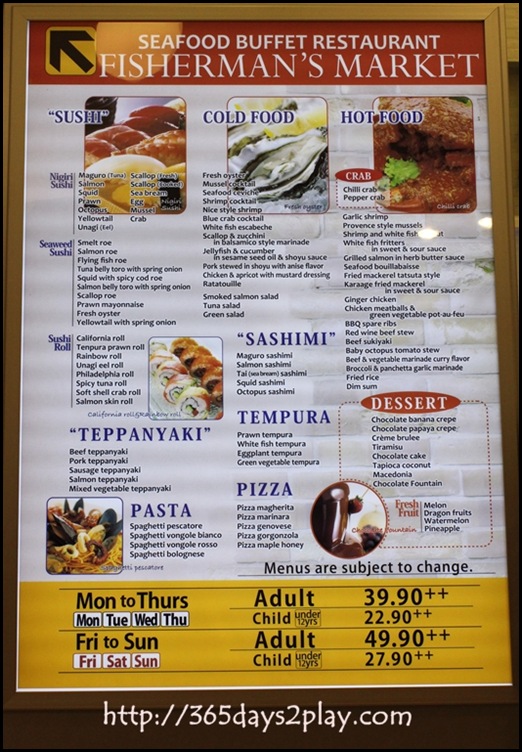 Here's the pricing and full menu of Fisherman's Market Seafood Buffet Restaurant. If you're a seafood fan and you want to gorge on a full range of fresh seafood, here's the place to come to. It's a casual restaurant so there's no need to dress up like you have to at the hotel restaurants. The place is quite convenient too, just above the Clarke Quay MRT station. Perfect for chilling out with your favourite pals. Only issue is, I do find the pricing to be a tad expensive, and for $10-$20 more, I would prefer to go to a hotel restaurant on a weekend.
*A big thank you to Ms Amanda Tan of Word of Mouth Communications for the kind invite!
Fisherman's Market
The Central 6 Eu Tong Sen Street
#01-05 and #02-17, Singapore 059817
Mon – Sun: 11:00 am-11:00 pm
Tel: 6221-3177
From 10 September 2011 to 10 October 2011, get 20% discount by going to Fisherman's Market Facebook, liking them and calling to make a reservation quoting the 20% discount!