*Media Invite*
Recently, I was invited to sample the new Winter Afternoon Tea menu at Ritz Carlton. As you may already know, I hold the Afternoon Tea at Ritz Carlton in high regard. Ritz Carlton was one of the 1st few places where I first cut my teeth in food blogging. Wow, come to think of it, it has been 2.5 years! I recall I was so mesmerized by the creative display of desserts that I even split my blog post into 2 posts so that I could post more food pictures! I would have returned sooner, but having a blog meant that I also wanted to try out new places so as to be able to have more blog material. It's been too long….too long.
I was told that Ritz Carlton changes the Afternoon Tea menu 4 times a year to suit the season. The day that I was there was the launch of the Winter Weekend Afternoon Tea. Available at Chihuly Lounge from 24 November 2012 to 24 February 2013, Executive Pastry Chef Terence Pang has created thirteen unique variations such as Sesame Nougat with Yuzu, Pistachio and Nougat Crème and Caramelized Chocolate Mousse with Parfait etc.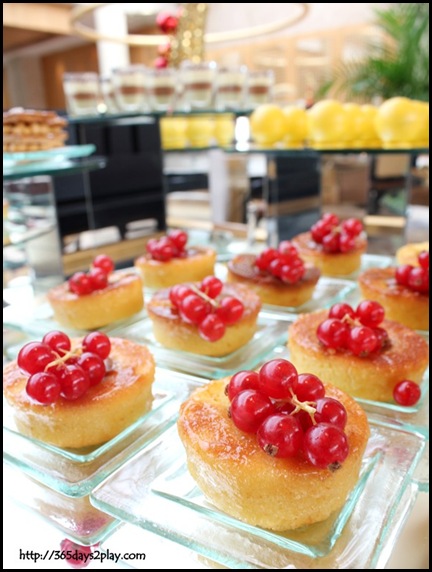 Almond Cake with Caramel
Guests may also dine upon an assortment of sandwiches, scones and other savory dishes such as Maple Glazed Prosciutto wrapped Scallop and Sesame and Cajun Spiced Prawn Kebab with Glazed Pineapple.
What's afternoon tea without tea, right? You can enjoy a range of over thirty blends of loose leaf teas from the Ronnefeldt tea collection featuring citrus-flavoured teas such as Morning Star and Roibosh lemon. Flavoured black teas – "Wild Cherries" and "Rose Tea with Petals", are as refreshing as fruit-infused "Raspberry Royal" and "Strawberries with Yoghurt" teas. The most interesting thing about Ritz Carlton's tea is that they put the teapots over a lighted burner! First hotel that I've come across that does this, and kudos to them for doing so because I just hate having to drink cold tea! And the tea will invariably become cold because it's a huge pot!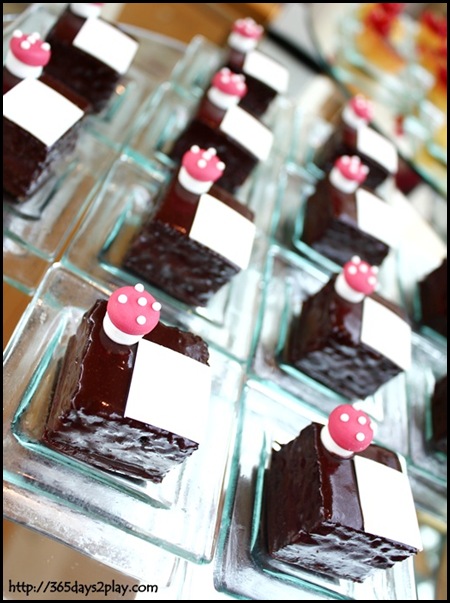 Chocolate Fudge Cake
Damn delicious! It wasn't all just fudge, but had layers of actual cake. Not cloying (jelak) at all!