*Media Invite*
Recently, I was invited to sample the new Winter Afternoon Tea menu at Ritz Carlton. As you may already know, I hold the Afternoon Tea at Ritz Carlton in high regard. Ritz Carlton was one of the 1st few places where I first cut my teeth in food blogging. Wow, come to think of it, it has been 2.5 years! I recall I was so mesmerized by the creative display of desserts that I even split my blog post into 2 posts so that I could post more food pictures! I would have returned sooner, but having a blog meant that I also wanted to try out new places so as to be able to have more blog material. It's been too long….too long.
I was told that Ritz Carlton changes the Afternoon Tea menu 4 times a year to suit the season. The day that I was there was the launch of the Winter Weekend Afternoon Tea. Available at Chihuly Lounge from 24 November 2012 to 24 February 2013, Executive Pastry Chef Terence Pang has created thirteen unique variations such as Sesame Nougat with Yuzu, Pistachio and Nougat Crí¨me and Caramelized Chocolate Mousse with Parfait etc.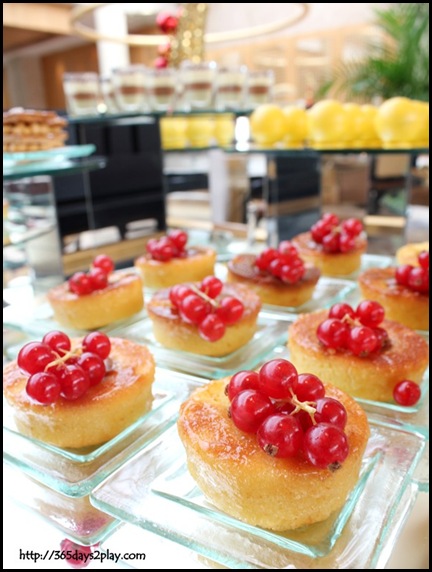 Almond Cake with Caramel
Guests may also dine upon an assortment of sandwiches, scones and other savory dishes such as Maple Glazed Prosciutto wrapped Scallop and Sesame and Cajun Spiced Prawn Kebab with Glazed Pineapple.
What's afternoon tea without tea, right? You can enjoy a range of over thirty blends of loose leaf teas from the Ronnefeldt tea collection featuring citrus-flavoured teas such as Morning Star and Roibosh lemon. Flavoured black teas – "Wild Cherries" and "Rose Tea with Petals", are as refreshing as fruit-infused "Raspberry Royal" and "Strawberries with Yoghurt" teas. The most interesting thing about Ritz Carlton's tea is that they put the teapots over a lighted burner! First hotel that I've come across that does this, and kudos to them for doing so because I just hate having to drink cold tea! And the tea will invariably become cold because it's a huge pot!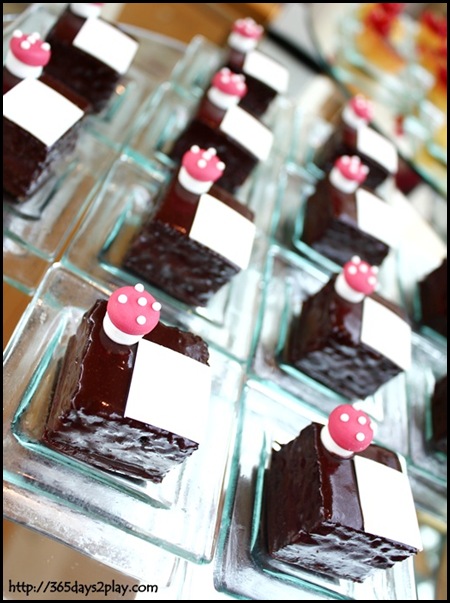 Chocolate Fudge Cake
Damn delicious! It wasn't all just fudge, but had layers of actual cake. Not cloying (jelak) at all!
Sandwiches, Canapes and Savouries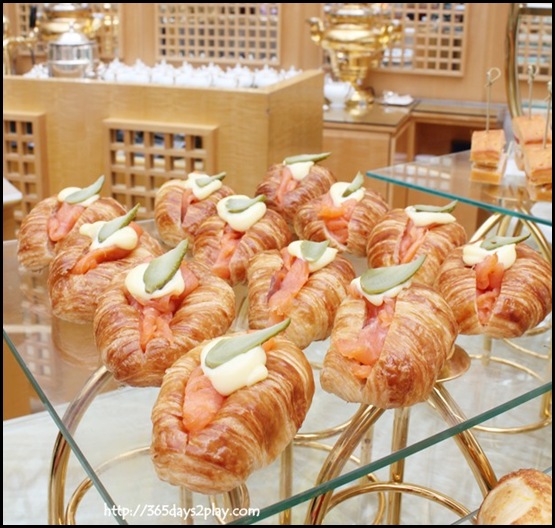 Smoked Salmon with Pickled Gherkin in Mini Croissant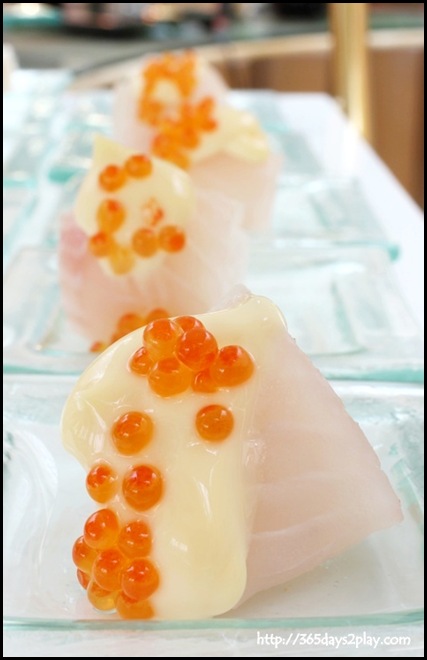 Shiromi Sushi topped with Japanese Mayonnaise and Salmon Roe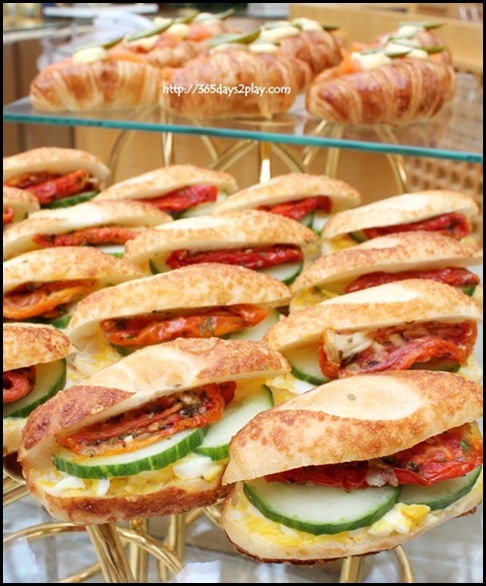 Egg Mayonnaise in Parmesan Roll
Canapes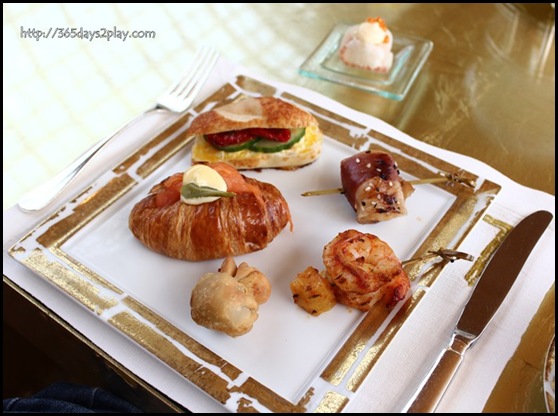 I tried mainly the "Western" savouries even though they had things like soon kueh. Most of the canapes and sandwiches were excellent! The scallops wrapped in prosciutto were delicious in a unique maple glaze. The Smoked Salmon with Pickled Gherkin in Mini Croissant was simple yet mouth watering. Even the Indian Spiced Potato and Feta Cheese Samosa, which I thought didn't sound too good tasted great!
Desserts!!!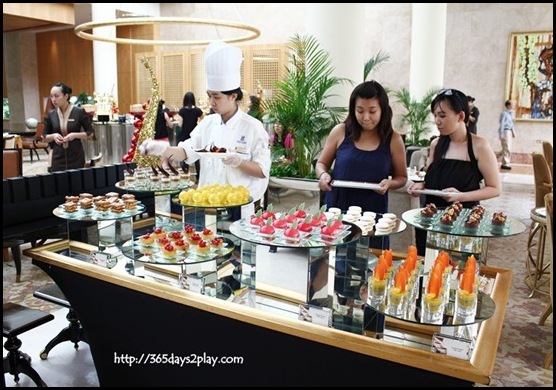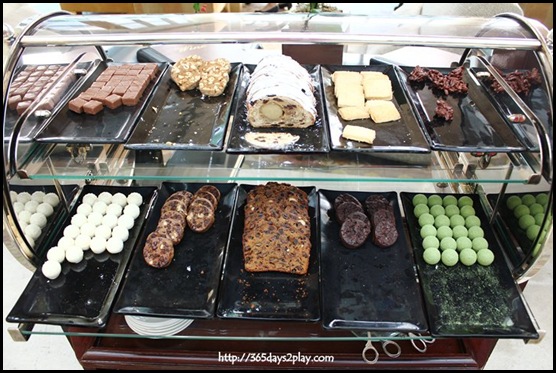 Chocolate Truffle and Cookie Bar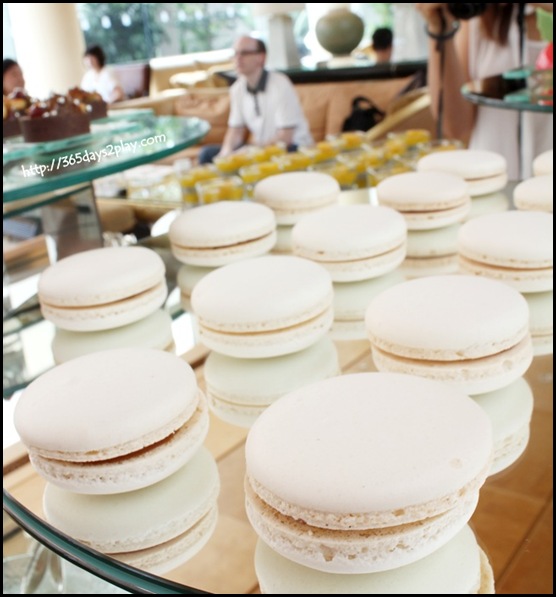 Caramel Macaroon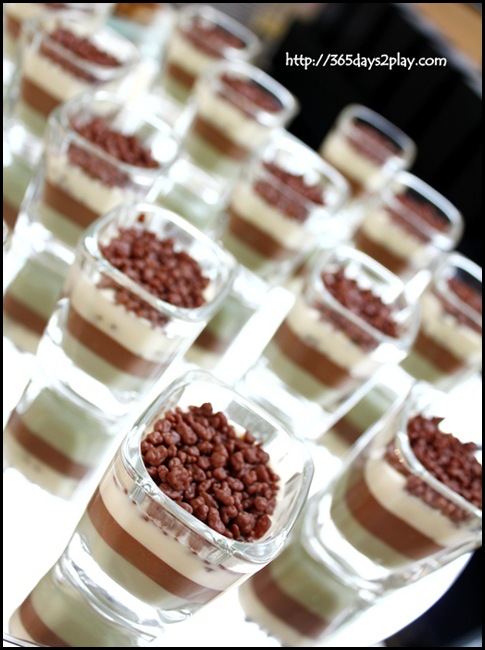 Pistachio and Nougat Crí¨me
My favourite dessert item in the whole Afternoon tea Buffet! The crackling of the cocopops in your mouth as you savour the creaminess of the nougat creme, and the nuttiness coming from the pistachio creme layer was absolutely wonderful. Very good use of cocopops.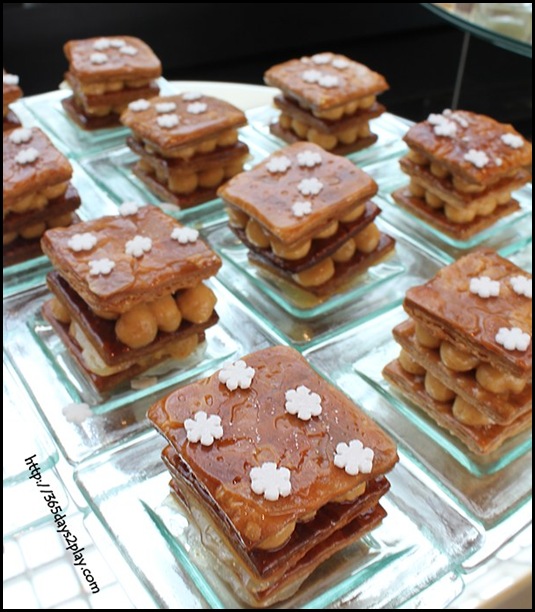 Caramel Mille Feuille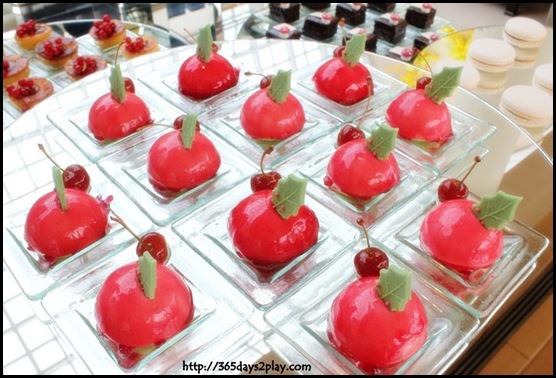 Nougat Mousse with Cherry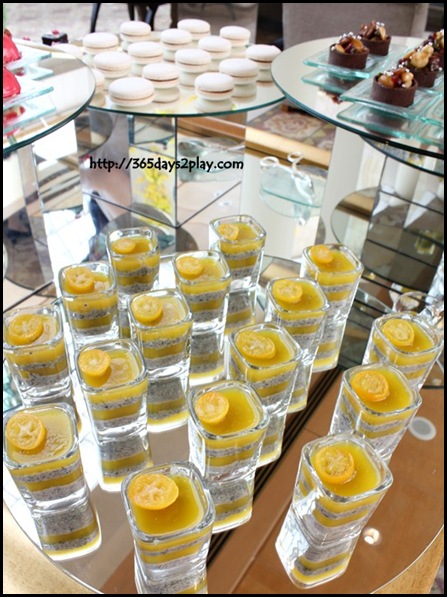 Sesame Nougat with Yuzu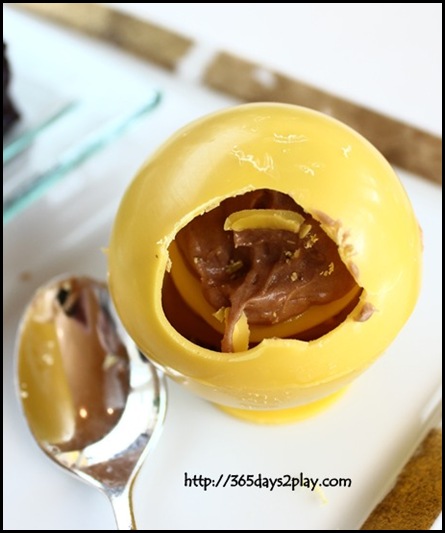 Yellow Lightbulb with toffee caramel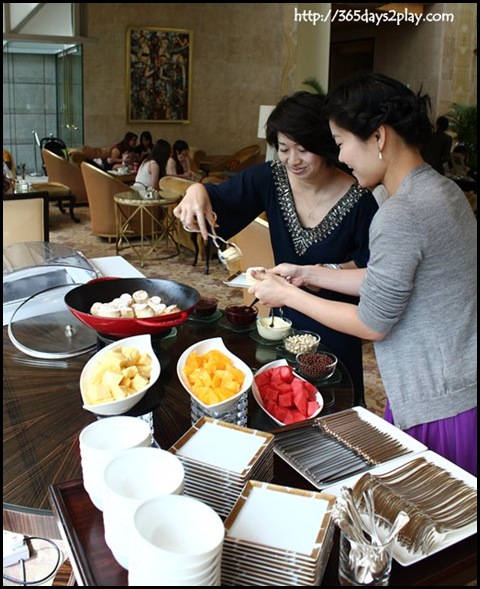 Ice Cream and Scone Bar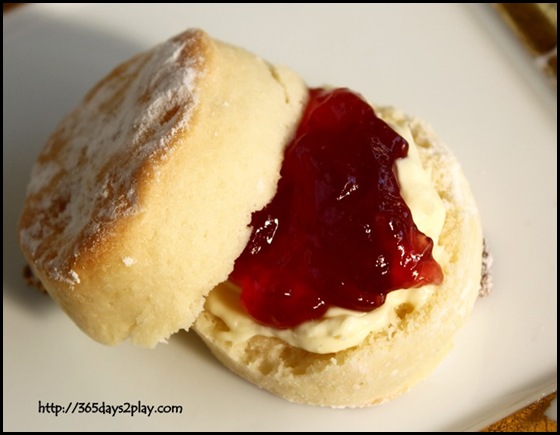 Scone with Jam and Clotted Cream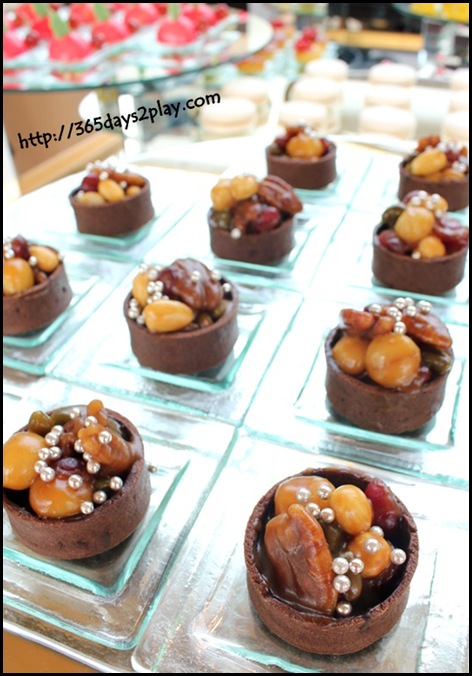 Caramelized Nut Tart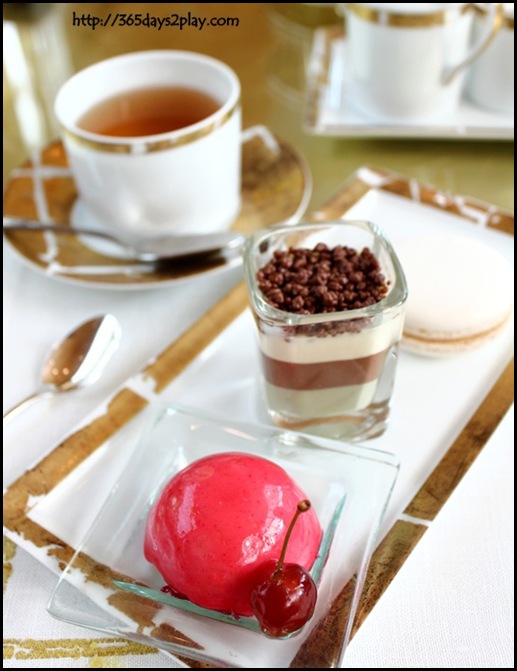 Tea for you?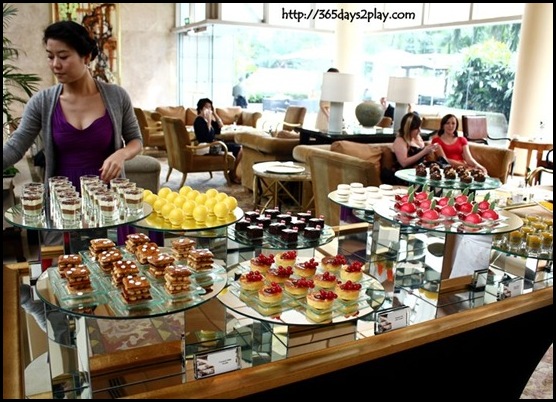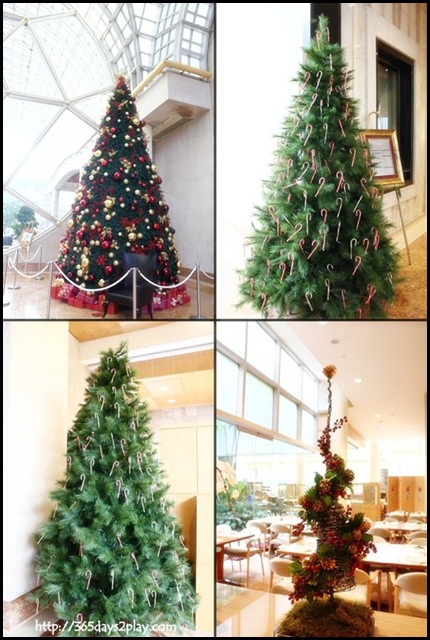 Christmas Trees all over the hotel! Wonder if we can take the candy canes….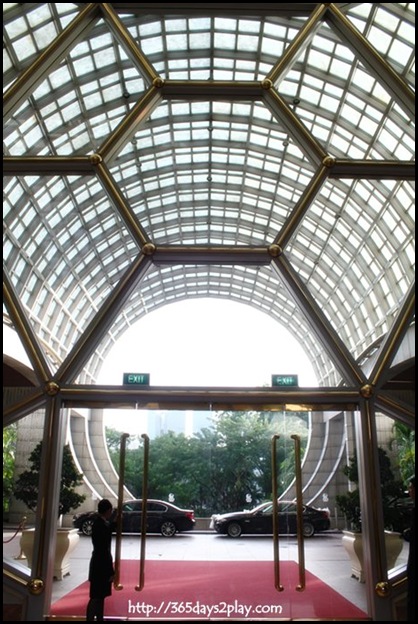 A grand and resplendent welcome.

Most of the desserts were really pretty, and yet delicious to eat. When it comes to Afternoon tea, I really love it when the canapes and dainty desserts look so pretty! I think a lot of ladies will agree with me that for Afternoon tea, we eat with our "eyes" and not just with the mouth! If there was a grouse, I just felt that as compared to 2 years ago the buffet spread seems to have shrunken.
~~~~~~~~~~~~
Read about my previous visit to Chihuly Lounge for Afternoon Tea
https://365days2play.com/2010/07/17/afternoon-tea-at-chihuly-lounge-ritz-carlton-singapore/
https://365days2play.com/2010/07/17/afternoon-tea-at-chihuly-lounge-ritz-carlton-singapore-part-2/
~~~~~~~~~~~~
Ritz Carlton Chihuly Lounge
7 Raffles Avenue Singapore 039799
Tel : 6434 5288
rc.sinrz.restaurantreservations@ritzcarlton.com
Winter Afternoon Tea
From 24 November to 25 December 2012
$58.00++ per adult
$29.00++ per child (six to twelve years of age)
From 29 December 2012 to 24 February 2013
$48.00++ per adult
$24.00++ per child (six to twelve years of age)