I was invited to go for the OH! Open House this year and when I saw that it involved the opportunity to step into various corporate offices like Deutsche Bank and Google in the Shenton Way district, I quickly signed up for it. Well it's not that I am hard up to see what these offices look like, I'll admit that I am a bit curious about the environs that other people work in, but it was an opportunity for me to get a bird's eye view of Shenton Way and Marina Bay from up above. The last time I was working in Shenton Way was quite some years ago and the views have completely changed.
Here's a sneak peek of what I saw on the tour. Won't post up too many pictures or it'll spoil the plot.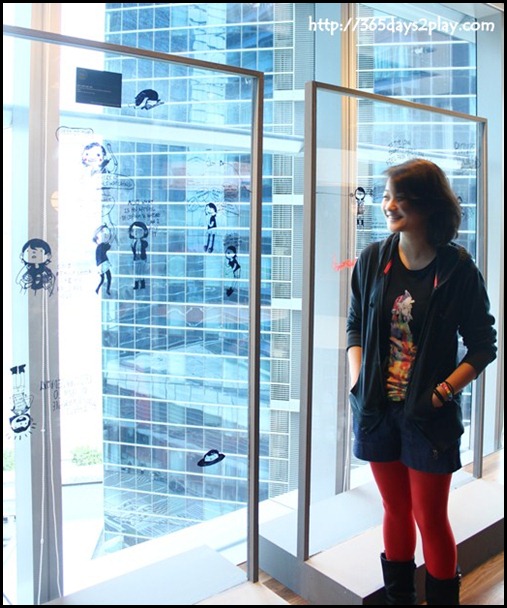 This is the 20 year old artist that came up with this artwork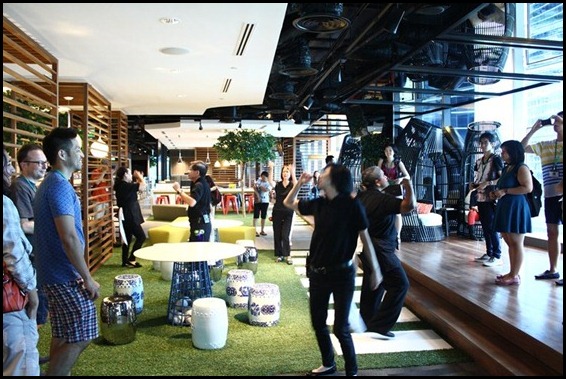 DBS Bank office. They even have a Starbucks on this floor did you know? How cool is that? While we were viewing the art exhibits, the "cleaners" suddenly broke into the Bengawan Solo song! They had been milling around us all along, quietly cleaning the furniture and tables and I had totally ignored them. The takeaway for me wasn't so much an artistic element, but the fact that menial workers tend to be invisible to us even if they are crucial to the clockwork efficiency of Singapore!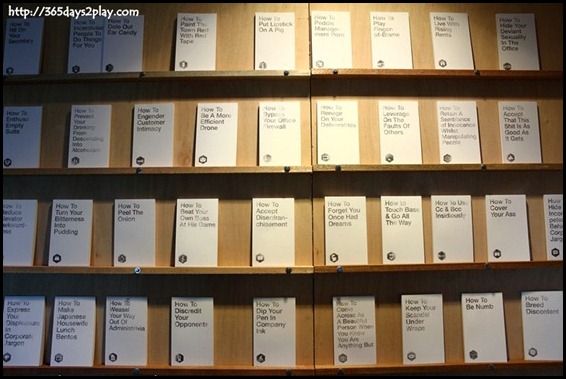 Manuals on how to survive in the corporate world. Things like "How to forget you once had dreams", "How to be a more efficient drone", "How to be numb", "How to leverage on the faults of others" etc…. sad but true.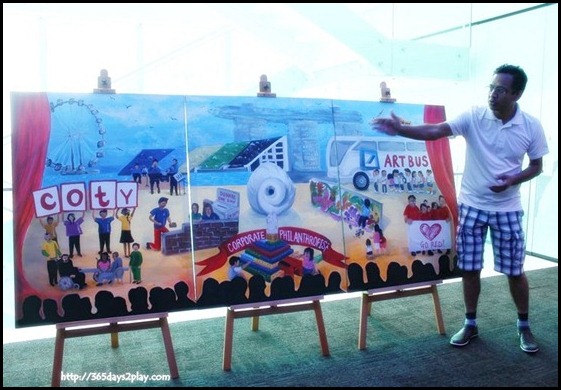 This was an art piece put together by numerous Deutsche Bank staff. Very pretty don't you think? The various pictures depict the various corporate philanthropy activities that Deutsche Bank has taken part in.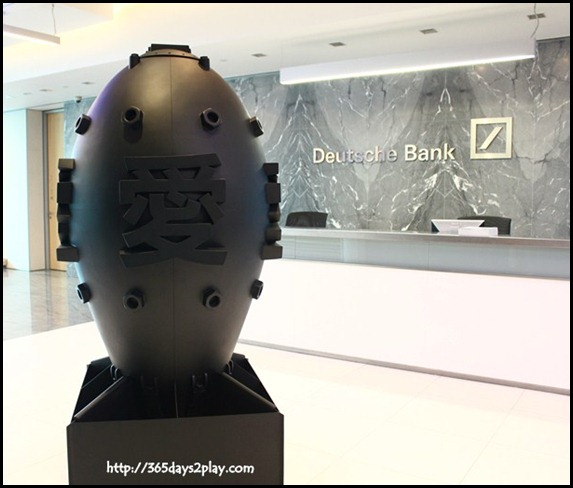 The only time, hopefully, that you will find a bomb in a bank. The Love Bomb, that is.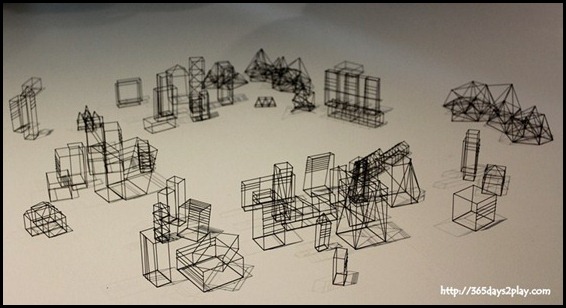 Can you believe that these tiny little buildings around the Marina Bay area are all made of pencil lead??? I think it's not too difficult to point out Marina Bay Sands in an instance, but the rest are a little bit more difficult.
There are quite a few more exhibits but I better not spoil the surprise.
A little bit about OH! Open House
OH!, Singapore's only art walkabout, makes a foray into the high powered boardrooms and offices of Marina Bay. Through three soldout events, OH! has taken more than 5000 strangers to see art in real life homes in Niven Rd (2009), Marine Parade (2011) and Tiong Bahru (2012). From shophouses to HDBs and Art Deco walk-ups of Tiong Bahru, OH! makes a surprising turn to look at corporate Singapore. Alan Oei, co-founder and curator, explains the shift: "I thought Marina Bay was all office, glass, steel and mirrors. But there is a secret and fascinating life beneath all that. In many ways, one can look at it as manifesting a kind of zeitgeist. It's a really interesting moment in Singapore now, and the arts should be part of that conversation."
OH! Marina Bay, The Happiness Index, will feature 6 very different and exclusive locations. Visitors get to see the insides of key representatives of the financial industry that drives Singapore's economy. In contrast, visitors will also see a labyrinth of a lawyer's office, seemingly from the 80s, when Shenton Way still ruled supreme. Through a more diverse selection than previous editions — graphic design, performance, installation — the 12 artists present an alternative portrait of Marina Bay, one that may turn out quirkily different from the official narrative of our place in the global economy.
OH! Singapore is on until 20 Jan 2013 Sunday, so you're still in time to go catch it. Tickets are $20, and can be bought only at the door from 11am, at DBS Asia Central Branch, Marina Bay Financial Centre, Tower 3, Level 3. Last tours leave at 3pm daily. See  http://www.ohopenhouse.com/ for more information.
Wear comfortable shoes as you will be walking from Marina Bay Financial Centre all the way to Asia Square. The tour lasts about 1.5hrs — 2 hrs.