Special Promotion below….scroll down!!!
Last week, I was invited to sample Grand Park City Hall's Chinese Restaurant the Park Palace Restaurant's Chinese New Year festive menu. I had actually been to Park Palace on two other occasions over the years, for department Chinese New Year lunch as my old office used to be within walking distance. But that was at least 3 years ago so I was quite keen to go back again to sample the new menu.
Park Palace Restaurant is on the 2nd floor and has numerous floor to ceiling windows which makes dining here a cheery affair. You know how some Chinese restaurants can be, they give you the very serious and sombre feeling. Besides, natural lighting always makes for better food photography.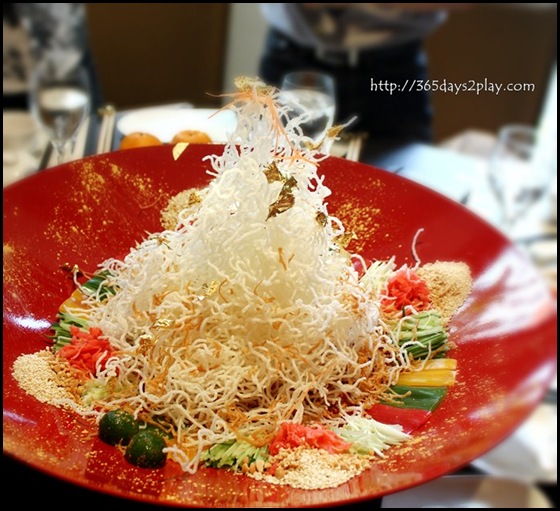 Golden Shunde Yellowtail Yu Sheng
First up, the Yu Sheng dish! If you will look at the picture closely, you will notice that this is no ordinary Yu Sheng! Instead of vegetable bits as the main base ingredient, crispy fried vermicelli is used. Well you know how everyone likes the "golden crispy ingots", in this case, practically the whole dish was crispy! Instead of the usual sweet and sticky sauce, the Yu Sheng was tossed in a special concoction of fragrant peanut oil and premium soya sauce that imparted a delicate flavour. Even the yellowtail (from the Shunde region) was a refreshing change to salmon.
I have to say, this is easily one of the best Yu Sheng I have ever eaten! This creative breakaway from the traditional Yu Sheng works! Many restaurants throw in lots of frills and fireworks, but basically, you still end up fishing out the expensive ingredients. This was one Yu Sheng where everybody cleaned their plates!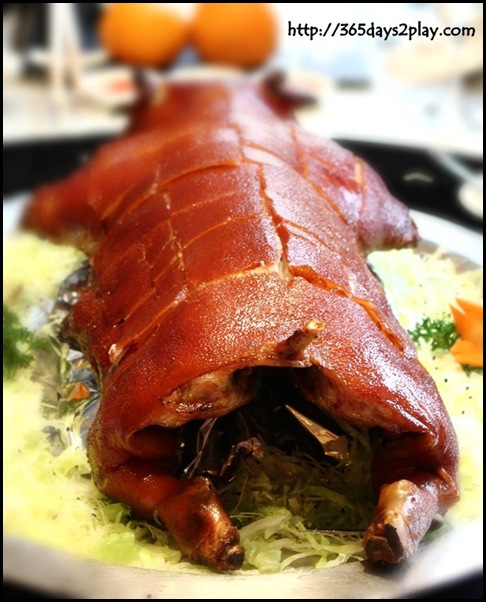 Imperial Suckling Pig (First Course)
Next up, everyone's favourite suckling pig. Sorry for showing you the pig's butt, but I thought the tail looked kinda cute, and how often do you get to see sucking pig pictures from this angle?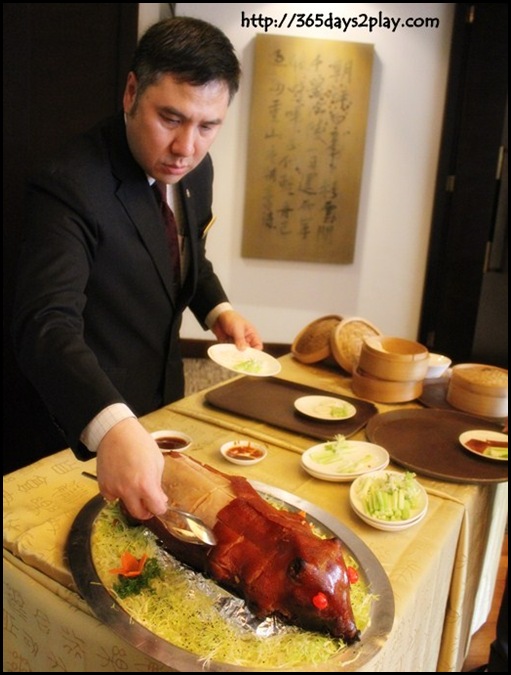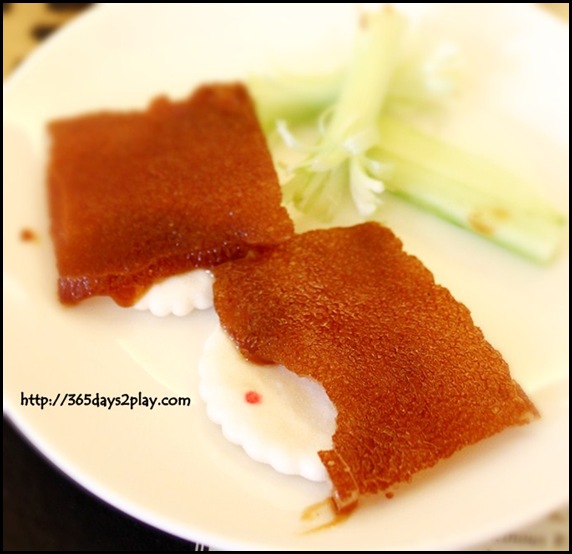 The pig skin was deftly divided into individual portions, and placed on a flattish bun/bread slice. Delicious, although the skin could have been crispier.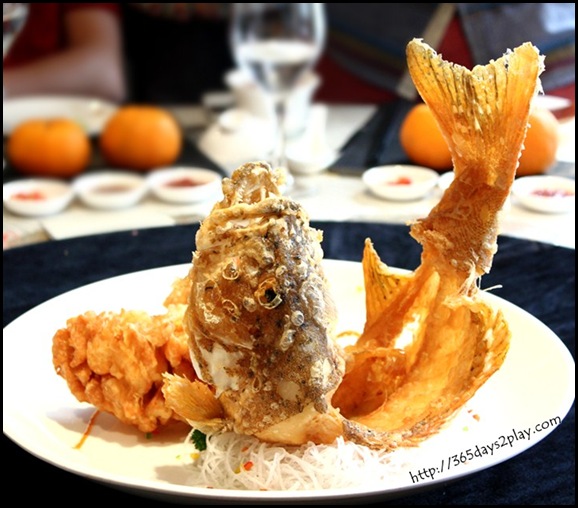 Golden Happiness Crispy Garoupa
The fish was a delight to eat. It was completely cleaned out by all the diners at my table. The fish was really fried to a crisp such that even eating the tail or the fins would not have been a problem. Even though it was so crispy, there wasn't a hint of oiliness at all.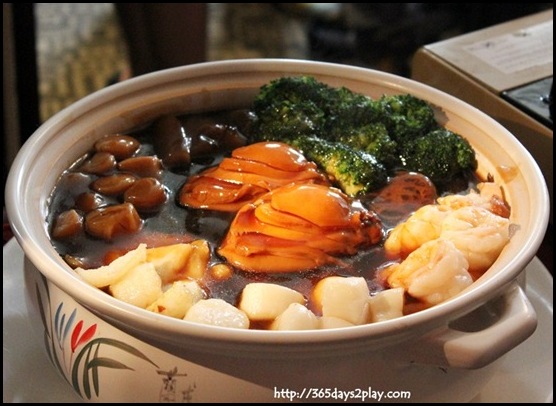 Chinese New Year Flambe Pen Cai
鲍鱼片 Sliced Abalone
海参 Sea Cucumber
带子  Scallops
明虾球 Prawns
柱脯 Whole Conpoy
火腩 Roast Pork
烧鸭 Roast Duck
油鸡 Soya Chicken
津白  Tien Shin Cabbage
莲藕 Lotus Root
北菇 Black Mushroom
白灵菇,银菌 Bai Ling Zhi Mushroom, Nameko Mushroom
西兰花 Broccoli
云耳 Wood Fungus
银杏 Gingko Nuts
鸭掌 Duck Webs
豆筋 Beancurd Sheet
白萝卜 White Radish
鲈鱼片 Sliced Sea Perch Fillet
发菜 Sea Moss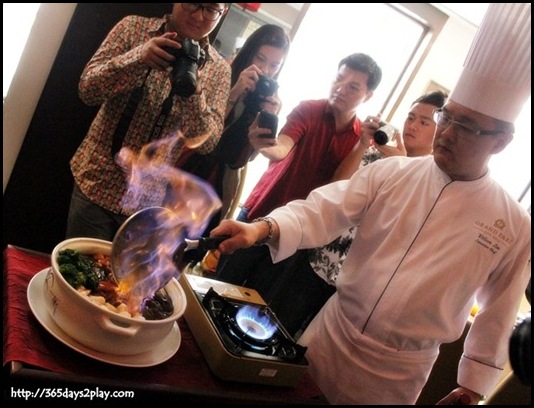 The Prosperity Pen Cai is infused with Cognac and flambeed to bring out the rich flavours and taste of the ingredients.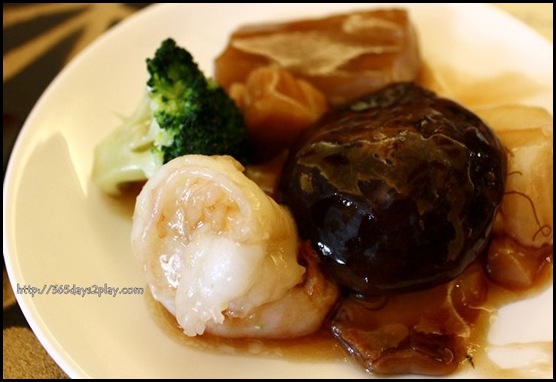 I feel that Pen Cai is another dish that ought to be ordered during Chinese New Year as it fosters feelings of togetherness. Also, it's such a feast for the eyes, don't you think? And it's like a never ending pot of goodies, you can definitely go for seconds! The ingredients tasted very nice, aided along by the rich and flavoursome broth. Quite a number of people were fishing for radish pieces, as they soak up the broth very well.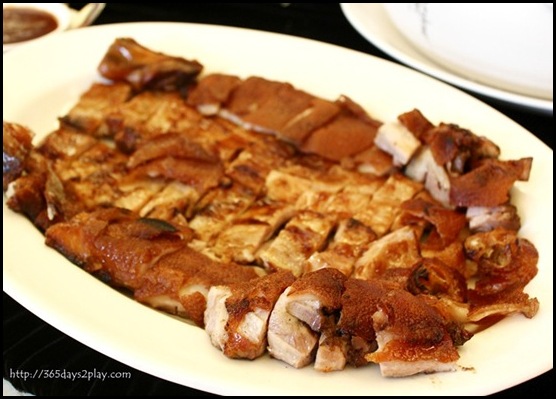 Imperial Suckling Pig Oven Baked with Lemongrass (Second Course)
This was the least impressive dish to me unfortunately. The addition of lemongrass did help to impart an interesting flavour, but on the whole, the taste is nothing spectacular.
Auspicious Glutinous Rice with Foie Gras and Preserved Meat
Foie gras, something I can never resist! I believe, the first time I'm seeing foie gras served in a Chinese meal setting! The glutinous rice ball had a sort of charred exterior, with the insides being stuffed with preserved meat. On it's own it's pretty plain and simple, however, the addition of the foie gras really gives this life. Refrain from eating the foie gras on its own like I did, or else you'll be left with a rather big ball of rice with not much flavour.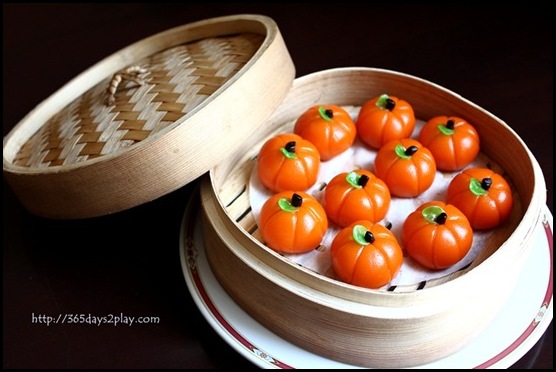 Steamed Mini Pumpkin Dumpling with Green Bean Paste
And last but not least, the cutest dish on the menu. Tastes a little like Ang Koo Kueh, just shaped really exquisitely into mini pumpkins. Skins were a little too thick though.
Thank you Park Hotel Group for the kind invitation.

~~~~~
Chinese New Year Set Menus at Park Palace (Grand Park Hotel City Hall)
$78++ per person (a maximum of two persons)
$288++ per table (for four persons) 
$438++ per table (for six persons) 
$588++ per table (for eight persons) 
$788++ to $2388++ per table (for ten persons)
SPECIAL PROMOTION : Complimentary bottle of house red wine per table of minimum 10 pax. Please quote 365days2play Food & Travel Blog during reservations via email/phone.
Not forgetting the Early Bird Special : Book now and dine in from 21 January to 7 February to enjoy 20% off the Lunar New Year Set Menus and a la carte menus at Park Palace
Read about the all you can eat buffet spread at Grand Park Hotel Orchard Road.
http://www.parkhotelgroup.com/cityhall/promotions-2/
~~~~~
Grand Park City Hall
10 Coleman Street Singapore 179809
Tel: (65) 6336 3456   Fax: (65) 6339 9311