The other day, while researching on the best hotel to take P for her birthday, I came across the Afternoon High Tea at the Fullerton Courtyard. Because we'd decided to go for the Ritz Carlton's Chihuly Lounge Afternoon Tea, I thought I had to give the Fullerton's Afternoon Tea a miss. Well, that was only what the brain said. The mouth and the stomach protested, so I succumbed and decided to go for 2 Afternoon Teas consecutively! My mother was only too happy to partake in this windfall…can't go for afternoon tea alone, can I?
Afternoon Tea starts at 2.30pm, so when we arrived at 3pm, we were quite surprised that nobody had started eating yet. Everybody seemed to be waiting for something to happen. What struck us was how hushed the entire place was. It was as if we were entering a very serious place. It didn't help that the tables were extra long, such that you are actually nearer to the diner next to you, than to your companion at the opposite end.
Anyway, I ordered a hot chocolate while my mother ordered some chinese tea. 5 minutes later, we saw the staff carrying the 3 tier stands of goodies. Goodness, luckily we arrived late and didn't have to wait long as compared to those who arrived at 2.30pm.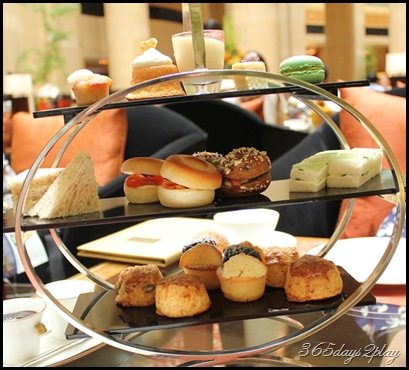 The tasty bite sized morsels, now tell me if you don't like having afternoon tea? Everyone gets a standard 3 tier service, and you can have free refills of your favourites. You also get the choice of 2 different drinks per person.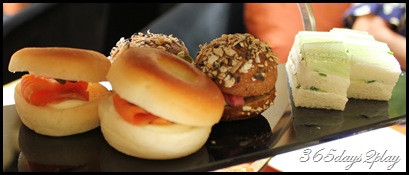 Mini burger looking things with smoked salmon in them, cucumber sandwiches…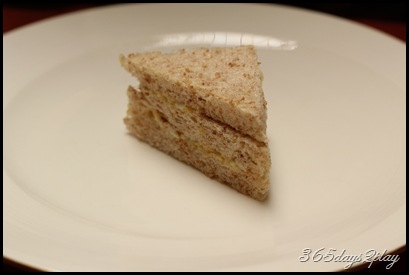 Egg sandwich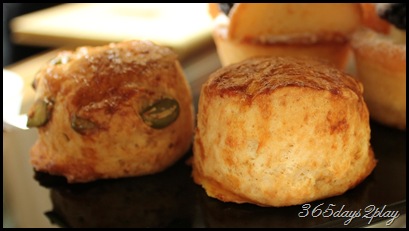 I have to say, Fullerton The Courtyard has one of the BEST scones in Singapore I have ever eaten. Scones can be bland, but these were so good, they could have been eaten without jam or cream
But since jam and clotted cream was provided, there's no reason not to eat the scone plain right? A while back, I thought that clotted cream was hard to come by in Singapore. If you haven't eaten scones with clotted cream, you have been missing out. But it seems now it is more easily available. Perhaps in time to come, clotted cream will become ubiquitous?
Green Macaron
They provided so much clotted cream, I wish I had space to eat it all!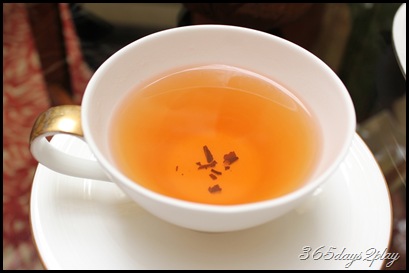 Chinese Tea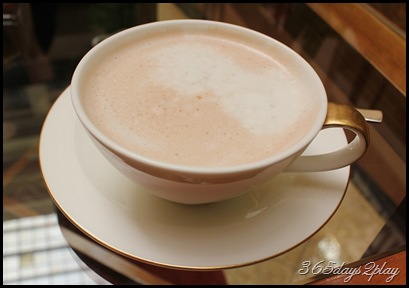 Hot Chocolate
Only allowed to have 2 drink choices per person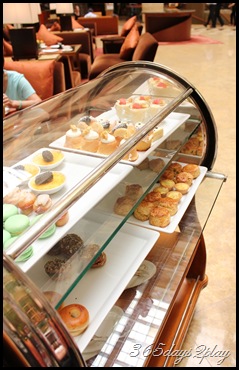 Trolley of goodies. They first serve you the standard 3 tier service, then you can choose what you want for seconds, unlimited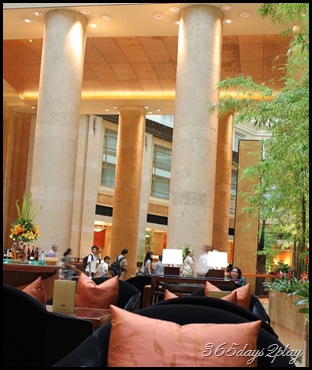 The couple next to us left quite early, so we did have a very comfortable time in the end. The Courtyard has a very bright and airy feel to it thanks to the high glass ceiling.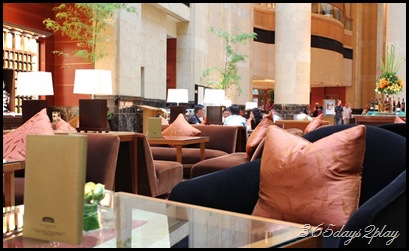 Plush chairs with your very own cushion.
The Afternoon high tea costs $36 on weekdays. Will have to check how much it costs on the Weekend. There is also a "1 dines free for every 3 diner" promotion going on.
On the whole, I enjoyed the food very much, but my mother commented that most of the items were sweet items. There was very little meaty things to eat, which is very true. The 2 drink c
omplementary drinks weren't enough, considering that places like Shangri La and Ritz Carlton offer free flow of made to order drinks.
Also, most of the staff seemed pretty aloof and unfriendly. I get the feeling that Fullerton Hotel tries very hard to make itself look posh and expensive. When I stayed there earlier this year, there were so many signs put up in the hotel room proclaiming this and that to be chargeable, which I felt was too direct, in fact, bordering on offensive. I know they want to charge for the items, and I don't know how else they could have done it, but I certainly didn't get the same feeling in other hotels I've stayed.
Read about my reviews on other excellent Afternoon Tea places in Singapore
Capella Hotel Sentosa – The Knolls
Ritz Carlton Chihuly Lounge – Part 1 (Sweet)
Ritz Carlton Chihuly Lounge – Part 2 (Savoury)
Hotel Intercontinental Lobby Lounge
Check out 365days2play's review where to find the Best Scones in Singapore
Check out Sister Hotel Fullerton Bay Hotel's Lobby Lounge known as Landing Point (just updated in Apr 2012!).
The Fullerton Hotel Singapore
1 Fullerton Square
Singapore 049178
Telephone: (65) 6733 8388
Facsimile: (65) 6735 8388
Email: info@fullertonhotel.com
The Courtyard
Afternoon tea: 2.30pm – 6pm
Telephone: 6877 8129
Email: thecourtyard@fullertonhotel.com
// ]]>