Hope you enjoyed my first post on Museo Restaurant, focussed on the decadent desserts. This post is dedicated to the savouries! This isn't a very big restaurant, and you shouldn't expect a buffet line the size of those in Singapore's Hotel restaurants. What I can say is, most of the dishes served at Museo were really good.
Which is why I had to split my posts into 2, all the food looked so good! When you go to Museo, you're paying for the lovely ambience and the great views as well. Oh, did I mention that Museo serves unlimited servings of signature teas? You can have as many changes of teas as you want. Most hotel afternoon tea buffets limit you to 2 changes of teas.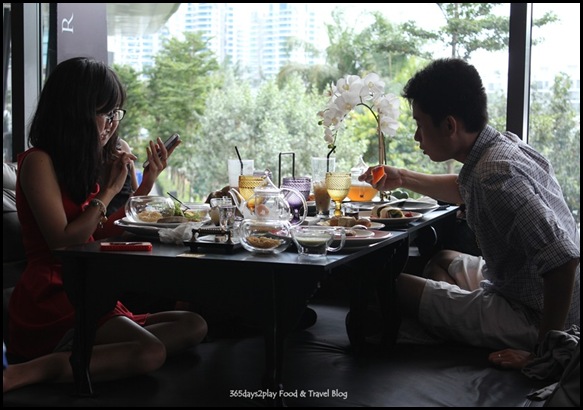 Snuck a shot of the bloggers sitting opposite us. Us older folks sat at the tables with proper chairs and left the sofa seats to the youngsters.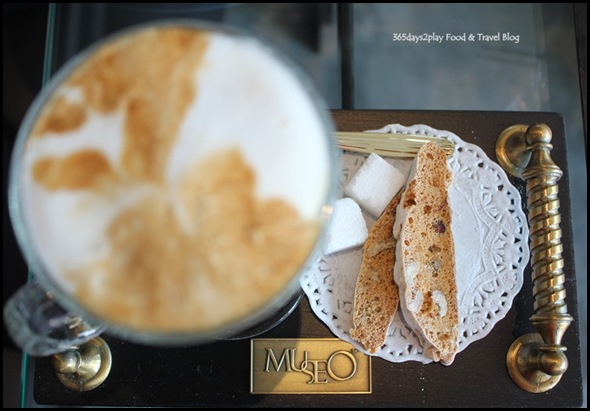 Everything is so artistically presented, which I guess is no surprise given that Arteastiq owns Museo.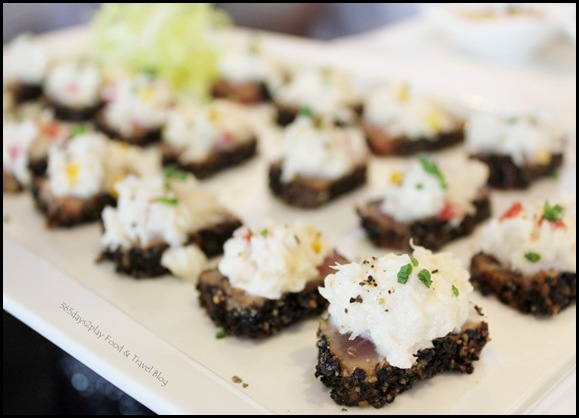 Tuna Tataki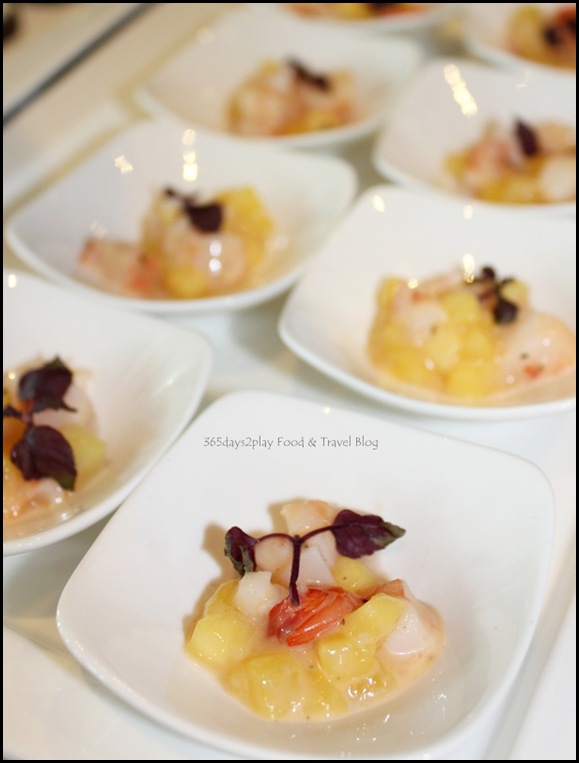 Mango Prawn Salad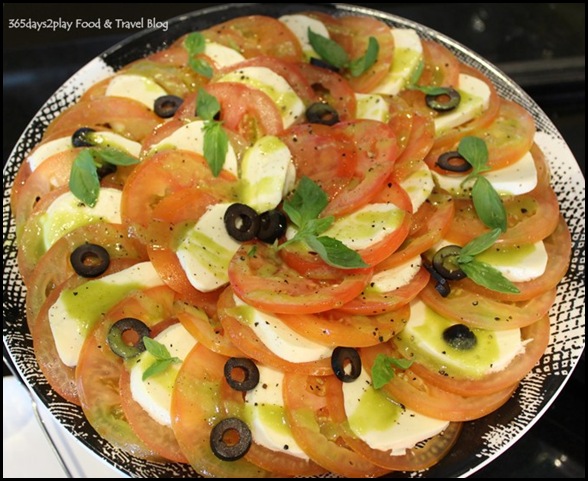 One of my favourite appetisers to order whenever I patronise Italian restaurants in Singapore. The cheese was a little tough and lacking in flavour though.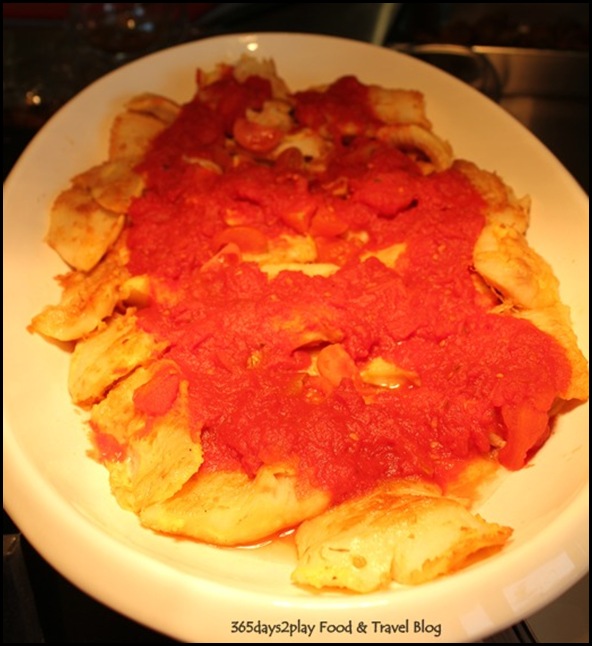 Pan Fried Halibut with Marinara Sauce
I am very fussy when it comes to fish, and I only like the tender and oily types such as cod and salmon. I had no idea that halibut would please my tastebuds so much! This fish was supremely tender and buttery tasting, it flaked off without any effort from my fork.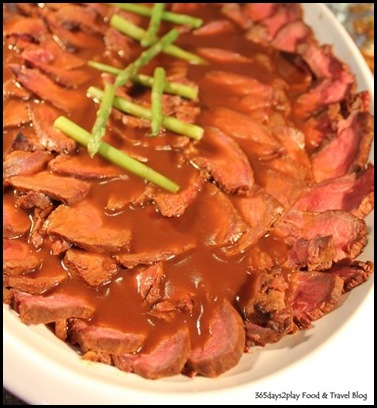 Roasted Striploin of Beef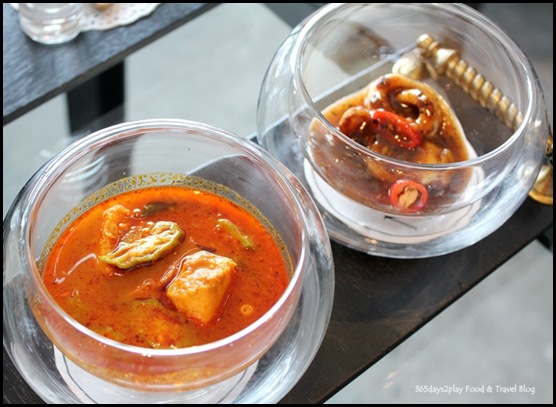 Salmon Curry with Ladyfingers and Barbecued Squid with Chilli and Peppers
These small bites in glass bowls are not from the buffet line. They are called Mezzanine Signatures. There are 12 to choose from, each ranging from about $10 — $12. Or you could get the special deal where you pay $39 and get to choose 4 dishes.
You have to try the salmon curry, it's crazy good! Now where in Singapore would you find Salmon Curry, and when you think about it, it's a wonder why it's not more common in a curry loving nation such as ours! The salmon was also very tender and the curry very palatable. I took some bread from the soup section and had a fine time dipping it in the curry. Thanks SGFoodonFoot for the idea!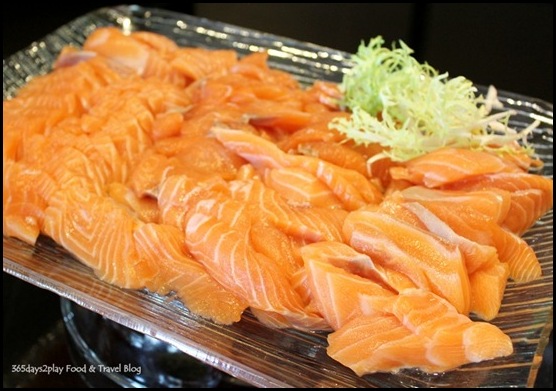 Salmon Sashimi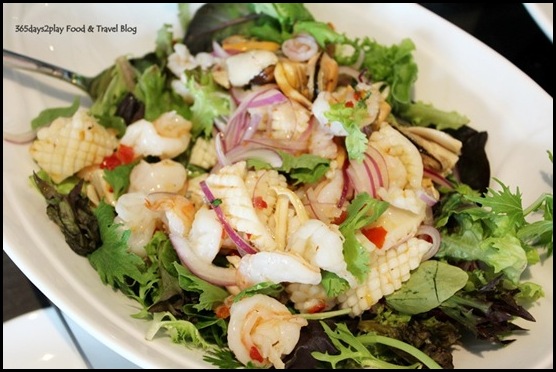 Seafood Tossed with Hot Sauce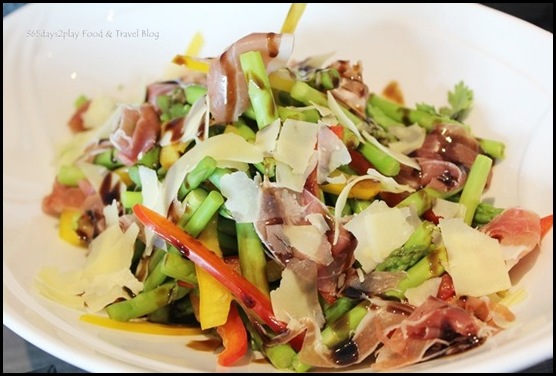 Asparagus Salad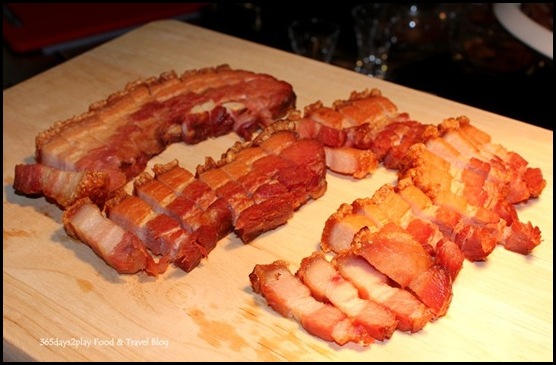 Crispy Pork Belly
The first batch of pork belly looked rather dry. However, I noticed a curious thing. If you manage to get freshly fried ones, they are pretty tender and juicy. Eat them while they're hot, because they shrivel up and become hard after a while! Quite a number of the bloggers were put off by the pork belly, even though this ought to have been a dish that everyone rushes for. The Partner managed to snag some from a fresh batch, and promptly returned for 3 more helpings.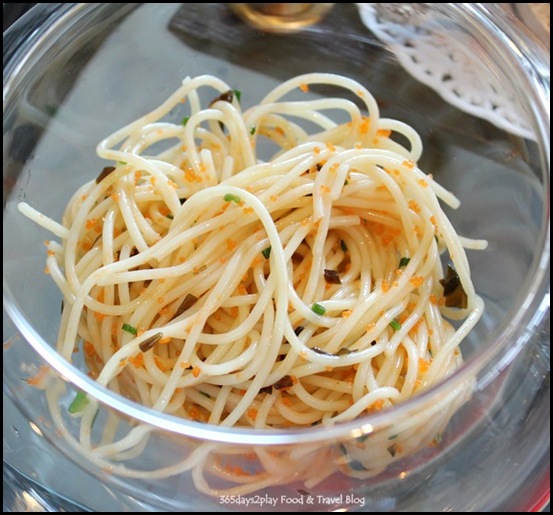 Cold Truffle Pasta
Faint truffle flavour, egg roe helps to lend a crunchy bite. Nice if you're looking for some carbs.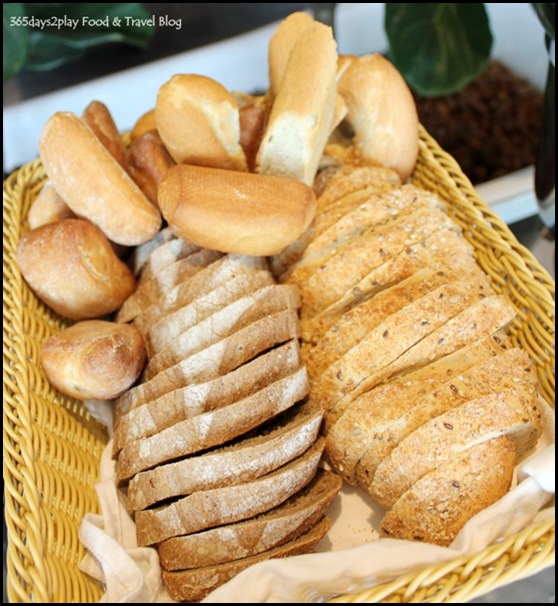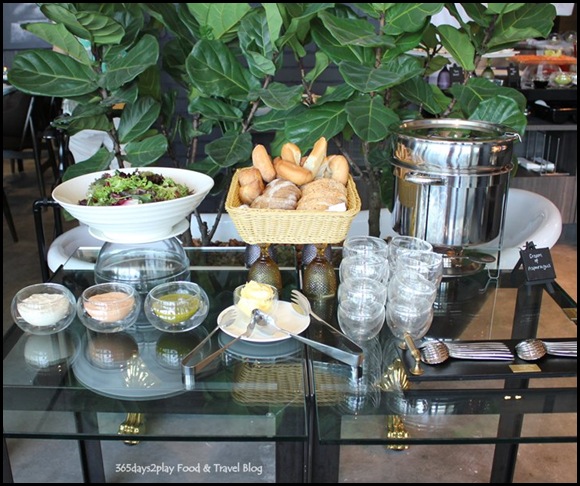 Soup Station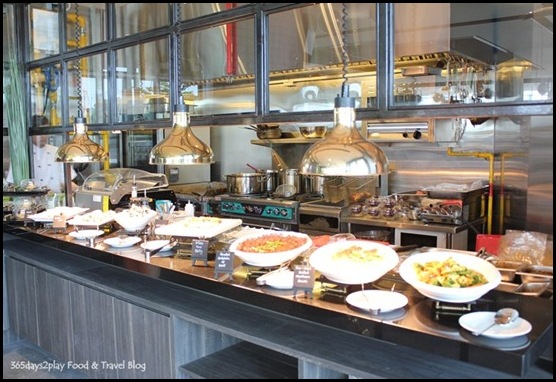 Main Dish Station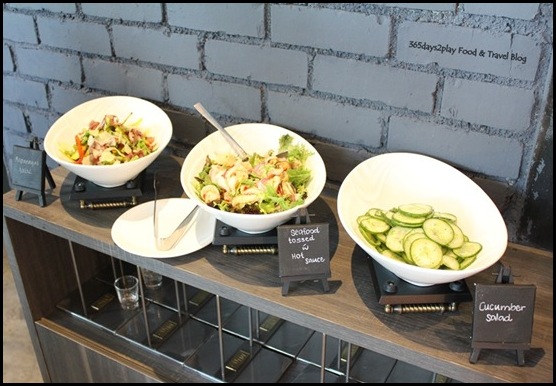 Salad Station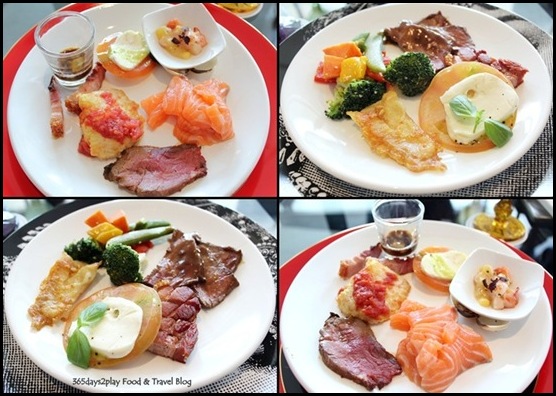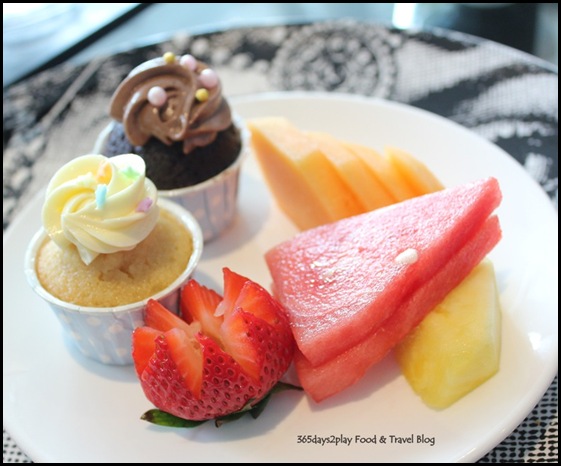 Dessert time! Check out the pictures from the Museo Dessert line.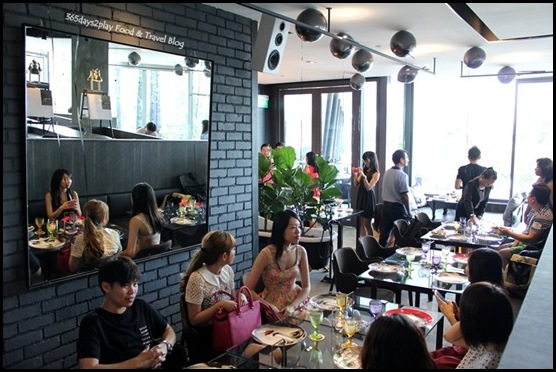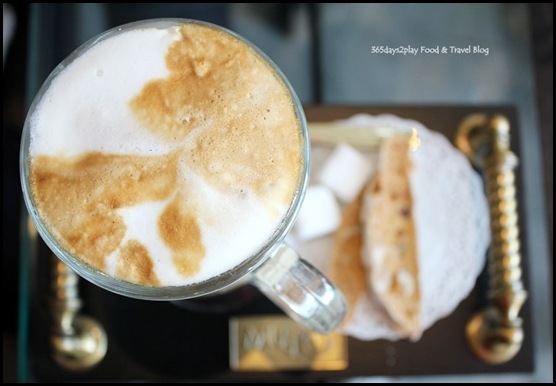 Which coffee photo is better, the 1st one at the start of the post, or this one?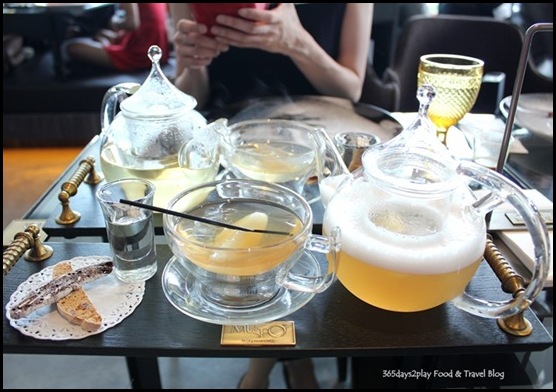 Here are the signature teas that I was talking about. They each cost about $10, but are included complimentary in the buffet, and you can have unlimited servings if you can finish the entire pot.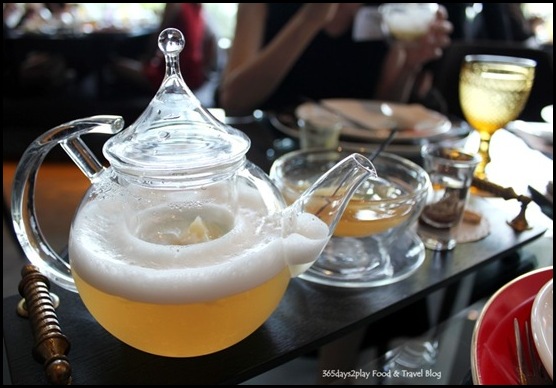 Love the pretty pots!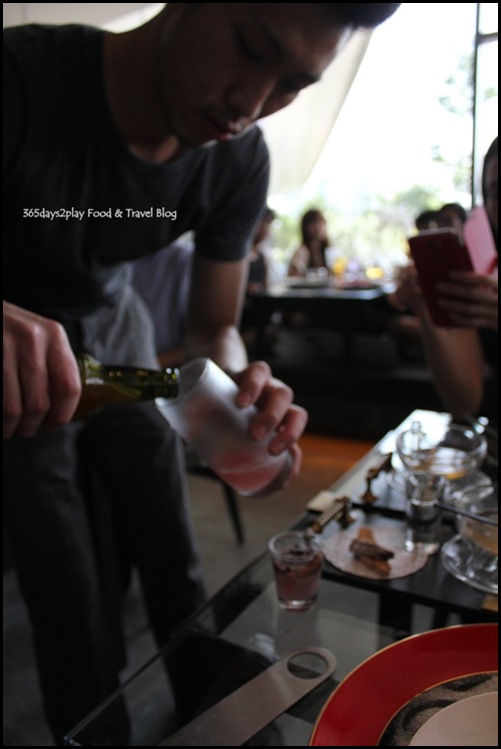 A guy suddenly came over to show us jelly beer. I had never heard of it until then. It seems like the beer in a bottle is first frozen. It is then shaken hard while in the bottle and poured into the glass.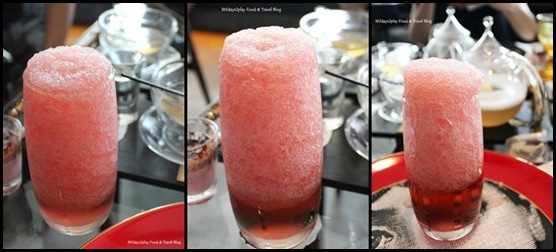 Because of all the air bubbles, the icy parts are pushed up to the top and your beer grows out of the glass. Texture wise, it's like eating a very light and airy ice kachang! You kinda have to suck at the ice in huge gulps because you'll find that the huge gulp of airy ice becomes just a small sip of beer!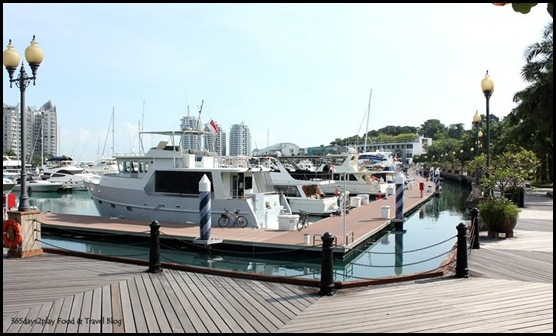 We took a stroll by the waterfront after our stomach bursting buffet afternoon tea. It's as close to Capri as you can get in Singapore without boarding a plane I suppose.
Check out the Museo Afternoon Tea dessert line.
check out other great Afternoon Tea places in Singapore.
~~~~~~~~~~~~
Add me on Facebook, Instagram and Twitter if you want to be kept up to date with the latest happenings in the food and lifestyle scene in Singapore!
~~~~~~~~~~~~
MUSEO — Art on the Isle; Restaurant; Barroom
Quayside Isle
31 Ocean Way, #01-22
Sentosa Cove, Singapore 098375
view Map
Tel : 6734 8066
Website: www.mu-se-o.com   Email : quaysideisle@mu-se-o.com
Sunday to Thursday: 1.30pm to 1am
Friday and Saturday: 1.30pm to 2am