*Latest Update as at 12 Dec 2013: Bedok Mall is already open and super crowded, I really wonder where the people have come from! And it feels like more than  90% of the shops are already open for business. From what I saw today, places like Starbucks, ToastBox, Tim Ho Wan, Poulet, Itacho, SK Jewellery, G2000, Charles & Keith, Faces of Spade etc are open. But FairPrice Finest will only be open on 14 Dec 2013 onwards!
Really long queues at all the popular restaurants! Eg by 6.30pm, Tim Ho Wan already had a snaking queue outside their restaurant, and by 7pm, you would have had to wait at least 15 minutes or more at Itacho sushi!
---
Amazing news! For those of you who are living in the East, rejoice because Bedok Mall will be opening on 3rd December! Yes, even though the mall still looks half complete, the insides must be already all spruced up and ready to invite the Christmas shoppers!
Some fun facts about Bedok Mall
Already 100% leased
200,000 sqft or approx the size of Junction 8
About 200 shops spread across 3 floors
Approx 250 carpark lots (doesn't sound like a lot!)
Bedok Mall's basement 2 is linked to Bedok MRT
Bedok Bus Interchange will be above the Bedok Mall
Bedok Residences condo will continue to be built even after Bedok Mall opens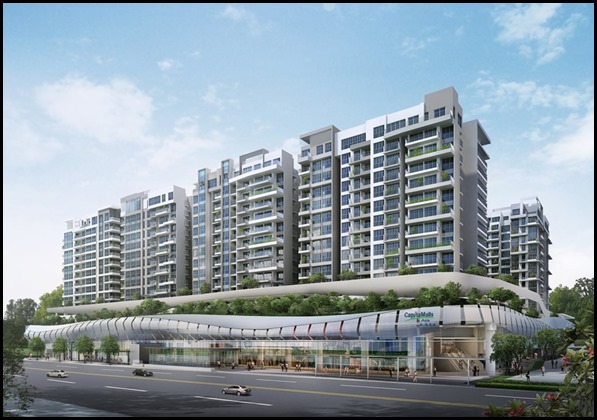 Picture courtesy of CapitaMalls Asia
Christmas Celebrations!
There will be a 4m Christmas tree at the basement made out of 2000, recycled plastic milk bottles bringing festive cheer to all shoppers. Don't forget to go there to get the free lollipops, popcorn, balloons and check out the roving fairies, contortionist, Santa Claus and SNOW!
Shoppers stand to win $100,000 worth of prizes in the CAPITASTAR Star Shower Game. Goodies include umbrellas, Christmas gift wrappers and CapitaVouchers.
And save the date for 21 December when Bedok Mall will be open until 2.40am and will give away $30,000 WORTH OF CAPITAVOUCHERS to lucky shoppers!!!!!!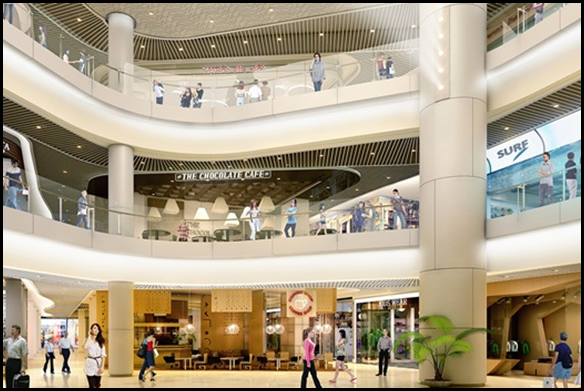 Scroll down to take a look at the shop directory
Shops at Bedok Mall
Everyday Essentials
FairPrice Finest
Popular
Home-Fix
Japan Home
Guardian
Watsons
Lifestyle stores
Best Denki
Samsung
Sony Centre
Kiddy Palace
The Travel Store
Refresh Laser Clinic
Clothes, shoes and bags!
UNIQLO
Cotton On
Fox Kids & Baby
Cache Cache
Charles & Keith
Dorothy Perkins
G2000
Levi's
Santorini
Wanko
Roem
Faces of Spade
Restaurants
Canton Paradise
C-Jade HK Cafe
Dian Xiao Er
Din Tai Fung
Menya Musashi Takatora
Pizza Hut
Poulet
Ramen Play
Thai Express
Hot Star Large Fried Chicken
Wingstop (buffalo-style chicken wings)
Guan Chee Hong Kong Roast Restaurant
Ottoman Kebab & Grill
Quick Eats and Cafes
Gong Cha
Starbucks
Ho Kee Bao
Hong Kong Sheng Kee Dessert
Smoothie King
Yoshinoya
Peper Lunch
Greendot
Scallop-Q
Paik's Bibimbap (of Bornga)
Pho Street
Junshin Express
Shops and restaurants highlighted in red are new to Singapore or unique concepts.
Watch this video of the artist's impression of Bedok Mall!
I'm not really sure how Fraser Centrepoint's Bedok Point Mall is going to fare compared to the CapitaLand's gigantic Bedok Mall, but Bedok Point will always have a soft spot in my heart as Bedok's official first shopping mall, opened 3 years ago also during the Christmas period. I've sought refuge in the Killiney Cafe at Bedok Point many a time or conducted business discussions there and I am quite likely to do so again especially if Bedok Mall becomes insanely crowded.
---
Add me on Facebook, Instagram and Twitter if you want to be kept up to date with the latest happenings in the food and lifestyle scene in Singapore!
---
Bedok Mall
311 New Upper Changi Road
Singapore 467360
Tel: +65-6826 5450, +65-6826 5582
http://www.capitamallsasia.com/en/corporate/malls/singapore/bedok-mall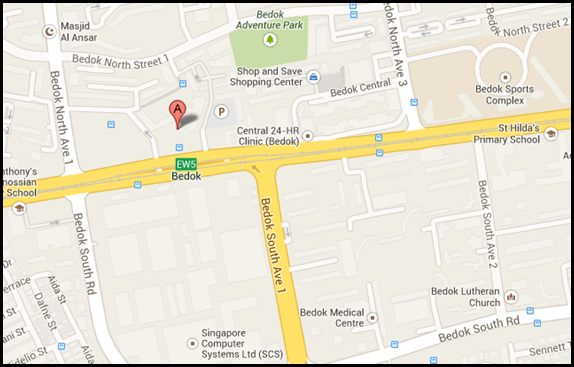 "A" marks the spot of CapitaLand's Bedok Mall.