Bintan Lagoon Resort and I go back a long way. I have actually visited it twice in the last 10 years. Once, because my friend had corporates there and booked their lovely villa, and once during a company retreat. But that was all quite some years ago so I was quite excited to be invited by Nuffnang to attend the Journeyful and Mozaic Hotels & Resort's Direct Ferry Media Launch event at Bintan Lagoon Resorts.
At first, I didn't really know what they meant by "direct ferry service" because I remembered it to be pretty direct the previous times. It was only after I'd disembarked from the ferry and realised that I was already at Bintan Lagoon Resorts itself. To cut the possibly long waiting times at Bintan's public Ferry Terminal (Bandar Bentan Telani Ferry Terminal), Bintan Lagoon Resort built their very own Bintan Lagoon Resort Ferry Terminal! Not only does it cut down on long queues, even the journey by coach or van from the Bandar Bentan Telani Ferry Terminal to Bintan Lagoon Resort has been eliminated! Is that crazy or what??? Mozaic Hotels & Resorts is the hospitality management company that manages Bintan Lagoon Resort.
How do Journeyful and Mozaic come into the picture? Well Journeyful is a rapidly growing travel platform that combines the ease of an online booking system with the distribution power of a social network. Journeyful is social by design, meaning it enables hotels to extend customised rates to various sub segments of its consumers. To cut the long story short, if you wanna go to Bintan Lagoon Resorts, just book it at www.journeyful.com!!
As usual, pictures tell the story best, so I shall leave you to enjoy my 1 night stay in Bintan Lagoon Resort vicariously. More photos after the collage. Don't forget to check out my separate post on Miyako Japanese Restaurant, where I had a sumptuous lunch together with my mother on the 2nd day in Bintan!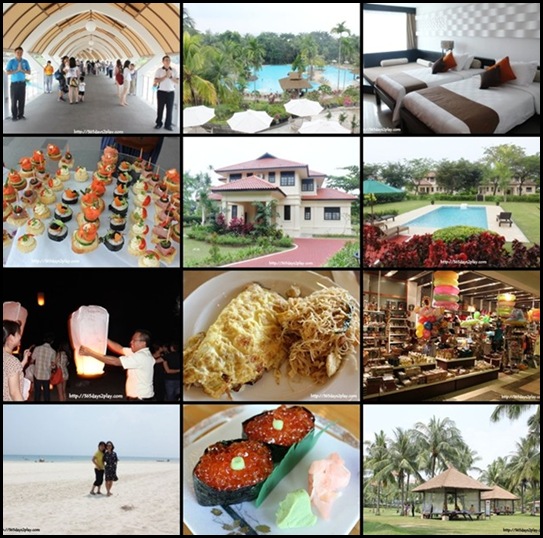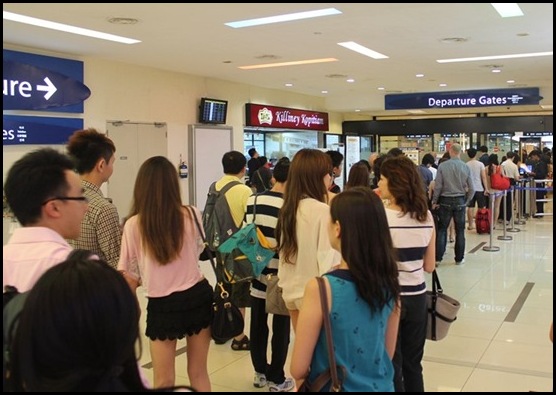 Long queue before we depart, but somehow one is never pissed when stuck in a long queue enroute to our holiday destination. If only we were so at peace when lining up for the supermarket cashier.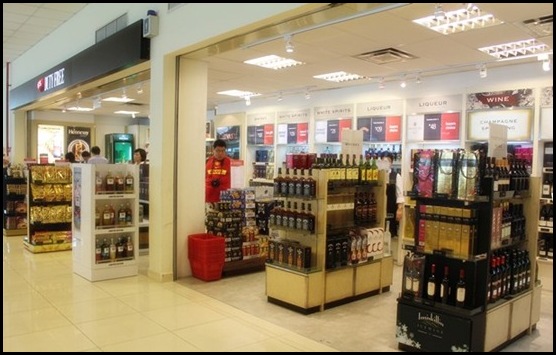 Did you know you can get duty free even if you're taking the ferry?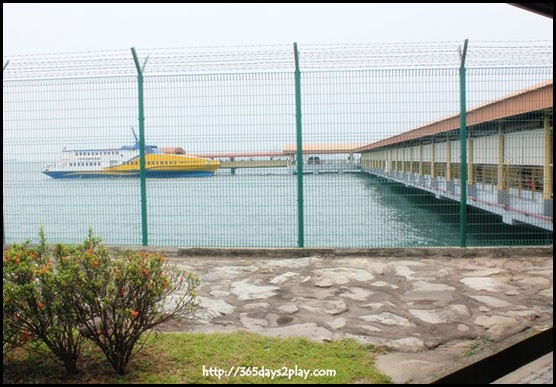 Our ferry awaits us!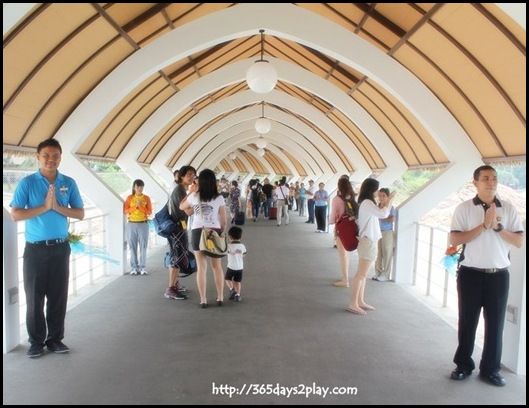 This is the special service I'm talking about. A sheltered linkway to link you from the Ferry Terminal to the Hotel!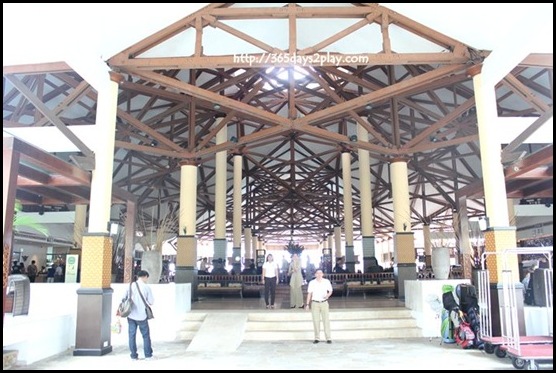 The grand entrance, or grand hall….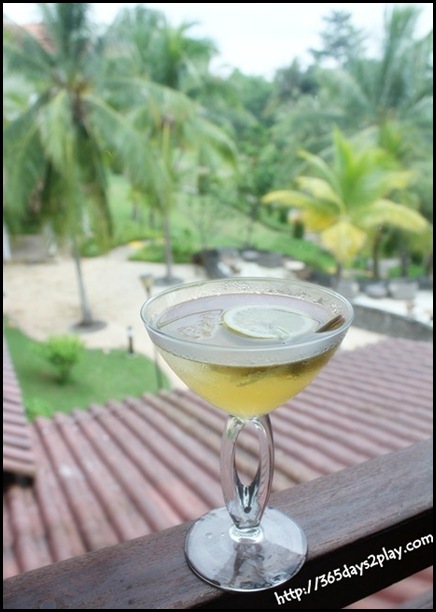 Every visitor is served a cool refreshing welcome drink.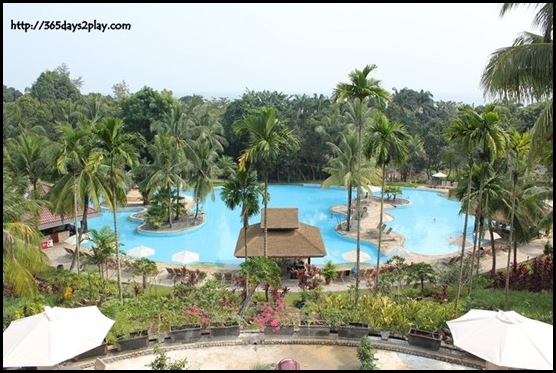 And a very welcoming sight from the grand hall as you sip your drink.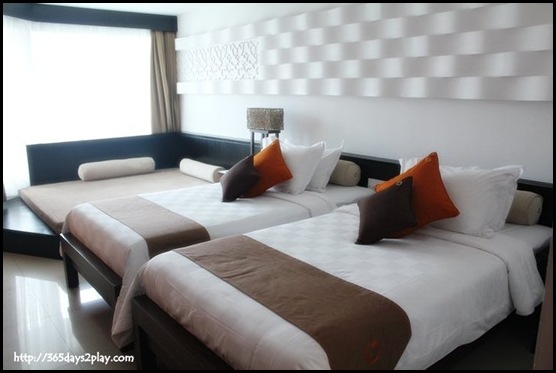 The rooms are pretty well appointed. I got the Deluxe Sea Facing Room and I must say, it's more spacious that the usual deluxe room in a normal hotel. There is even a mat area if you need to do some praying or light reading.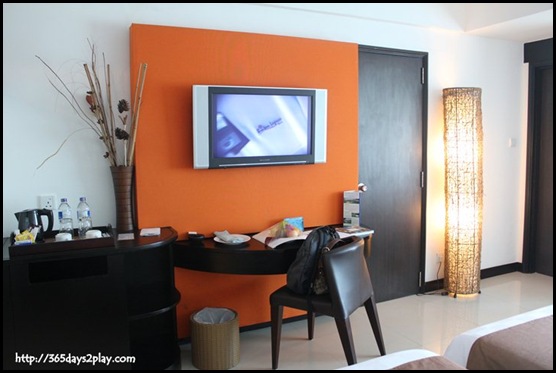 Fresh fruits to welcome you, tea and coffee provided. No milo though. Soothing music from the TV each time you step back into the room.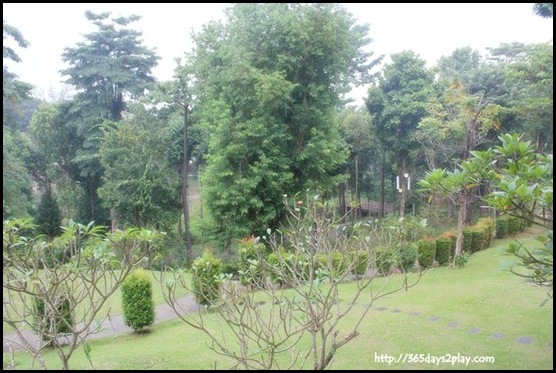 The room is Sea Facing, but it doesn't mean you can actually see the sea as the plants pretty much obscure your view. Every room has a balcony and I took this picture from the balcony on the 3rd floor. Perhaps you might spot a bit of sea if you're on the 5th floor, which is the top floor. Also, take the East Wing as that has less plants to obscure the view.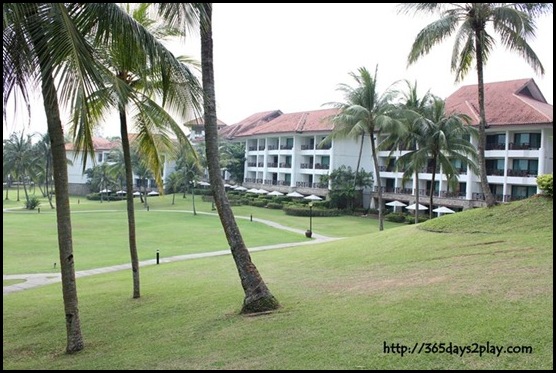 Yes, take this wing. The sea is just to the left of the photo.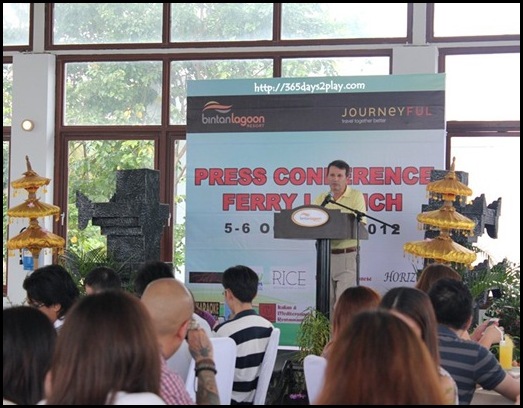 The boss of Bintan Lagoon Resorts giving a speech on the launch of the Ferry Service.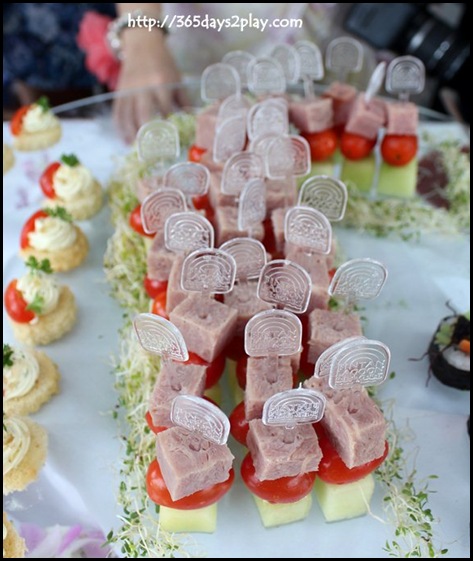 While I stuffed my face…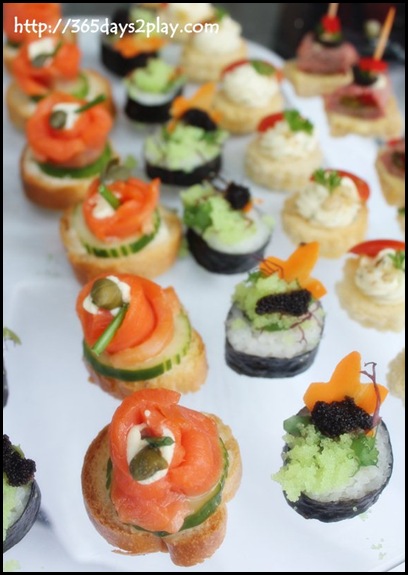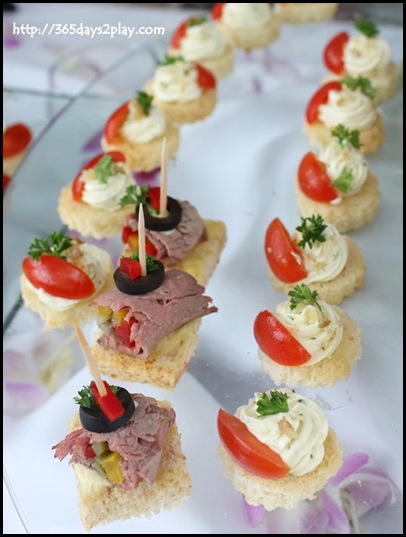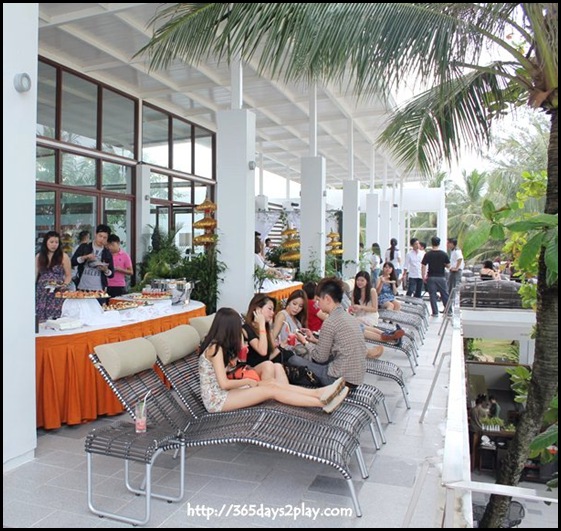 Not just me, everyone else was also glad to have a bite after the journey. This is at Rise.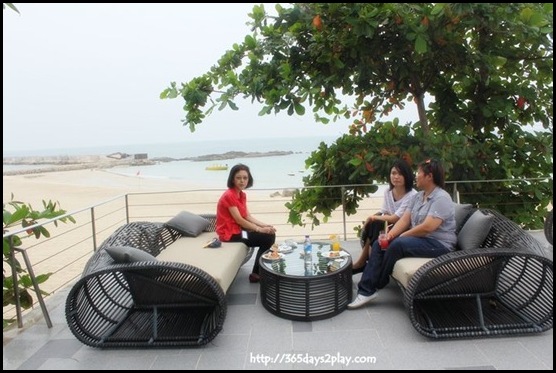 Rise, a pretty nice place to hold a roof top event.
After the press conference, we were given a quick tour of Bintan Lagoon Resorts. This is the Angsoka Villa, which boasts 5 bedrooms. There are a total of 57 villas ranging from 2 — 5 bedrooms. I stayed in one of the Angsoka villas the 1st time I visited Bintan Lagoon Resort. Do you know, you can even purchase this villa if you want to? Costs less than SGD$1m. Some companies do that, to secure the villa for any company corporate retreats. I believe I saw IRAS's nameplate on one of the smaller villas.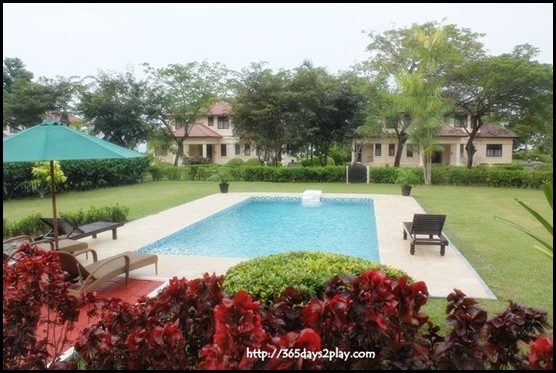 The most impressive thing about taking the Angsoka Villa is that you can have your very own private pool! Is that cool or what???? Now this faces the Villa in front, but I was lucky to stay at THE VILLA facing THE BEACH ITSELF. How cool is that!!!!! Do note that only the Angsoka Villas have pools.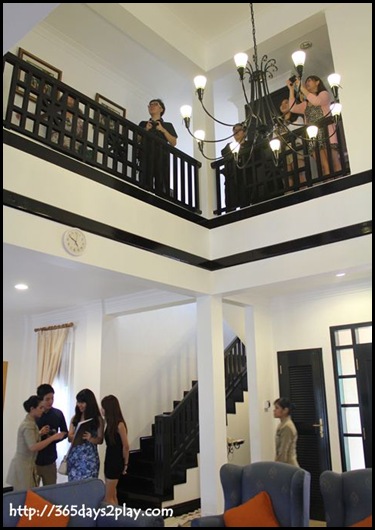 Impressed bloggers taking loads of pictures.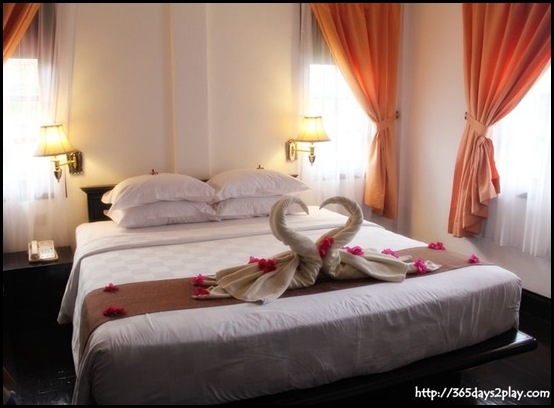 How romantic!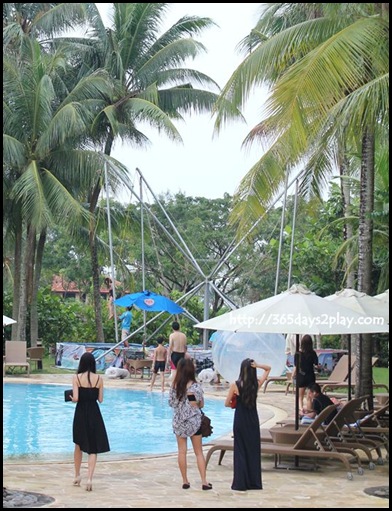 Moving along, we got to see the 2nd pool. Remember the main pool is facing the main hall. There's this reverse bungy thingy happening in the background. I would have liked to try it if I had more time.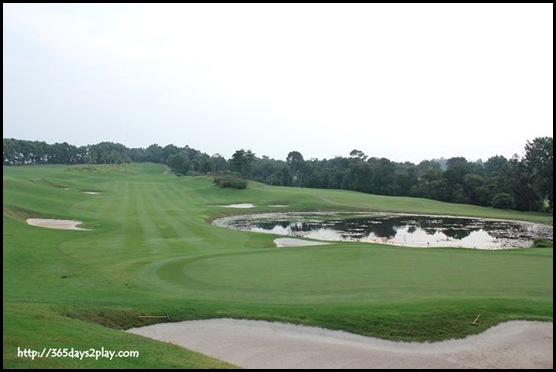 The golf course looks very pretty too. I think I didn't take a good picture, it sure looked much better than this.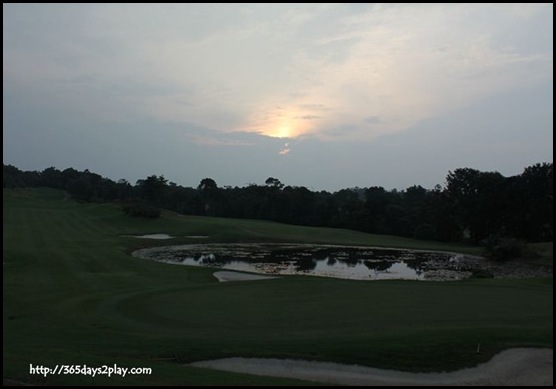 And, it's the place to catch the sunset! This spot is near the Leisure centre!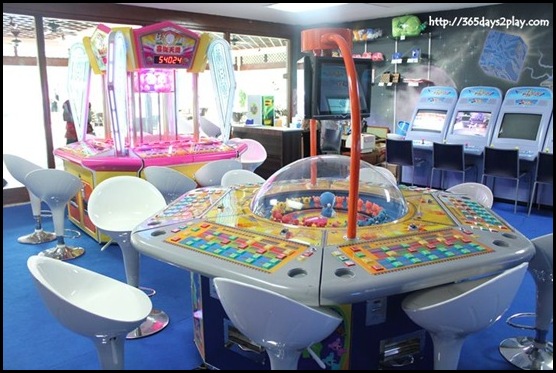 The Leisure centre games area. There is also a gym, spa and a few other things. The last time, all the arcade games were free, don't think that's the case now as there is a man manning the place now.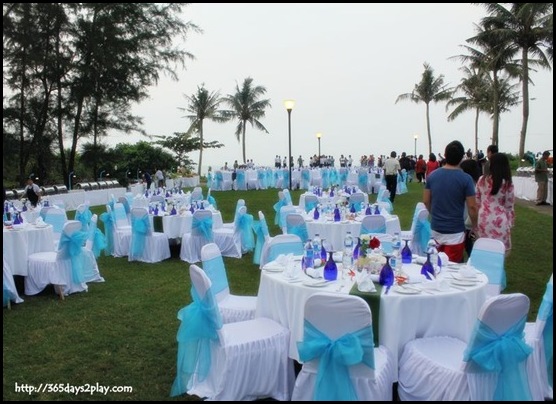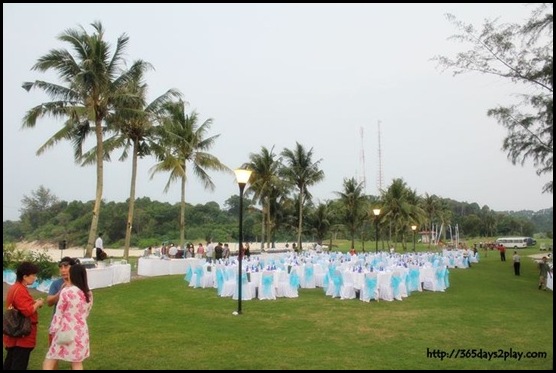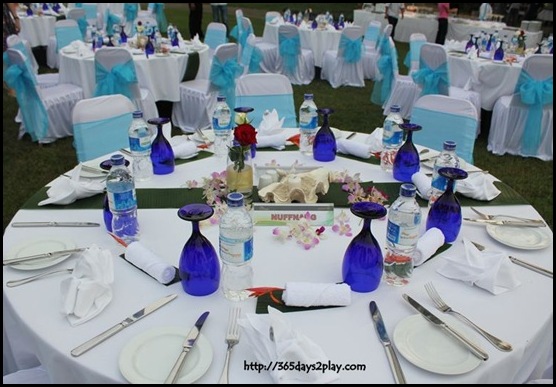 Reserved for Nuffnang!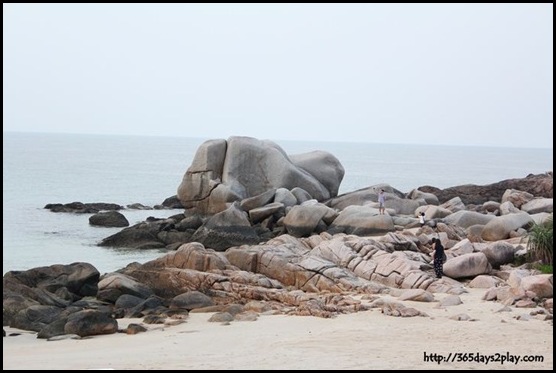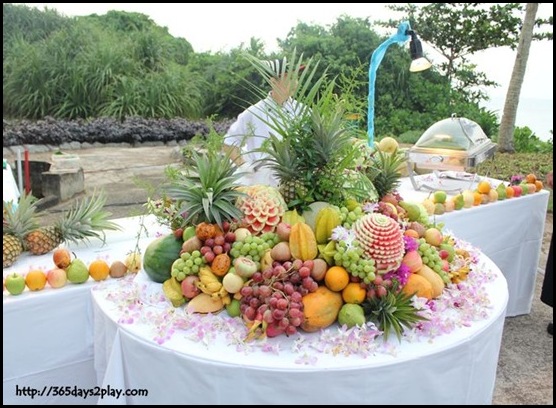 Fruit Carving Station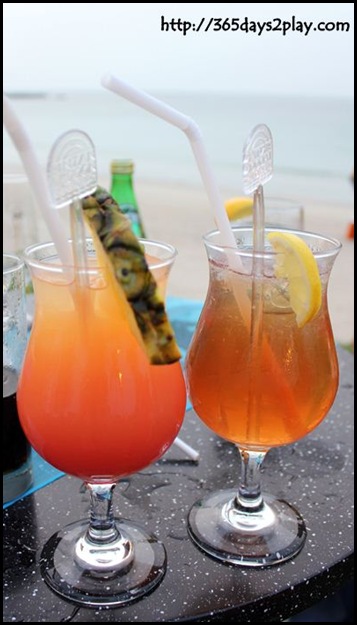 Have to wind down the evening with a nice alcoholic drink. Okay I cheated, this is a mocktail.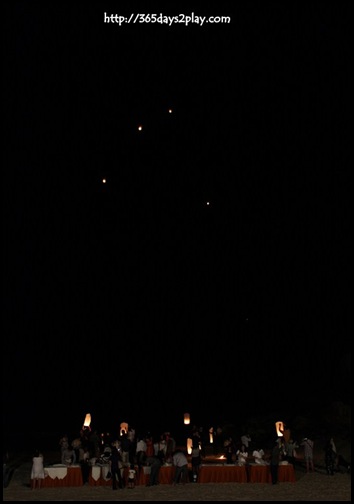 The highlight for me and my mother definitely had to be the Sky Lantern releasing event! This was the 1st time I had ever participated in such a thing. It was really very memorable for me, especially with the passing of my uncle recently. I penned wishes for my family's health and happiness. Releasing a sky lantern is symbolic of problems and worries floating away. I thought only the Taiwanese did it, but apparently it is something that the Thais hold fondly too.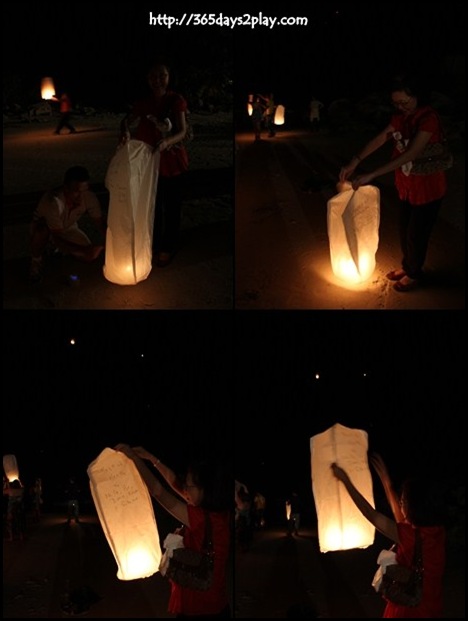 There is a skill required in getting the lanterns to float up. You have to be patient to wait for the air to heat up. Even when it looks like it is about to float away, it's best to wait a few seconds more at least!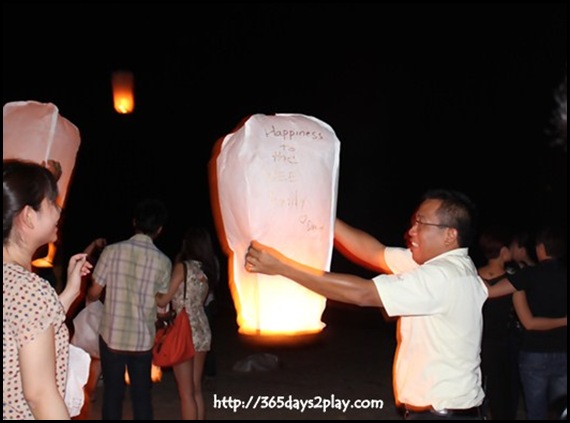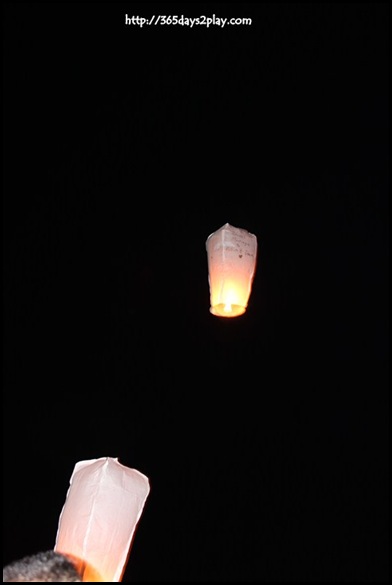 It was an exhilarating feeling to have my sky lantern successfully released and float to the heavens!!
Breakfast at Kopi-O buffet Restaurant. They do serve ala-carte too if you desire.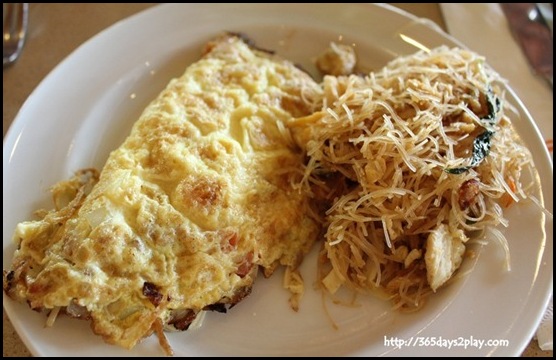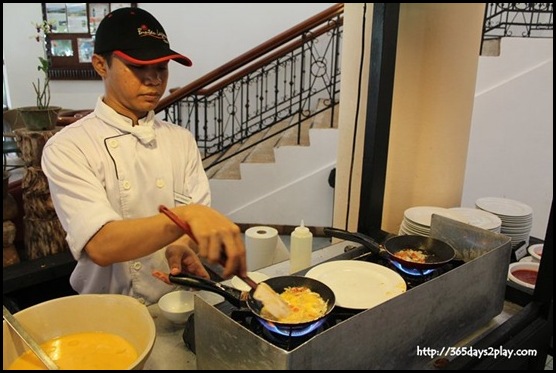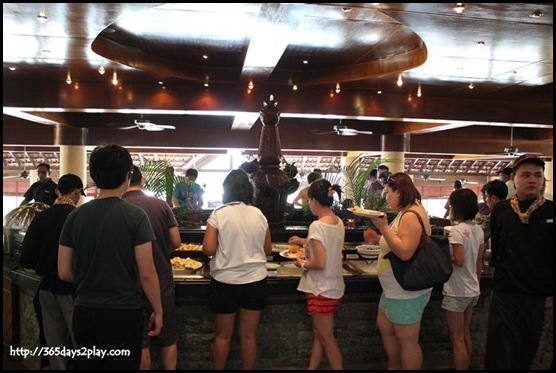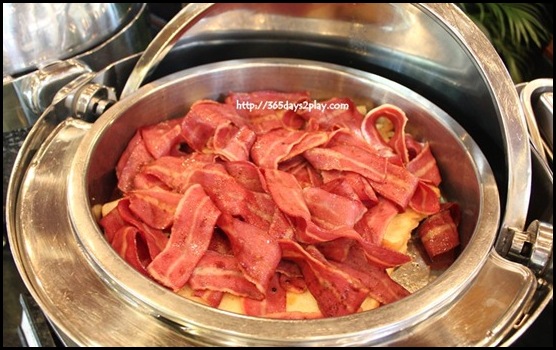 Ok I just had to post a picture of this turkey bacon. It really looks very weird to me, and the texture is like ham!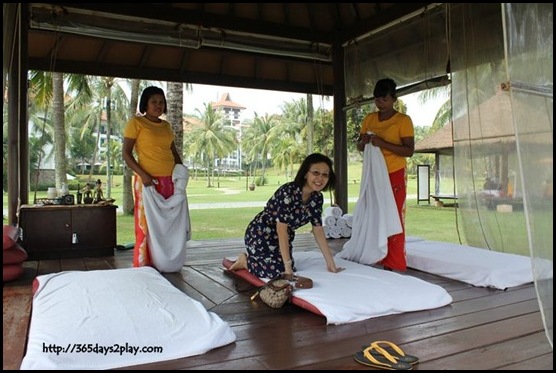 After breakfast and a short stroll around the grounds, my mother and I went for a beach massage. It's quite an experience I can tell you. I think it's best you wear your bikini there because you are required to remove your top! Out in the open! And half way through our massage, a 3rd person joined us and it was a GUY!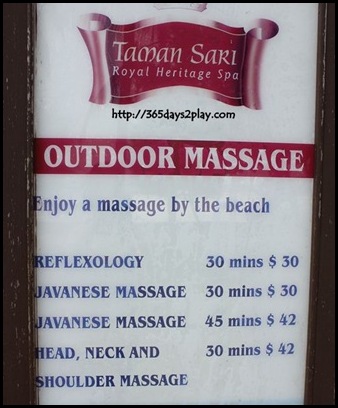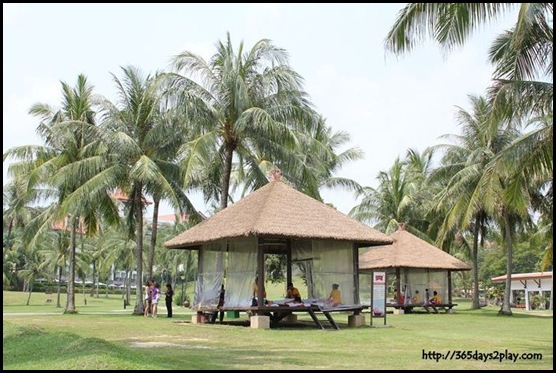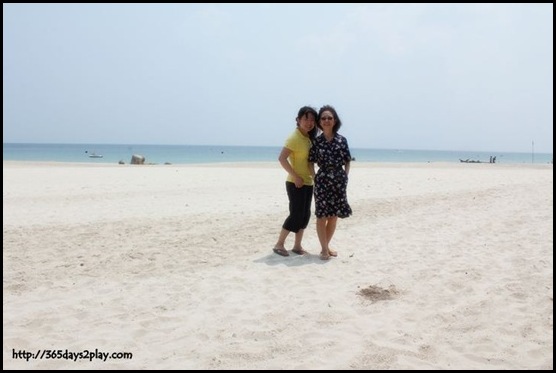 After the invigorating beach massage, my mother and I finally went to check out the beach. The sand is nothing like East Coast Park for sure. It's soft and fine and if I had more time I would have spent more time on the beach! Build some sandcastle or something.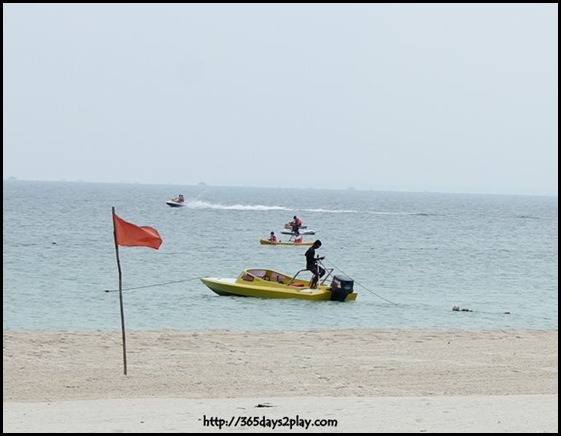 There are activities you can partake in, like kayaking or other water activities. I heard some people went snorkelling or rough terrain riding. I would like to try snorkelling one of these days!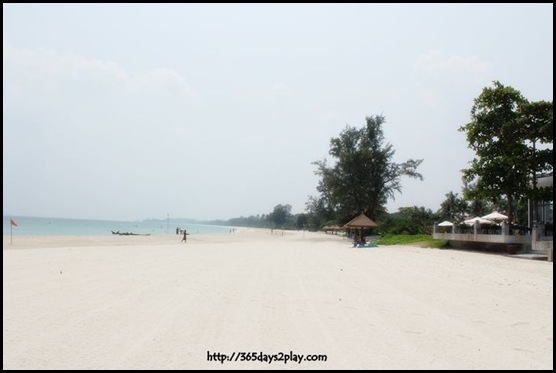 Soft white sand!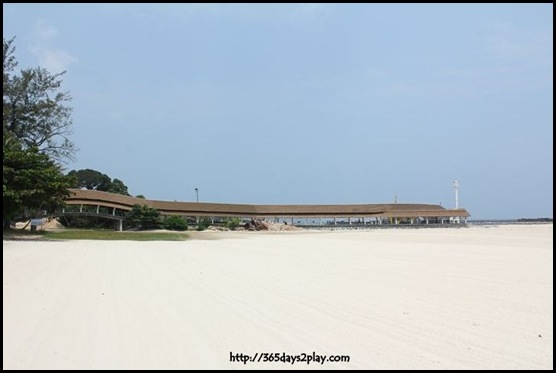 The ferry terminal and the link bridge!
Lunch was at Miyako Japanese Restaurant. You can read all about it here. And that's it for the 2D1N Bintan Lagoon Resorts itinerary!!