*Media Invite*
I guess with the posting of this post, Christmas 2013 is well and truly over. I always have a bit of a problem "letting go" of Christmas. December is such a time of merriment and holiday feel, and the adrenelin rush of making sure all the presents are bought and Christmas plans made. And it all just seems to literally pop and disappear come December 26, but nothing spells end of Christmas as starkly as seeing all the Chinese New Year decorations come up in full force overnight. I think I would very much prefer Chinese New Year to be in February, thank you very much. But that's not to say that I loath Chinese New Year. I love it in fact! You'll probably find me writing a similar post about Chinese New Year come February this year!
I had an early taste of Chinese New Year via the media tasting held at Crystal Jade Golden Palace at Paragon Orchard Road, last month in fact. Even though I was in a Christmassy mood then, I must admit that the food that was served was so delicious, I almost contemplated having a Chinese meal for Christmas instead! (In the end I went for Regent Hotel's Christmas Afternoon tea, one of the best places for afternoon tea in general)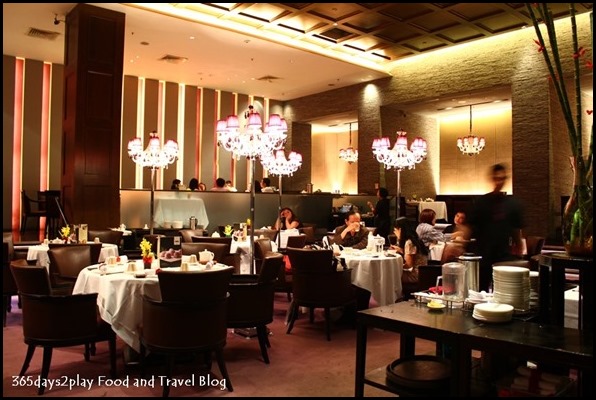 Most people are familiar with Crystal Jade Kitchen, which is the more casual restaurant serving affordable Chinese dishes. But did you know that Crystal Jade also boasts a line of more fine-dining/premium restaurant such as the Crystal Jade Palace Restaurant at Takashimaya, Crystal Jade Premiu at One degree 15 Marina Club Sentosa Cove and Crystal Jade Dining IN at Vivocity. We had our reunion dinner sampling at the Crystal Jade Golden Palace. The restaurant looked really posh, even more so than the Vivocity and Takashimaya one I feel. If you're looking for a fine-dining Chinese restaurant, you gotta check out Crystal Jade Golden Palace!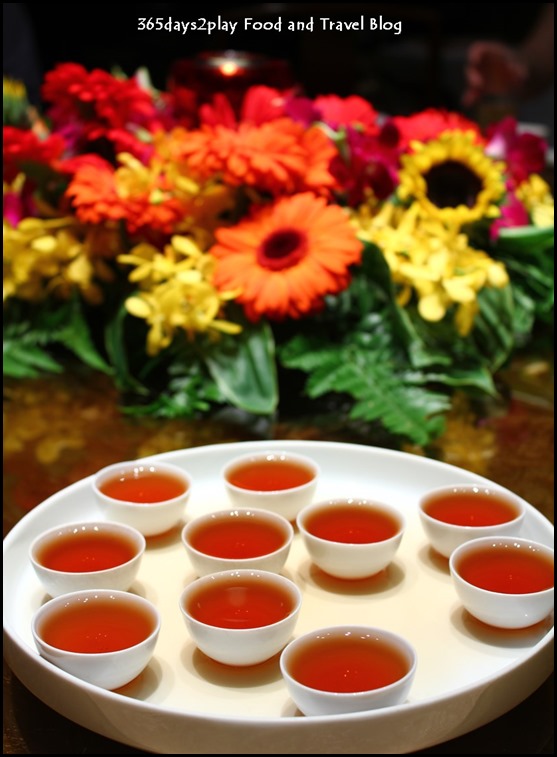 First up, some tea to cleanse the palate and sooth the throat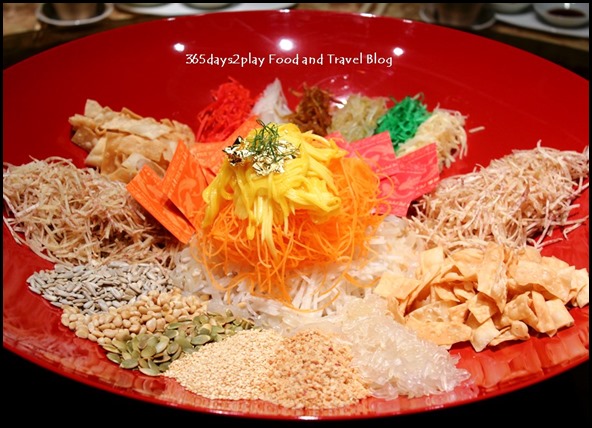 Hearty Five Treasure Yusheng $78.80 (small) $128.80 (large)
Usher in the year of the horse with this Hearty Five Treasure Yusheng! I can safely say that this is the most healthy Yusheng I have ever eaten because this Yusheng contains 5 different types of nuts and seeds. They have pine nuts, pumpkin seeds, sunflower seeds, white sesame and peanuts, in addition to other refreshing items such as the slices of sweet mango. And hey, a little gold leaf helps to really usher in the new year huh! This is really a lo hei that everyone agreed was very healthy!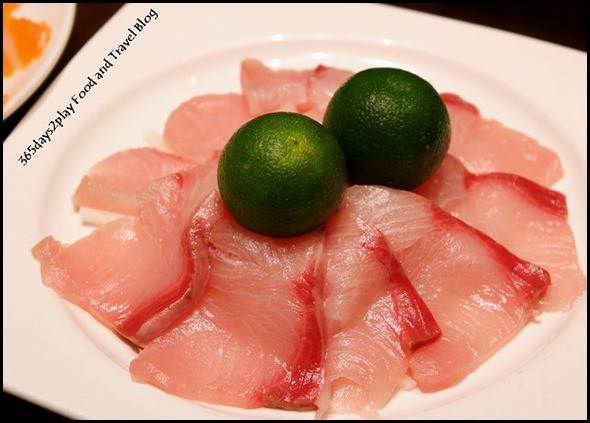 The Yusheng comes with premium amberjack fish slices in addition to the more common salmon slices. Both were succulent and fresh tasting, if only I could have the whole plate to myself!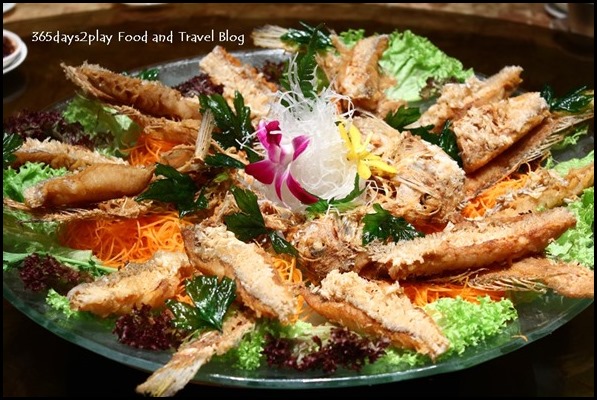 Deep fried Japanese Amadai sprinkled with Shichimi Powder $5.50/ 37.5 gm)
Next, we tried the highly coveted Amadai fish from Japan. I'd never tried this fish before. I was told it has a sweet, light and elegant flavour, however the lightness was lost on me as the fish had been fried to a crisp. Nevertheless it was a really tasty fried fish, and is served with the zesty shichimi aka 7 flavoured powder made from a blend of chillies, dried orange peel, peppercorns, sesame seeds, dried ginger and seaweed.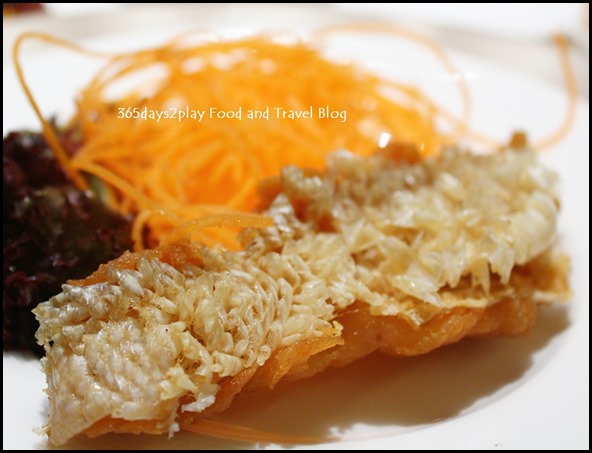 Here's a closer look at the piece of Amadai I had. Because it was deep fried, they didn't have to descale the fish. Yes those scaly things are the fish scales! The darker brown part underneath is the flesh.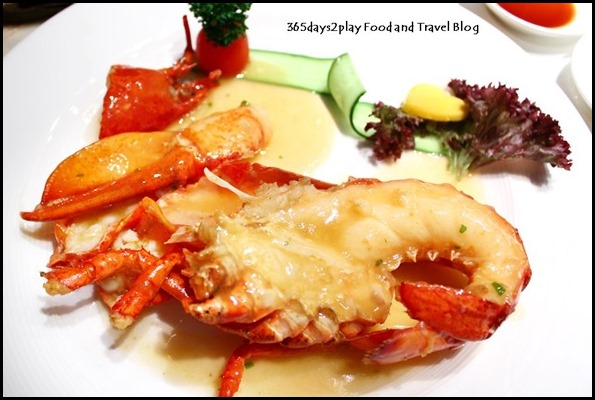 Stewed Canadian Lobster in Superior Broth $11/100gm
Of all the great dishes I tried at the Media Dinner, this was hands down, the BEST tasting dish of the evening. I know, you're going to say of course it tastes great, it's lobster! But this ain't no ordinary lobster. The way that the lobster was prepared and cooked was simply divine, my hat's off to the chef! This is probably the best tasting lobster I have ever eaten in my life! The lobster was first seared in hot oil and then gently simmered in this superior of superior stock containing halibut. The flesh was luscious and firm, with the delicious sweet flavours coming through distinctly. I only wish there was more of the delicious stock because I simply couldn't get enough of it! I want a bowl of it all to myself! This is really a must order, also because the lobster is an auspicious combination of strength and success married with happiness and good fortune. Need I say more?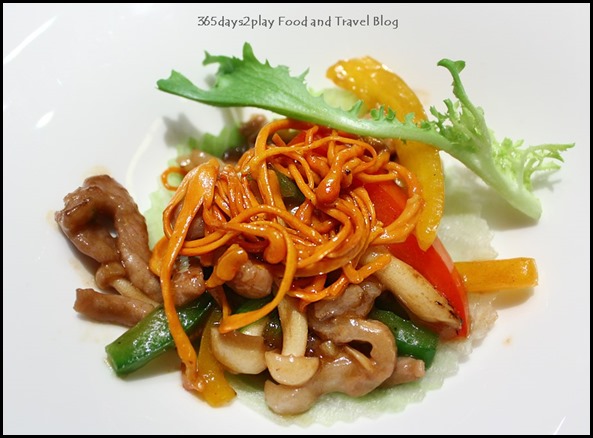 Sauteed Kurobuta Pork Strips with Assorted Mushroom and Capsicum $32
This is also another must order dish if you ask me. I like the delicateness of this dish because usually pork tends to be served in slices or cubes. Prepared this way, the richness of the pork is balanced by the sweetness coming from the red, yellow and green capsicums. 2 different types of mushrooms and cordycep flowers are used too.Organic raw extra virgin coconut oil from Thailand has also been infused into the dish to give it yet another dimension.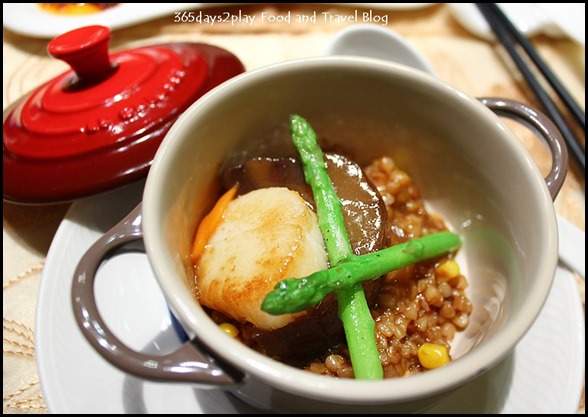 Braised Sea Cucumber and Scallop with Barley in Special Sauce $38
Pieces of scallop were lightly seared then braised together with sea cucumber, with sauteed fresh asparagus, golden corn, wheat and barley being added. There are a total of 7 ingredients used in this dish to symbolise growth and life. I really like this innovative use of barley as the starch instead of rice, which gives the dish an interesting texture. Don't mistaken the use of these healthier ingredients as equating to a boring dish, because it was far from it.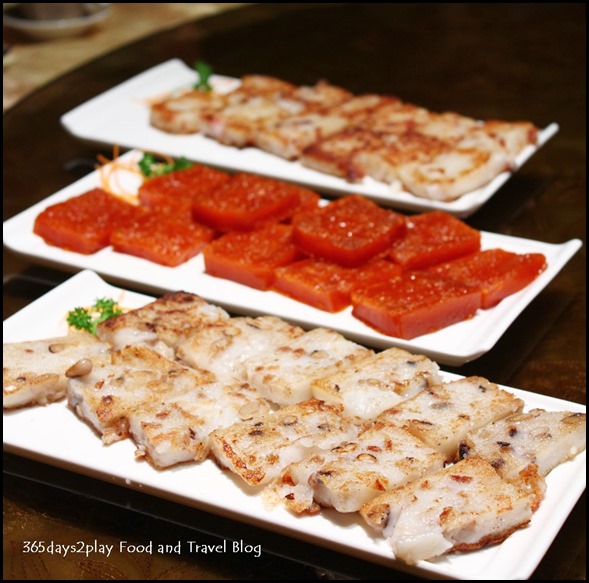 Festive Trio (Black Eyed Pea Cake — Steamed, Carrot Cake — Pan fried lightly, Glutinous Rice Cake — steamed and lightly tossed with shredded coconut and peanuts)
And last but not least, the Chines New Year desserts we tried. I love glutinous rice cakes, it reminds me of the Chinese New Year of yesteryear where my grandfather would slice the glutinous rice cakes thinly and coat them in a really delicious batter and have them deep fried! This glutinous rice cake, although prepared differently, instantly transported me back to my childhood. Get this, if you don't know what to order for desserts. The black-eyed pea cake and the carrot cake both tasted pretty similar to me, and are more common, so I would highly recommend the glutinous cake, although if you want something healthier you ought to go for the black-eyed pea cake since black eye peas are rich in calcium, folate, protein and Vitamin A.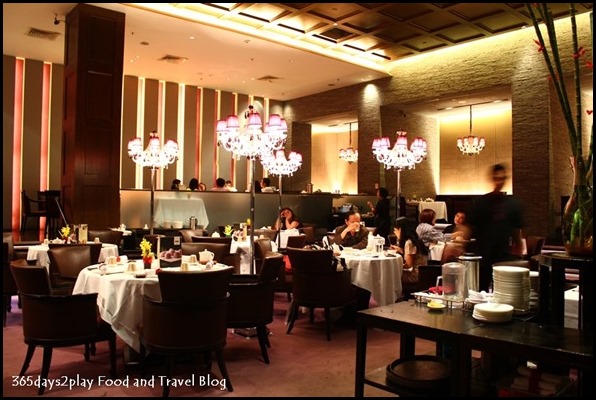 Crystal Jade Golden Palace at Paragon 5th floor. Love the classy look
Crystal Jade's theme for Chinese New Year 2014 centres on Health, Wealth and Prosperity. As you can see, the menu features seasonal delicacies from around the world done with a light, contemporary touch using premium, fresh and nutritious ingredients. These dishes are only available at Crystal Jade Golden Palace until the end of Lunar New Year on 14 February 2014.
Besides dining in, you can also get the following CNY goodies for takeaway
Fortune Bo Lo Pineapple Tarts $17.80 — These tarts look like mini Bo Lo Bao but have a sweet pineapple filling! Pretty cute, my colleagues couldn't resist them!
Pen Cai in 4 flavours for either 6 or 10 pax (also avail dine in)
---
Add me on Facebook, Instagram and Twitter if you want to be kept up to date with the latest happenings in the food and lifestyle scene in Singapore!
---
Crystal Jade Golden Palace
Paragon Shopping Centre #05-22 Singapore
T (65) 6734 6866
Click on the map for directions to Crystal Jade Golden Palace. "A" marks the spot where it is.