Merry Christmas everyone! Hope you managed to have a great celebration together with loved ones and friends! Christmas is undoubtedly my favourite time of the year and I really wish it were 12 days long instead of just one! I love all the Christmassy decorations, the "colder" weather, the festive atmosphere and of course, PRESENTS!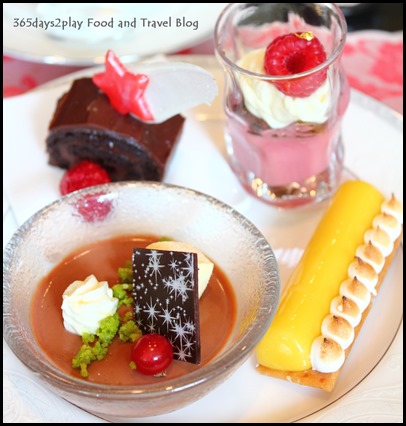 Every year as is tradition with The Partner and I, we like to go for a nice Christmas meal outside. The last few years we have always gone to The GoodWood Park Hotel for their Christmas day buffet lunch, but we decided to say enough is enough when prices got way over $100 per pax. Yeah, I mean I can understand that restaurants jack up prices during Christmas, but to pay double what they would normally charge, you gotta wonder whether it would be more worth it to enjoy the buffet on a normal day, then you can have it twice!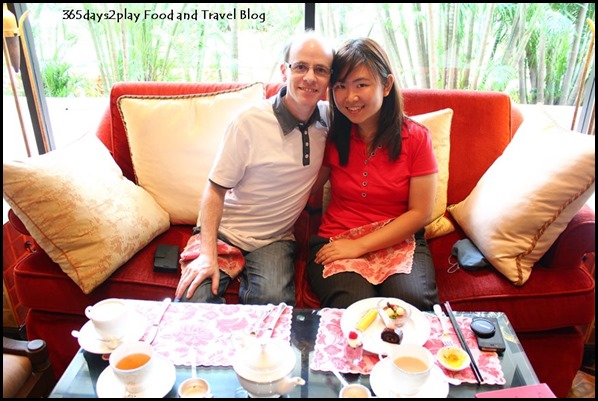 So I thought I would have to forgo the restaurant festivities this year, when I thought of a good plan. Did you know that apart from Christmas lunch and Christmas-Eve dinner, there is also Christmas afternoon tea buffet? Christmas afternoon tea buffet was exactly what we went for today, at the Regent Hotel. Instead of paying well over $100, we just paid $65++ per pax for an equally enjoyable Christmas lunch! Yes, the afternoon tea was served in 2 seatings, so we took the earlier seating from 12-2.30pm. The afternoon tea buffet is obviously not as lavish as what you would expect for a lunch buffet, but it was still lavish enough that I barely sampled half the items at the buffet! I'm definitely going for the Christmas afternoon tea buffet next year if given the choice. I hope that me letting this secret out won't cause prices to inflate!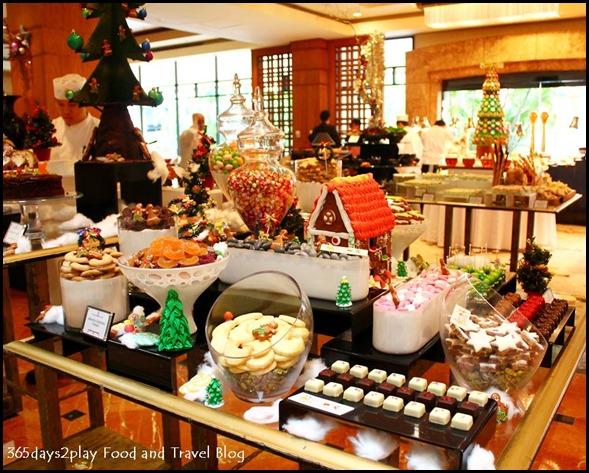 It's not a Christmas meal if there ain't any turkey! Actually did you know that turkey wasn't always traditional to Christmas? And in New Zealand, people like to eat roast beef or roast lamb instead of roast turkey! Alas no picture of the delicious roast beef because a darn potted plant obscured it. You've gotta wonder why the hotel put a darn potted plant in front of the piece de la resistance!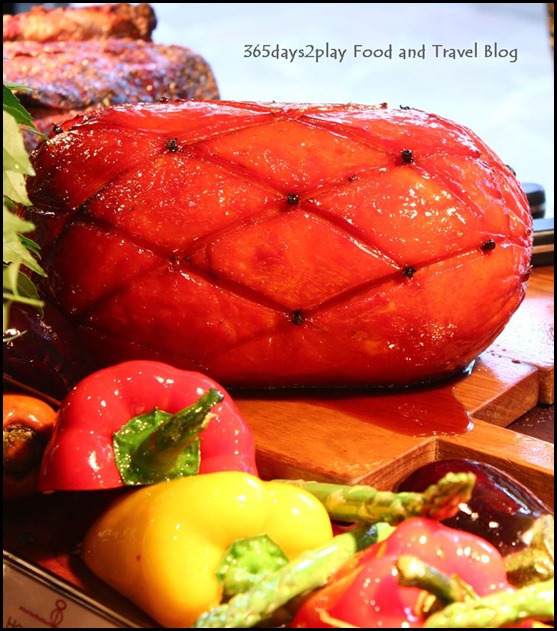 Honey baked ham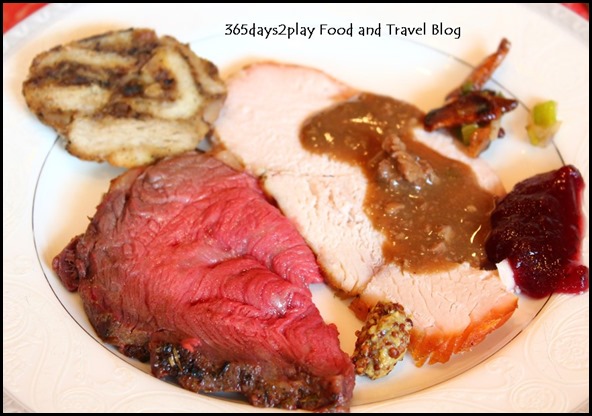 Christmas turkey was on the tough side. Frankly, it's never the highlight for me, unless it is roasted by The Partner. The highlight in this plate above was undoubtedly the roast beef which was supremely moist and tender, and as you can see, not at all overcooked.
Cheese station had a great array of cheeses. I love it when the cheese board is overflowing with cheeses. The cheese station is one of the stations that hardly gets wiped out by customers, but if they don't lay out the cheeses in their full glory, it just looks forlorn. I tried a piece of the manchego and it was delectable. The san simon da costa was also quite good, a cheese that I've never tried before.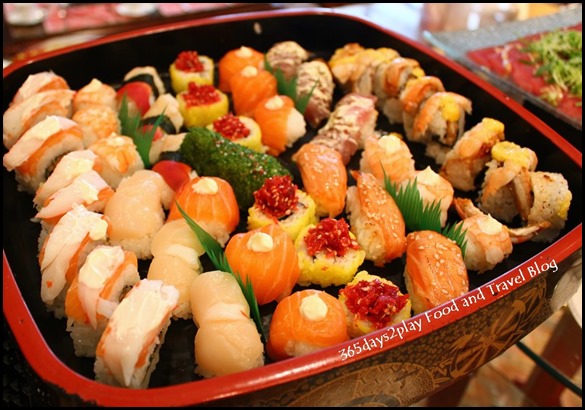 Sushi tray, with quite a number of sushi that I like. For the record, I love salmon in every form except 100% cooked.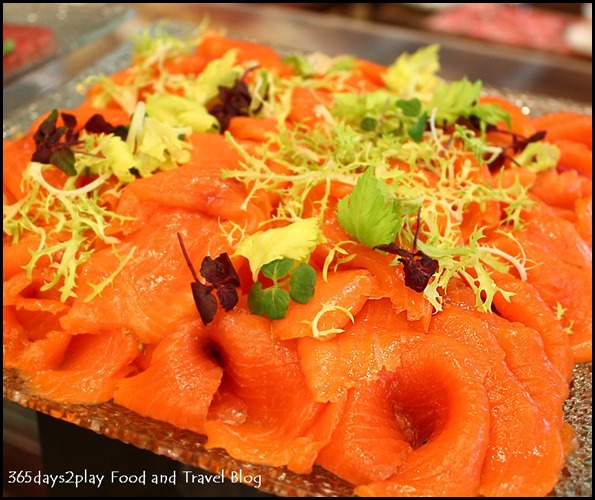 Smoked salmon, definitely one of my perennial favourites!
These were what I tried! Very tasty for a buffet setting! Glad the chefs have gone for quality instead of quantity of variety.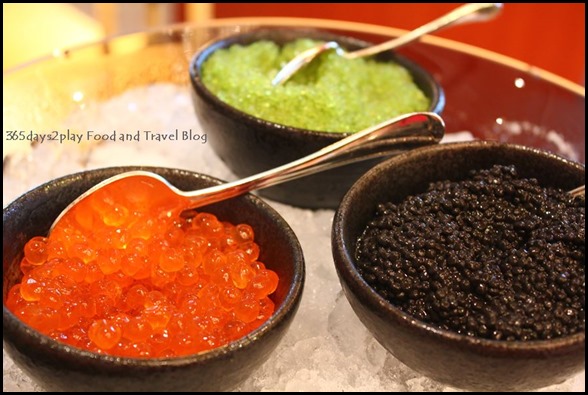 I know a few people whose eyes would pop upon seeing these roe being served generously like this. I would like to say that I only had half a scoop of the orange ones and a quarter scoop of the black ones so as to still have space for the other buffet items.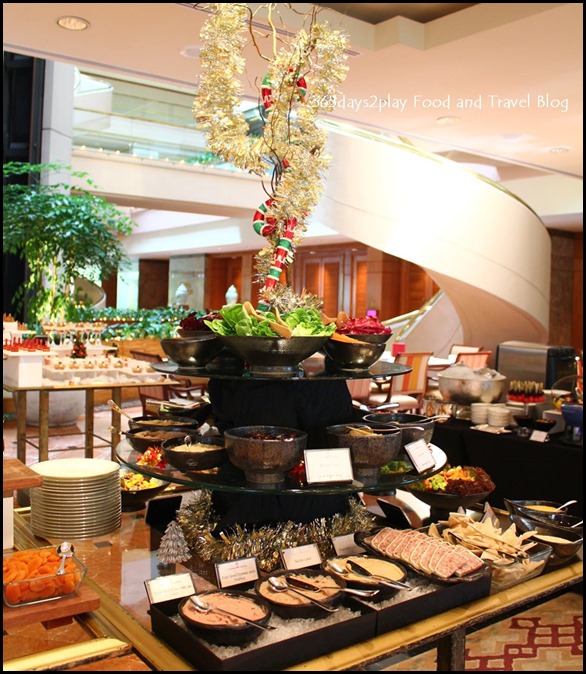 This was the salad station with a mind boggling array of dips, starters and terrines. I overheard a customer looking for the goose liver, only to be disappointed that it was in a paste form. But I tell you, that goose liver paste was so darn good, I had to go back for seconds! If you can't get foie gras, goose liver pate works just fine for me. I ate some of the goose liver pate wrapped in the lettuce leaves. DELICIOUS!!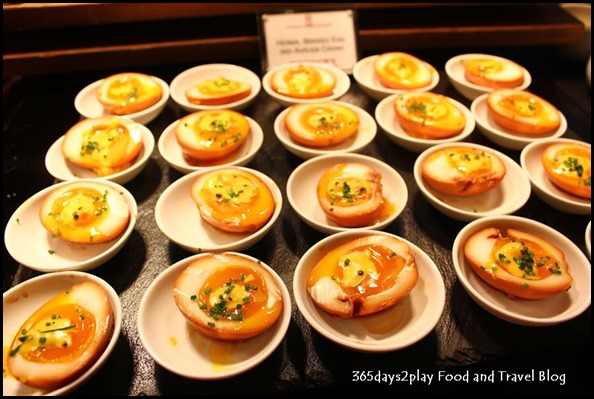 More artery clogging Japanese styled eggs which are hard-boiled on the outside and still retaining their soft yolks. What's not to like about these?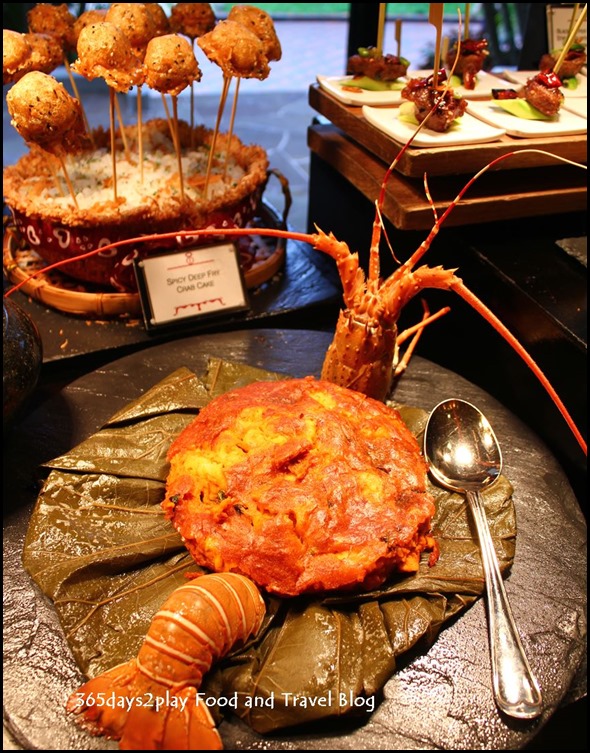 Lobster otah was super delicious! The otah was just roughly chopped up instead of having flesh that it minced to a fine pulp. Love the texture and the slightly spicy flavour!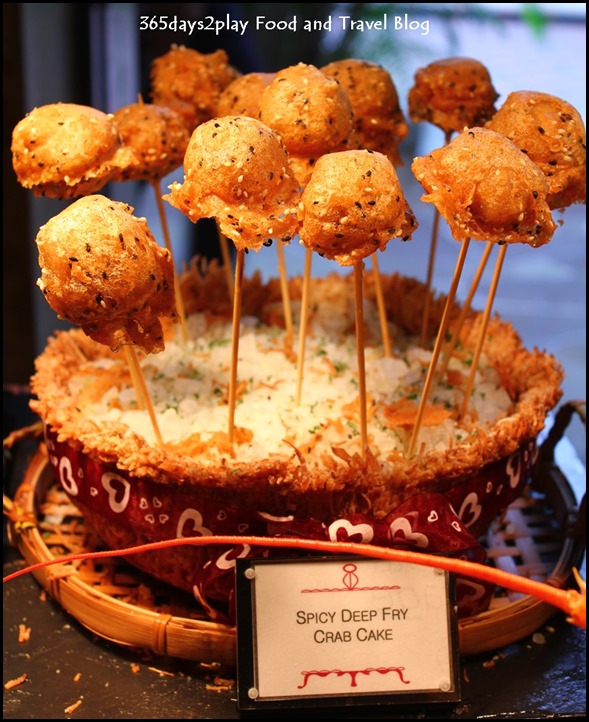 These look really inviting, but were just so so. Too much batter and too little crab cake.
Wagyu beef something. Quite nice, but I was expecting something more tender.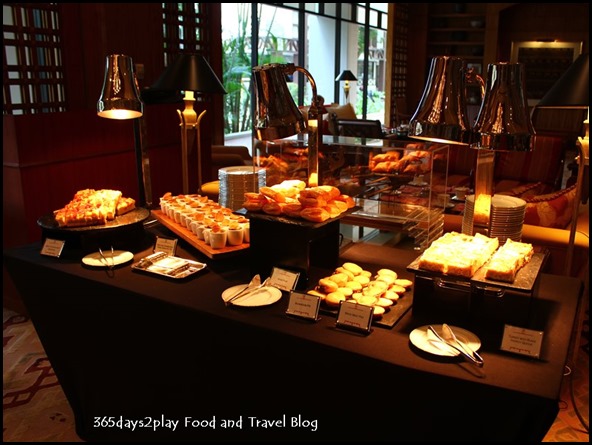 Quiche and pie counter. The quiche was amazing. The crust was delectably thin, while the filling was soft and wobbly. It was really the perfect consistency that anyone could ask for.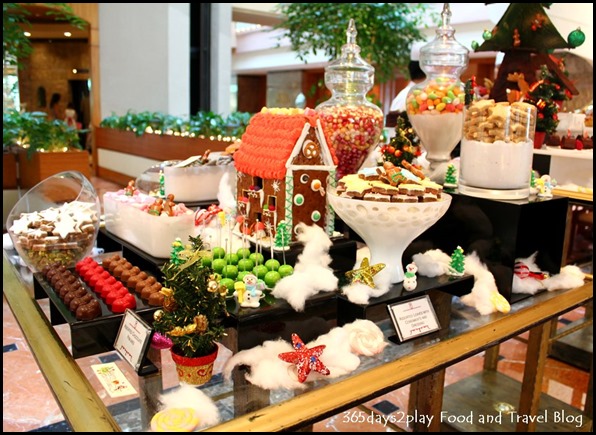 And finally, the dessert table!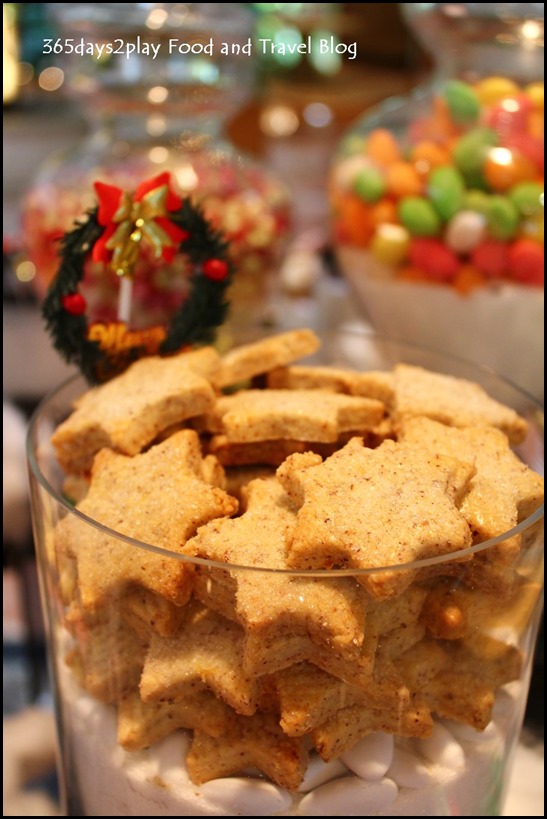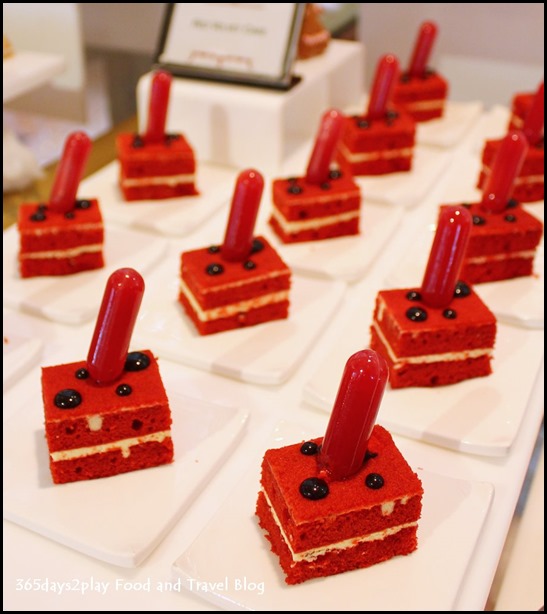 Red Velvet cake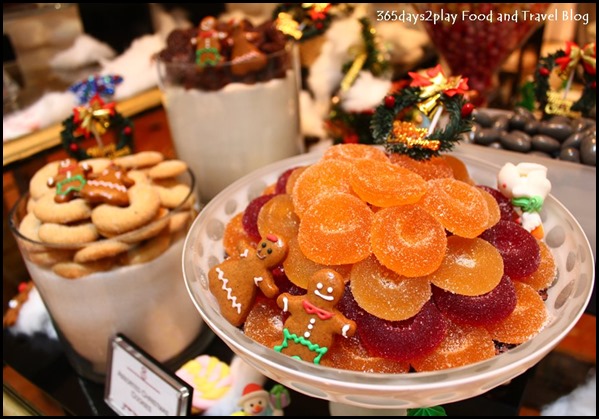 Christmas cookies and pralines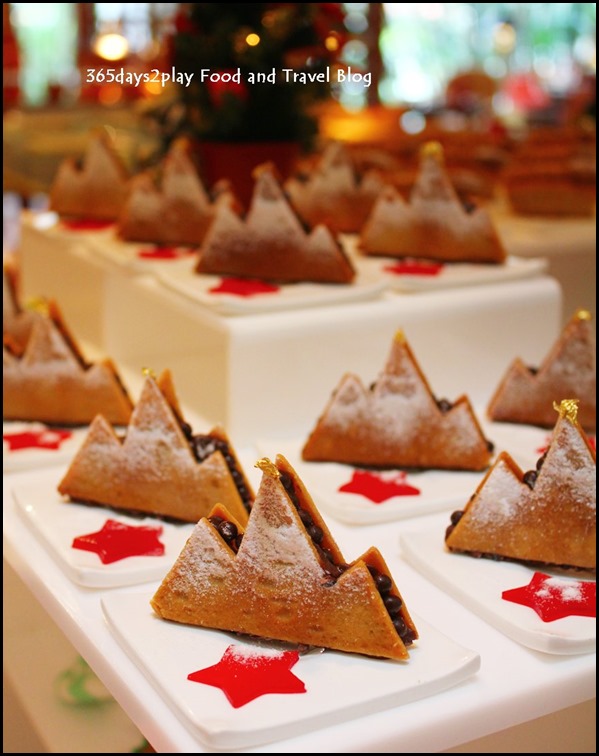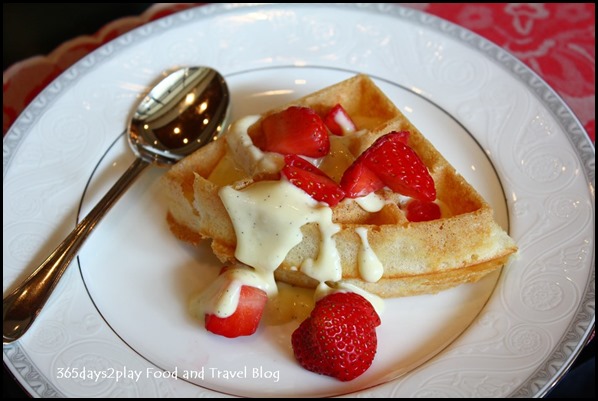 Belgian waffles freshly made to order. We ordered the vanilla cream one with strawberries. The waffles were a bit dry, but really tasty otherwise! Didn't taste like any other waffle I've tried.
These were some of the desserts I tried. The mini sliced chocolate log cake was very good. A heavy sponge chocolate cake that goes well with tea. The lemon curd tart was astounding too. I've never really known myself to be a lemon tart lover but these days I just can't get enough of them! The lemon curd was fantastic tasting, very sweet yet with a lemony zing. Eaten together with the not so sweet meringue and tart base, it was just an explosion of flavours in the mouth!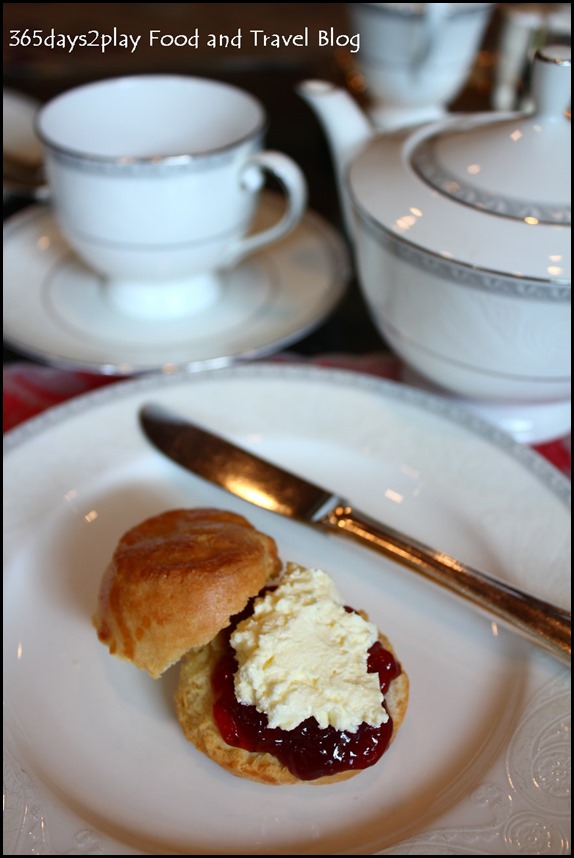 The scones are a must try, as there's free flow clotted cream and nearly 10 different types of jams to choose from! Don't stinge on the clotted cream or the jam. My advise is to put enough such that it is almost dripping down the sides. THAT, is the way to eat scones. Regent Hotel definitely has one of the best scones in Singapore. Glad to know they've kept up their standards all these years.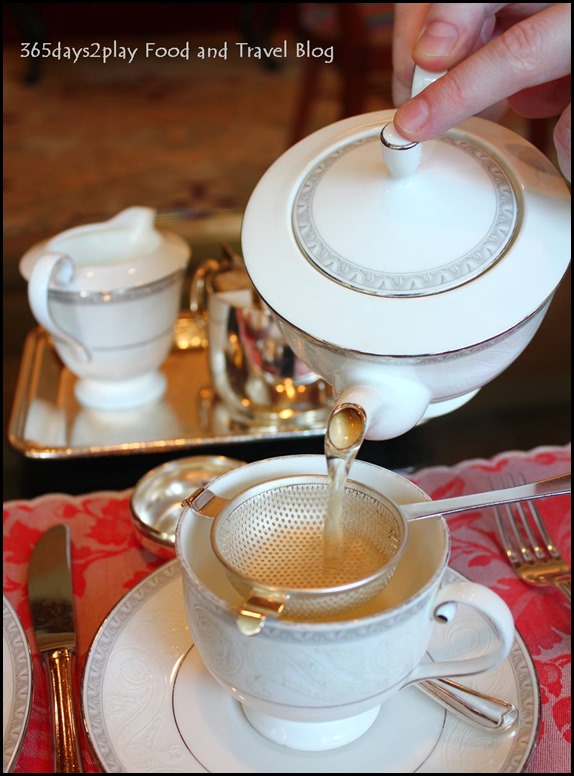 And you know one of the best parts about going for a Christmas afternoon tea instead of Christmas lunch, apart from the cheaper pricing? You get to have 2 selections of premium teas, coffees or hot chocolate! You definitely won't get that luxury at a lunch buffet! And the trick to making your 2 pots of tea per pax last, is to go 1 pot at a time for the whole table, rather than each person making a selection at the same time. That way, you get to enjoy a fresh hot pot of tea every half hour or so. Coz if there's one grouse I have, it's that the tea gets cold so fast! The best tea I tried today was the Lapsang Souchong. I absolutely love the intense smoky flavour that leaves such a pleasant after taste.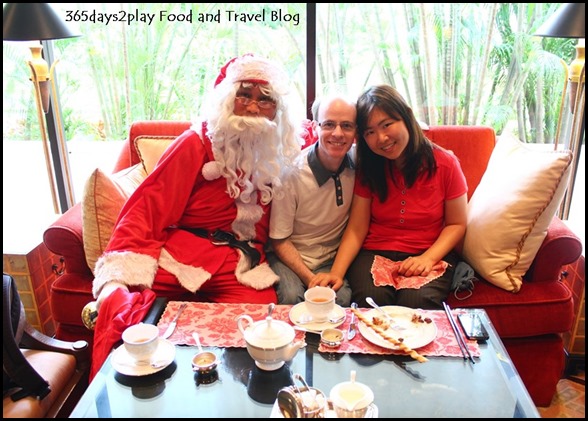 That's Santa sneaking a picture with us. He didn't give us any presents though! Isn't it one of his KPIs to be giving out more presents?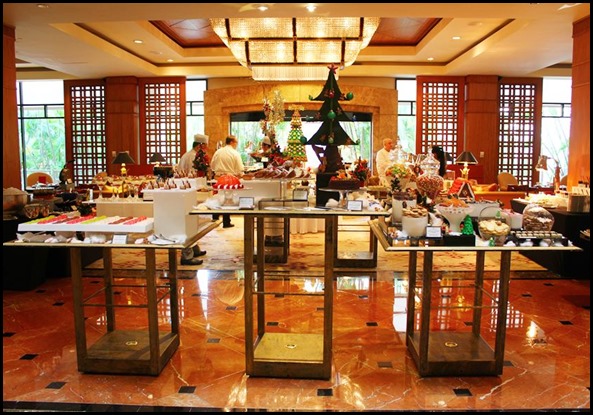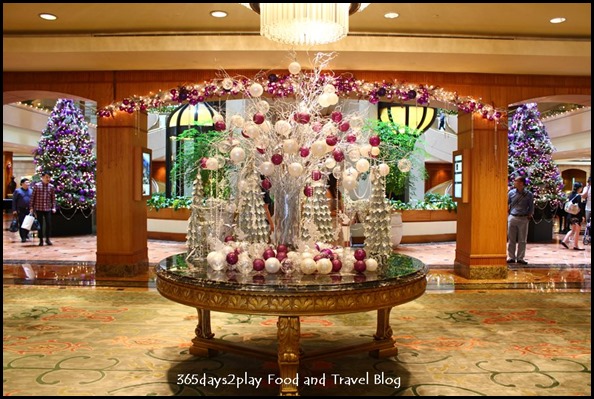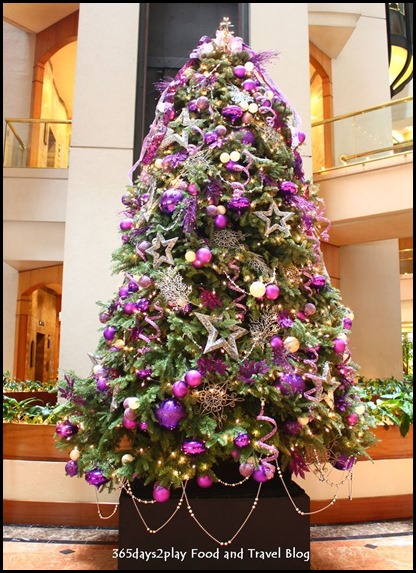 We really had a very merry Christmas afternoon tea today.  I hope you had a Merry Christmas too. If you didn't, well there are still 11 days more to feast! Here's to a better 2014!
---
Read about the best Afternoon Tea places in Singapore.
Add me on Facebook, Instagram and Twitter if you want to be kept up to date with the latest happenings in the food and lifestyle scene in Singapore!
---
The Regent Singapore — A Four Seasons Hotel
One Cuscaden Road, 249715, Singapore
Afternoon Tea: 12 noon-5:00pm (Mon-Fri)
High Tea Buffet: 1:30pm-5:30pm (Sat & Sun)
For reservations: 
T. +65 6725 3245 / +65 6725 3246
Email: tealounge.rsn@fourseasons.com
http://www.regenthotels.com/singapore-hotel-sg-249715/risin/dinings/3