If you're living in the Serangoon area, you may be delighted to know that Sun Ray Cafe there welcomes furry guests. Although I presently do not own a dog or a cat, I can well sympathise with pet owners who find it really difficult to travel around with their pets in Singapore, much less find a place to dine with them. While I was in France last week, I was amazed to know that dogs are pretty much allowed anywhere! In the TGV train ride from Lyon to Paris, a dog was snoozing on the train table diagonally from me! No need to leash your dog or hide it in a doggie carrier! I don't think we'll be seeing that fairly soon in Singapore, but at least the pet-cafe scene seems to be hotting up.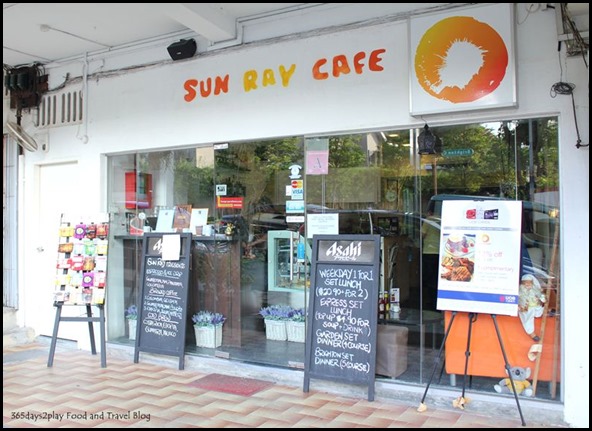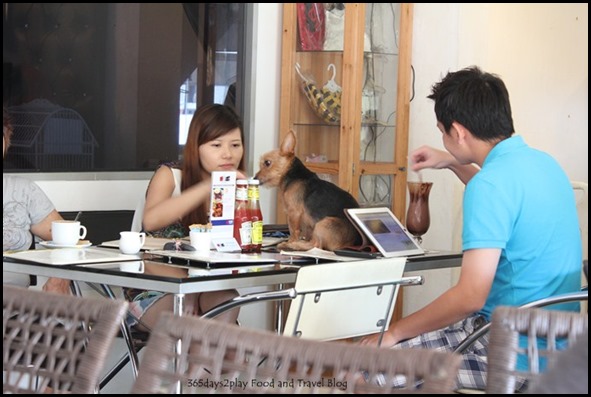 A doggie perusing the daily specials while propping up the owner's iPad.
At first glance, Sun Ray Cafe may not look like the typical place to get good 3rd wave coffee. After all, when the place was furnished a few years ago, Sun Ray's focus was more on food. Now that they've gotten the food aspect on cruise control, their next goal is to get the word out that great coffee can be synonymous with Sun Ray Cafe.
In terms of certifications, they have it all as you can see from the picture above. That's Dave Lim, the owner of Sun Ray Cafe.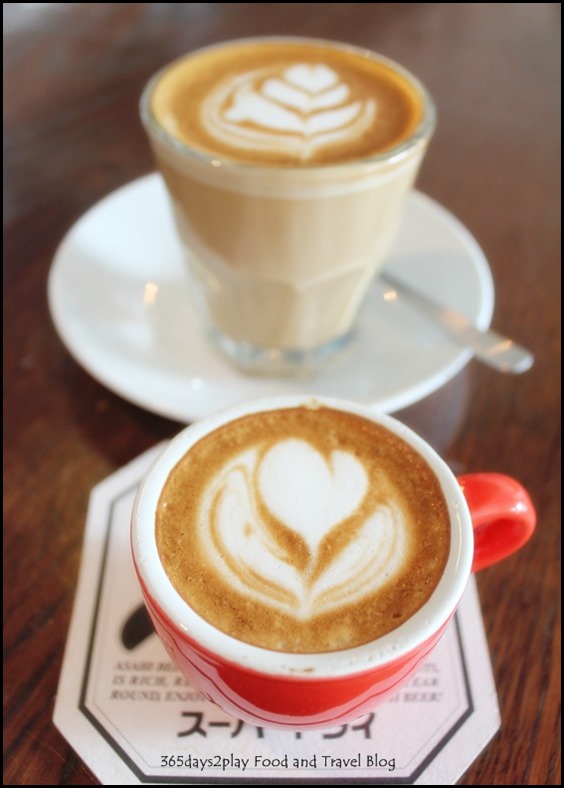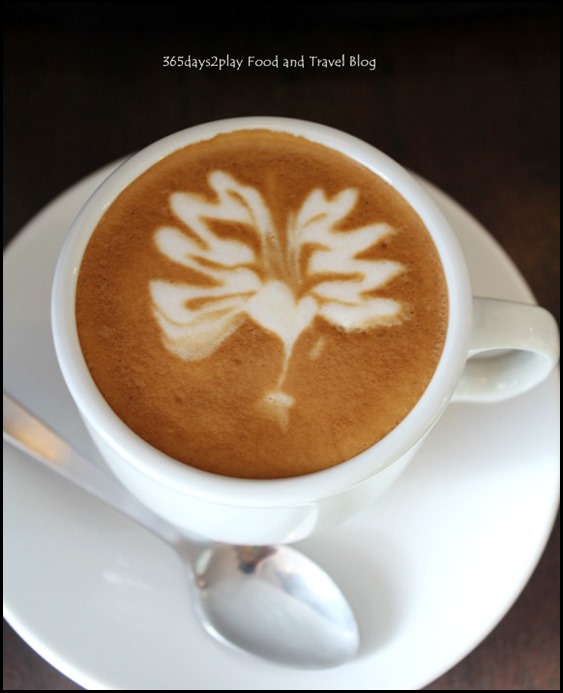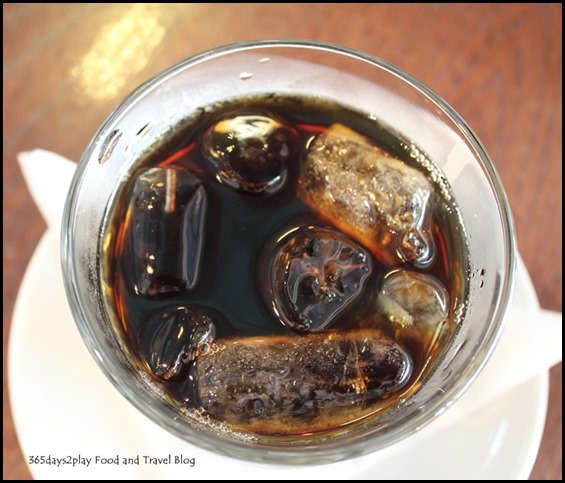 I tried several versions of their coffees ranging from macchiato to lattes to even the cold brew. All were very good and I have definitely no qualms returning to sample their coffee again.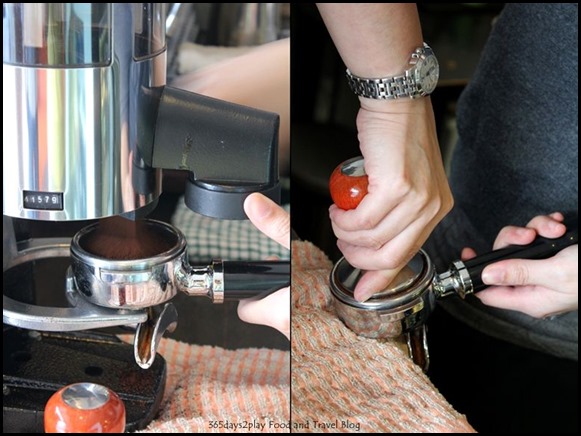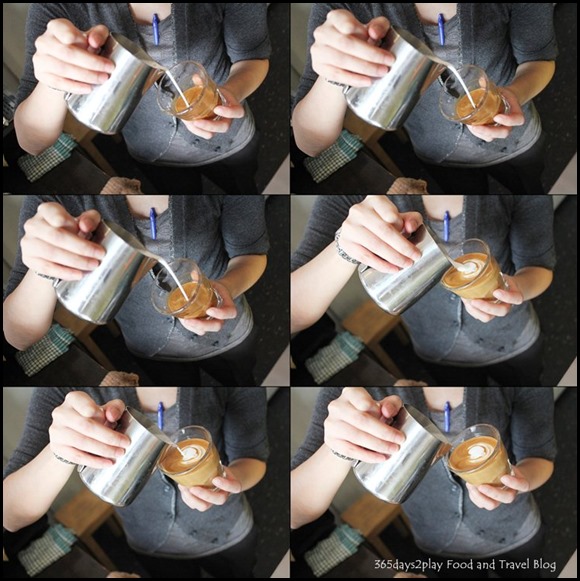 Shermaine, Sunray's head barista kindly showed me the steps to making a good cup of coffee, starting with the grinding of the beans all the way to the making of latte art. I was glad to see that my staring at her didn't cause the latte art to go askew.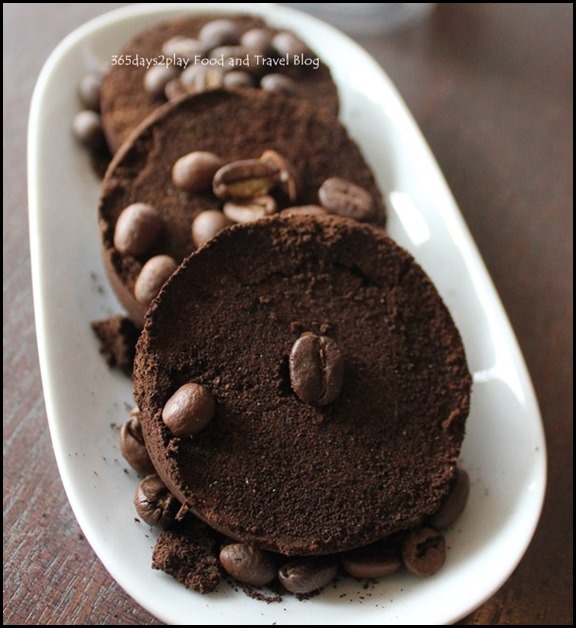 Even the grinds can be turned into art…and I hear they are good as fertiliser for plants too.
Oven Baked Escargots in garlic butter sauce $8
I tried some dishes at Sun Ray Cafe and on the whole, I think that the food served is very decent and value for money.  Take for example these oven baked escargots. They were as delicious as any other escargots I have tried, yet at a fraction of the cost! If you want cheap escargots, get it at Sun Ray Cafe!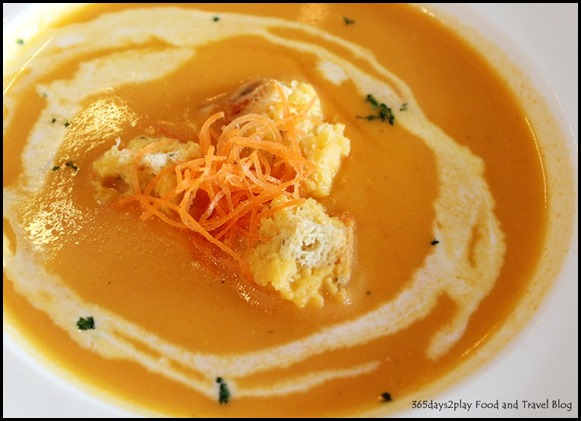 Soup of the Day (Carrot Soup) $5
The carrot soup was also excellent, being made with real pureed carrots.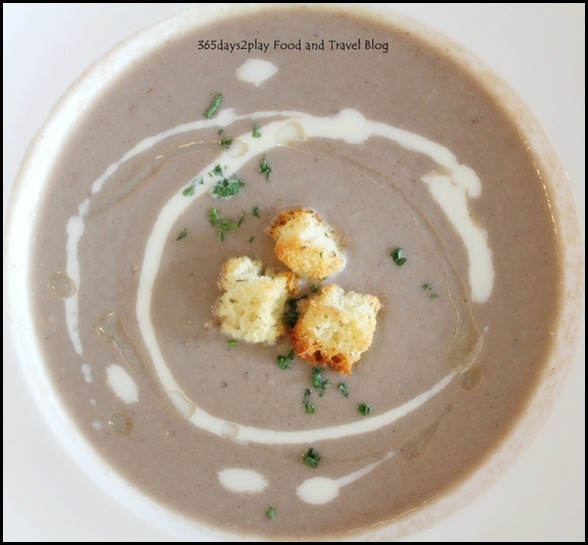 Wild Mushroom Soup with truffle oil $7.90
The mushroom soup was okay, thought it was a bit too plain actually.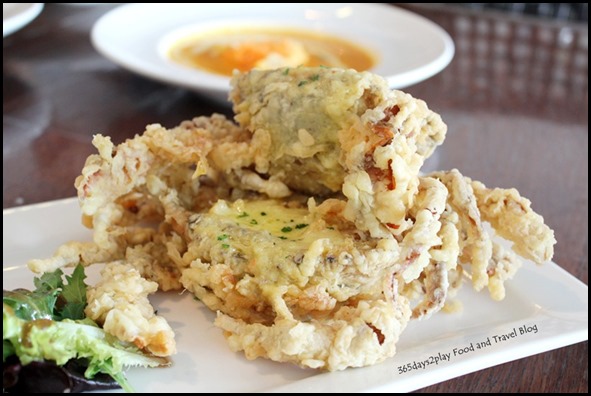 Twin Soft Shell Crab $12
Another value for money dish, because the 2 soft shell crabs were humongous! If you like soft shell crab, this could be a meal in itself!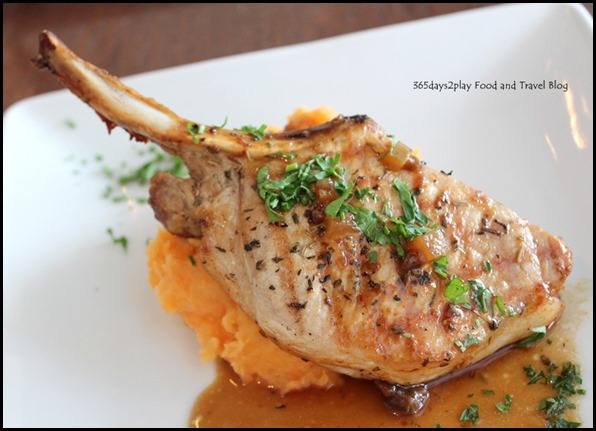 Yorkshire Pork Racks with sweet potato in apple cider sauce $23
I found this a tad dry and also a tad expensive in relation to the other prices. I did like the sweet potato puree underneath the pork rack. Seldom find mashed sweet potato, which is a pity because sweet potato are full of vitamins and much better in nutritional value than potatoes.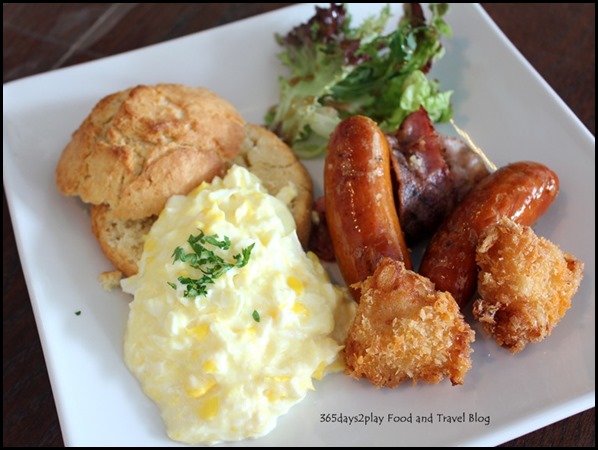 American Breakfast $14.90 (Eggs, italian sausages, cheese croquettes, bacon and homemade bread)
Didn't get to try this dish but I must say it looks delicious! I am particularly eyeing the cheese croquettes! The fat sausages are calling out my name too!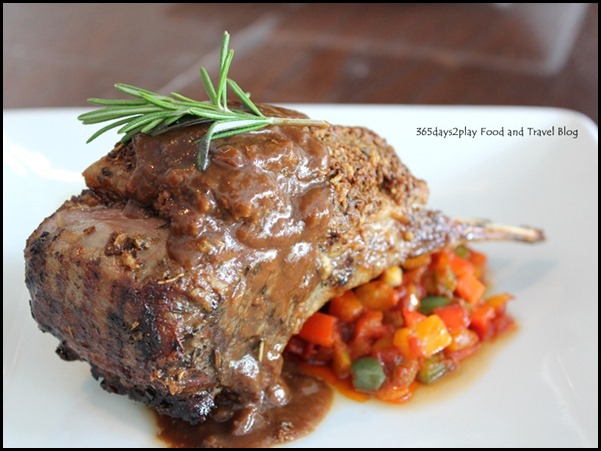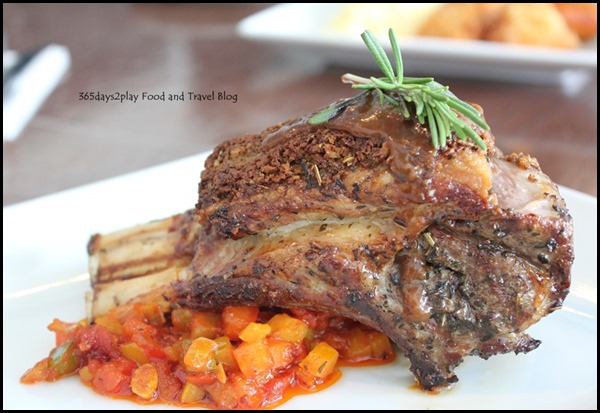 Cumin Crusted Lamb Rack with Ratatouille and Rosemary Sauce $23
This, in my opinion is the highlight of the day. You can get lamb rack in many places, but where can you find cumin crusted lamb rack? The cumin imparted a strong nutty and earthy flavour to the lamb which was fantastic. The cumin also lent itself towards a crustier surface, which made you feel as if you were eating crispy skin, minus the fat. The lamb itself was also cooked just right, therefore the meat was tender and bursting with flavour. I really enjoyed this dish very much and I highly recommend that you order this dish if you don't have other preferences.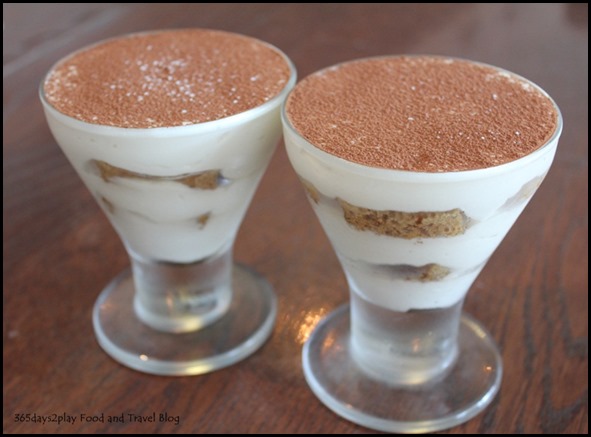 Tiramisu — My parents ate most of this as I am not that big a fan of tiramisu. I like mine really soggy, like literally dripping with the coffee alcohol, but you can only get that if you make it yourself. They enjoyed the tiramisu very much and polished the glasses clean.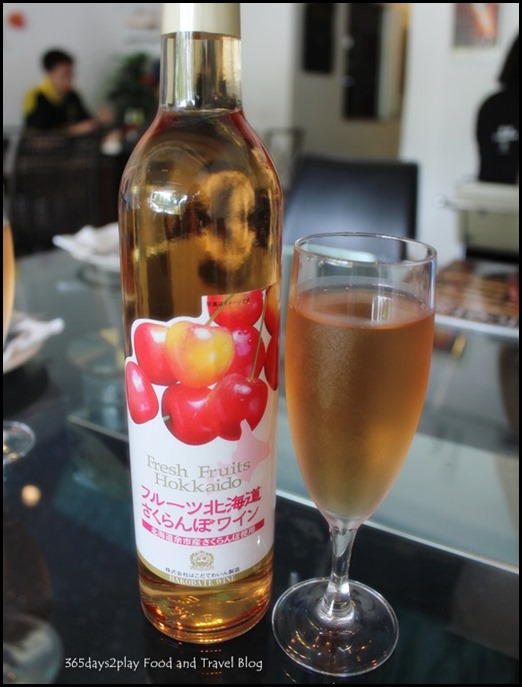 Alcoholic beverages are also available here.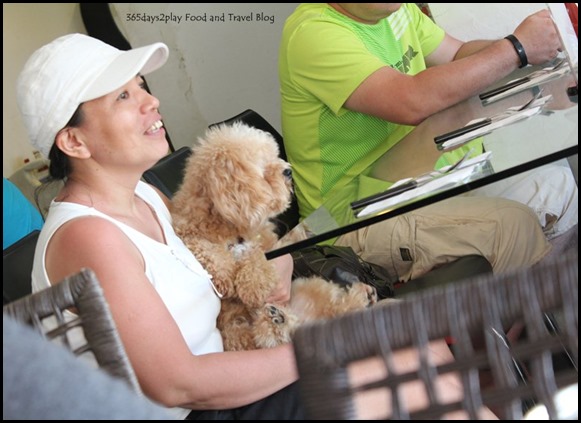 Another happy customer with pet dog.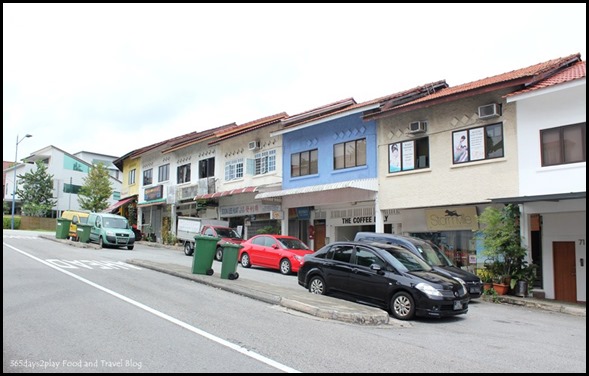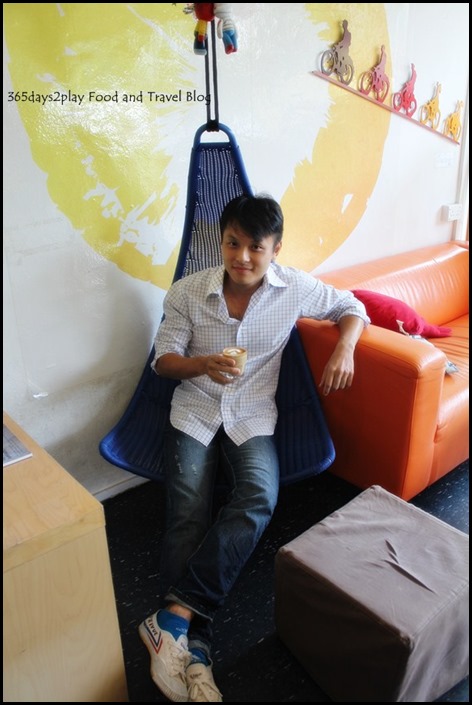 *********
Check out other Pet Friendly places in Singapore
Add me on Facebook, Instagram and Twitter if you want to be kept up to date with the latest happenings in the food and lifestyle scene in Singapore!
*********
Sun Ray Cafe
79 Brighton Crescent, Serangoon Gardens S(559218)
Tel : 62838700
http:// www.sunray.sg
happy@sunray.sg
Mon & Tue: 6 pm to 1 am
Wed – Sun: 11 am to 1 am
Holidays and Eve of Holidays: 11 am to 1 am
(Rest day to be pushed to next available day)
**PS : Sun Ray Cafe is currently undergoing renovation starting 29 April 2013, and will be done in mid May. Check their Facebook for updates.