Chinese New Year is in less than 2 weeks! Have you bought all your new clothes and Chinese New Year goodies yet? Fret not if you haven't bought those Chinese New Year goodies because I'll be reviewing several brands and giving you the low down on the best CNY cookies to buy.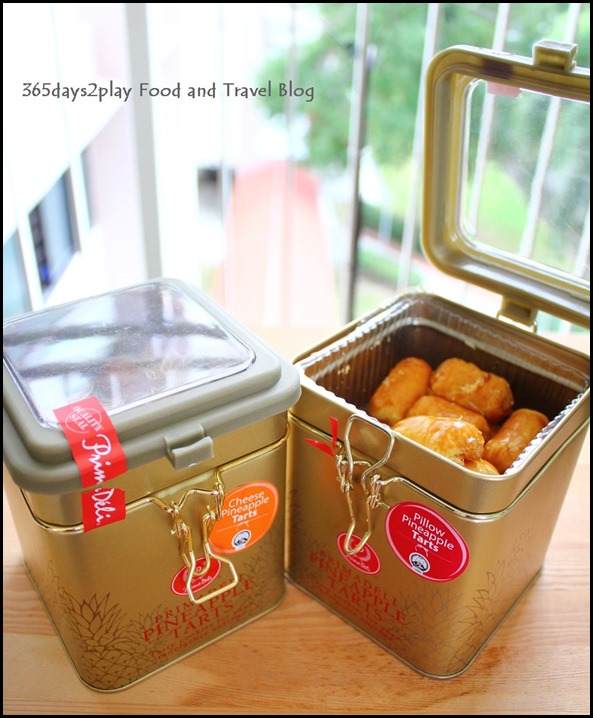 First up for review are PrimaDeli's range of Chinese New Year cookies. The PrimaDéli Chinese New Year collection 2014 features a treasure trove of good ol' traditional treats ranging from everyone's favourite pineapple tarts, to love letters and melt-in-your-mouth Kueh Bangkit. In addition to these delights, there are also new unique treats with a twist such as the Cheese Pineapple Tarts, Orange Butter Cake and three new cookies — Sesame, Walnut Sugee and Pistachio Cookies.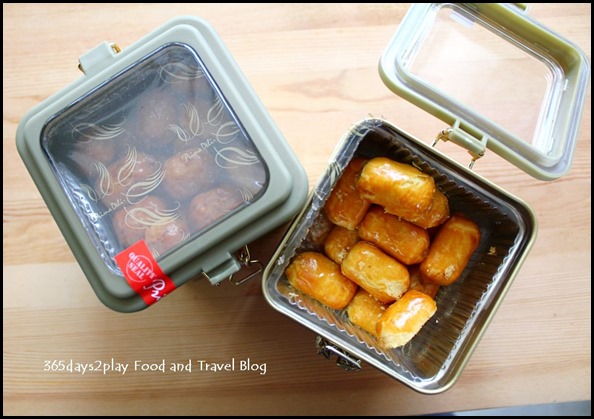 Cheese Pineapple Tarts and Pillow Pineapple Tarts $16.80 / tin
Pineapple tarts are always a perennial favourite for me, and it just ain't Chinese New Year if I don't eat a ton of these goodies. I like my pineapple tarts bursting with sweet pineapple. You will like the pillow pineapple tarts if you have a sweet tooth like me. Couldn't resist stealing a few of those mouthwatering pillows before I could take a picture. The cheese pineapple tarts are for those who are looking for a more mellow and less sweet pineapple tart. The parmesan cheese flavour is rather light, you might miss it if you're not paying attention, but it does lend a touch of savouriness / nuttiness to the pineapple filling.
And at the end of all the feasting, you get to reuse the pretty containers to keep some other food stuff! Sure looks like the Chinese New Year cookie boxes are going the way of the Mooncake boxes. Mark my words, you heard it here on 365days2play first!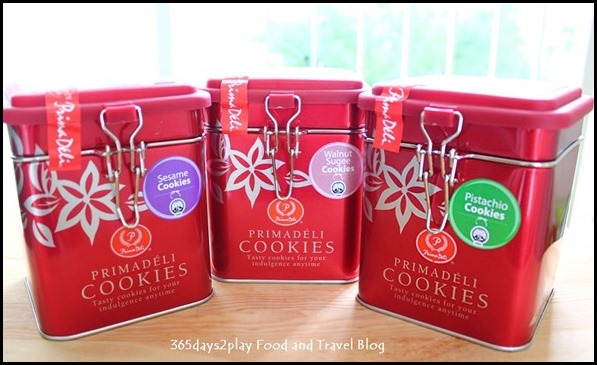 Next up, the festive cookies. This year, PrimaDéli's range of Prosperity Cookies ($16.80 – $17.80/tin) offers up 7 different flavours, all packaged in the very auspicious maroon red colour. I got to try the Sesame, Walnut Sugee and Pistachio cookies, but there are also Chocolate tarts, Deluxe Almond, oatmeal Raisins and Chicken Bak Kwa, believe it or not. Suitable for those who don't wish to line up for 2 hours to get their hands on some bah kua, because those bah kwa cookies are dotted with chunks of premium quality chicken bah kwa!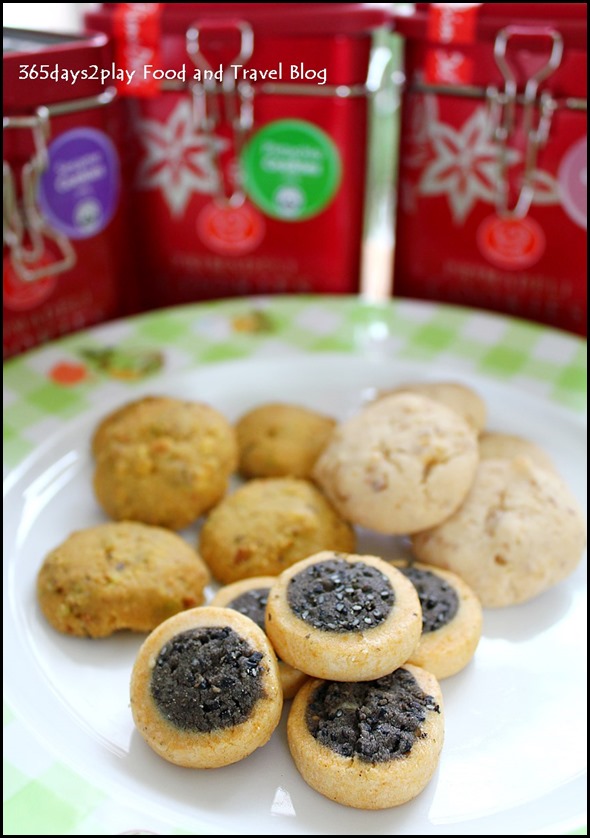 All the 3 cookies I tried were pretty light tasting and not very sweet. All are butter cookies. I particularly liked the pistachio cookies which were infused with the nutty aroma of roasted pistachios,  The sesame cookie seems quite uncommon to me, you might want to try that if you like sesame cookies as the sesame seeds still retain their crunch, but I'm really not a fan of black sesame.
A timeless variety of cakes will also be available such as the Premium Pandan Chiffon, Lapis Surbaya (original/chocolate/pandan) and Marble cake. Making a debut this year is the Orange Butter Cake ($21.80, large) — a soft and moist butter cake infused with a complementary citrus flavour, complete with mandarin orange pulp within and glazed orange wedges on top. Lastly, not forgetting the classic PrimaDéli's Kueh Lapis ($42.80), a traditional cake delicately infused with cloves, fragrant spices, skillfully baked layer by layer with no added preservatives and colourings. As stocks are limited, fans of this much loved delicacy are advised to make early reservations!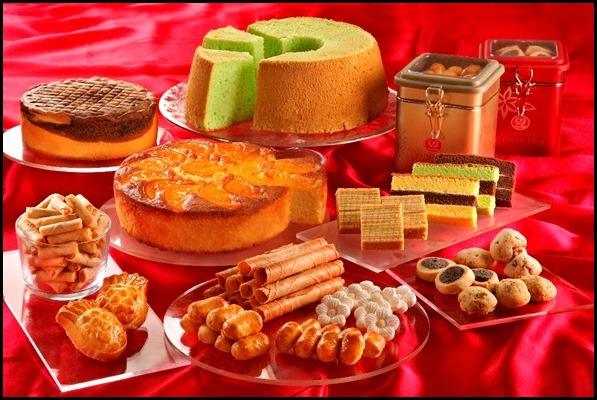 Other good ol' childhood favourites such as the Cocktail prawn roll, Kueh Bangkit, Traditional love letters and Golden Bahulu (Original and Pandan) will also be available to complete your festive spread so you can truly feast to your heart's content for the coming New Year! What's more, all of PrimaDéli's festive goodies are halal, thus it can be shared and enjoyed by Muslim friends who may partake in the festivities.
Speaking of love letters, I simply must have Sarsi with the love letters. I will use the love letters as a straw to drink up the Sarsi! And it's either Sarsi or Orange Fanta for me, no other soft drinks will do! What about you?
---
Check out more articles on Chinese New Year Festive deals, Reunion Dinner and Lo Hei ideas
Add me on Facebook, Instagram and Twitter if you want to be kept up to date with the latest happenings in the food and lifestyle scene in Singapore!
---
PrimaDéli's festive range will be available from 26 December 2013 till 30 January 2014 at all PrimaDéli outlets islandwide. Please refer to the fact sheet for pricing and promotion details. Advance orders must be made three working days prior to the collection date and are subject to availability. For enquiries, please call PrimaDéli at 6276-3333.
– Special Promotion 26 Dec 2013 — 30 Jan 2014
15% off Pillow / Cheese Pineapple Tarts and Prosperity Cookies
* CitiBank Cardholders: 8% off usual price + 10% Citi rebate
* Prima Privilege Card: Additional 3% off off