Recently, a friend asked for my suggestion as to the best place to have afternoon tea in Singapore. Specifically the English Afternoon Tea type, where she and her girly pals could giggle and gossip over pots of tea and unlimited dainty sandwiches. Three choices immediately came to mind, but it was quite hard to whittle it down to the top choice! And it really depends on personal preference in the end, but here are my top choices for the best English Afternoon High Tea places in Singapore. Click on the titles to go to the full posts.
No. 1 — L'Espresso at GoodWood Park Hotel – $38/pax
L'Espresso is my number 1 choice as it really is the best all rounder. There are lots of dainty finger sandwiches and canapes to choose from, all so delicious looking that I am seriously considering making a reservation this weekend as I type now. There's a huge variety of cakes to choose from too. And most unique of all, there is free flow of Haagen Dazs vanilla ice cream. This last factor is my weak spot!  The one downside though, is that L'Espresso does not provide clotted cream with its scones.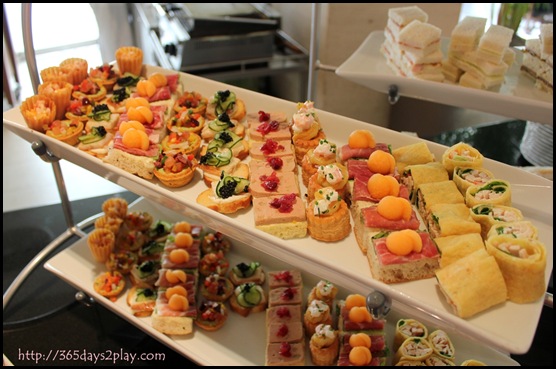 No. 2 — Courtyard at Fullerton Hotel and Landing Point at Fullerton Bay Hotel – $42/pax
These 2 are sister hotels. I've only been to the afternoon tea buffet at Fullerton Hotel, but you get the exact same thing at Fullerton Bay Hotel too. At Fullerton Hotel, they first serve you a 3 tiered tray of scones, sandwiches and desserts. If you need 2nd helpings, or 5th helpings for that matter, the staff will top up your tray with the desired items. Fullerton scores very highly on my list because of its super delicious scones and generous serving of clotted cream! Also, the posh setting and huge velvety blue armchairs really make you feel like a tai tai. Let's just hope someone else is paying the bill.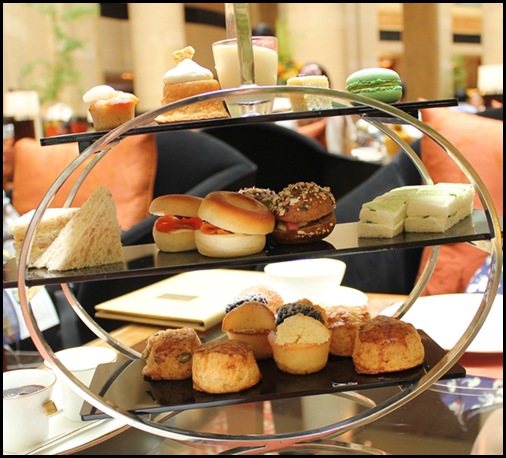 No. 3 — Chihuly Lounge at Ritz Carlton ($42/pax I think)
The afternoon tea at Chihuly Lounge also gets my thumbs up for serving up really creative dishes. You have to check out the decorations of the desserts in my previous post. Apparently the designs change frequently. The chefs are amazing! Afternoon tea at the Chihuly Lounge gives you the best of both worlds, it had dainty sandwiches, fried stuff like small spring rolls, samosas, and the European type desserts. Alas, once again, no clotted cream and the scones were blah. I'm afraid if you want good scones at a buffet, it seems quite an impossibility apart from the ones at Fullerton Hotel.

There you have it, my top 3 suggestions for good English afternoon high tea places. Anyone can be a tai tai for a day. Wait, everyone DESERVES to be pampered like a tai tai for a day, be it a man or a woman! Just eat $2.50 mixed rice for the next 5 days!
For where to find the best scones in Singapore, click here.