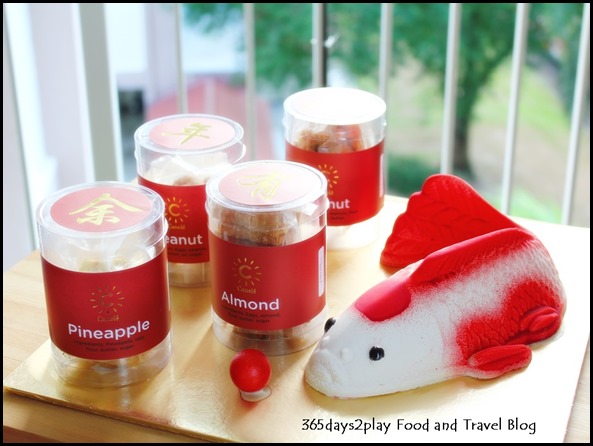 I've saved the most eye-catching Chinese New Year goodies for last. Presenting Canele's Auspicious Koi Box ($88) that includes a 3D sculptured Koi-shaped milk chocolate stuffed with mandarin orange truffles as well as 400g of assorted cookies! Bring this for any reunion dinner and you will surely be the talk of the party! If you turn the Koi upside down, you will be able to dig into the white chocolate that lines the body. The mandarin orange truffles are also in a festive gold, and there are about 8 of these delectable morsels!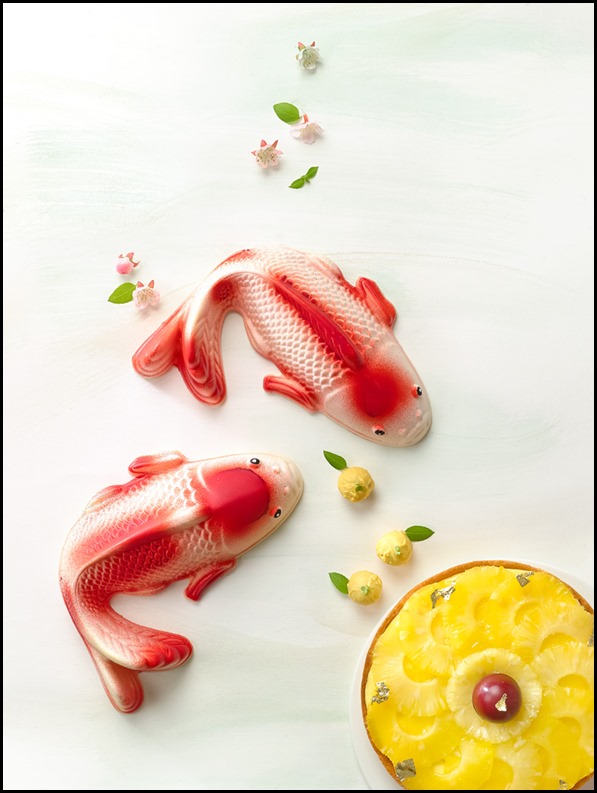 Here's a Pineapple tart with a difference. Check out Canele's 750g Pineapple Tart which is really like a Pineapple pie. Goes for $48 and is made with luscious coconut cream and adorned with slices of fresh pineapple confit artistically patterned to form a Chinese fan. Like the full moon, it signifies the auspicious meaning of a union and happiness.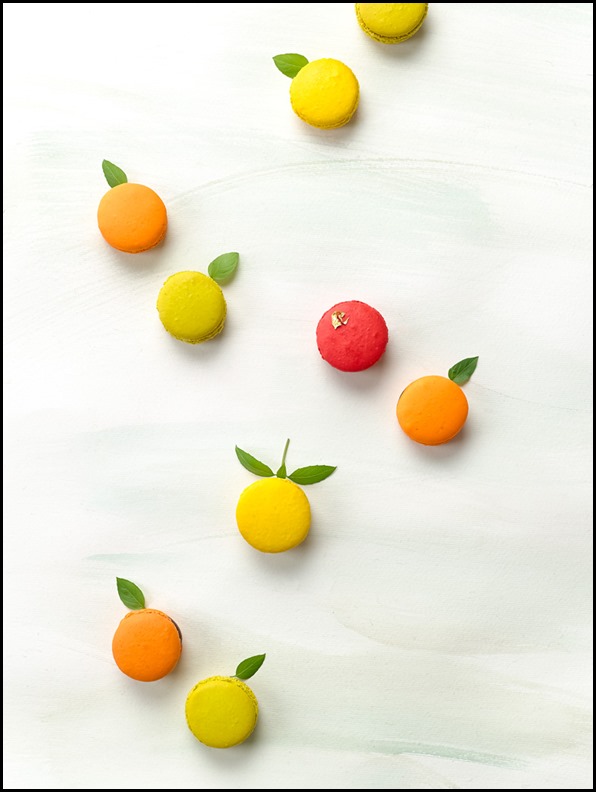 And if you're a macaron fan, why not marry CNY with French macarons by getting these Fortune Macarons. They come in 4 citrus shades of fortune — Blood Orange, Calamansi, Mandarin Orange and Yuzu. These limited edition macarons come in 6, 12 and 24 pieces and are priced at $13.50, $25.70 and $49.35 respectively. Can't get these flavours in Paris, I don't think!
Festive items are available in-store and online. For enquiries and corporate orders, email canelefestive@lesamis.com.sg . For online orders, visit www.canele.com.sg. Or simply visit any Canele boutiques.
---
Check out more articles on Chinese New Year Festive deals, Reunion Dinner and Lo Hei ideas
Add me on Facebook, Instagram and Twitter if you want to be kept up to date with the latest happenings in the food and lifestyle scene in Singapore!