Staycations are all the rage these days, it makes you wonder why haven't they been popular all along? I suppose 10 years ago when the oil price was still cheap, one could simply fly away to a distant beach resort to spend the weekend there. But with air tickets costing what they do these days, staycations, aka hotel vacations without leaving Singapore makes sense. It definitely does make good sense to me. I for one do not believe in short weekend getaways. If I have to take a plane to get somewhere, I'm going to stay at least 4 or 5 days.
And we all know how taxing it is to take leave from work. First of all, you have to choose dates which are preferably not during your department's peak period. The days leading up to the said holiday, you feel like you're in a pressure cooker, trying to make sure all the work is cleared before your departure! A short weekend staycation takes the pressure off me, as there's no leave that needs to be taken.
Couple of weeks ago, the Partner and I had a short staycation at Hotel Clover along Hong Kong Street. Hotel Clover is a new budget business hotel. The rooms may be small, I'll be frank about that, but being new, the rooms and furniture are speckless and clean. The best part about Hotel Clover? That it's so close to the Central Business District area! It's located right smack in the middle, where Clarke Quay is on one end while Boat Quay is on another. We had a great time combing the whole of Clarke Quay to soak in the vibes, and only had to take a short stroll back. No need to worry about how long it would take to get a taxi! If we had had another night to spare at Hotel Clover, we would have checked out Boat Quay as well. The stroll along the river at night can be quite romantic.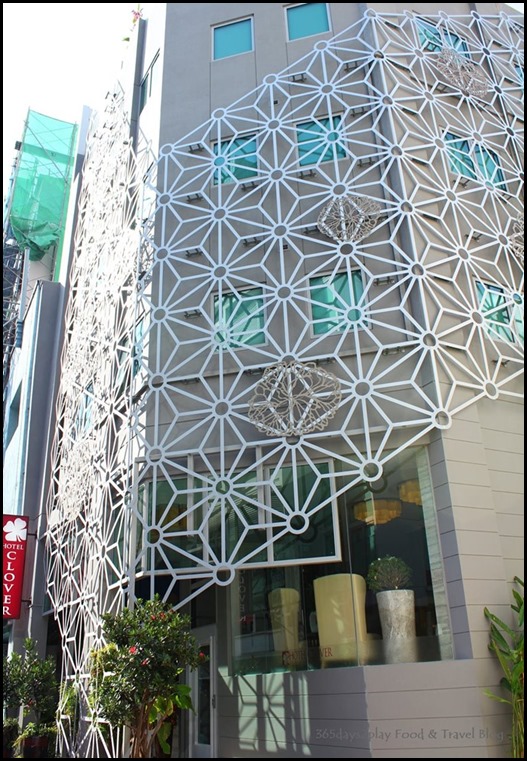 Hotel Clover on Hong Kong Street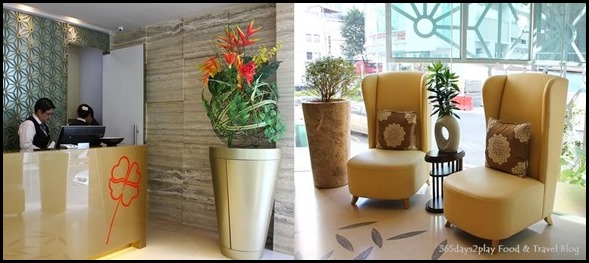 Reception Area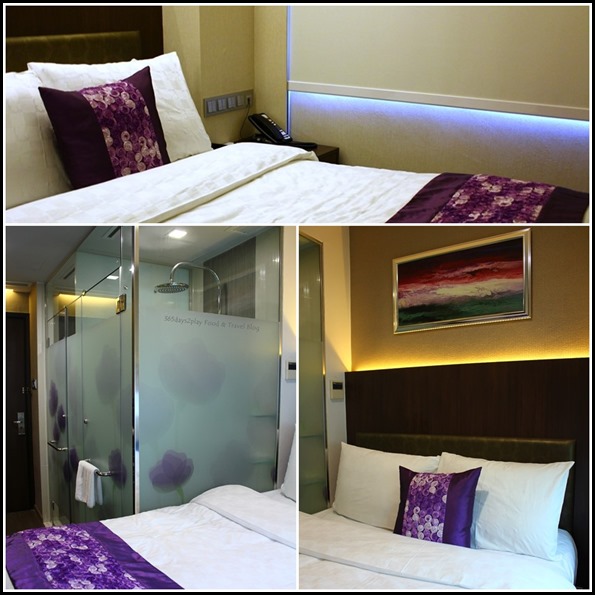 We were kindly given an Executive Room. There are 4 types of rooms to choose from (Superior, Deluxe, Executive, Premier Executive) and the Executive Room is the second best, or you could say, the second most expensive. Size wise, the Premier Executive is the largest at 19 sqm, and the other 3 categories are at 15 sqm.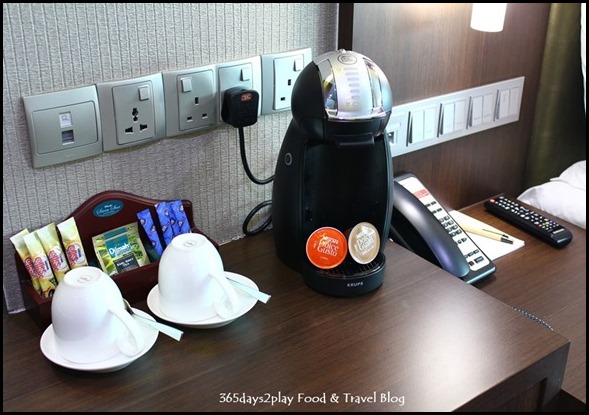 There isn't a kettle in the room. However, there's a Nescafe Dolce Gusto machine, with 2 complimentary coffee capsules. Should you prefer tea instead, just use the same Nescafe Dolce Gusto machine minus the capsule. My favourite Dolce Gusto flavour is the Cafe au Lait one, as we also have a similar machine at work, courtesy of the boss! Also provided complimentary are 2 cans of soft drinks and 2 bottles of water. There's also free wifi in the room.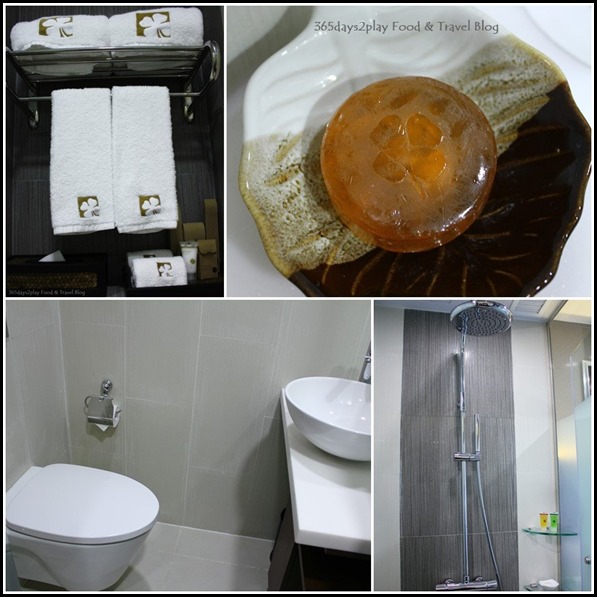 The bathroom and shower area are separate, which is an excellent feature for harried people who want to get prepared as fast as possible before spending the day exploring Singapore. Did I mention also that it was very clean? Those who appreciate rain showers will like the shower area. The Partner happens not to like rain showers and that's okay too because there's a smaller shower head which you can adjust at an angle or hold by hand. Only body wash and shampoo are provided, so best to bring along conditioner if you need some.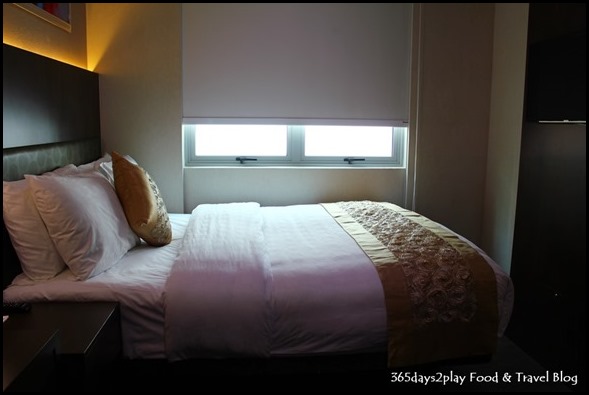 We also got to check out a few other rooms in the hotel in the various categories. You can see in the 3rd picture that they even have a "Japanese" style room, where the bed is nearer the floor. Even though all the rooms are the same size, I find the key determinant in whether the room feels small or not is in the location of the bathroom. If you are able to secure a corner room, the bathrooms seem to be right at the end of the room, which gives the illusion of more space.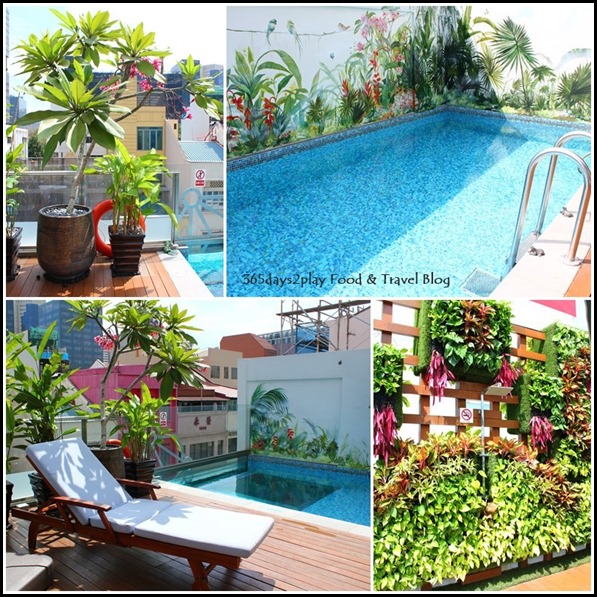 There's a cosy little pool on the 5th floor of Hotel Clover, with wall murals designed by a renown Singaporean artist. There's also an open rain shower, if you fancy taking a shower for all to see. The pool is open 24 hrs, one of the few hotels in Singapore where you can take a dip at midnight! Also a nice place to admire the Singapore business district skyline. Alas, I did so want to take a dip in the pool, but it was raining!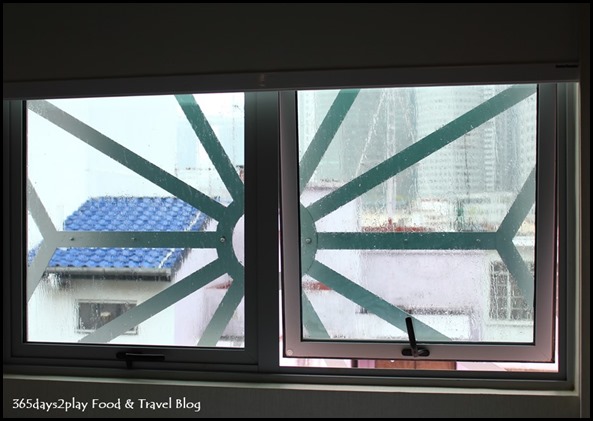 For 2 months Singapore did not have any rain. And on the day that I wanted to have a swim during my staycation, it finally decides to pour!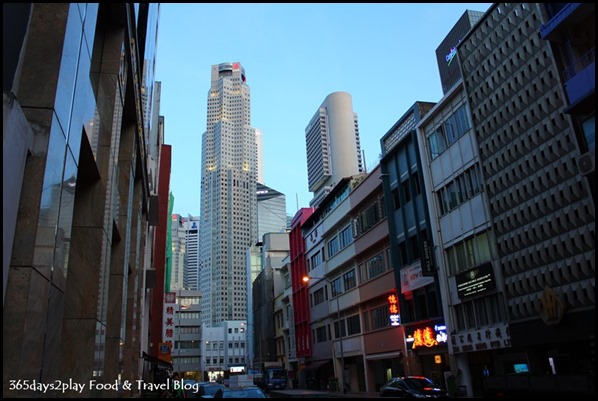 See, I told you the business district is merely a few streets away. And on the opposite end of the street, there's Central, the shopping mall. We had our dinner at Real Food, our favourite vegan cafe. The whole stretch of the Singapore River in front of Central as well as on the Clarke Quay side was positively buzzing with people. I was quite shocked to see the number of people out there. We had been having quite a bad haze at night those 2 weeks, and we were glad the haze had abated a bit although it returned again around 10pm. If you don't want to walk that far, there are a number of restaurants along Hong Kong Street as well. I noticed a German casual restaurant as well as Ronin, a 3rd wave cafe by the people from The Plain and The Bravery.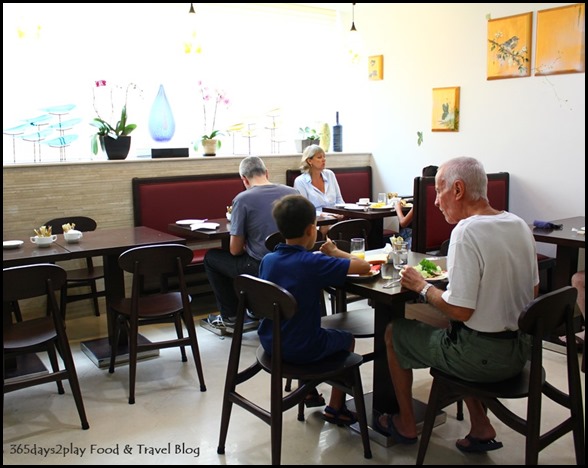 Breakfast was provided as part of our hotel stay. The dining area is quite small, but we managed to snag the last seat there. I saw some people taking food upstairs, but I'm not quite sure if that is allowed.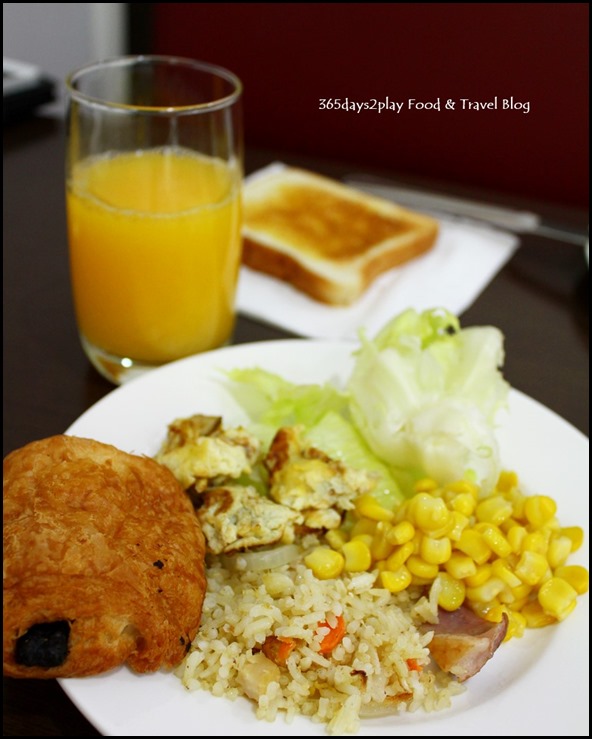 This was what I had for my 1st round. And for my 2nd round, I had some of their cereal. Missed out on the smoked duck!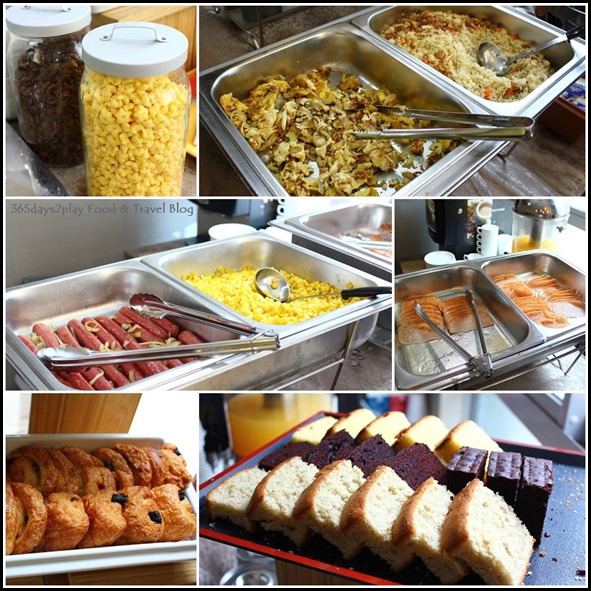 Pictures of what was available for the buffet, which includes fried rice, fried omelette, sausages, ham, croissants, bread, juice, cereal, milk and some cakes.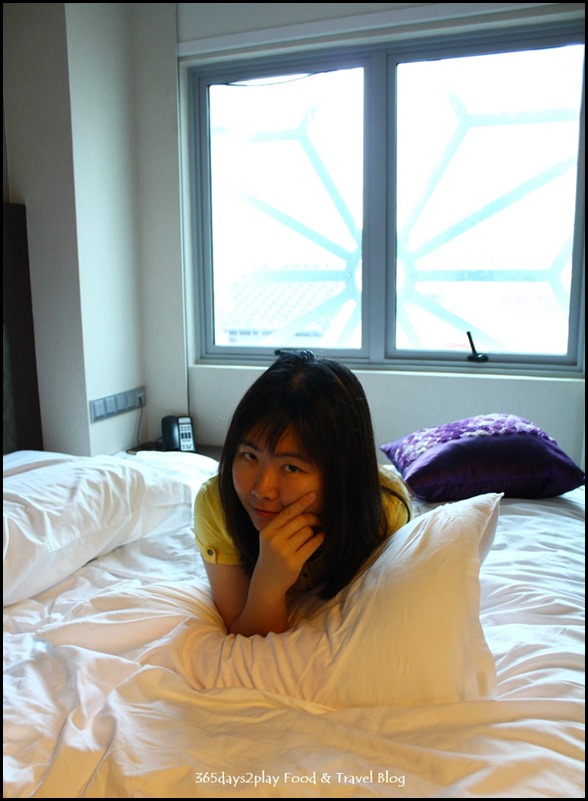 On the whole, we had a great staycation. It was good to get away from the house, even for a short time. And it was great being in the heart of town and being able to walk back to the hotel after a great night's out without having to worry about transportation.
---
Add me on Facebook, Instagram and Twitter if you want to be kept up to date with the latest happenings in the food and lifestyle scene in Singapore!
---
Hotel Clover 5 HongKong Street
5 Hongkong Street,
059648 Singapore
Phone Number:6653 8888
Email:reservations@hotelclover.com
http://www.hotelclover5hongkongstreet.com

View Hotel Clover 5 Hongkong St. in a larger map