You know the cafe hopping scene is really heating up when even hotels join in the bandwagon! Check out The Terrace at Conrad Centennial Singapore. Although The Terrace is not officially known as a cafe, I think it has the trappings of one! You want coffee, cakes, pastries, sandwiches, croissants and macarons, they have it all! The best part is you can get hotel service, at cafe pricing.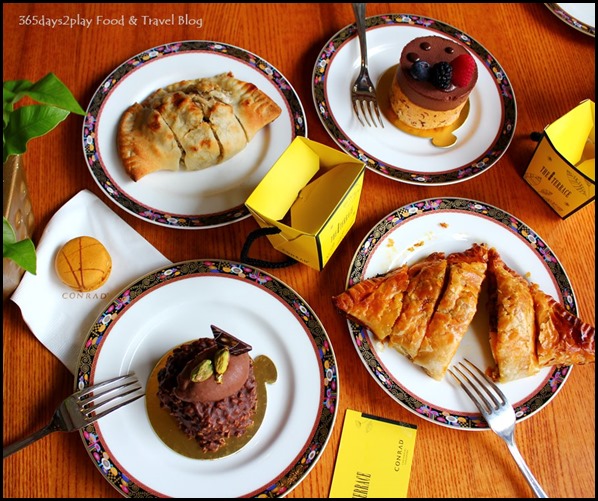 The Terrace offers outdoor seating, but I was told you can still sit indoors at The Lobby Lounge, which makes it feel as if you're having afternoon tea, without having to go for the full buffet. If you're at Millenia Walk checking out the new cafes there and they're full (think Commune Cafe and Patisserie G, and Starbucks too for some odd reason), you now know that you can hop across the car park driveway to Conrad Hotel.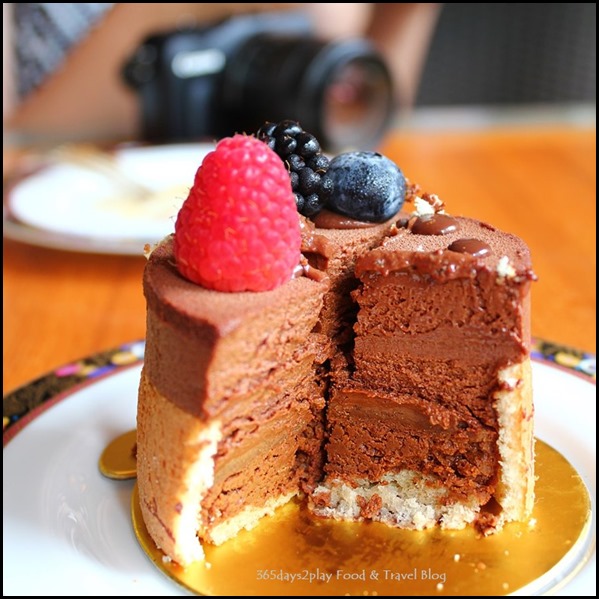 Chocolate Royal Hazelnut Crunch $11 nett
First, a picture to entice you to read further.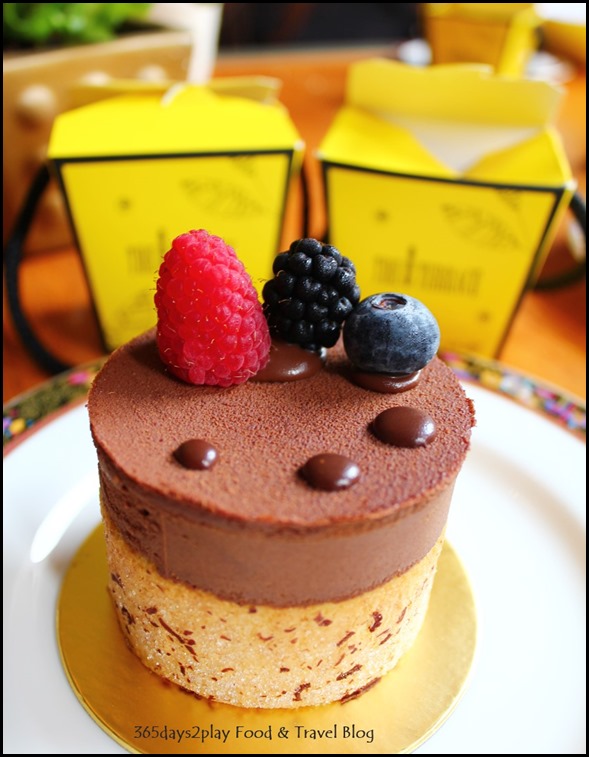 Chocolate Royal Hazelnut Crunch $11 nett
This is Conrad Hotel's signature chocolate cake, and probably the most expensive cake that you'll get here. I remember one year I did a staycation at Conrad during the Partner's birthday and they were so sweet to present a whole cake ie the 1kg version to the birthday boy! If you want a decadent chocolate mousse cake coupled with a richly sweet and crunchy hazelnut base, this is the ultimate cake for you.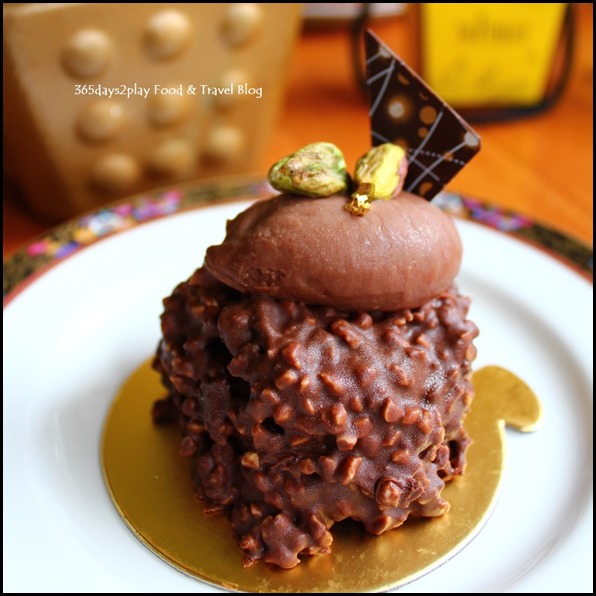 Glazed Macadamia Chocolate fondant $7 nett
Or actually, if you really want something chocolaty but with a bit more texture, you can try this glazed macadamia chocolate instead. Think ferrero rocher chocolates, but made with macadamia bits instead. There's even a hidden rocher inside, which is a nice surprise if you're eating this on your own, but not so easy to slice open if you're sharing with friends.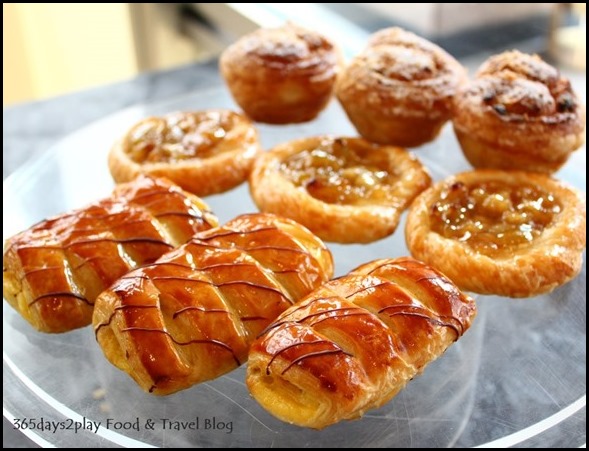 There are also other sweet pastries around, although we didn't try these.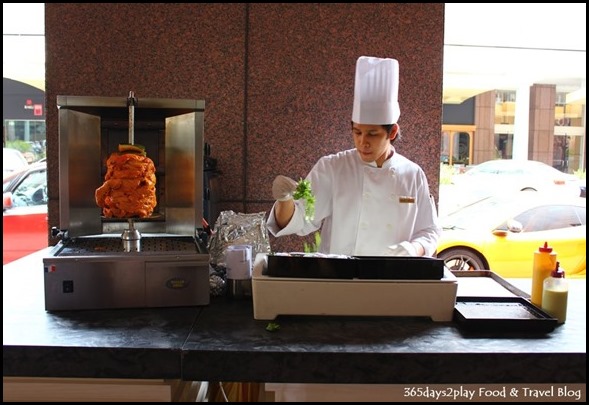 Shawarma station aka T Wraps $7.50 nett
But as I mentioned, The Terrace is not just all about sweet treats. Many of The Terrace customers are office workers from the Millenia and Centennial Towers plus the Suntec Area who come here for lunch or for takeaways.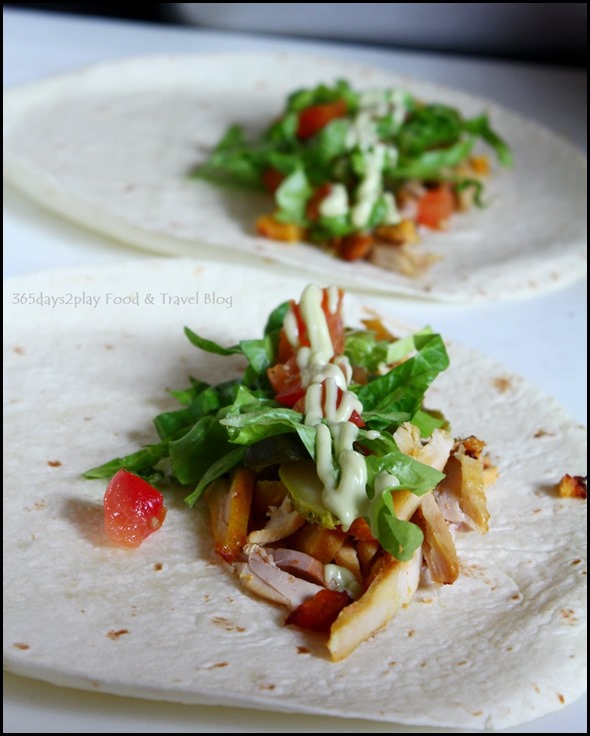 T Wrap aka Shawarma $7.50 nett
These wraps comprise of chicken shavings wrapped with garlic sauce and vegetables and your choice of either Wasabi Sauce or BBQ Sauce. I hear they sell a lot of these for lunch. I personally thought that the wraps were too dry for me. More of the sauce would have been appreciated, especially since the wraps are rather thick.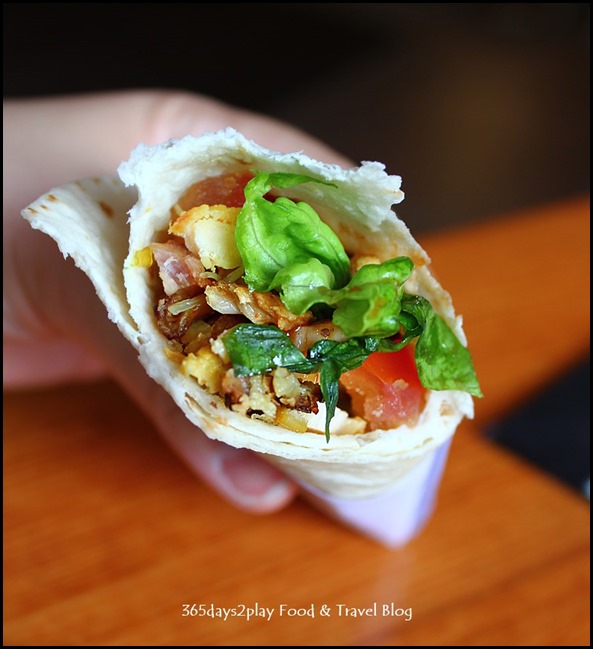 Hopefully they can come up with other fillings too as I'm not really a fan of chicken breast.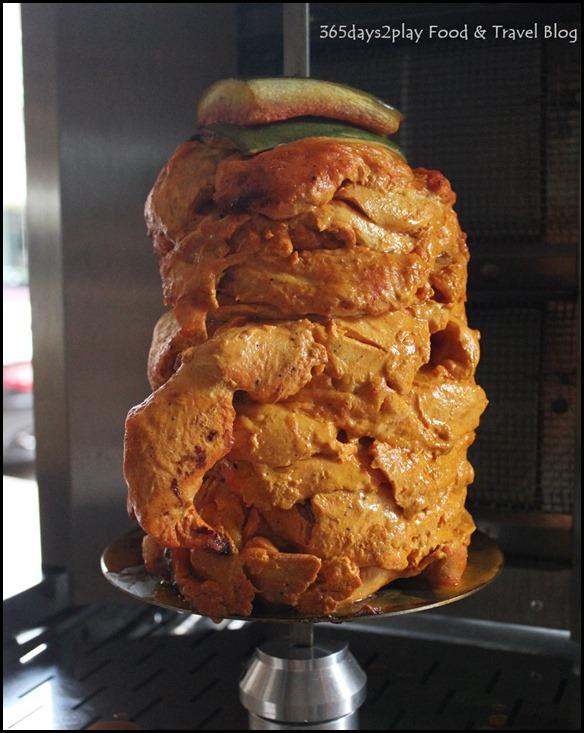 Hmmm, I wonder how they manage to piece all these together, given that they are individual chunks of meat?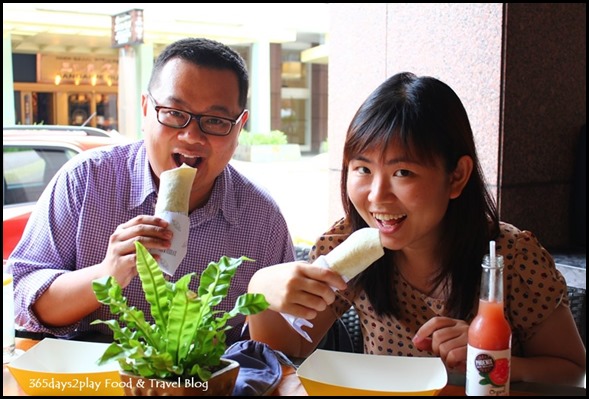 Me and Gurkhason posing for a shot before chomping down on the T Wraps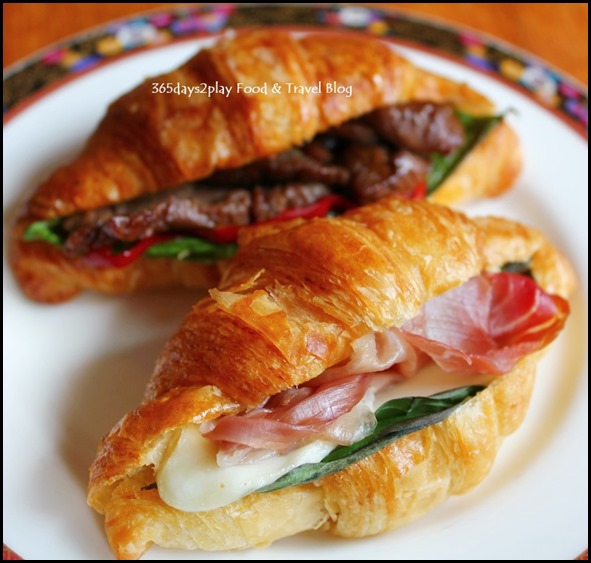 Soya Beef with Paprika and Parma Ham with Mozzarella mini-croissants $4.50 nett each
I think the filled croissants are one of the most value-for-money items at The Terrace. Although they are smaller than the original size, they are generously filled with ingredients. And if you order 2 croissants, that brings you to $9 nett for lunch. That's what most sandwich shops would charge for sandwiches so this is a rather good price! It's even better than ordering a sandwich in a way because you get to have 2 different type of fillings. I tried the parma ham one and I really liked it very much. Definitely have to return just for these mini croissants!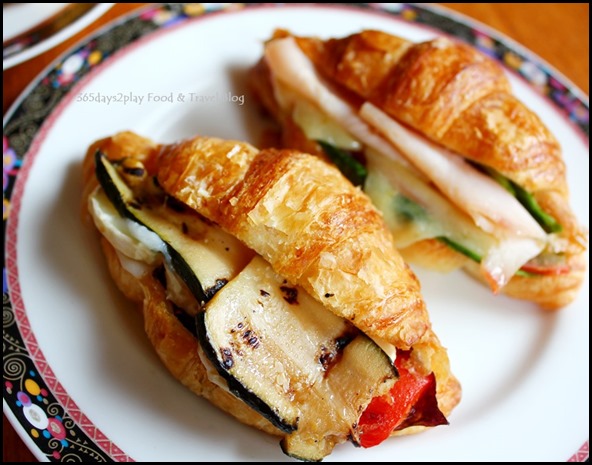 Turkey Ham and Cheddar Cheese Croissant and Grilled Vegetables Croissant $4.50 nett
I also tried the grilled vegetable croissant. Not as nice as the Parma Ham one in my opinion, because the feta cheese used was a bit too crumbly and sour. Vegetables were nice and succulent though. My dining companions who tried the Soya Beef croissant and the Turkey Ham croissant all had positive comments.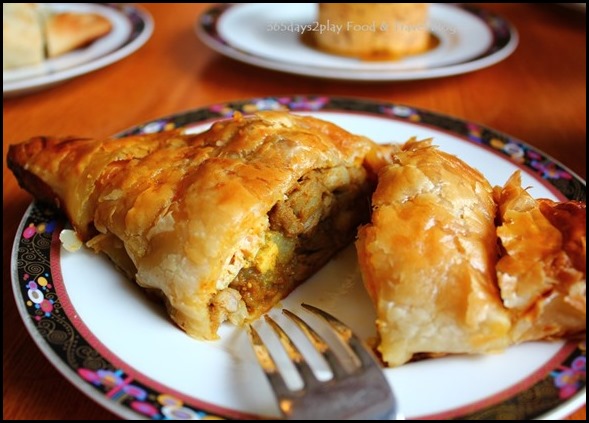 Chicken Puff $6.50 nett
If you want something a bit more local, try the Chicken curry puff! Its really the most humongous "curry puff" I have ever seen and chock a block with ingredients. The curry puff filling packs a robust and spicy punch while the puff pastry is also tasty, a refreshing change from the usual curry puff exteriors. I'd planned to eat just a tiny bit of this, but it was so addictive I ate more than I planned. My only grouse is that it is a bit on the greasy side. I can imagine people ordering this as takeaway for lunch, as the entire thing is certainly filling, but the Z monster is probably going to knock you out after that, so you probably need to pre-empt and order 3 more cups of coffee.
 Calzone with Chicken and Mushroom $7.50 nett
You can opt for this somewhat healthier sounding chicken and mushroom calzone, but I say go for the chicken puff if you can.
Breads
Nineteen varieties of breads, including the much sought after Dinkel Bread, Krafkorn Bread, Dark Rye Bread, Organic Rye Bread and Organic Four Korn Bread.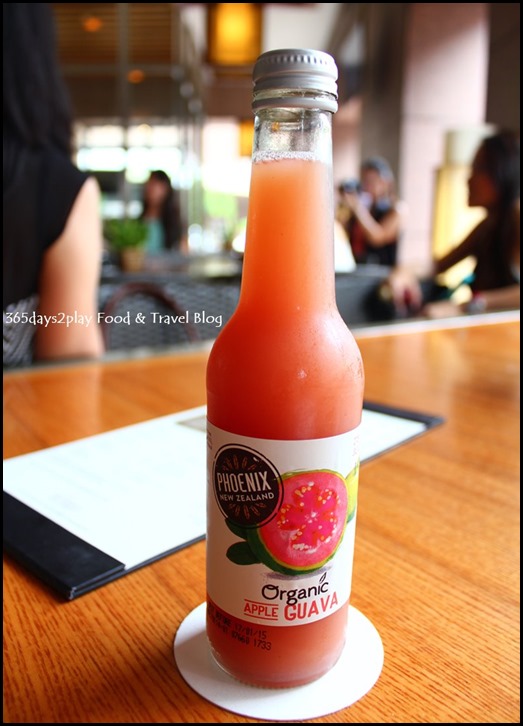 This was listed as Spirulina Organic Guava juice $5.50, although I'm not too sure where the Spirulina features. I've always loved the Phoenix brand, not just because it hails from New Zealand.

Tasty juice, go for it!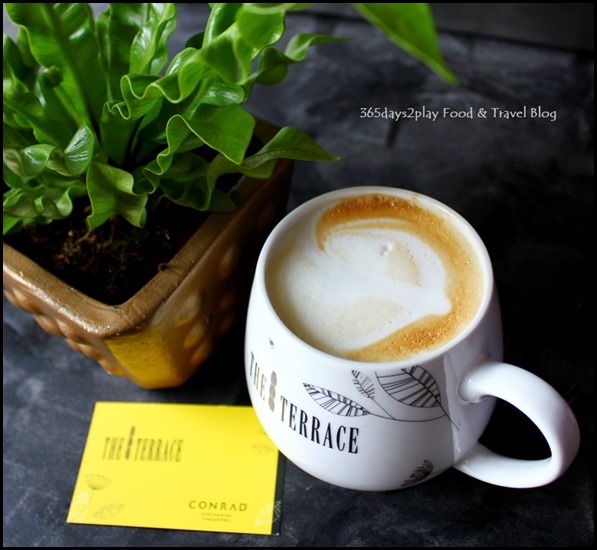 Or you can go for one of the coffee or tea drinks $6.50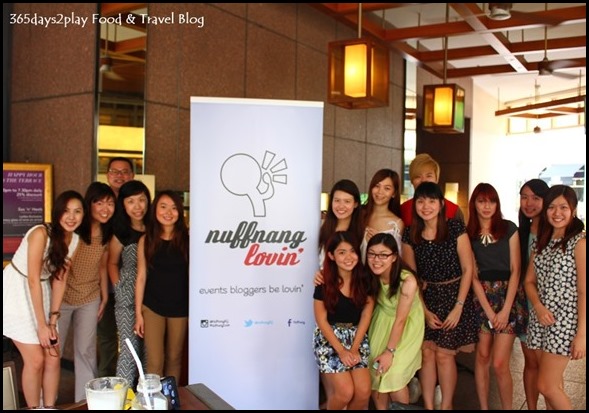 Thanks Nuffnang Singapore and Conrad Centennial Singapore for the wonderful afternoon treat. Will be back again!
---
Add me on Facebook, Instagram and Twitter if you want to be kept up to date with the latest happenings in the food and lifestyle scene in Singapore! 
Read about afternoon tea at Conrad Hotel's Executive Lounge
---
Conrad Centennial Singapore
Two Temasek Boulevard,  Singapore  038982
Monday to Friday : 07:00 – 20:00
Saturday and Sunday : 10:00 – 20:00
For more information or to book a table at The Terrace please call +65 6432 7487 or email sinci_fb@conradhotels.com
http://conradhotels3.hilton.com/en/hotels/singapore/conrad-centennial-singapore-SINCICI/amenities/restaurants-terrace.html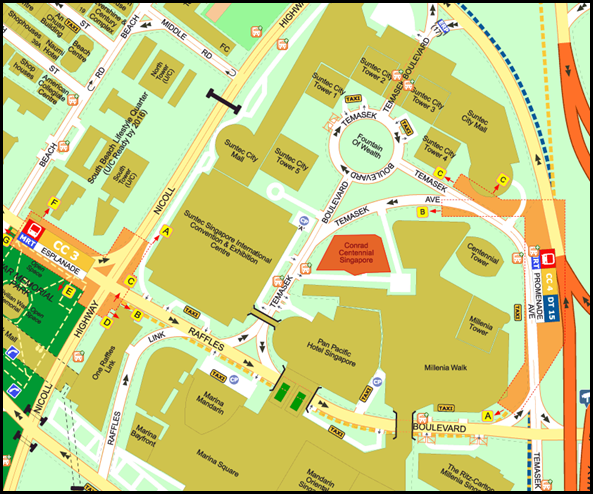 Click in for a clearer view