Day 3 of 365days2play's Honeymoon in Luxembourg, Germany & France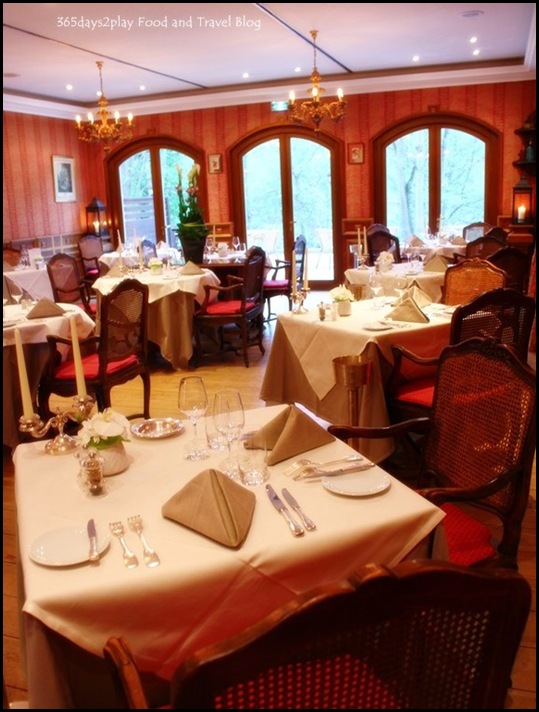 Day 3 — We were generously invited to dinner during our stay at Chí¢teau de l'Ile & Spa in the Strasbourg/Ostwald region. Chí¢teau de l'Ile has 2 restaurants. The Restaurant "Winstub de l'Ile " has all the charm of an Alsace brasserie with its typical welcoming decor: traditional benches, solid rustic chairs, decorated ceiling, and tinted windows. You can enjoy regional dishes at this restaurant.
The other restaurant, which we eventually chose as our dining venue for the evening was Restaurant "Gourmet de l'Ile". It is decked out to look like a 19th century bourgeoisie house and serves fine dining French cuisine.
We perused the menu and concluded that the Tasting menu at 74 Euros was the most value for money, yes even though 74 Euros doesn't sound cheap on its own. The starters were already above 20 euros while the main courses were above 30 euros, so it made very good sense to get the Tasting menu, even if we had to take 3 hours to finish the meal!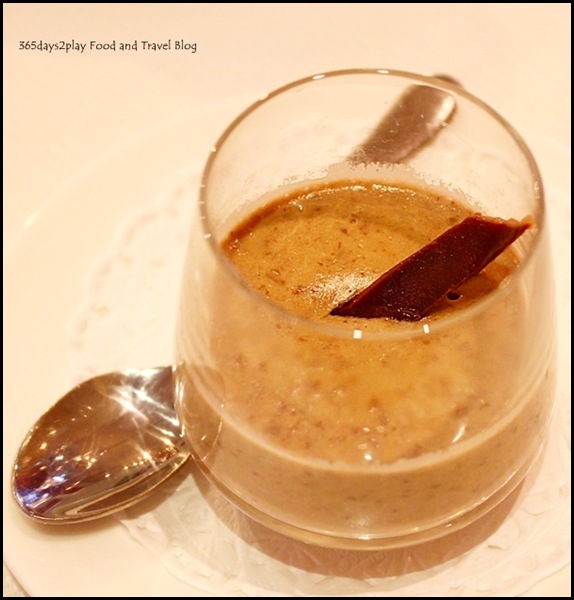 Lentil soup with bacon
As with all fine dining, you always get more than what you've ordered! There will be "surprises", more "surprises", "mouth washers" literally, and chocolates after desserts! Don't be planning to go home early when you dine at a fine dining restaurant! This here was the appetiser of lentil puree soup with a stick of bacon in it. It was an amazing starter as the graininess of the lentils and smokiness of the bacon really gelled together very well, kick starting the whole meal.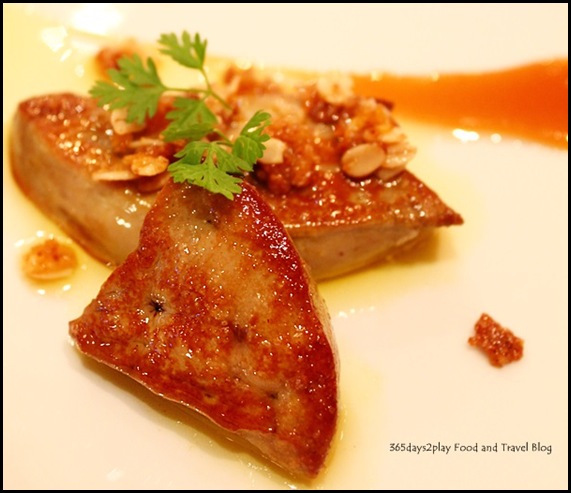 Pan-Fried Foie Gras, butter muesli, apple compote & Caramel 27 Euros
Pardon the slightly yellowish colour. You can well imagine that it can get pretty dim in a restaurant such as this. Foie gras here needs no elaboration really. As if one foie gras is not sinful enough, we were presented with 2 slices of foie gras. Although it didn't state so in the menu, I believe we got both duck foie gras and goose foie gras. The goose foie gras is the one to go for if you want the really fattening and rich taste, as the duck foie gras is milder. The Alsace region is foie gras region BTW. You find foie gras sold in every grocery store as well as gourmet store. I bought a tin of foie gras myself. Going to pick a good day to enjoy it.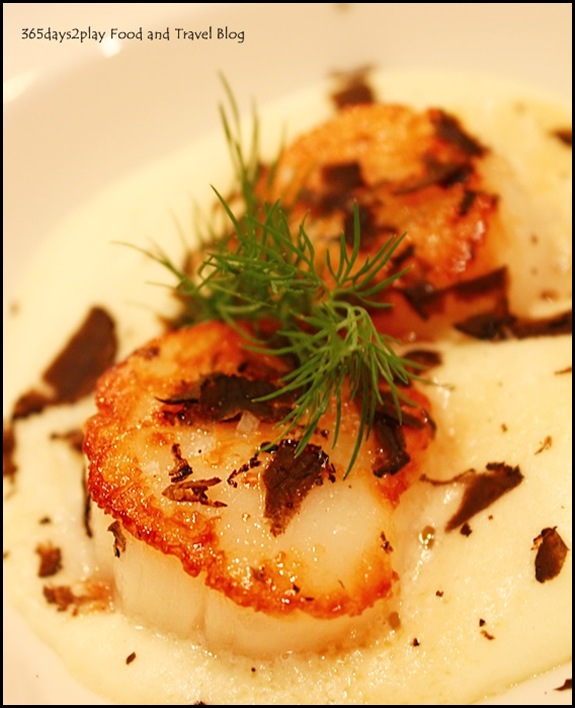 Roasted Scallops, gourmet potato emulsion, grated truffles
The scallops were nicely crisp on the outside while retaining the tender succulent flesh beneath the crispy bits. They were a little on the salty side though, so I had to mask it by eating the potato emulsion with it.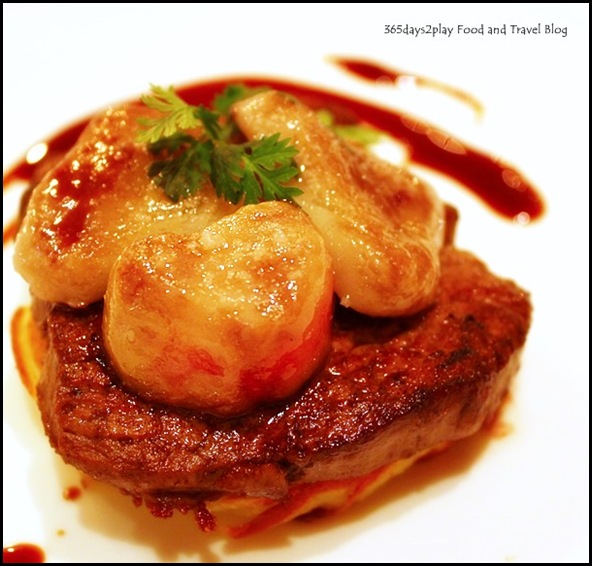 Fillet of Beef, reduced jus, Anna potatoes and bone marrow with salt 37 Euros
You'd never guess what on earth those 3 lumps on top of the beef are. They are the bone marrow! I love bone marrow dearly! I love the rich taste of the marrow and how it just slides down your throat. Normally you can only get a bone sliced in half and there is so very little of it. To think that there were 3 huge lumps of it staring at me, is this paradise or what? I have to admit I was a tad worried that I'd get a heart attack after this meal so I limited my intake of the marrow to just 2, and boy were they great. The fillet of beef nearly ended up as the side dish with the distraction from the marrow, but I soon had time for it as well. Excellent piece of beef, if I may say so.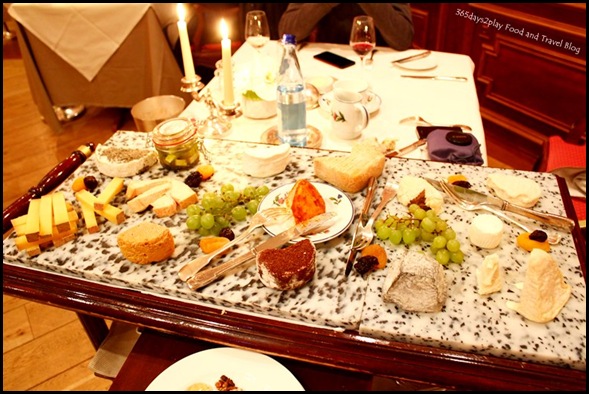 Cheese Trolley 14 Euros
After the main course, I was shocked to discover a whole cheese trolley moving towards our table! There were a great many varieties and the waitress introduced them all to us. You can have as much as you want, or as little as you want. The foodie in me made me select all the cheese I had never heard before.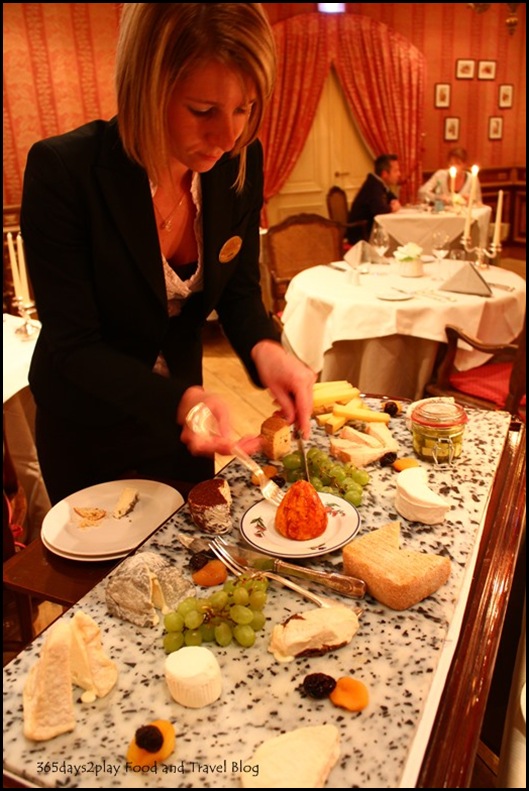 The waitress did warn me that the red one would be the most "interesting", and she was right though. I thought I would be a hero and select that. Mistake. I love cheese, but even I had to surrender at the weird taste and texture of the red one.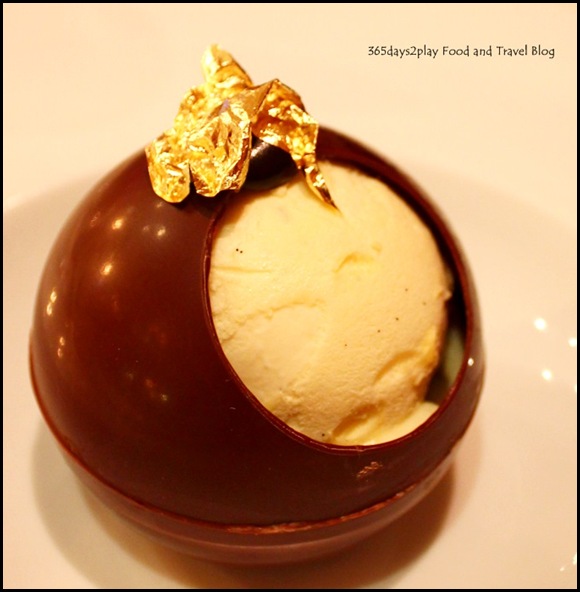 Ball so "Pear Belle Helene" 15 Euros
And last but not least, the dessert. It came with a jug of hot chocolate sauce to be poured over it but I think that's just a bit too much chocolate. Enjoying the ice cream and delicate pear slices in chocolate casing is more than enough. And there's even a gold foil to boot.
And of course, every French meal is never complete without a glass of wine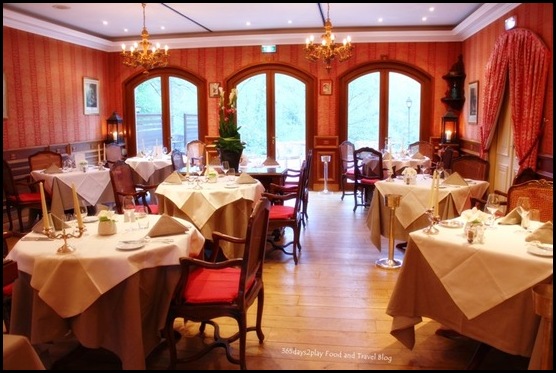 Read about my stay at Chí¢teau de l'Ile
~~~~~~~~~~
Click here to read more about my honeymoon in France or join me on my travels around the world.
Add me on Facebook, Instagram and Twitter if you want to be kept up to date with the latest happenings in the food and lifestyle scene in Singapore!
~~~~~~~~~~
Chí¢teau de l'Ile – Gourmet de l'Ile Restaurant
4 quai Heydt
67540 OSTWALD — FRANCE
Phone : +33 (0)3.88.66.85.00
Fax : +33 (0)3.88.66.85.49
contact us : ile@grandesetapes.fr
http://www.grandesetapes.fr/en/Chateau-hotel-ile/
http://www.slh.com/hotels/chateau-de-lile-hotel/
Restaurant Menu : http://www.grandesetapes.fr/en/Chateau-hotel-ile/restaurant-cartes.html