For those of you who have been following me on Instagram, you might have realised that I was away in Australia on a whirlwind trip over the weekend. Yes, 2 days in the Tweed Valley, south of Gold Coast! And what a jammed packed eventful weekend it was. Can't wait to tell you more about the entire trip, but first, a quick post on Mavis's Kitchen, a fantastic restaurant that prides itself on using locally sourced produce, and organic where possible.
In fact, that's one thing I noticed about being in the Tweed Valley, people place great  importance on sustainability and environmentalism, and what better way than via the food that is consumed.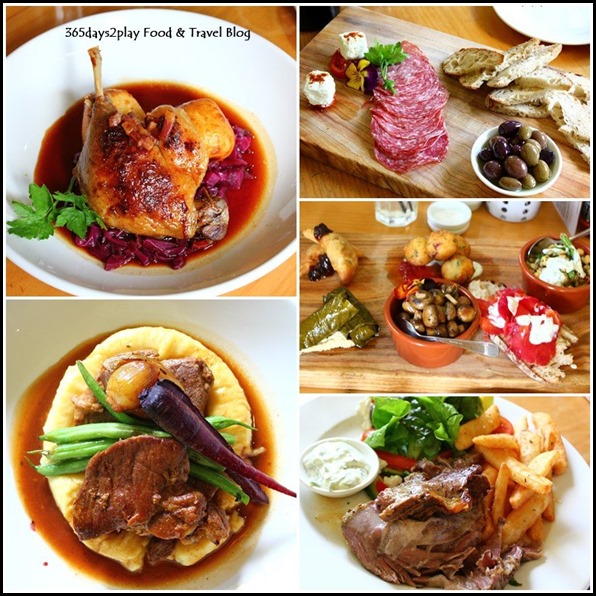 Scroll down to check out more photos of the food as well as the lovely gardens that the restaurant is situated in.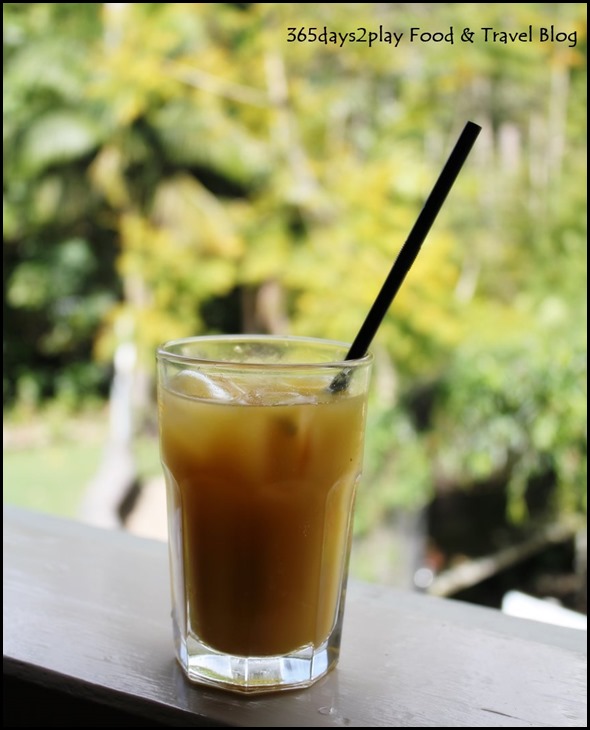 Freshly squeezed orange juice that was on the menu that day. It's not always on the menu depending on the produce they are able to get.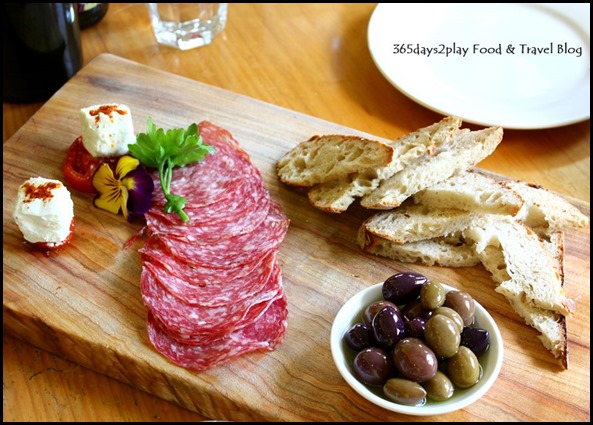 Local Produce Share Platter (Organic woodfired sourdough Bread, marinated Casino Olives, Byron Salami, Local Goats Cheese) $15.50
We ordered 2 sharing platters to share. Normally you need to order at least a 2 person serving, but since we had 2 different platters, they offered us a 1 person serving each. I must say I simply love eating simple things like these, just popping olives into my mouth, or pairing bread with cheeses and sliced hams. One thing I've noticed is that the Aussies simply love large gatherings, and they will talk and laugh non-stop compared to our more subdued socialising in Singapore. Such sharing platters facilitate the conversation!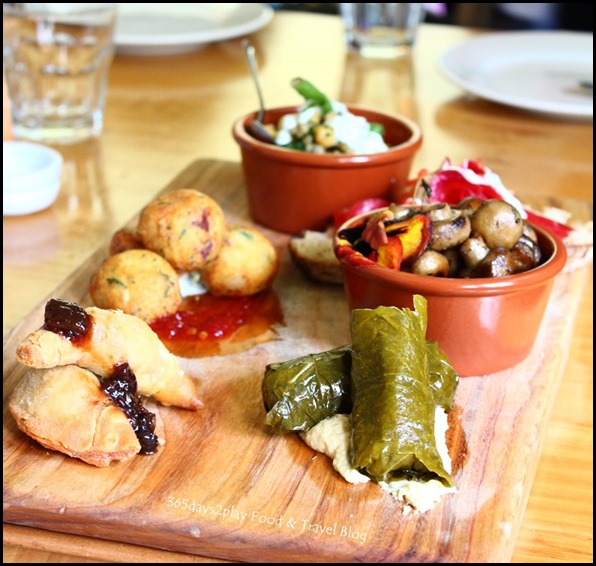 Tasting Plate (Empanada w pork & sage, salted cod, choriso & potato dumpling, mushroom, stuffed vine leaves w hummus) $13.50
Particularly liked the empanadas which are like mini curry puffs except not so oily. And also, the choriso & potato dumplings.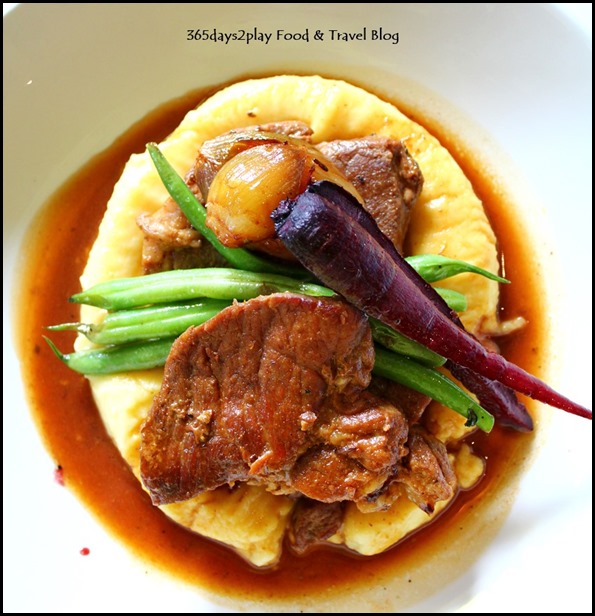 Roast Pork Collar with dutch cream potato mash, caramelised onion, purple carrots, green beans and pork jus $28.50
Was torn between the Greek style lamb and this roast pork collar which I eventually went for. Amazing flavours cooked and presented in a homey style. The roast pork was so tender, and the mash potato was just perfect in terms of texture and creaminess. The accompanying vegetables were fresh, crunchy and just lightly cooked. A little on the raw side for Asian palates, but it did make me feel very healthy after eating them.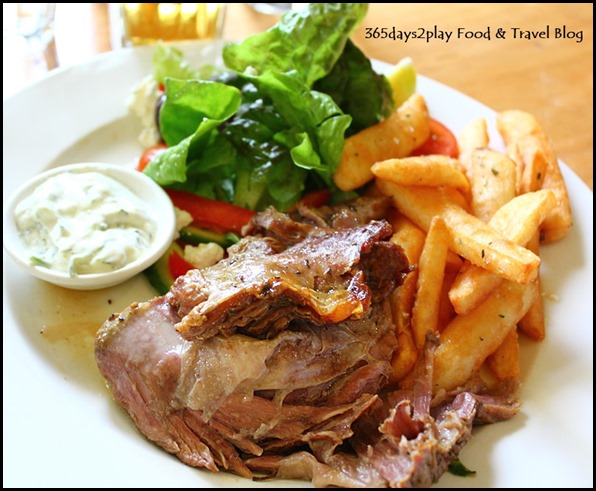 3 Hr Slow Cooked Greek Style Lamb w Rosemary chips, organic greek salad, Persian Feta & Tzatziki $29
The Partner ordered this lamb, which true to the menu description, was cooked at a low temperature for 3 hours so as to obtain the fork tender texture. Accompanying salad was an organic Greek salad. See I told you people here love their organic foods. Isn't it wonderful that enjoying a meal is no longer a sinful thing but an action of nourishing the body? If we could all take one step back to ponder and request for organic foods or free-range pasture fed animals, Singapore would move in the right direction eventually.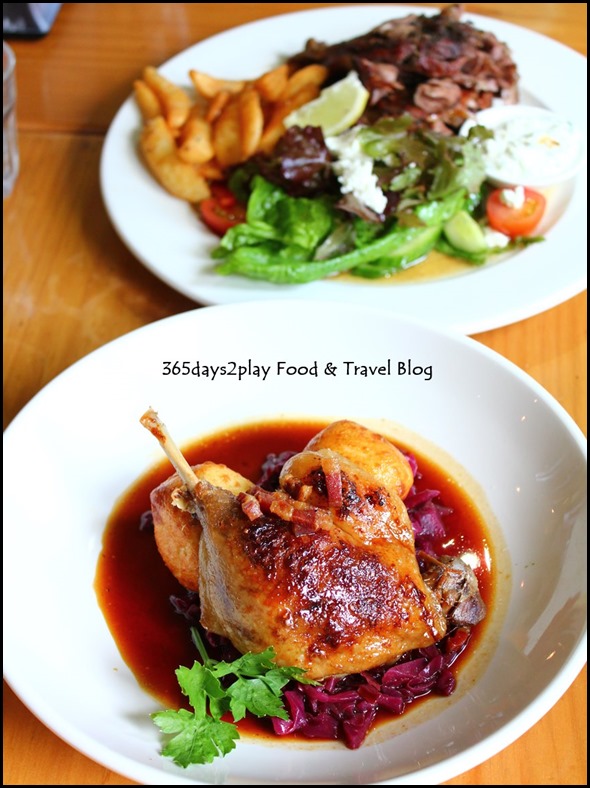 Duck Confit with Honey & Port Wine Glaze, apple, red cabbage, potato dumplings & crispy speck $28
I didn't order this duck confit but it sure looked picture perfect, like what you'd expect from a fine-dining restaurant!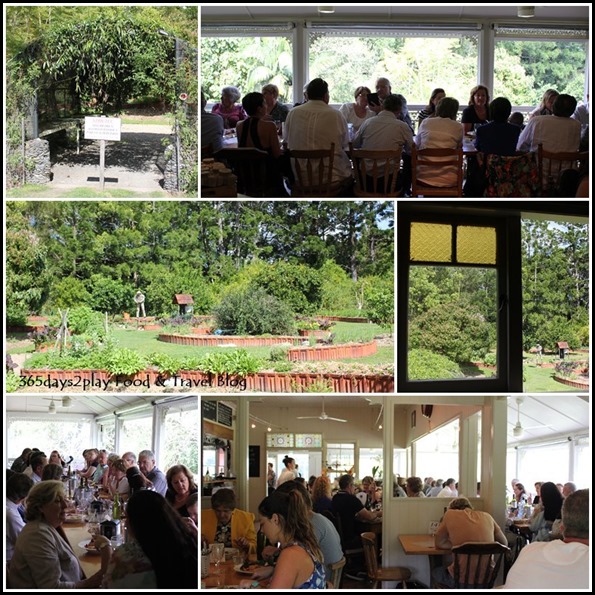 Main dining area is on the upper floor of the "house", overlooking the gardens.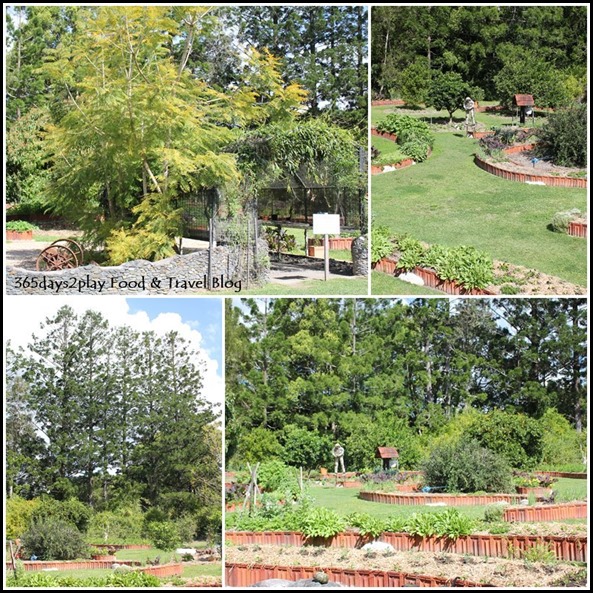 Love the lush and picturesque surroundings! If you have time you can even venture further to enjoy the views of Mount Warning in the distance.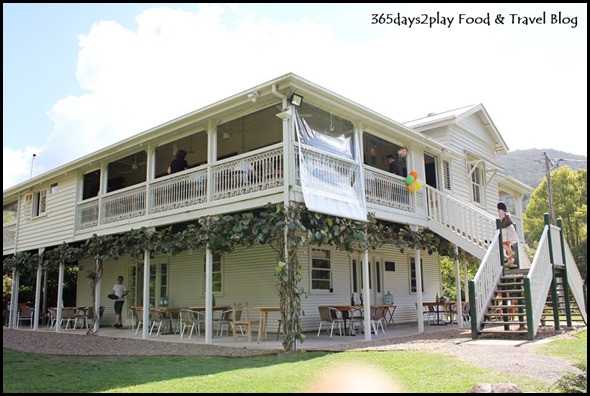 You will be amazed to know that Mavis's Kitchen didn't always use to be at Tweed Valley. Mavis's Kitchen used to be known as Harley Street Brasserie and was located in Gold Coast. One day the owners decided to move to Tweed Valley, and they uprooted the house, yes the house you see in the picture above, and transported it to its current location. I kid you not!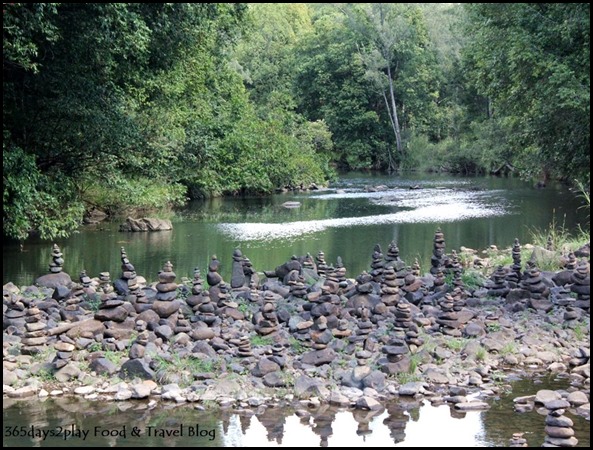 Just before you reach Mavis's Kitchen, you will have to cross a single vehicle bridge over a small river. Look out on both sides, you will see these strange stones piled neatly in small stacks. I wonder who on earth did this? Seems like wedding couples who get married here might create a stack each, just for the fun of it.
---
Add me on
Facebook, Instagram and Twitter if you want to be kept up to date with the latest happenings in the food and lifestyle scene in Singapore! 
---
Mavis's Kitchen (Mavises' Kitchen)
64 Mt Warning Road Uki NSW 2484 Australia
Tel : 0266 795664
http://www.maviseskitchen.com.au
It's just over 30 minutes drive from Gold Coast Airport.