Previously, it was quaint and delightful to be able to chance upon new cafes located in off the beaten path locations, the more hidden, the better. But sometimes, you just want a cafe conveniently and centrally located for days when you just can't be bothered to travel so far. One such cafe comes to mind, Roosevelt Cafe situated at Dorset Residences Hotel, just outside the Outram MRT station exit (NE Line). The location is quite hard to beat, but in the several times that I've been there, it's never seen a full crowd, which is a pity in my opinion.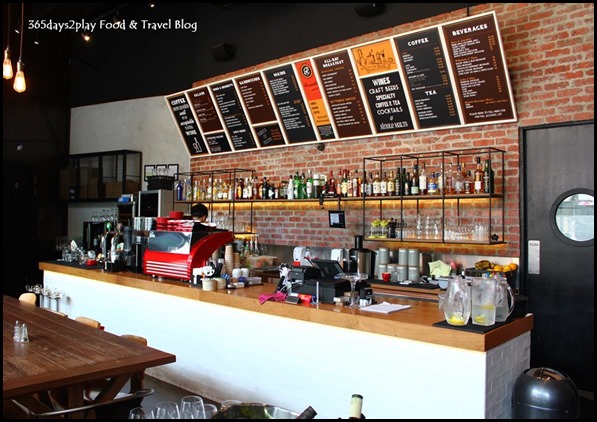 Well the fact that Roosevelt cafe is not on most cafe hopper's radar, is also the reason why I love being able to spend quiet afternoons at Roosevelt, sipping my cuppa without having to worry about knocking into the neighbouring diner's elbow, or having someone breathe down my back in the hopes that I'd vacate the seat faster. I like the tasteful decor at Roosevelt too. It has a bit of a motoring theme, but thankfully no more of that nostalgic old school decor, which frankly is getting so common it's almost irritating.
I also like it that Roosevelt's menu is quite wide, with choices ranging from various permutations of eggs benedict, to waffles, to pastas, sandwiches and mains. I don't know about you but it sucks whenever I encounter a cafe with like only 2 items on the menu.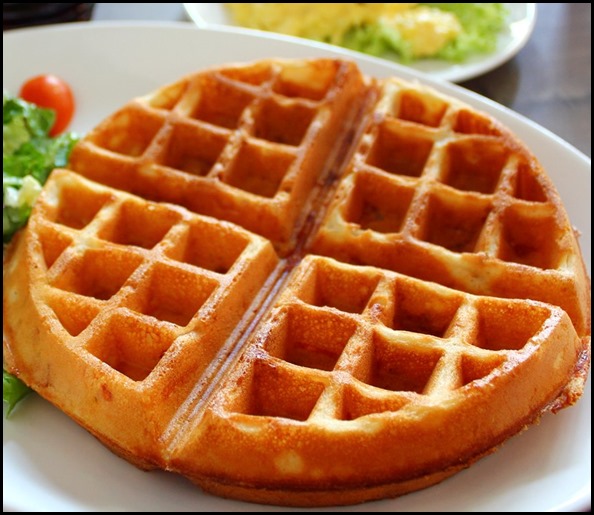 Ham and Triple Cheese Waffles with smoked ham, mozarella, cheddar and parmesan $14
Roosevelt has a nice lunch deal going on where if you get the sandwiches or the mains, the coffee is on the house. It's not just the black coffee, but also all the coffees in their menu such as lattes and cappucinos, without any additional cost. So for something like $12, you could get lunch and coffee, quite a decent deal I must say.