Previously, it was quaint and delightful to be able to chance upon new cafes located in off the beaten path locations, the more hidden, the better. But sometimes, you just want a cafe conveniently and centrally located for days when you just can't be bothered to travel so far. One such cafe comes to mind, Roosevelt Cafe situated at Dorset Residences Hotel, just outside the Outram MRT station exit (NE Line). The location is quite hard to beat, but in the several times that I've been there, it's never seen a full crowd, which is a pity in my opinion.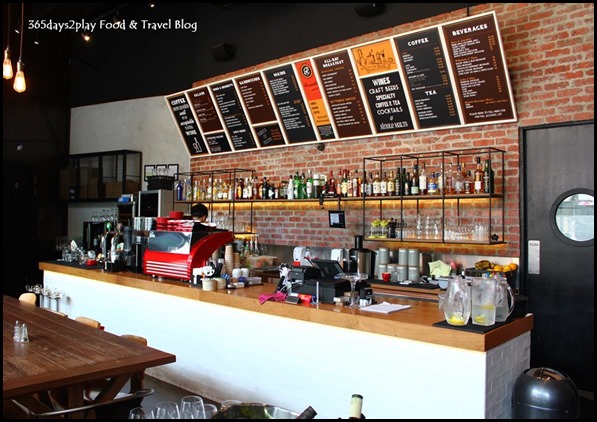 Well the fact that Roosevelt cafe is not on most cafe hopper's radar, is also the reason why I love being able to spend quiet afternoons at Roosevelt, sipping my cuppa without having to worry about knocking into the neighbouring diner's elbow, or having someone breathe down my back in the hopes that I'd vacate the seat faster. I like the tasteful decor at Roosevelt too. It has a bit of a motoring theme, but thankfully no more of that nostalgic old school decor, which frankly is getting so common it's almost irritating.
I also like it that Roosevelt's menu is quite wide, with choices ranging from various permutations of eggs benedict, to waffles, to pastas, sandwiches and mains. I don't know about you but it sucks whenever I encounter a cafe with like only 2 items on the menu.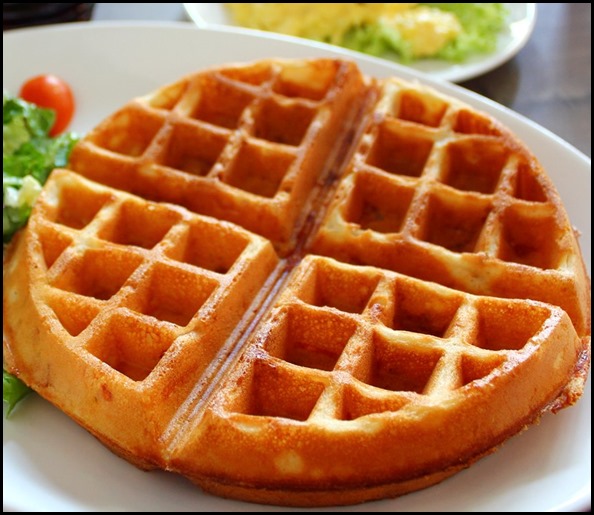 Ham and Triple Cheese Waffles with smoked ham, mozarella, cheddar and parmesan $14
Roosevelt has a nice lunch deal going on where if you get the sandwiches or the mains, the coffee is on the house. It's not just the black coffee, but also all the coffees in their menu such as lattes and cappucinos, without any additional cost. So for something like $12, you could get lunch and coffee, quite a decent deal I must say.
This waffle was what I had for lunch on my very first visit to Roosevelt. If you're a fan of ham and cheese sandwiches, you have got to try this ham and cheese waffle! It was really good as the waffles imparts a slightly caramelised and sweet flavour as compared to just plain old bread. I must admit I was slightly shocked when this arrived at the table, because I was expecting the ingredients to be piled on top of the waffle, but aesthetics aside, I enjoyed my lunch very much. This is one naked looking waffle that packs a hidden punch.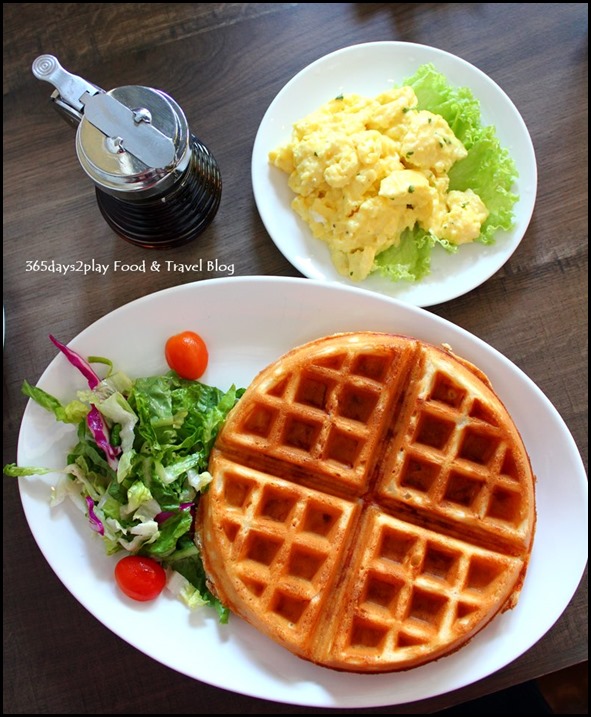 I was torn between the truffle scrambled eggs waffle and the ham and cheese waffle, so I decided to top up $4 for the side of eggs. Unfortunately, I had assumed it would be truffle scrambled eggs, but they were just plain ones, and cooked to bouncy, rather than the creamy clouds that I was hoping for.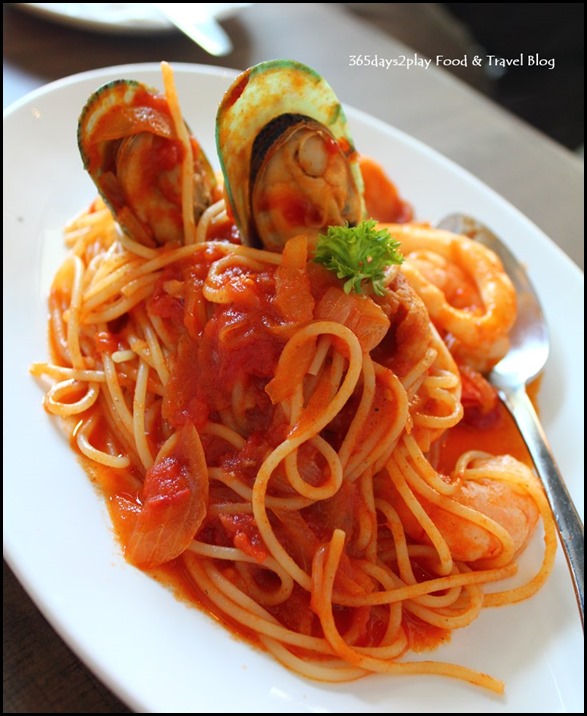 Seafood Spaghetti $15
This was what my father ordered, which was simple and good.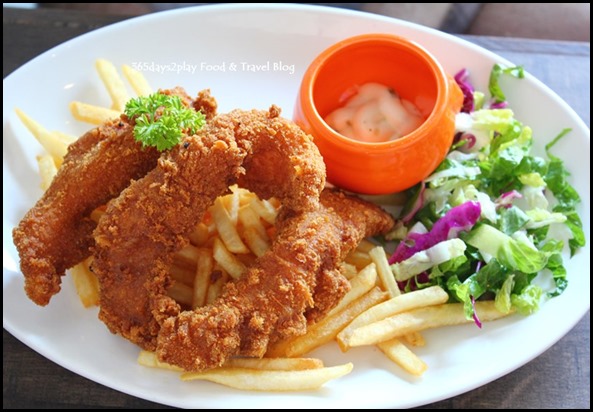 Crispy Breaded Fish and Chips $18
The Partner ordered this. The pricing was slightly steep for 3 average sized fish. But thankfully taste wise, the fish was flaky, piping hot and encased in a moreish crispy breadcrumb batter, and went well with the lemon garlic mayo on the side.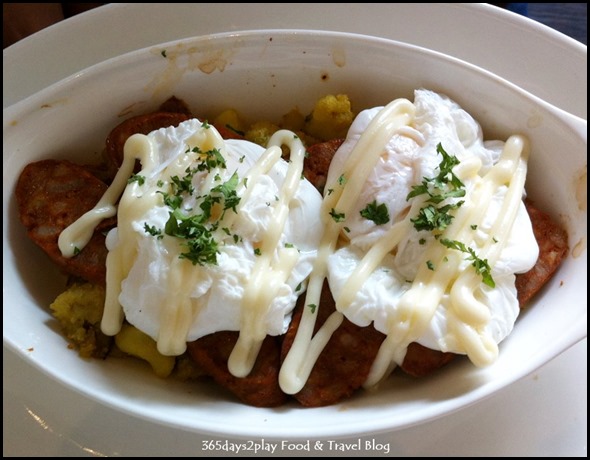 Eggs Roosevelt (Poached egg, chorizo, lemon garlic mayo, smashed potato) $17
My colleague ordered this during a subsequent visit. I think he found the eggs a tad small. He did like the chorizo and the smashed potatoes beneath. But personally, I think with eggs, you need something like bread or waffles to soak up the delicious yolk. Mashed potato in my opinion is not that great a vehicle, although it is still welcomed as a side dish.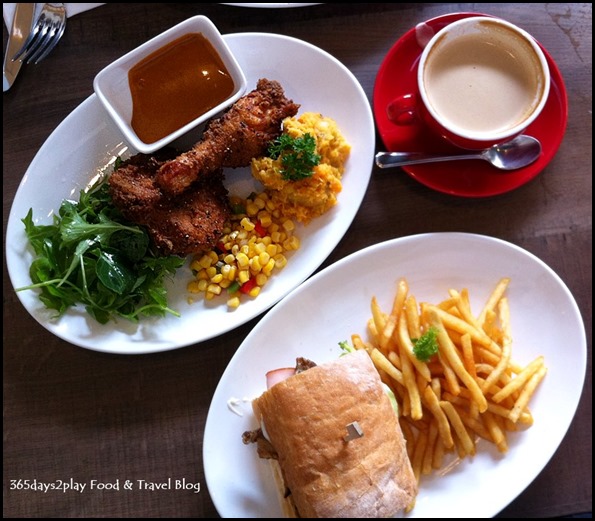 Top left of the picture was the Southern Fried Chicken $18 that another colleague ordered. When the dish arrived, it smelt so damn good I felt regretful for not choosing this instead! The skin was crispy while the flesh beneath was glistening amidst the little tufts of steam, after being sliced. It was hard not to salivate at that!
I ordered the Pork belly cubano sandwich, which comes with molasses marinated pork belly, smoked ham and hot sauce. The pork belly was for some reason gristly at parts, but combined with the delicious hot sauce that is just slightly spicy, it was a pretty enjoyable sandwich. Fries were tasty and crisp too.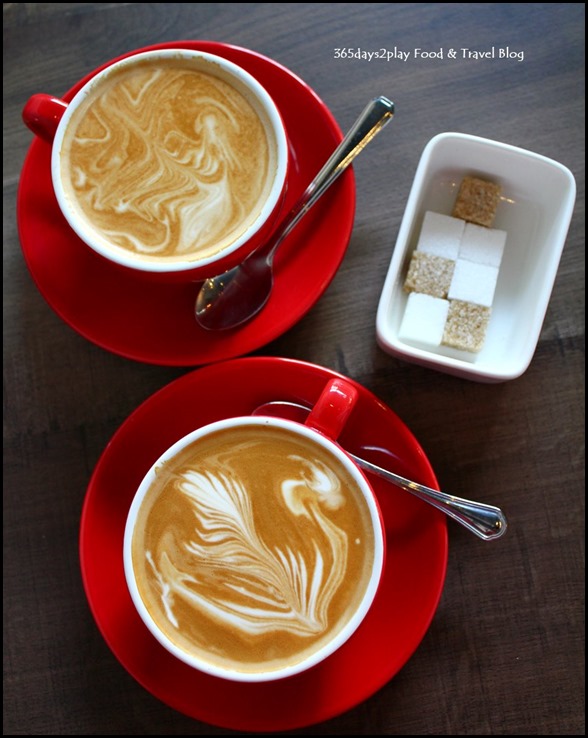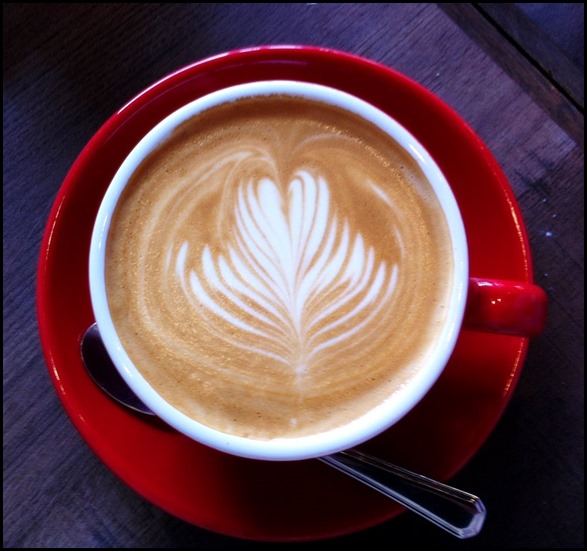 Cafe Latte $4.80
The first time we tried their coffee, we all thought that the coffee should have been much hotter. Although we didn't ask for a new cup, the staff recognised us on the second visit (because I returned like the next day) and made sure to serve us piping hot coffees. The cafe latte and flat whites we ordered were smooth and without any hint of bitterness, and just like any other coffee you find at 3rd wave cafes. Latte art is a little inconsistent as you can see from the picture, but I'm really not one to be too bothered about the art, as long as the coffee has substance.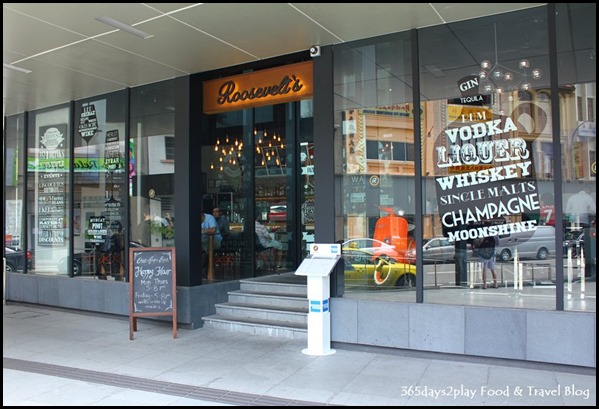 Be a friend of Teddy's to enjoy discounts on your birthday or when you dine with 3 other friends. Membership is freeeeee….
---
Add me on Facebook, Instagram and Twitter if you want to be kept up to date with the latest happenings in the food and lifestyle scene in Singapore!
Check out other great cafes in Singapore! 
---
Roosevelt Cafe
331 NEW BRIDGE ROAD
#01-02 DORSETT RESIDENCES
SINGAPORE 088764
Tel : +65 6538 3518