You may have read in the Straits Times of the recent opening of the famed Goubuli Restaurant at Marina Bay Sands. Story has it that the owner named Gou (aka Dog) made such great meat buns that he had so many customers he had no time to entertain anyone, hence the name Gou Bu Li (aka Dog doesn't bother about you 狗不理包子). When I heard about the buns, I though nah, not another casual gimmicky eatery again.
Surprisingly, the restaurant is far from casual or gimmicky when you step in. The restaurant may not be that big, but a warm ambience greets you, complete with wooden motif wood panelling, oriental furniture and marble-top tables. Aside from the buns / baozi, and Hong Kong dim sum (to cater to those who are not too familiar with Tianjin cuisine, the menu boasts a wide array of dishes that you would not find in a casual eatery.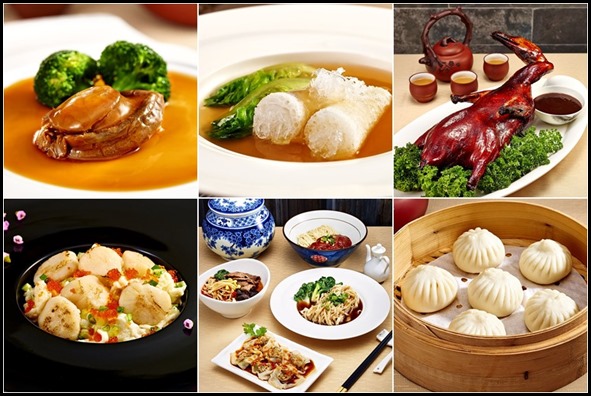 Photo Credit : 9Goubuli
Think Buddha Jumps Over the Wall, claypot braised lamb, eight treasures steamed chicken, braised fresh abalone in oyster sauce, and the like. Argh I wish I could have eaten more at the media tasting but I am limited by my human sized stomach capacity!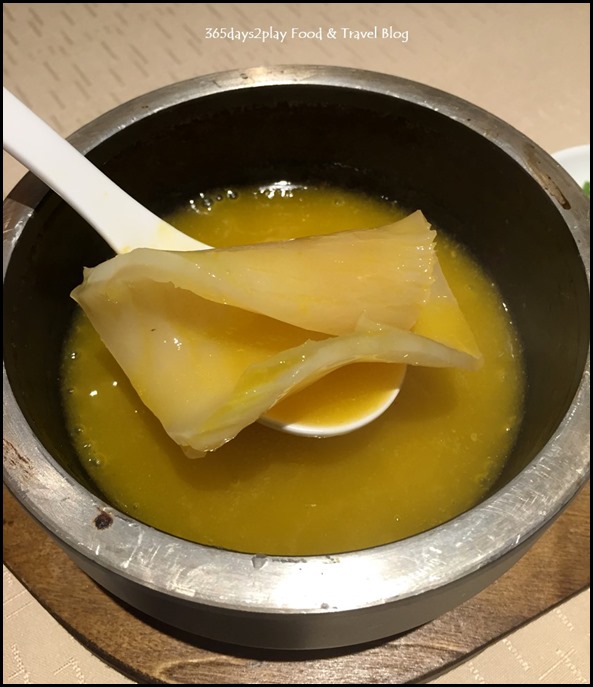 Braised fish maw in superior soup $18
I did have the opportunity to sample some unforgettable dishes though, like this braised fish maw soup. This came to the table sizzling hot and bubbling away. I took a 30 second video and still it wouldn't stop bubbling. You can tell from the picture how rich the soup is, and it certainly tasted deliciously rich in collagen, with a chicken broth aftertaste. So glad my dining companion does not appreciate fish maw, so I had the gelatinous piece all to myself.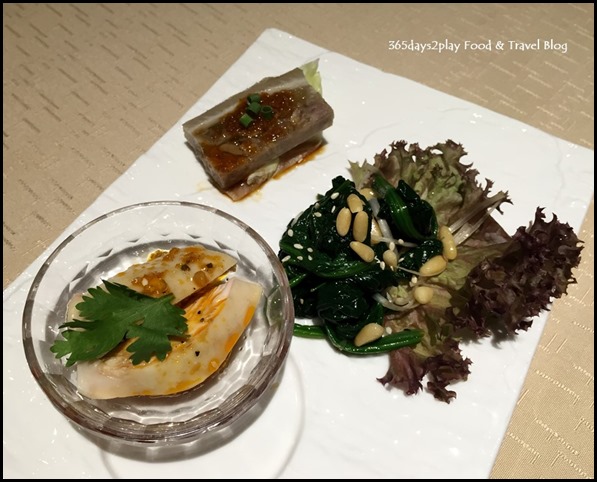 Appetisers of Shanghainese style drunken chicken, pork terrine and spinach with pine nuts
Next up, a special combination of 3 appetisers. While these tasted good, they are also available in many other restaurants, so I would recommend spending your money on the main dishes which are more unique.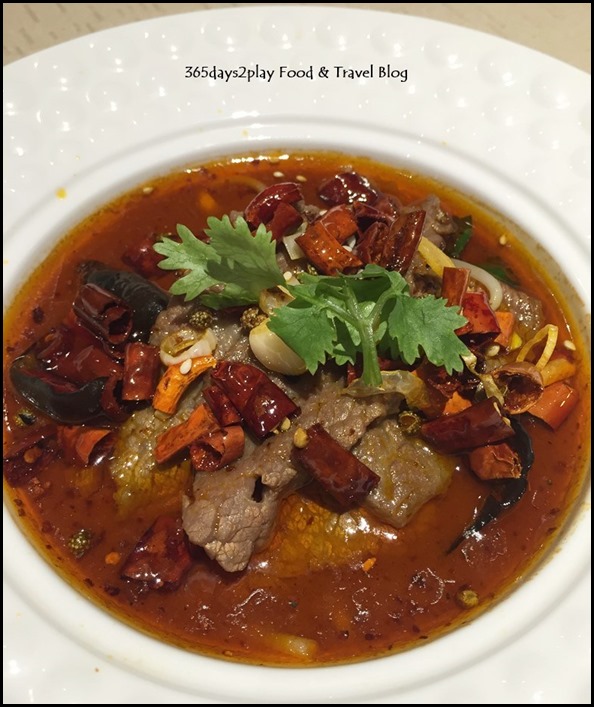 Szechuan style poached sliced beef – $22
This dish was the piece de la resistance. It was SO GOOOOD, I was raving about it for days. You don't often hear of poached beef, which was why we chose to order this. The beef was supremely tender, one of the most tender pieces of beef I have ever eaten. And the depth of flavour coming from the spicy hot Szechuan broth, sensational! It was much more than just a spicy broth. I highly recommend this dish if you were to go to 9Goubuli.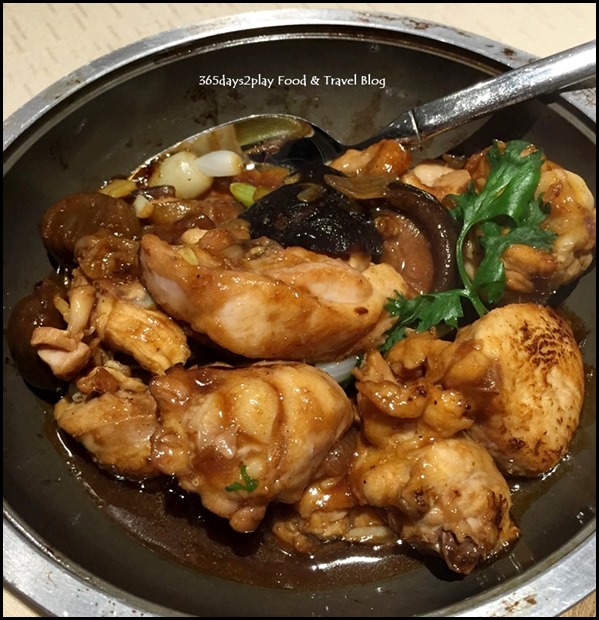 Tianjin style claypot stewed chicken with chestnuts $20
Once again, we ordered this as we wanted to try a different style of cooking compared to the usual Cantonese restaurants that we are used to. The chicken pieces were also very tender, and carried a subtle caramel flavour from the sauce. Loved the sweet chestnuts that went along with the chicken. Chestnuts are a plenty in Tianjin, hence the frequent use of it in cooking.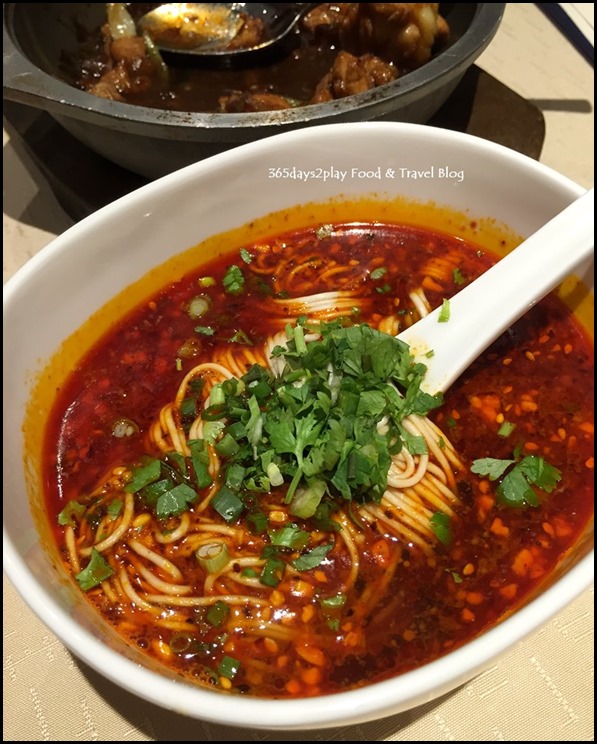 Dan Dan Noodles $7.80
I don't have a memory of eating Dan Dan mian, at least not in recent times as I've always found it to be usually "empty" and more noodle than anything else. This version of Dan Dan mian has awakened me to the fact that there is more to it than meets the eye. The sauce itself is the key highlight, in this case, with numerous flavours interplaying within the spicy sauce, with addition of nuts for added texture and taste. I quite like the noodle texture too which was in between chewy and springy.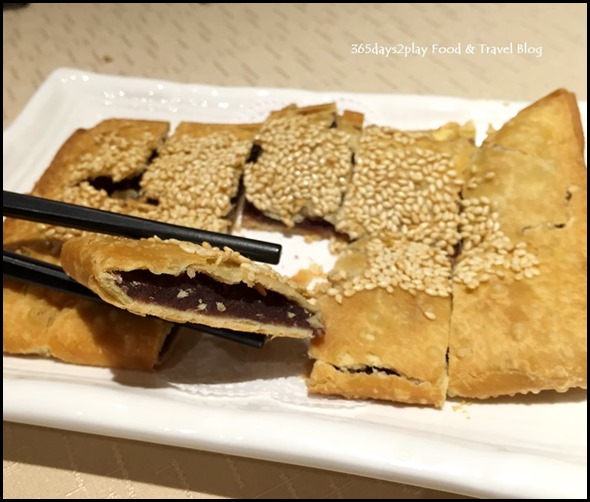 Sweet bean paste pancake $12
For desserts, it was mostly the usual favourites so we opted for this sweet bean paste pancake, which is one of my favourite dessert orders. The red bean paste here has a milder and less sweet taste as compared to other versions I've tried. I personally prefer a sweeter version, however it was really nice that the pancake didn't taste oily.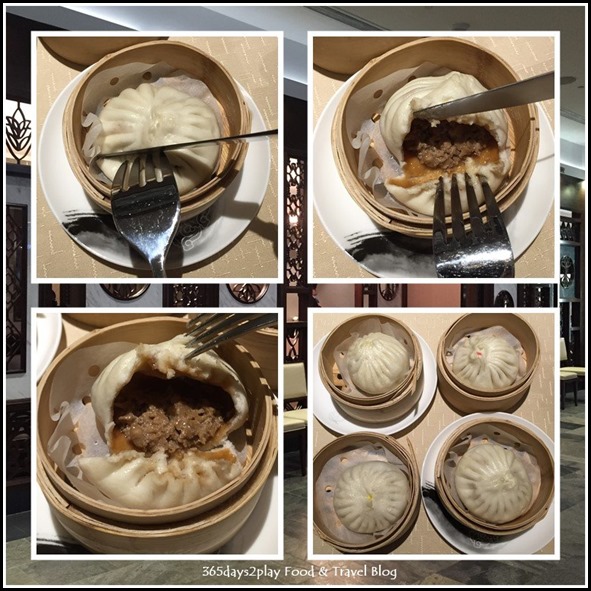 Goubuli Buns with Meat filling $2.20, vegetable filling $1.90, meat and vegetable filling $2.60, wagyu and vegetable filling $3.50
And if you've managed to scroll down all the way to see my review of the famed Goubuli buns, alas, I don't think they are anything to shout about. Think Char Siew Bao type bao with a bit of broth. I have no doubt that once upon a time, these would have been sought after buns back where they originated in year 1858. But we have such a wide variety of food available in Singapore, and I'm specifically thinking of Xiao Long Bao where the bao skins are translucent thin, with the meat broth literally spilling out when prised open, there would have been no fight at all. The Goubuli buns are pleasant tasting, I particularly liked the vegetable filling ones, while the Partner liked the Wagyu ones, but just not nice enough to warrant multiple tries.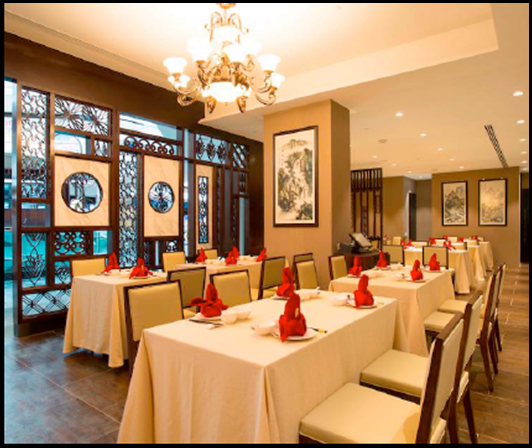 Photo Credit : Marina Bay Sands
I am certainly looking forward to trying more of the main dishes at 9Goubuli again soon.
---
Add me on Facebook, Instagram and Twitter if you want to be kept up to date with the latest happenings in the food and lifestyle scene in Singapore!
---
9Goubuli
2 Bayfront Avenue #B2-02/03/04
The Shoppes at Marina Bay Sands (Next to Zara)
Singapore 018872
Tel : 66887799
9Goubuli is a Joint Venture between GBL Venture Pte Ltd and Goubuli China Company. This is Goubuli's first venture outside of China.