I'm on a quest to cover all the interest cafes and eateries in the East of Singapore! Last weekend, the Partner, the BFF and I decided to make a quick trip around the more obscure parts of the Eastern side of Singapore. Yes, even though we live in the East, Changi is a seldom visited area, especially because there is no MRT line coming down this way. Even when driving to the airport, Changi would be easily bypassed with the ECP or PIE.
Interestingly, Changi Road starts from around the Geylang/Eunos area, then becomes New Upper Changi Road near the Kembangan area. It then morphs into Upper Changi Road East and North. There is no Upper Changi Road West or South. And neither is there any Old Upper Changi Road, or Old Changi Road for that matter! I have this vague feeling that some roads which used to be known as the original Changi Road, and is parallel to the sea, has now been changed to another name. Maybe the history buffs can enlighten me.
Anyway, if you in the Changi / Loyang area, you may like to know that there is a huge cafe situated right next to the Changi Chapel & Museum. The best time to visit would I think be at night. Apart from the fact that this is a totally not air-conditioned place, there are not too many tall buildings nearby and you can gaze as the night sky more easily while the crickets provide their nocturnal accompaniment. It would be nice to sit here amongst the lush greens during the rainy season in December too. I love the smell of wet grass, don't you?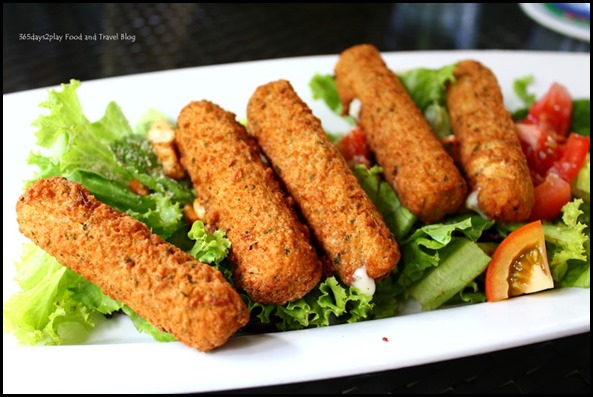 Tomato Fried Cheese Salad (Deep fried cheese with breadcrumb, on sliced tomato, drizzled with balsamic dressing) $14
We ordered a plate of these to share. I don't usually order appetisers because I don't normally need it, and also because I don't want to be somewhat satiated by the time my mains arrive. But sometimes I just can't resist! Last week was one such day. Fried cheese, caprese salads and melt in your mouth burratas really get to me and I lose all form of will power when they make their appearance in the appetiser section of the menu!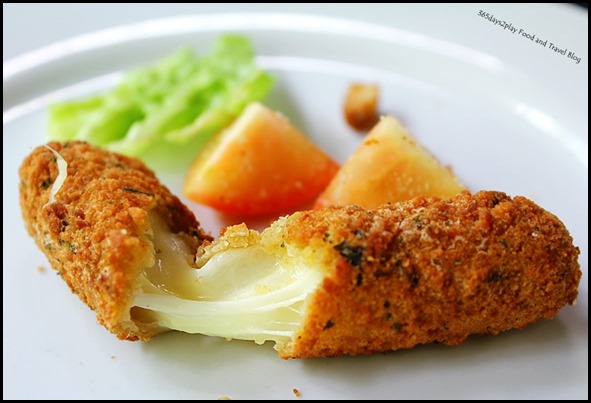 These fried mozzarella cheese sticks were not as warm as I would have liked them to be because by the time we were eating our second sticks, the cheese had kind of cooled down and dried up. Still, it was fun to have a cheesy appetiser as we waited for our mains. Interestingly, it didn't taste greasy or fried, which I suppose is a good thing.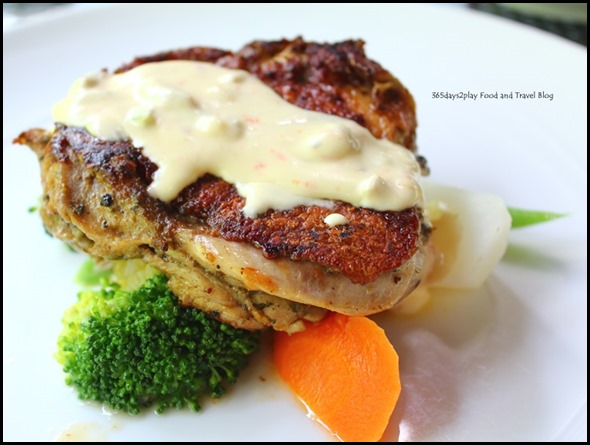 Russian Grilled Chicken (Grilled chicken thigh with pepper herb Served with oriental vodka cream sauce, mashed potato & vegetables) $18.90
I wanted to see how this would differ from the usual chicken chop and I was glad that I did order this. The Russian vodka cream sauce was fantastic! You can't taste any vodka, and actually, there seems to be some cheesy undertones. All 3 of us loved it and I wished that there was more of it on my plate! Grilled chicken thigh was juicy and tender, vegetables were still firm and retained their natural sweetness. No complaints at all for this dish.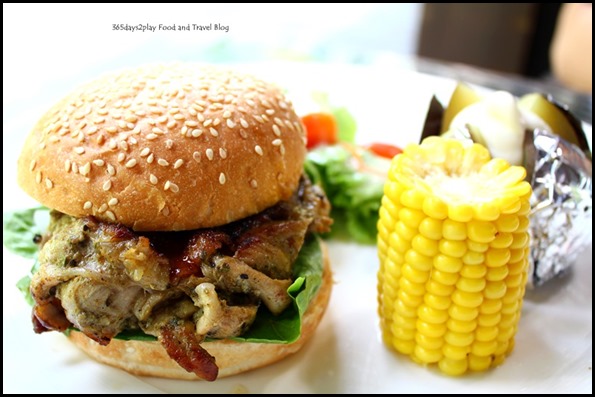 Honey Glazed Chicken Burger $16
The BFF ordered this. We were all amazed at the huge chunk of chicken stuffed into the burger. It was the same size as my Russian Grilled Chicken! The BFF said he preferred the Russian Vodka sauce to the Honey Glazed sauce.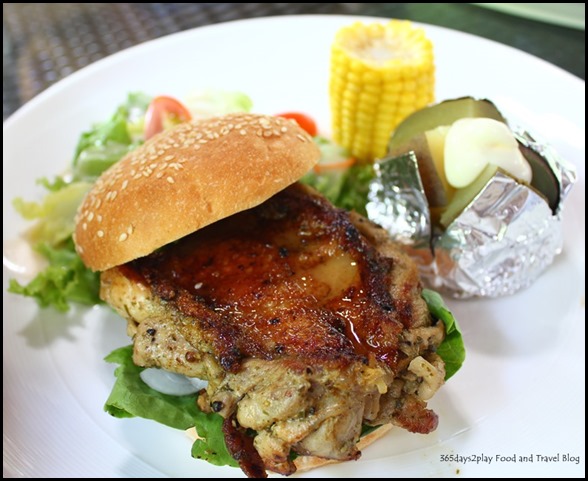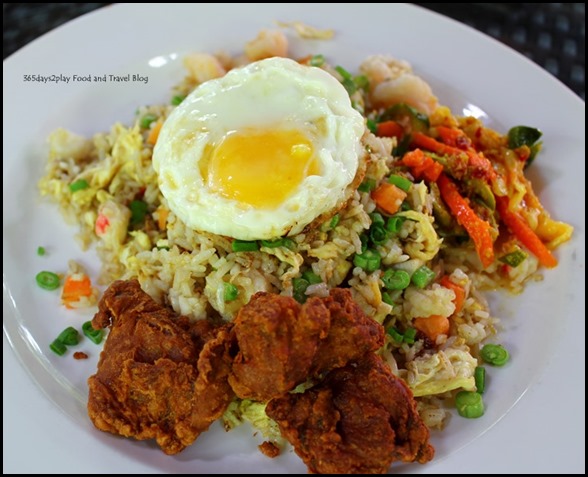 Seafood Fried Rice (Fragrant rice tossed with prawns, squid, chicken cubes, crab meat, with bean sprouts & French Beans. Topped with sunny-side up eggs & Chicken bites) $13
The Partner had a bad tummy so he decided to go for something mild like seafood fried rice instead of the sambal nasi goreng, which is one of his favourite dishes. In fact, the sambal nasi goreng's description did sound quite good, and if not for the fact that I had already set my heart on the Russian Chicken, I might have just gone for that too. Taste wise, the chicken pieces were very tender and juicy. The fried rice was also just nice, not too oily nor packed with MSG. The fried egg was just a little bit overcooked such that the outer regions of the egg yolk had started to harden.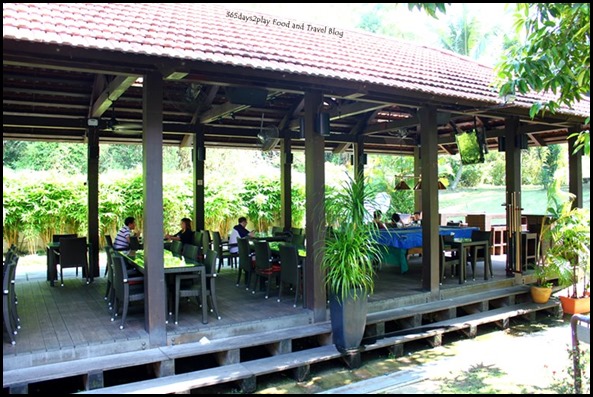 There is a pool table at Bark Cafe but it was covered when we were there in the afternoon. Wonder if customers get to play in the evenings?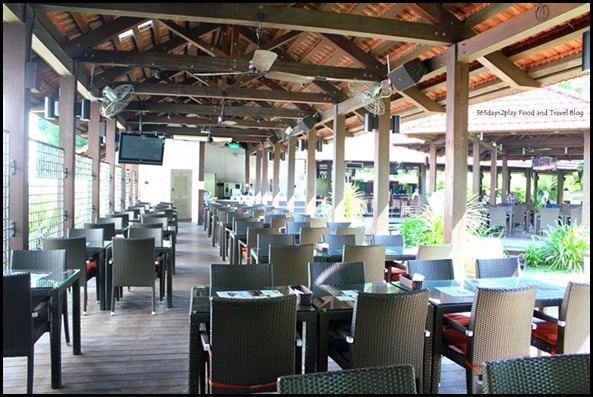 After our lunch, we decided to adjourn to Lots Gourmet Stop nearby for a cuppa.
~~~~~~~~~~
Click here for other places to eat in the East.
Add me on Facebook, Instagram and Twitter if you want to be kept up to date with the latest happenings in the food and lifestyle scene in Singapore!
~~~~~~~~~~
The Bark Cafe Restaurant and Bar
1000 Upp Changi Road North
Singapore 507707
Telephone: +65 6545 4118
E-mail: enquires@thebarkcafe.com
Opening hours:
Mon – Thu: 11:00 am – 1:00 am
Fri – Sat: 11:00 am – 2:00 am
Sun: 11:00 am – 1:00 am