Finally blogging about the last tasting session that I went for prior to popping! I'd been to the 1st Chop House at Vivocity and I was looking forward to the same meat fest at the new Katong outlet to load up on my iron levels. The Chop House is renown for its generous meat dishes, which is not surprising since it is owned by the same people who own Wooloomooloo at Raffles City.
However the restaurant was keen to showcase its new or lesser known dishes, which turned out to be a good thing because they have some gems that are really worth highlighting to you guys out there. With a name like The Chop House, you wouldn't be faulted for thinking that they specialise in meats, which they do, but they also have numerous "cafe" dishes as well.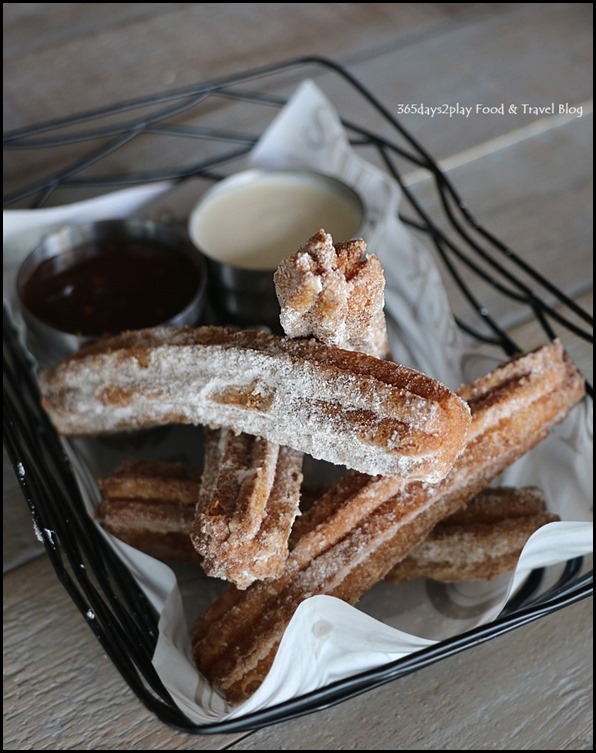 For one, if you've been trying to find the best churros in Singapore, you might just want to pop by The Chop House. At $6 for 6 pieces of crispy on the outside and slightly under-baked on the inside to give a somewhat creamy texture, this must surely be one of the most value-for-money churros around. Also comes with a generous portion of chocolate or creme anglaise sauce.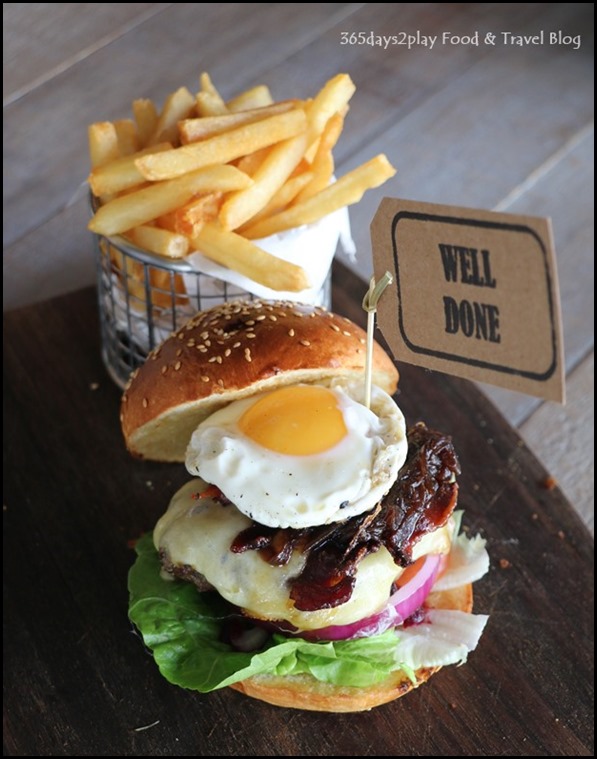 This beautiful well done Aussie Burger $26++ would also be a recommendation of mine. Any burger with a sunny side up is a winner in my opinion! Plus the sweet onion jam and beet root added extra moisture and sweetness to the burger which I liked very much. Just don't order it well done like I did, which I had to since I was pregnant. Medium-well should suffice for burgers.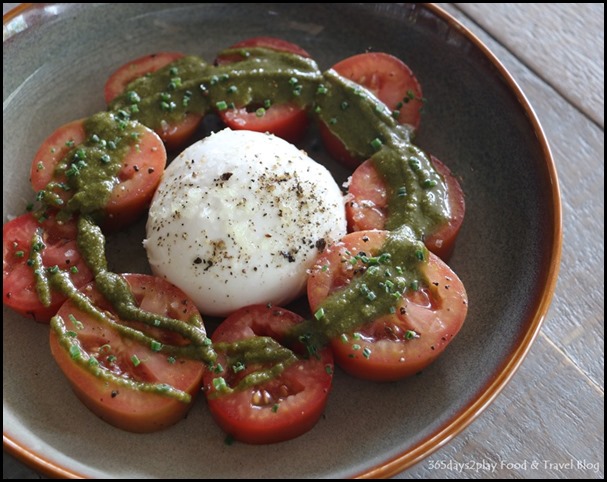 I was surprised to find burrata available at a non-Italian restaurant, and at only $14++! Burrata if you did not already know, is a heavenly thing made by stuffing mozzarella cheese with creamy cheese curds. It's like dining on the creamiest and richest milk you can find, but with a textural bite. I almost always order this when I find this on the menu, as it's not that commonly available even if you're at an Italian restaurant. Presented here together with the crisp tomato slices makes for a nice contrast of sweet vs creamy flavours.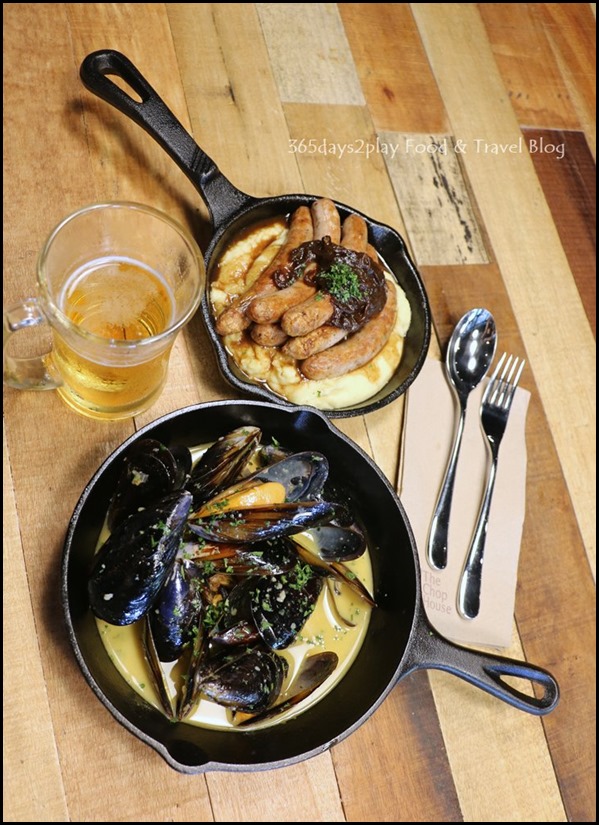 Check out the Mussels Mariniere $20++ cooked in white wine with shallots, garlic, celery and parsley if you're not into the meat dishes. This dish is listed under the appetisers but I find that it works quite well as a main course, and it was my favourite "main course" of the day. Loved the strong tasting creamy broth which had enough oomph, and the plump and bouncy mussels. Give me some bread or rice to soak up that dreamy broth and I would be a happy person.
Large grill platters are great for sharing and are crowd pleasers the bigger the platter. However this mixed grill seafood platter at $54++ was nothing spectacular in the taste department and priced on the high side when compared with the earlier dishes above.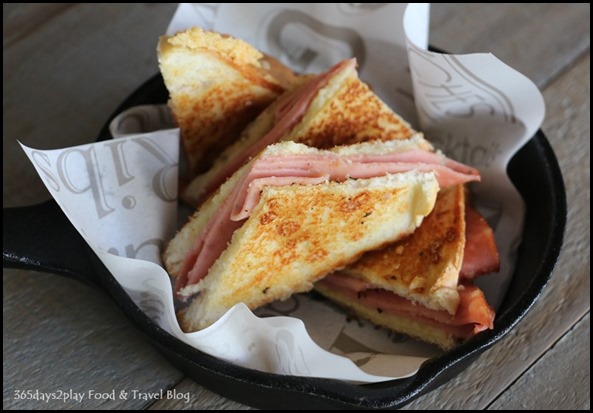 The greasy ham and cheese sandwich $22++ also fell short on expectations. Whenever the word "cheese" appears in the name of the dish, you would expect a generous amount of it, and in the case of sandwiches I would expect it the cheese to be meltingly gooey. You can see from the picture that it wasn't the case. And also, the pricing seemed a little on the high side when compared to the other dishes, and especially when the ingredients comprise of just ham and cheese.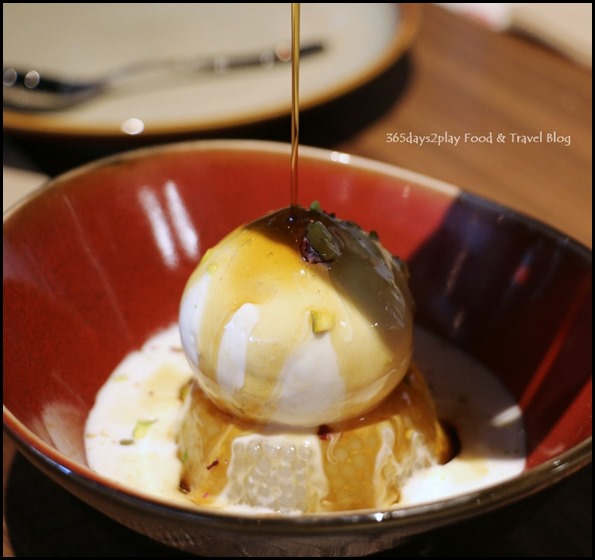 For desserts, I would recommend that you try the churros mentioned earlier in the post. However this sago melaka is also not a bad choice. In case you're wondering what's up with this local/peranakan dessert in a Western restaurant, well it's inspired by the history of its location in Katong.
---
Add me on Facebook, Instagram and Twitter if you want to be kept up to date with the latest happenings in the food and lifestyle scene in Singapore!
---
The Chop House at I12 Katong
Address: 112 East Coast Road, #01-13 I12 Katong, Singapore 428802
Phone: +65 6443 1011
Email: tch-katong@the-chop-house.com
Facebook: www.facebook.com/thechophouseI12
Website: www.the-chop-house.com
Opening Hours:
Daily, Mondays to Sundays (12noon to 12midnight)
Lunch menu from 12noon to 2.30pm (last orders at 2.30pm); A la carte menu from 12noon to 10.00pm (last orders at 10.00pm); Late night bites and drinks from 10.00pm to 12.00am (last orders at 11.00pm).