I hadn't been to a steakhouse in a while so I was really pleased to receive an invitation from Wooloomooloo/Sixth Sense Communications to come sample the latest steakhouse in town named after the Australian town of Woolloomooloo in Sydney.
Wooloomooloo Steakhouse, an independent group of celebrated premium steakhouses from Hong Kong, comprises of 300sq ft of wining and dining space. Premium steaks, Australian-inspired offerings, as well as an outstanding range of wines and cocktails can be found at Wooloomooloo. The restaurant touts itself to be comparable to other steakhouses like Mortons and Cut.
The restaurant is really stylish and you can't help feeling like you're in for a treat the minute you step into the restaurant. Apart from the elegant furnishings and leather upholstered seats, the restaurant is also decorated with neat wood piles – a design synonymous with all Wooloomooloo restaurants.
BTW, the restaurant and bar offer a fantastic view of the F1 race track. Unfortunately, Wooloomooloo is completely booked for this year's F1 races. Better luck next year. Or you could try catching the fireworks here too.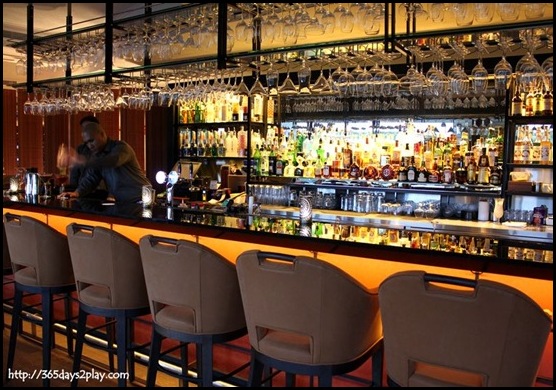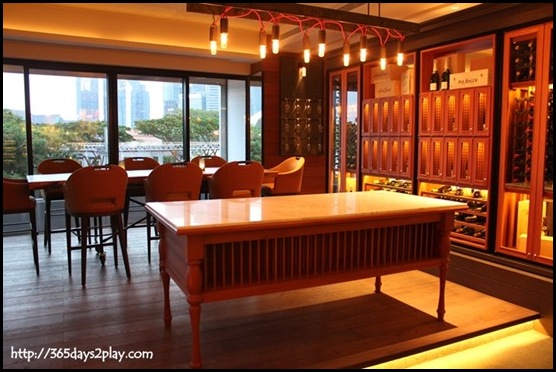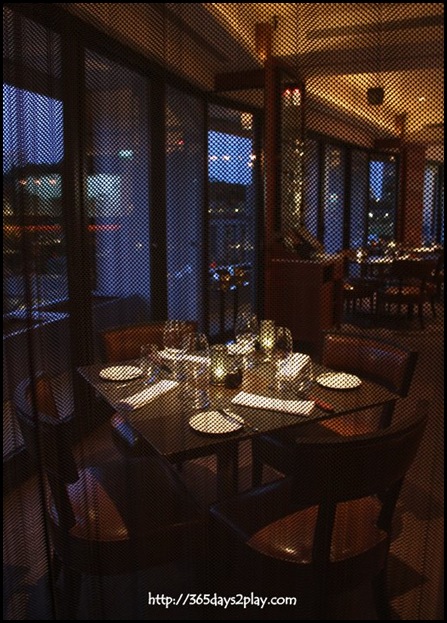 Our dining area for the evening was in a semi-private area. Quite like the semi-private area as it makes you feel like nobody can see you, even though they can if they choose to walk past. Private rooms tend to be very cramped and dark, which may be claustrophobic to some. The downside is that you can still hear the noise coming from the patrons in the restaurant.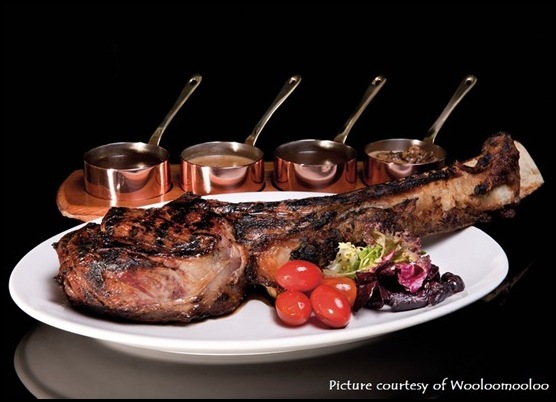 Before I describe the dish above, which surely must be one of the most eye-catching things you can order, I shall dutifully start with the appetisers.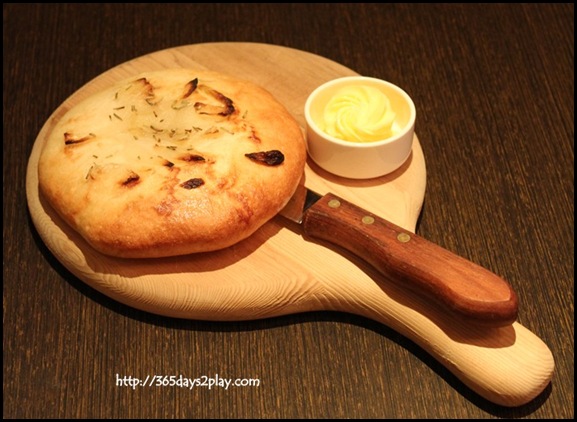 Oniony hot bread paired with a delicious butter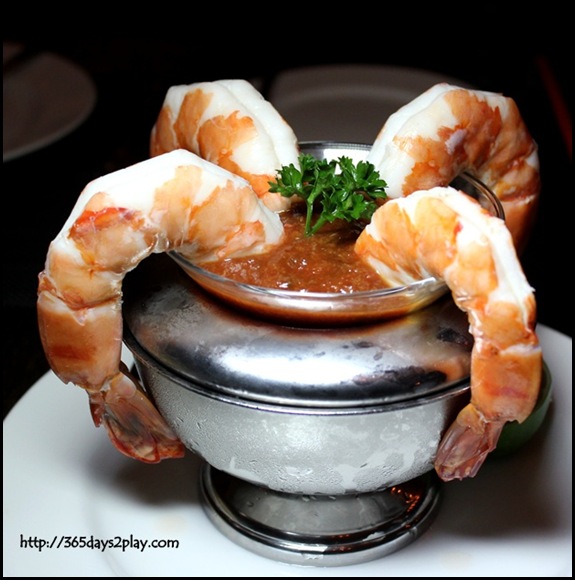 Jumbo Prawn Cocktail $29
When they used the word "Jumbo", they really meant business. These prawns were really humongous, enough for a meal on its own for a small eater. They were succulent and fresh tasting. The accompanying homemade cocktail sauce which was peppered with horseradish, sweet chilli and Worchester sauce, was delightfully refreshing and gave the Jumbo prawns and extra oomph.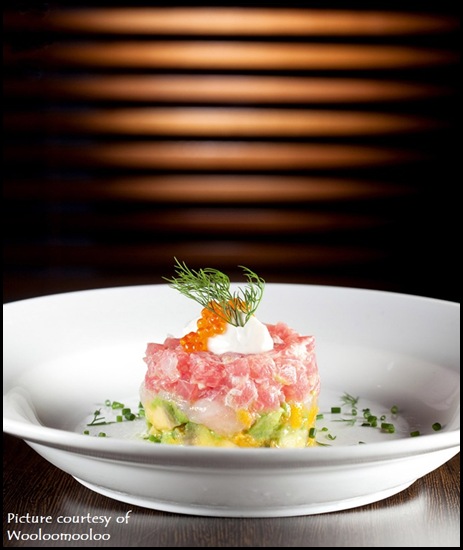 Tuna & Spanner Crab Tartare (A base of avocado, orange, shallot & coriander topped with sweet spanner crab & sashimi-grade tuna. Finished with sour cream & Salmon roe) $29
Very tasty. One fear I have over ordering these type of dishes is that the diced bits tend to become very mushy, what with the ripe avocados and creams mixed into the dish. Luckily, this one had a bit of bite to it even with the dollop of sour cream. The salmon roe bits also lent a very nice savoury tang to the mixture.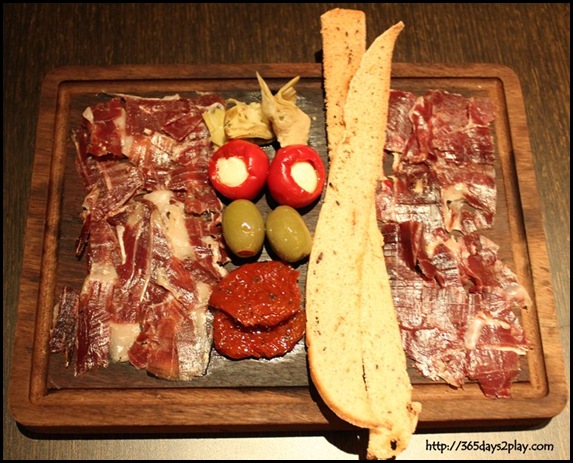 Spanish Ham Selection $38
A good dish for sharing and it's always pleasing to the eye.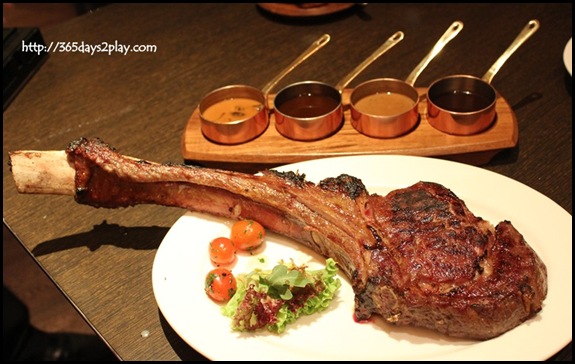 70 day grain fed young Black Angus beef, 2-3 weeks wet aged Stockyard Farms, Hendra, Queensland, Tomahawk Whole Rib with Steak $125
When at Wooloomooloo, if you want to make a statement, you have to order the TOMAHAWK. Really, I think a picture speaks a thousand words here so I shan't say more. The steaks come with 4 sauces to choose from. Red Wine Madeira, Au Jus, Peppercorn and Mushroom as well as a choice of four gourmet mustards (Dijon, English, Granary and Green Peppercorn). But of course, you might just be too busy knawing at the bone to really care about the sauces.
Suitable for two, or possibly 3, this massive whole rib steak weighs between 1.1kg to 1.3kg with bone in and is served medium rare after 20 minutes in the broiler.We were told that in Australia, it's quite common for a single Australian to polish this hunk of meat off. In fact, sometime back, 2 Australians dined at Wooloomooloo and EACH ordered a Tomahawk. The meal was uneventful but later that night, when the waitstaff were off duty and out clubbing, they saw the 2 Australians at the same club dead drunk. One was waving his Tomahawk bone in the air while the other had his stuck up his back pocket! Now I'm just telling this to you for fun and totally not putting any ideas in your head.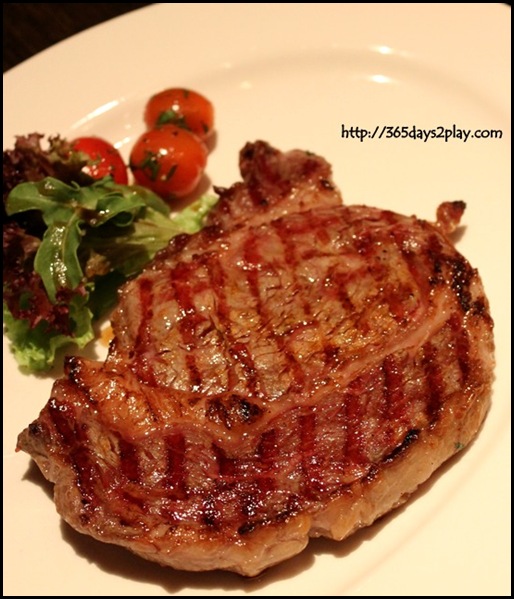 150-day grain fed, 2-3 weeks wet aged Grainge Farms, Gippsland Victoria Rib Eye, 12 Ounce $64
Although its hard to argue that the Tomahawk does make a statement, it is the Rib Eye that I found much more flavourful and very tender to the bite. Some people fine the Tomahawk better tasting, but I would order the rib eye the next time I dine at Wooloomooloo as compared to the Tomahawk.
Grilled Asparagus with Hollandaise sauce 16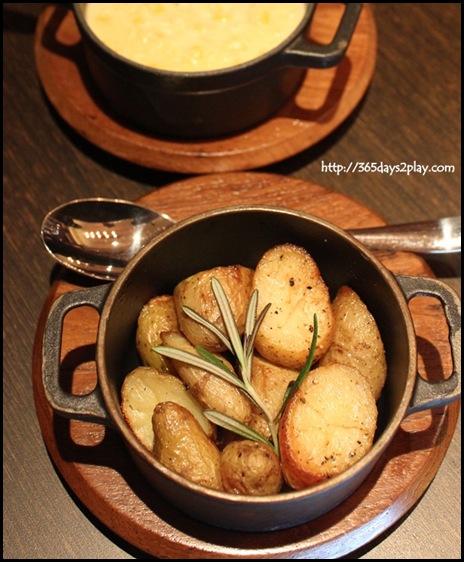 Sauteed Kipfler Potatoes $14 and Creamy Corn $12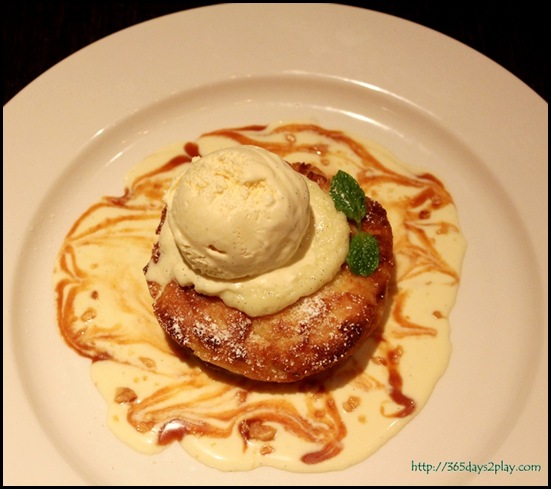 Bread and Butter Pudding with classic vanilla gelato $16
One of the best bread and butter pudding I have eaten in a long time! Bread and butter pudding can sometimes be mushy, but this one had body! As you can see it's standing up on its own and not in a messed up jelly consistency. It was also very fragrant and had a freshly baked taste. Absolutely loved it. The ice cream was very good too and paired well with the piping hot bread and butter pudding.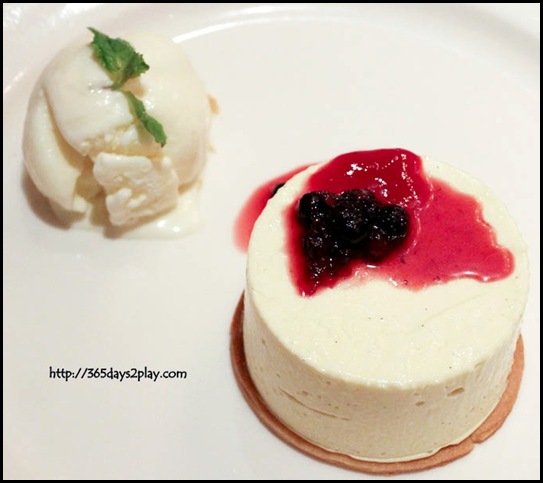 Cheesecake (Traditional uncooked Philadelphia cheesecake served with red berry compote & yoghurt sorbet) $18
Cheesecake isn't my favourite thing. This was pretty palatable, not too heavy. the red berry compote didn't do much for me, it was too little and it just made the cheesecake more sour.
Pavlova, served with Chantilly cream, fresh fruits and passion fruit coulis $18
I am a chocolate cake and dense pudding kind of person. So, the first time I tried Pavlova, I really didn't think much it, but now I'm beginning to appreciate the interesting flavours and textures that go with it. The fruits and passion fruit coulis are slightly sour, which is a good combination for the sweet meringue base. This meringue was light and airy and had a very melt in the mouth flavour, possibly because of the added chantilly cream. I have to admit, I liked it enough to consider ordering it again if I'm there!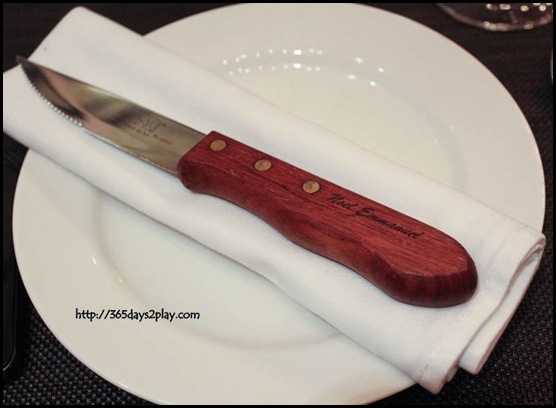 Personalised Knife
It's all about making a statement when you dine at Wooloomooloo. For a fee, you can have your very own personalised steak knife that will be brought to you each time you dine here.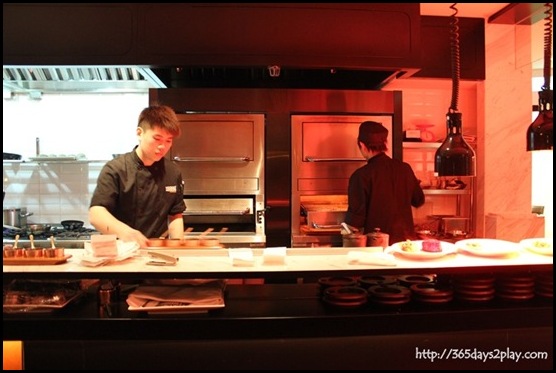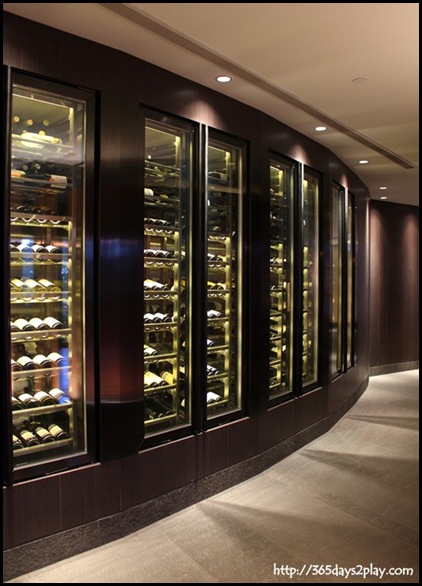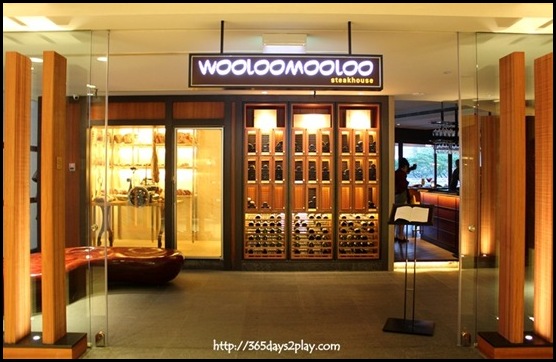 Wooloomooloo also offers up a comprehensive wine list of over 150 labels, encompassing both old and new world wines. Once again, guests can opt for the added service of 48 personalised wine lockers to store their favourite wines for their net visit. Wine lovers simply purchase $2,500 worth of wines to own a locker for a year. Each locker bears a personalised brass plate with the name of the wine locker holder engraved on it.
A big thank you to Veronica of Sixth Sense Communications and Joyce of Wooloomooloo for the kind invitation.
Read about other Steakhouses in Singapore.
Wooloomooloo Steakhouse
2 Stamford Road, Level 3, Swissí´tel the Stamford, Singapore 178882 (Can access via Raffles City Shopping Centre, near Charles & Keith)
Reservations: (65) 6338 0261
Email reservations: woo-singapore@wooloo-mooloo.com
Website: www.wooloo-mooloo.com
Size of Restaurant and Lounge: 6,300 sq feet
Seating Capacity: 140 main dining area / 40 at bar
Operating Hours: Restaurant: Lunch (Daily) 12pm — 2.30pm | Dinner (Daily) 6.30pm — 11pm
Bar: Mon — Thurs, 12pm — 1am | Fri — Sat, 12pm — 2am | Sun, 12pm — 12am
Bar Bites: Mon — Sat, 12pm — 12am | Sun, 12pm — 11pm
Set Lunch: Mondays to Fridays — 12pm – 2.30pm