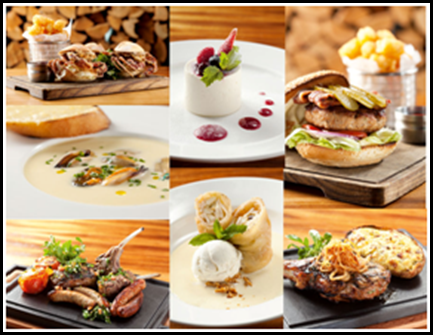 If you've ever been to the Wooloomooloo Steakhouse in Raffles City, you may be delighted to know that the same people have opened up another F&B outlet in the form of gastro-bar The Chop House. I can just imagine bosses who aren't brave enough to fire their non-performing employees, bringing them to The Chop House and saying there's more than 1 thing going Chop this evening. Ok, bad joke. Oh well, I tried.
This is a much more casual joint as compared to Wooloomooloo. While I loved the experience of dining in the dim, quite atas Wooloomooloo, The Chop House has a more open, see through vibe to it. Dining here won't cause your wallet to be chopped into two either.

The most interesting feature here, apart from the food is that The Chop House offers Singapore's first SelfTap Beer system. A total of 5 taps are located in and around the restaurant, where customers are able to pull pints at their leisure. The great thing about this is that if you just want to drink a few sips of beer, you can go ahead to dispense yourself that amount, and be charged by the millilitre instead of pint! And if you want your beer super cold, but you are a tortoise like me and your beer always gets warm, you can simply pour a small portion, and refill again later so the beer is always icy cold! All you have to do is purchase a stored value card from the cashier for $5, top up the card with a value of your choice and tap the card against the SelfTap reader to tap away your very own beer!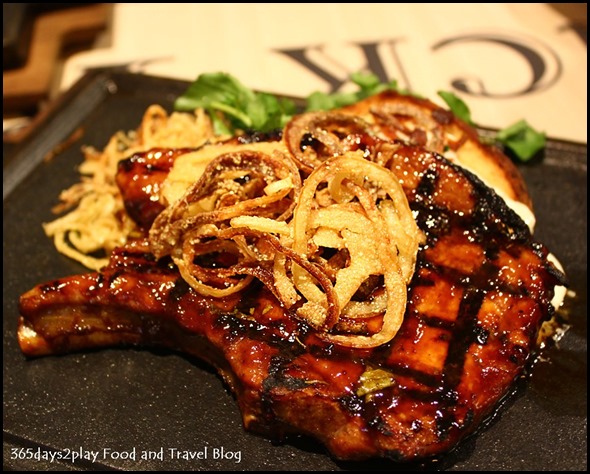 Berkshire Pork Chop $32
Apart from the self-tapping beer system, you should really try out the meats served up at The Chop House. After all, this would be what would determine whether they have the chops. (That's 3 chop jokes already, did you get it, did you?)
Pork chops are common enough, but what makes this different is the Mongolian glaze of hoisin and black bean chilli sauce on it, that is cooked until caramelization. The dish comes served with a twice-baked potato and fresh watercress. It was a jarring 1st mouthful for me because I was really expecting a Western flavour, as Asian restaurants do not serve large portions of meat in such a fashion.  After I got over that, I began to appreciate the sweet and slightly spicy flavours of the meat. The glaze isn't so heavy that you can't taste the original juices of the meat either. Seems like I was the only one who had the initial jarring impact. The rest of my dining companions were busy licking their chops.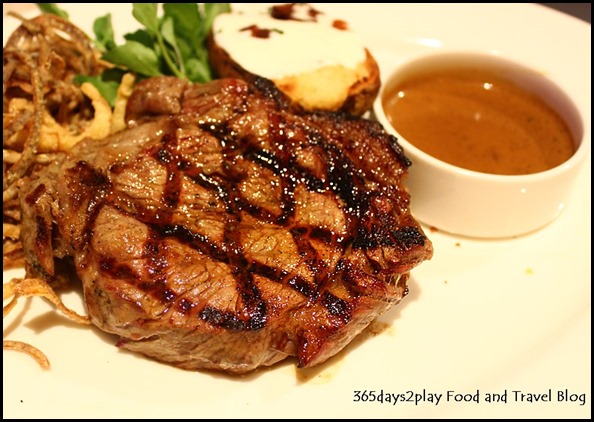 200g USDA Prime Ribeye $36
Ribeyes are one of my favourite cuts as I love the fattier and tender taste of the meat. Love the charred to perfection ribeye served here that was both tender and flavourful. Perfection is the key word here. For most people nothing spoils the joy of a good steak more than having it cooked different from what you ordered. For me steaks come in 3 levels of doneness: "rare", "medium rare" and "you should have ordered chicken if you like your food cooked this thorough". But I do understand that some people out there only like steaks done medium etc, but no I do not understand why they can't appreciate meat for its true beauty. Our host ordered medium rare and the steak delivered was medium rare. There is no two ways about it. Once the steak hits the grill it just needs to be turned once. It's a simple dish and I'm happy to say this was simply perfect. Charred on the outside, juicy on the inside.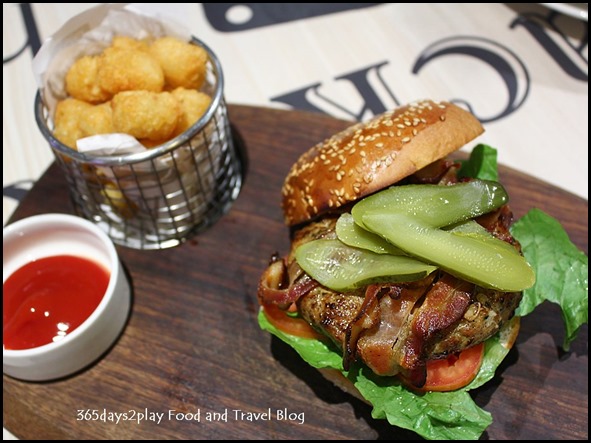 The Chop House Pork Burger $22
The Chop house also has other familiar favourites if large steaks are not your thing. The pork burger is a little bit less frightening although still a substantial meal in itself. As you can see from the picture, the meat was humongous! There are a total of 5 handmade burgers to choose from ranging from beef, chicken to pork burgers. I love restaurants that provide alternatives to the standard beef, chicken and fish burgers. The pork was meaty but of course was more subtle than a beef burger. Great for those who just want something different.
Mixed Seafood Platter for two $42
The mixed seafood platter is also something you can consider should you not wish to eat red meat. However, this was a slight disappointment for us as we found the calamari to be a little rubbery and the prawns a little mushy.
Notice that the sides of watercress and fried onions are the same for most dishes. This is deliberate as the focus is meant to be on the mains and not the sides.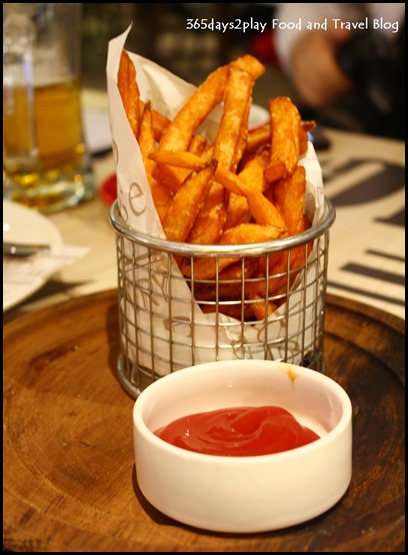 Order the sweet potato fries if you have the chance. They are darn addictive!
You won't find ketchup and chilli sauce here, you'll be chopped if you ask for them. Instead, compliment your meats with these homemade condiments served with any of the meat specialities. Beetroot Chutney, Chilli Mustard and Onion jam, try them all! Actually they are quite addictive too and it's quite possible to finish half a bottle if you're not careful, especially the beetroot chutney!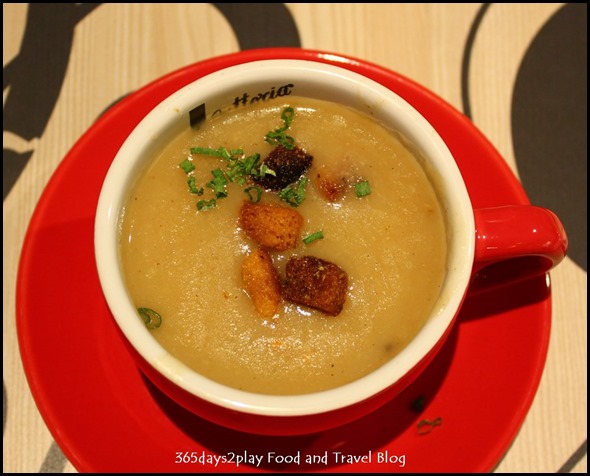 Mussel Soup $10
I haven't forgotten about the starters, I just wanted to showcase the mains first. Check out the mussel soup, which packs a strong punch. It's surprisingly thin, I was almost expecting a chowder texture, but you can definitely taste the "sea" taste in it.
Quesadillas $15
The quesadillas are good as a starter, or actually quite good for dinner if you just want a light bite. They are served piping hot, with the cheese deliciously melting all over the chicken or beef, depending on your choice. It's like eating a simple pizza folded up, plus you get to enjoy it with sour cream, homemade salsa and guacamole! And because they're baked, hard to go wrong too.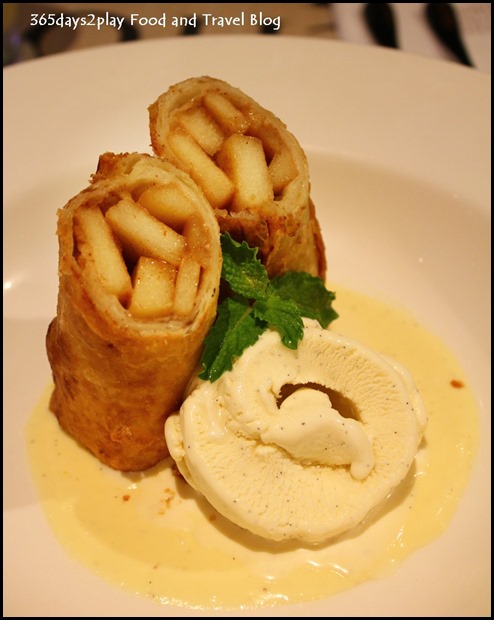 Apple Strudel in Tortilla with Vanilla Ice Cream $11
And last but not least, the apple strudel. If the ice cream was not featured in this picture, you might just have thought this was yet another appetiser right? The Partner was simply bowled over with this dessert because it was chock full of chunky apple pieces, all piping hot and encased in a thin tortilla shell. Paired together with the vanilla ice cream, it was definite a meal where the chef didn't get chopped.
It was interesting to note that this apple strudel had ample amounts of cinnamon in it. The 1st apple strudel The Partner ever had in Singapore was from Ritz Apple Strudel, which is touted to be a really good brand. Imagine his surprise when he did not detect a hint of cinnamon at all! It's not apple pie and it's not apple strudel if there ain't no cinnamon in it! When I was in baking school, I was told that Asians do not like cinammon. Fine, but I think it's a travesty if signature dishes such as apple pie are missing a key ingredient JUST BECAUSE some people don't like it.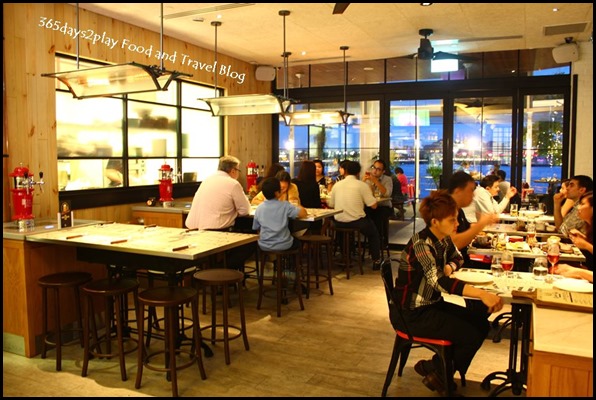 There are 3 tables that are equipped with adjoining SelfTap beer system. Book these seats and you will be able to hog the system for yourselves! Isn't that cool? No need to wait for any waiters to come by! And if someone wants to buy a round of beers, he just uses his stored value card! No need for splitting the bill later! There are only 2 beers on the SelfTap system though: the Pure Blonde Premium Lager (Australia) and the Mac's Great White Cloudy Wheat Beer (New Zealand). Happy hour prices are $8 for 300ml and $12 for 1/2 litre.
If you're not a beer drinker, you may order cocktails instead, and there are 15 to choose from, each costing only $16.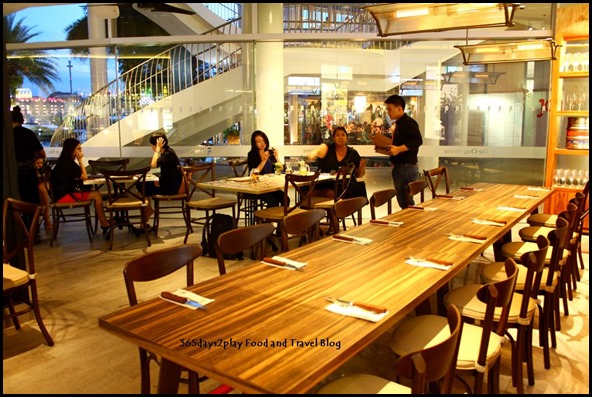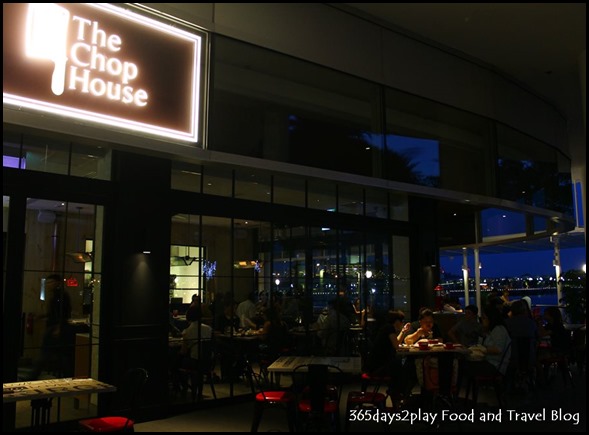 You can watch sports such as Rugby or the English Premier League here at The Chop House. The TV screens in the restaurant are muted, but I believe the one in the al-fresco area is not.
---
Add me on Facebook, Instagram and Twitter if you want to be kept up to date with the latest happenings in the food and lifestyle scene in Singapore!
---
The Chop House
1 Harbourfront Walk #01-161/162
VivoCity Singapore 098585
Reservations : +65 6376 9262
Mon-Thurs: 12pm to 11:00pm
Fri, Sat and Eve of Public Holidays: 12pm to 12am
Sun and Public Holidays: 11am to 11pm