I've been on a roll. I've been trying to find ways to utilise my Entertainer App and have been rather successful lately. The best part is finding out that restaurants I've been meaning to visit since like forever, have now jumped on the bandwagon and joined the Entertainer. If you don't know what the Entertainer App is, you should read this post. There are of course limitations to the Entertainer App, which I shall discuss more in a subsequent post, but generally speaking, it is really possible to reap rewards with this app. But I digress.
What I really wanted to talk about was my recent visit to Arteastiq. Yes, I've been wanting to visit since several years back, but somehow never go the chance to. Lately, I've been meeting up with some of my secondary school friends rather frequently, to the extent of meeting every few weeks now (when we haven't done so in years!) and we've been pigging out! And that's when the Entertainer App has come in very useful. We just pick one of the restaurants or cafes on the app, and off we go!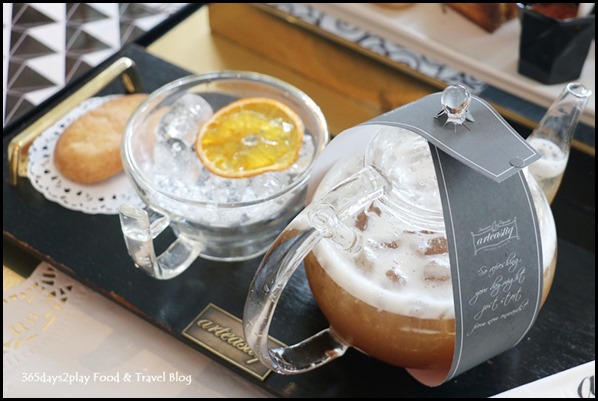 Using the Entertainer App, we enjoyed 1-for-1 on the Double Teasery sets, at $38++ (without drinks). The iced teas were on the pricey side at about $11 each, but they looked so delicious and thirst quenching on a hot sweltering day that we just had to order them. It did come in a fairly large tea pot though. Actually it costs $48++ for 1 double teasery set with 2 drinks, wonder why they couldn't have included the drinks when using the app.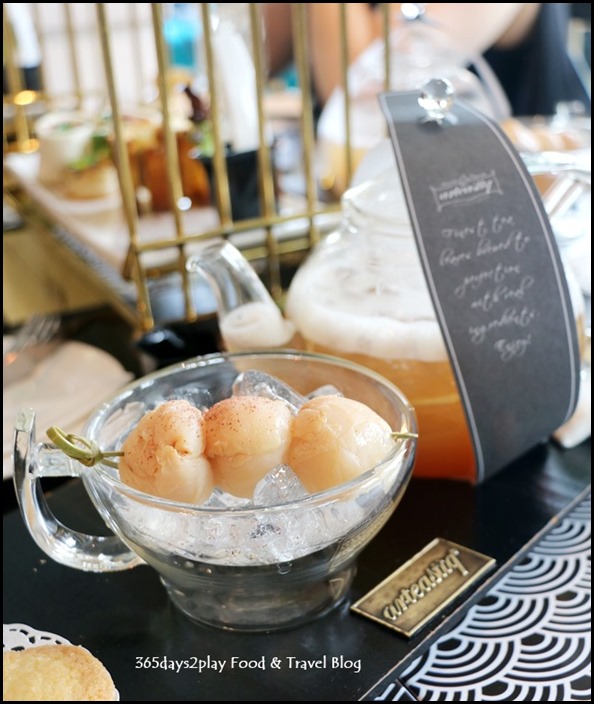 Couldn't resist after spotting the luscious lychees at the next table, so it was a fairly easy decision for me, despite the numerous pages of drink selections.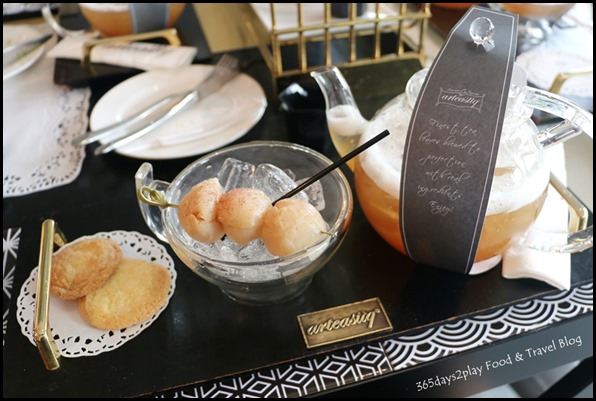 The sugar cookies were tasty too.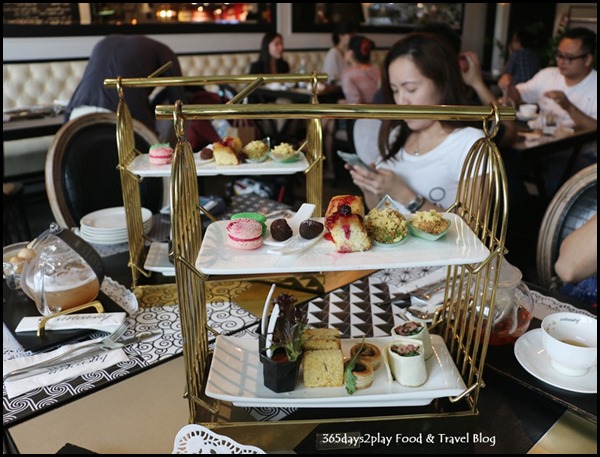 Two tiers of sweet and savoury nibbles.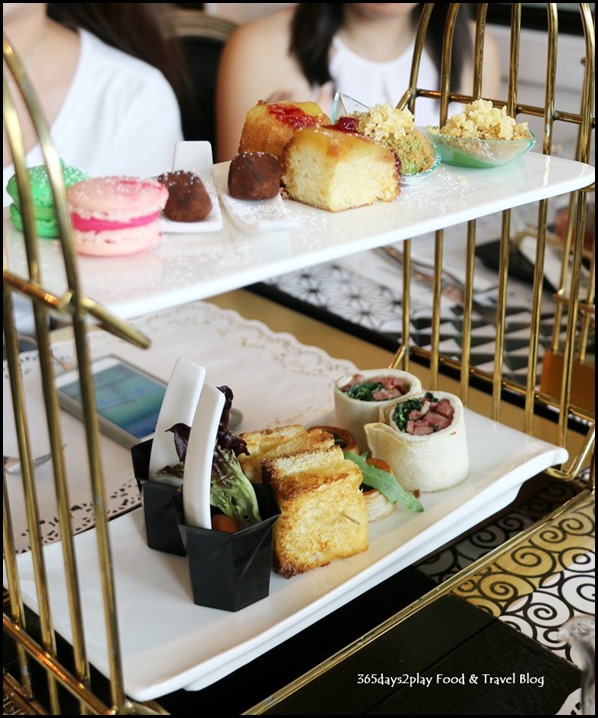 Closer look at what was included in the double teasery set.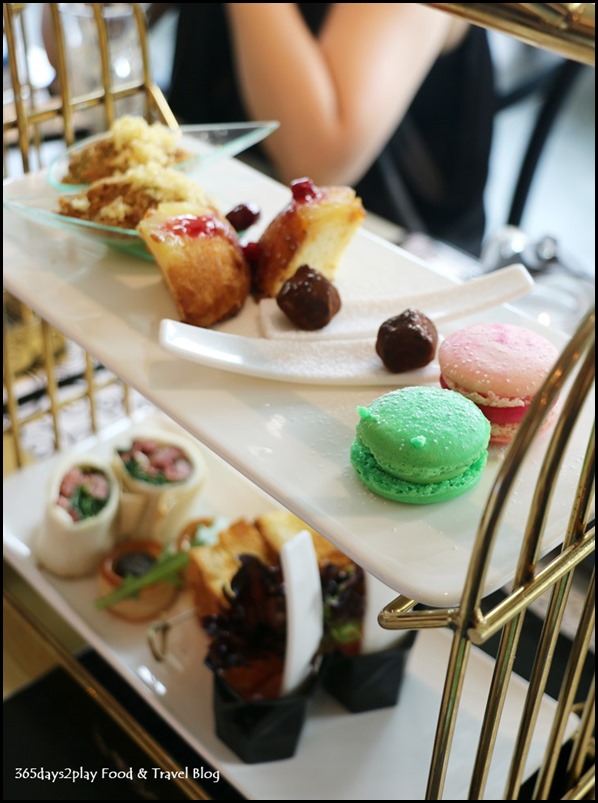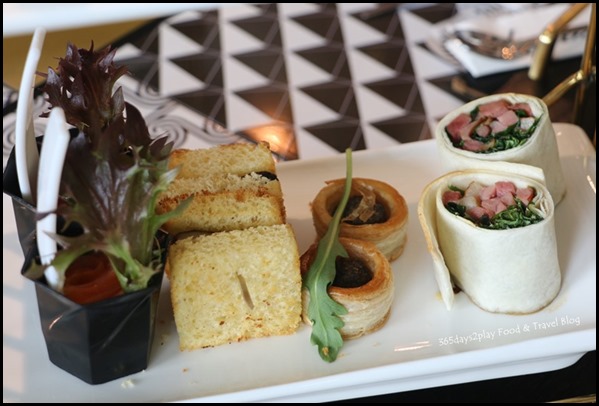 From left : Smoked Salmon with cream cheese mousse, Toasted brioche with foie gras, mushroom capers pate vol au vent, sliced smoked duck and arugula in tortilla wrap.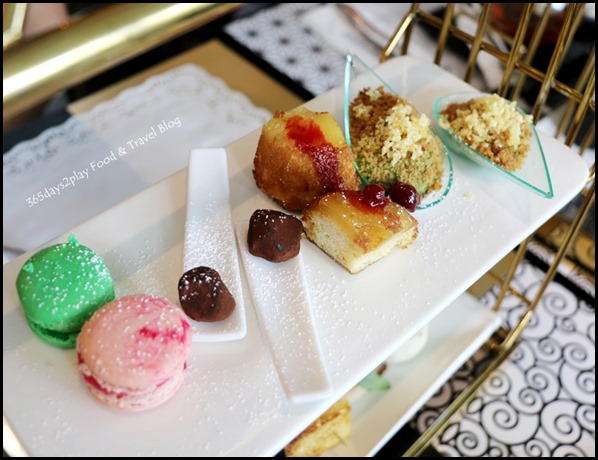 From left : Macarons, Chocolate truffles, Pineapple upside-down cake, matcha cheesecake
On the whole, we all agreed that the food was average after you get over the eye-catching display and "wow" moment. My favourite from the lot was the smoked salmon with cream cheese. Come to think of it, $38++ for 1 double teasery set (assuming no 1-for-1 Entertainer app) seems like an exorbitant price to charge for a few pieces of finger food. It's almost the same price as what the hotels would charge, and you would probably be getting more food too. You might fare better with the normal menu where mains go for a more reasonable price of $20 plus. There's also a weekday brunch promo going on for $16++ including a free drink, which sounds like a much more palatable pricing. I am actually quite keen to revisit again to check out the normal menu and to have another round of the delicious lychee tea.
---
Add me on Facebook, Instagram and Twitter if you want to be kept up to date with the latest happenings in the food and lifestyle scene in Singapore!
---
Arteastiq Mandarin Gallery
Mandarin Gallery, #04-14/15 333A Orchard Road, Singapore 238867
Opens: Weekday, 11am — 10:30pm. Weekend, 10am — 10:30pm
For Boutique Tea House reservation: 6235 8370
For enquiries & reservation on Art Jam: 6235 8705
Email : mandaringallery@arteastiq.com
Arteastiq Plaza Singapura
68 Orchard Rd #03-70/72, Plaza Singapura, Singapore 238839
Opens: Daily, 10am — 10pm
For Boutique Tea House reservation: 6336 0951
For enquiries & reservation on Art Jam: 6336 0952
Email : plazasing@arteastiq.com
Website : http://www.arteastiq.com
Menu : http://www.arteastiq.com/menu/
Facebook : http://www.facebook.com/ArteastiqSingapore