We have been visiting the Tanjong Pagar Railway Station (KTM Station) pretty frequently these past few weeks. As everyone knows, the rail services are expected to be moved to the Woodlands area come July 2011.
At this point in time, on the surface at least, it seems like nothing has changed. All the usual food stalls are still there and the place is no more crowded or no less crowded. My favourite Nasi Beriyani Stall and Ayam Penyet Stall  are still there, thankfully. The stall owners don't really know what will become of the place and if they have to leave. It seems there is a possibility that their leases may be extended for 1 or 2 years. I really do hope they will keep the Tanjong Pagar Railway Station exactly as it is. There are only so few places that haven't been modernised and we really do need places where we can just go back to enjoy the good old days. It's just not the same even if they keep the facade but change the interior. If we don't have ties to link us to our past, why will we need to stay?
Anyway….as is customary for my family during Chinese New Year, having Satay is a must for us. Unfortunately, I don't really know the best places for satay. Once upon a time, the satay at the railway station was worth the drive here, but not anymore based on our visit 2 days ago. It was just slightly better than average.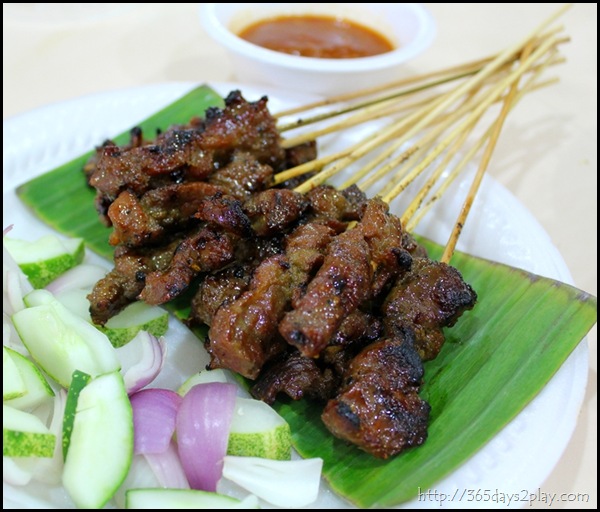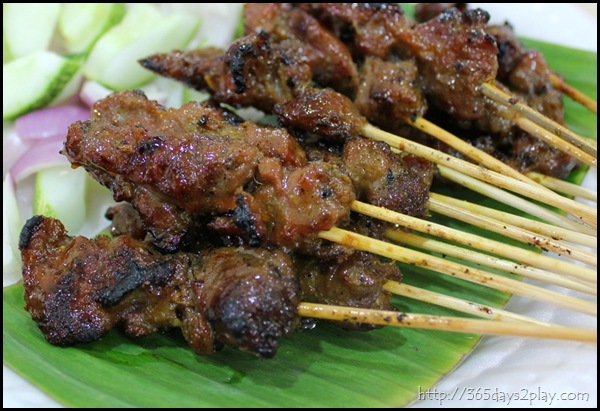 Mutton Satay — Quite a number of the satay had lots of gristle in them. Those that didn't were pretty good though. They were only slightly charred (I abhor char because it's so carcinogenic!) and had a sweet mutton flavour. The peanut sauce was also nice, with distinct peanut bits still in tact.
Satay Prices
The Ayam Penyet from Island Power Food is quite nice too. I love the special crumbs and the dish also comes with tempeh and a piece of fried beancurd. The chilli is super spicy and a must if you are having this dish. Have to highlight that the little bowl of soup they give is delicious! I almost always have to ask for seconds!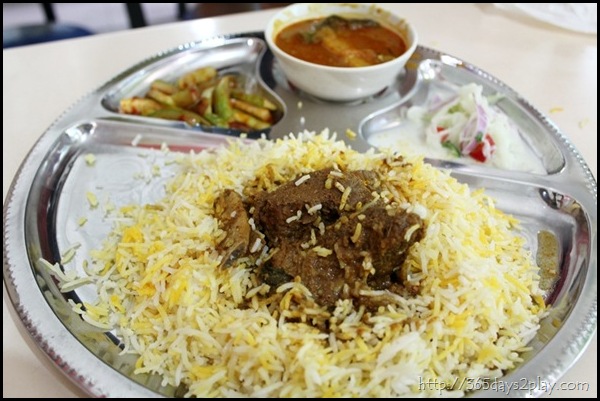 The nasi beriyani here is my father's favourite. If you often find nasi beriyani to be heavy and sinful, try the one here. The rice is super fluffy and does not taste oily at all. If you finish all your rice, you can ask for seconds without any additional cost. The mutton is tender and flavourful and goes really well with the rice. What I also like is the portion of yogurt salad they give. Gives a refreshing zing to the rice. I suppose a lot of Chinese aren't accustomed to eating yogurt salad, but once you get the hang of it, you'll be asking for a bigger portion. I often finish the entire salad before I even start on the meat!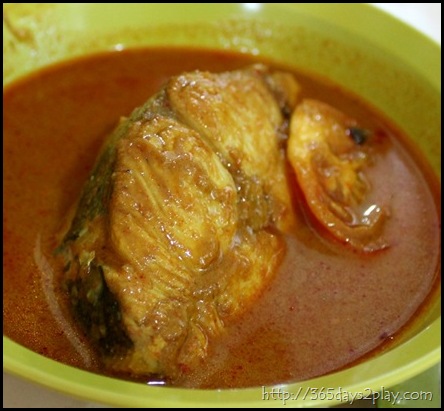 On Fridays, the Nasi beriyani stall offers fish beriyani. However, if you're there on any other day, you can always order a fish curry from the 1st stall on the right, and then order the fragrant nasi from the 1st stall on the left.
The teh tarik here is very good. The teh tarik at the stall nearer the railway tracks used to be better, but not so anymore. Just last monday, they served up some milky concoction that had no hint of tea at all!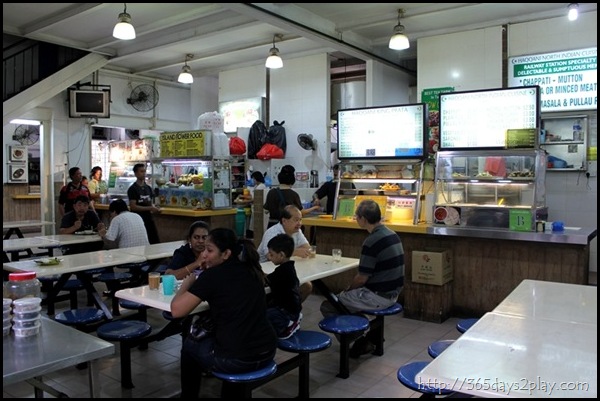 If you interested in taking a train to Malaysia, click on the pictures to get ticket prices and timetables to the various stations in Malaysia. There is a very special method to calculate fares. When purchasing in Singapore, you pay in Singapore dollars, and when purchasing in Malaysia, you pay in ringgit. So buy your return tickets only when you are in Malaysia or you'll be paying the exact same number but in Singapore dollars.
SGD$34 for a 1 way ticket from Singapore to KL and if I purchase the KL to Singapore ticket in Malaysia, it's RM$34. RM$34 is still okay, but SGD$34 seems pretty expensive, no? I was under the impression that the train services were cheap. I recall paying similar prices to go from London to Cambridge return, and that's on a modern fast speed train, not to mention that things in the UK are more expensive to begin with!
Read more about my previous visits to the Tanjong Pagar Railway Station.
Do a poll on what should be done with the Tanjong Pagar Railway Station once the trains are gone.