If you like to dine out often, you'd probably keep an eye out for promotions and discounts offered by your favourite F&B outlets. It's quite common to find 10%-20% discounts being offered by the various credit cards or membership affiliations (eg Passion Card members), but did you know you can enjoy up to 50% discounts at numerous restaurants?
One of my favourite apps to use is the Entertainer App. I'll be upfront that it costs $95 to get this app, but in return, there are numerous restaurants on the app where you can get a 1-for-1 discount on main dishes. That means, for every 2 mains ordered, the cheaper main dish will be for free! I've had the Entertainer App for nearly 5 years now I think. Some years I got sponsored the app for free, but some years I paid for it myself because I see the value, and have enjoyed the savings. There is not a single year where I have not more than made back in savings the original price that I paid for the app. All my friends who bought the app agree that its very easy to dine at a couple of restaurants and earn back the original cost paid.
But of course, many other friends did not purchase the Entertainer App. It's a psychological hurdle that is admittedly very difficult to get over. Spend money upfront? Oh no no no. Again I have to say that whenever it's time to pay for the Entertainer App, I do hesitate for several days, before I eventually agree that it's pretty good value. Or put it the other way, if I didn't buy the app, I'd have to make sure I never dine at any of the gazillion restaurants and cafes on the app, or else I'd be kicking myself wondering why I'm paying full price for my meal when I could have gotten the 1-for-1 discount!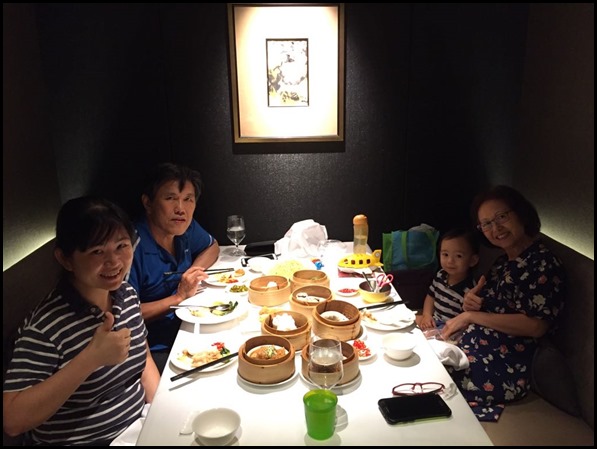 We even managed to get a cushy booth seat because off-peak hour!
Recently I found out about the Eatigo App. This app is FREE! Actually I found out about it about a year back, but because I was a rather heavy user of the Entertainer App at that time, I forgot about the Eatigo App. I recently used the Eatigo App, and I must say it's pretty amazing that I managed to enjoy a 50% discount at Wan Hao at Marriott Hotel, with a FREE app! If you know Wan Hao, it is a posh and rather expensive Chinese restaurant to dine at. I've always wanted to have dim sum there, but I didn't want to feel broke after that. Wan Hao is actually also on the Entertainer App, but the Entertainer App can only be used for main dishes. Dim sum dishes are not considered main dishes.