Even though there are many steakhouses and restaurants serving steak in Singapore, we still like to go back to Lawry's The Prime Rib every so often, for the simple reason that the steak is consistently good, and we like the steak there. Yes, even food bloggers crave consistency once in a while, especially when you have a baby in tow and need to know that the restaurant is spacious.
Specifically, I like the Prime Rib at Lawry's. The steak is always tender, and it comes with a whole pool of special gravy that I like, and it's one of the few places that provides creamy mustard as a condiment! I could eat dollops of that creamy mustard, it's so good! It's not at all cheap to dine at Lawry's, but if you have the AMEX or CIMB credit card, you could get 50% discount if it is just 2 pax dining.  Click here to see all their promotions. They are also having a Christmas menu. Scroll down to see the entire menu.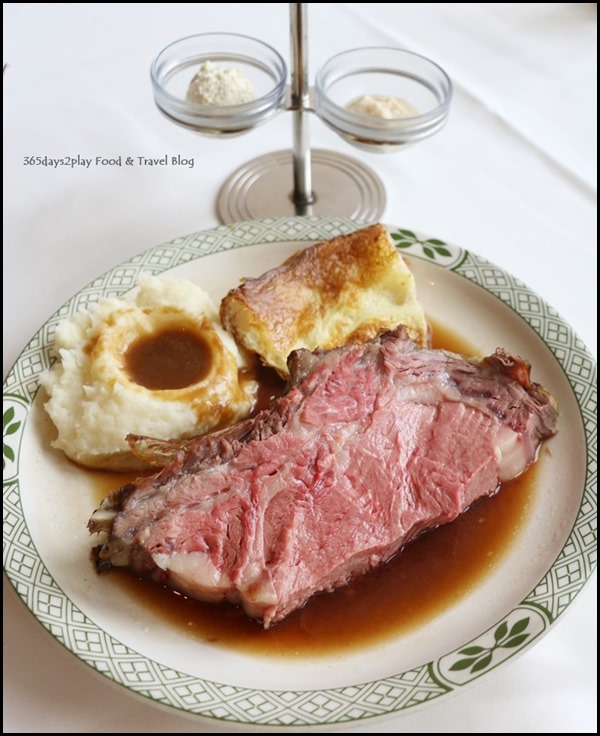 The Diamond Jim Brady Cut 450gm $158
Every serving of Prime Rib comes with mashed potato as well as Yorkshire pudding. What is pictured above is 1/4 of the Yorkshire pudding, and half of the Diamond Jim Brady Cut. There are different sizes to order depending on your appetite, ranging from the California Cut of 160gm at $73 to The Diamond Jim Brady Cut. Apparently the most popular cut is The Lawry's Cut of 275gm at $105.
What we've done in recent times is to order the largest cut, and share that amongst 2 people. That's why the picture above shows you half a steak. Previously, Lawry's used to be able to halve the steak for us horizontally (the proper way to do it), but for some reason they chopped it vertically in half during our last visit. Perhaps a weak attempt to dissuade us from sharing next time?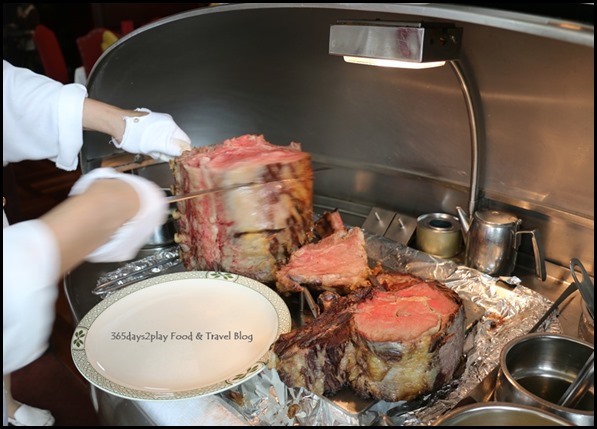 The meat trolley will be wheeled to your table where you get to choose the doneness of your steak and watch it being sliced for you. Depending on the size of the steak you have ordered, the chef will slice it accordingly. Which is why I cannot understand why they could not slice it the same way for me when they knew we were sharing the steak.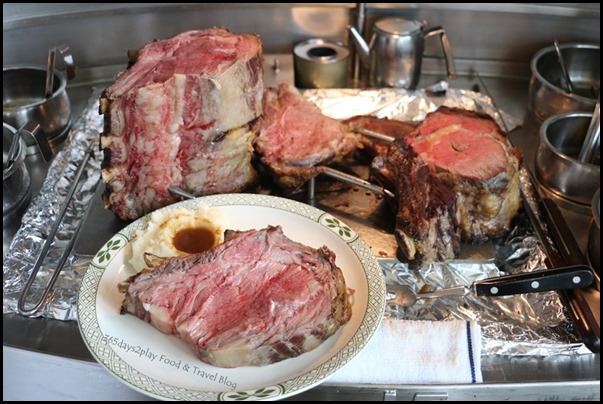 This is the Diamond Jim Brady Cut in its entirety prior to being unceremoniously chopped in half. Just in case you were wondering, yes they do have the Prime Rib well done too. Just a small chunk at the back. The tallest hunk is obviously the medium rare one, which is the most popular. Those pots at the side contain side dishes like creamed corn, creamed spinach, butter peas etc which are charged separately from the steak.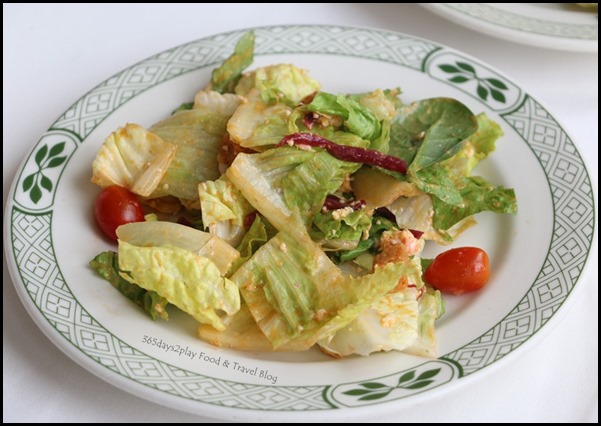 Famous Original Spinning Bowl Salad
This salad comes with any mains that you order, comprising crisp romaine and iceberg lettuce, spinach, tomatoes, shredded beets and chopped egg. It's not bad, but I always feel like it looks so dated and in need of a revamp. Have no idea why it is famous either.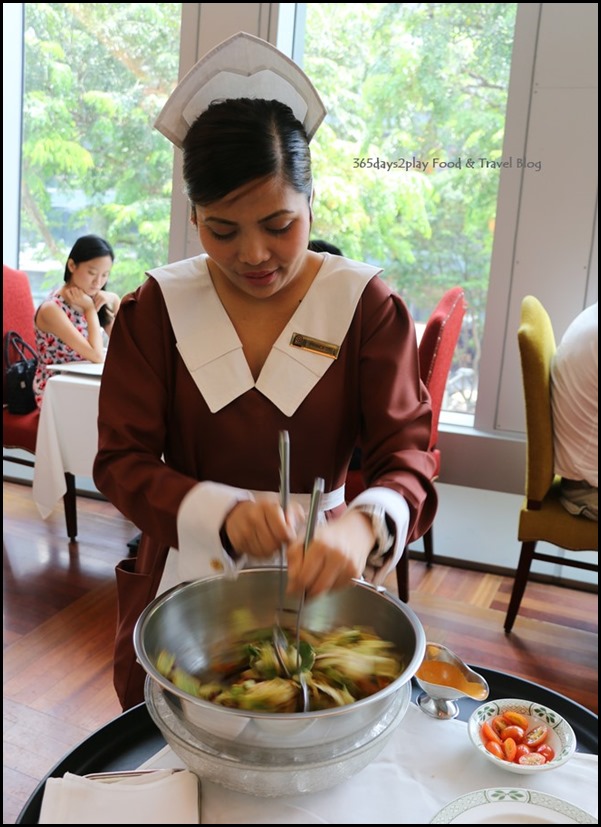 The spinning salad always arrives with such fanfare at the table, but is over in a matter of seconds! I suppose guerrilon service like this would have been a novel performance in its heyday, or maybe I have been to Lawry's too many times to appreciate it.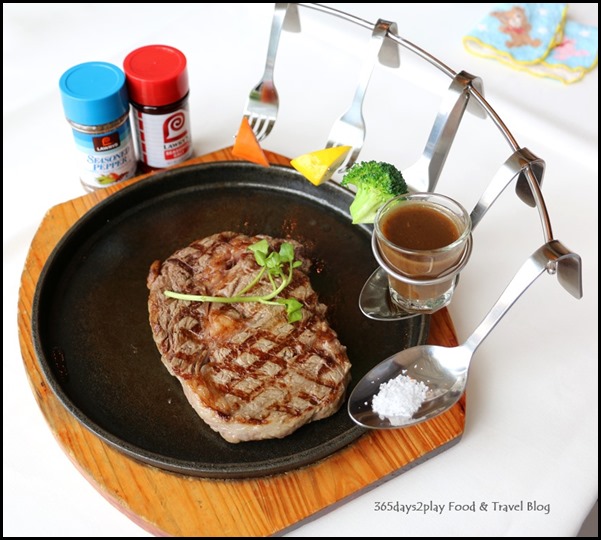 US Rib Eye Single Cut 250gm $78
The Partner ordered this, which he said was tender and juicy, but nothing amazing. There's no doubt the presentation of the vegetables is innovative, but doesn't it emphasise the lack of quantity?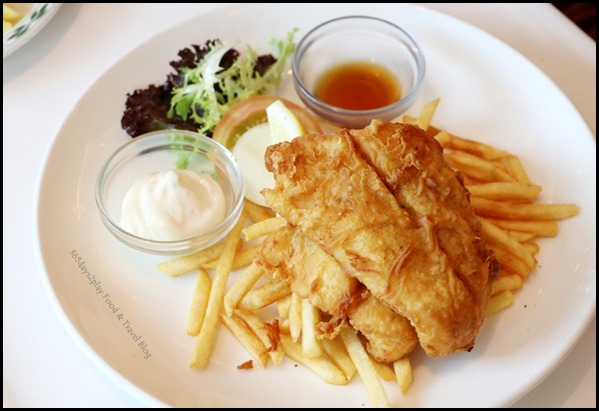 Fish and Chips $30 plus
This was what I had last year when I was still pregnant. The only time I've not had my favourite Prime Rib roast when at Lawry's. I think it's a sin to order well done meat (not supposed to eat meat that is not fully cooked when pregnant) so I ordered the Fish and Chips. It was not bad, but not noteworthy for the pricing and in a place like Lawry's.
Hokkaido Scallops & Shrimps with strawberry and mango salsa $23
This was a starter and tasted good. The shrimps were nicely seared and went well with the zesty mango salsa. The amount of scallop was pitiful though, in total it was but 1 scallop, cut into 2 pieces. The menu should be changed to mention it in the singular.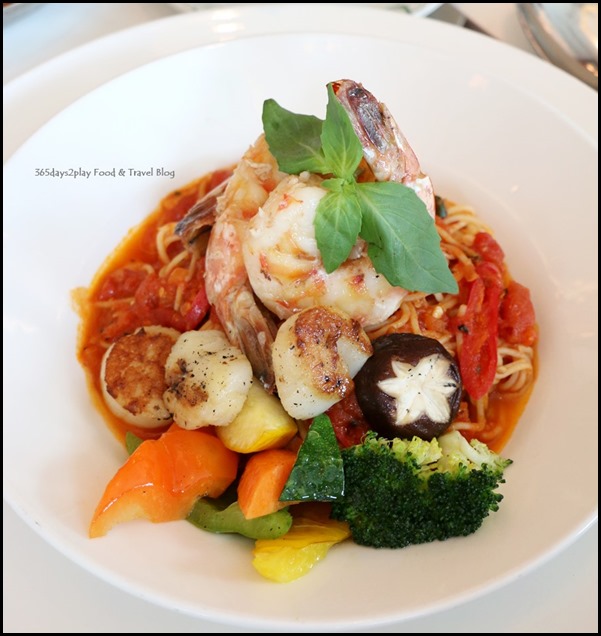 Seafood Pasta $38
The Seafood pasta was delicious as it was chock a block with ingredients ranging from scallops to fish to prawns. Seems a value-for-money order if you compare it to the Prime Rib that is double the price. But since Lawry's is a steak house, I'd still recommend going for the steak. We only ordered this because my father is a Pescetarian.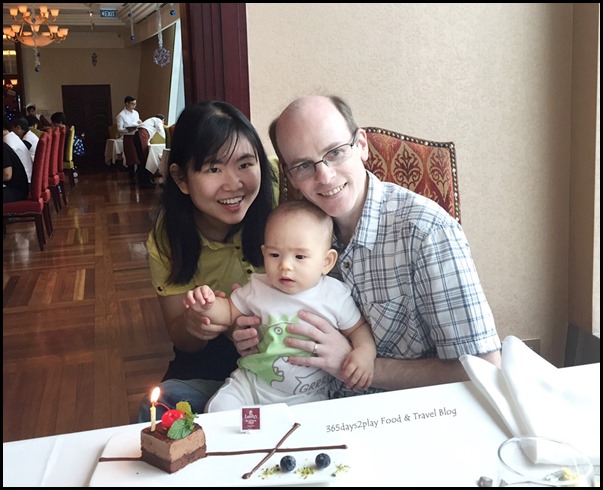 We said Cheese not Cake!
We were there to to celebrate in advance our Anniversary, hence the complimentary cake from Lawry's. They also took a picture of us and gave us the instant photo.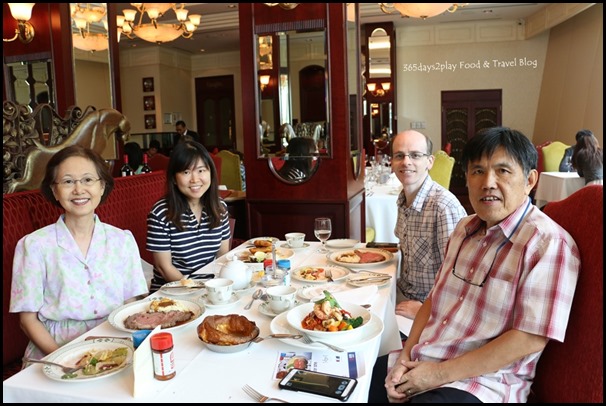 Picture from last year when I was still pregnant.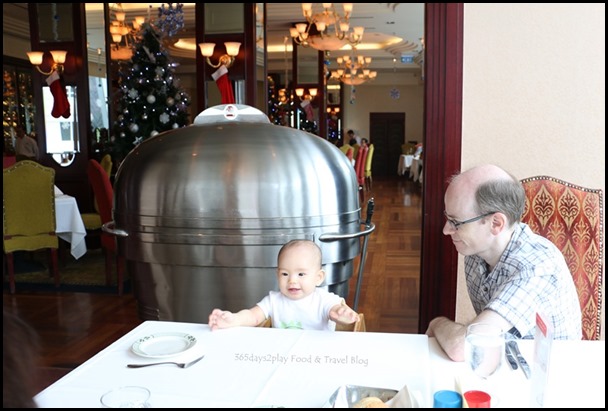 The Prime Rib trolley looks like some UFO machine thingy behind Baby.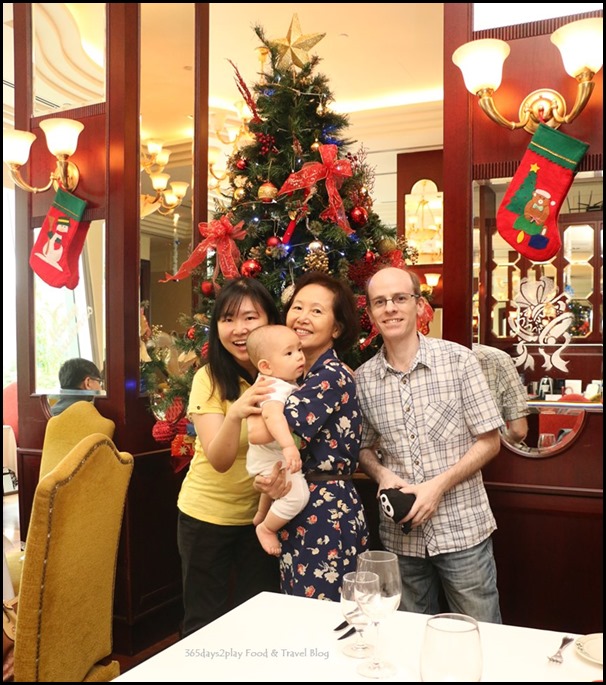 Had to have our photo with the pretty Christmas tree, even if it meant squeezing between the tables.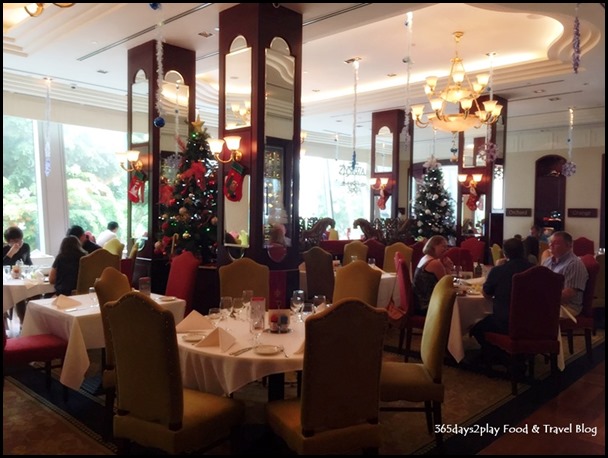 Lawry's The Prime Rib, all decked out in festive cheer.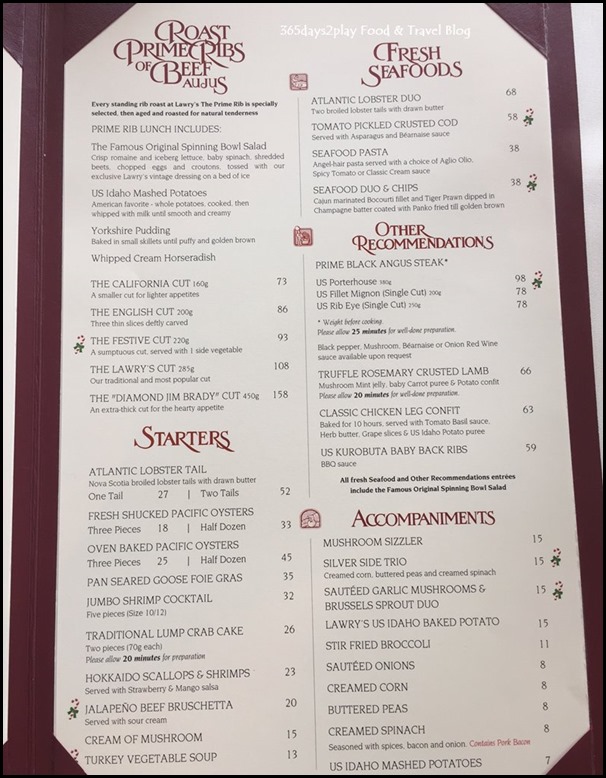 Lawry's The Prime Rib normal and festive menu
---
Add me on Facebook, Instagram and Twitter if you want to be kept up to date with the latest happenings in the food and lifestyle scene in Singapore!
---
Lawry's The Prime Rib
333A Orchard Road
#04-01/31 Mandarin Gallery,
Mandarin Orchard Singapore 238897
Tel: 6836 3333 | Fax: 6235 0300 | reservations@lawrys.com.sg
Operating Hours
Lunch (Daily): 11.30am – 2.30pm 
Dinner: 5.00 – 11.00pm 
Last Order at 10.00pm (Sunday – Thursday) 
Last Order at 10.30pm (Friday & Saturday)
Royal Tea (Monday – Saturday): 2.30 – 5.00pm
Click here to reserve your table.