Edward doesn't turn 1 until a week later, but because we'll be in New Zealand, we decided to have his 1st birthday party earlier. There were so many things to get settled for the party such as deciding on the theme, venue, caterer, decorations, invites, etc. And add on spring cleaning, Chinese New Year visiting plus packing for New Zealand, it's been one hectic January!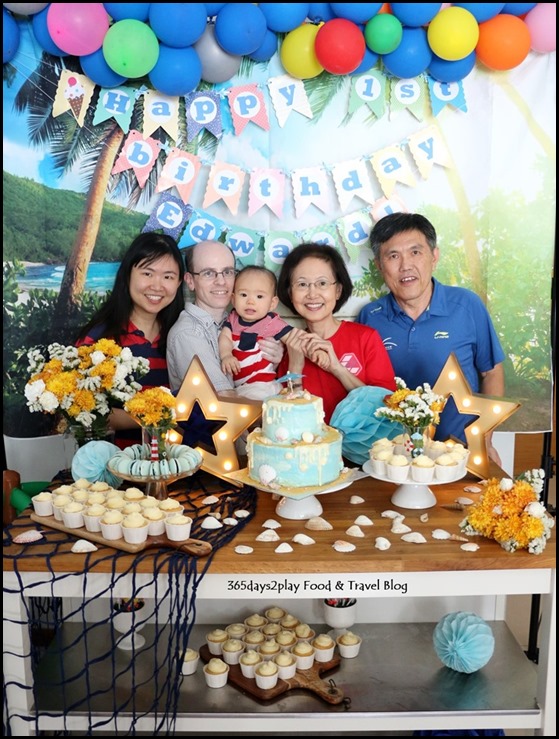 Thank goodness everything fell in place for the party eventually and it was a blast! There was enough food for everyone (my perennial worry), the kids were suitably entertained at the water-play area, and conversation was flowing. I'd hate to have party where guests just come to eat, and then leave, so I made a conscious effort to try and speak to everyone! Hopefully everyone had fun!
One of the awesome bits about Edward's birthday party was the dessert table catered from Lydia Low Desserts! I'd told her I wanted a seaside-themed dessert table and look what she pulled off. Even the backdrop, bunting, balloons and flowers were provided by her. I have to say everyone was impressed by the beautiful dessert table! I was totally mesmerised by the baby blue 2-tier black-forest drips cake! I felt quite reluctant to have to slice up the cake after only 1 short hour of admiring it!
Scroll down for more photos of Edward's 1st birthday party!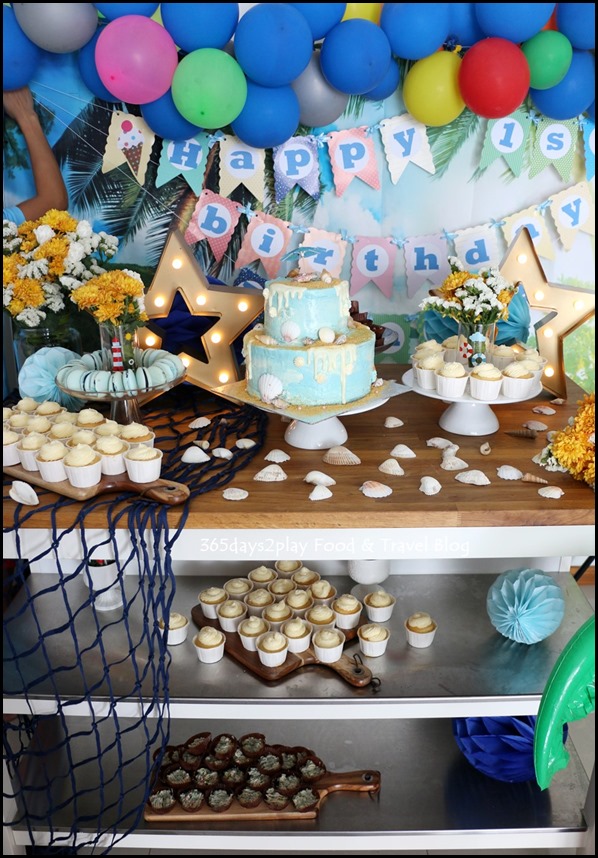 Another shot of the super pretty dessert table! Love the decorations which are simple yet bring out the seaside theme aptly! I wish I could have kept the whole display there for at least a few days, but alas, I had to be a good host and slice up the cake for everyone to eat.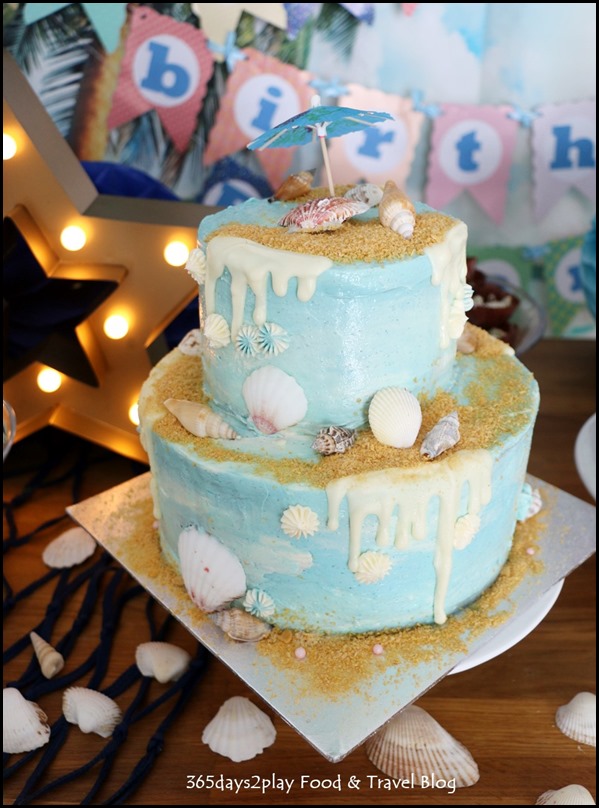 Close up shot of the drips cake. So pretty, don't you think? I love everything about it, from the baby-blue colour, to the seashells, to the sand. I asked for black-forest flavour, and Lydia Low Desserts managed to pull that off too! It's just a pity there's only so much cake you can eat, or else I would have had like 10 slices.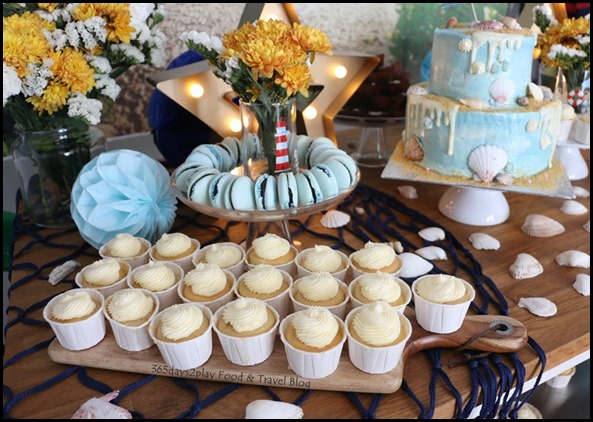 Besides the cake, there were also mini cupcakes, blue macarons and chocolate crunches.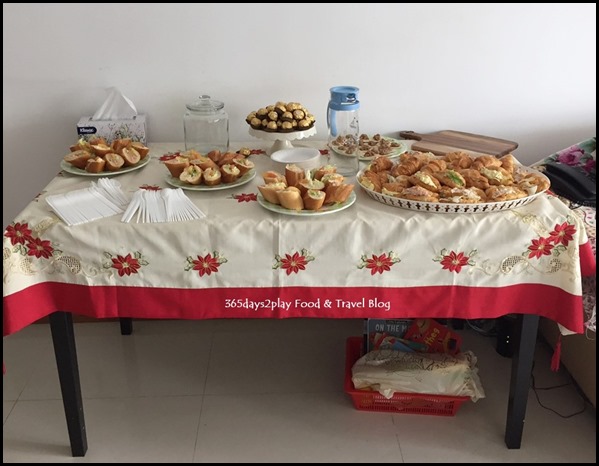 And here's the savouries table. OK not as impressive as the dessert table obviously, but still assembled with love hehe. I'm a sucker for the afternoon tea concept so you won't be seeing fried rice and other Asian delights at my parties. I was going for the finger food concept, so I catered for croissant and baguette sandwiches. We also assembled our own canapes, our first time doing that ever!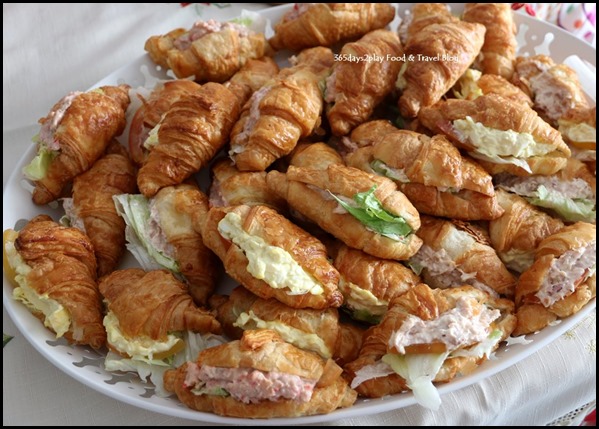 Close up shot of the mini croissants that we ordered. They were much bigger than expected!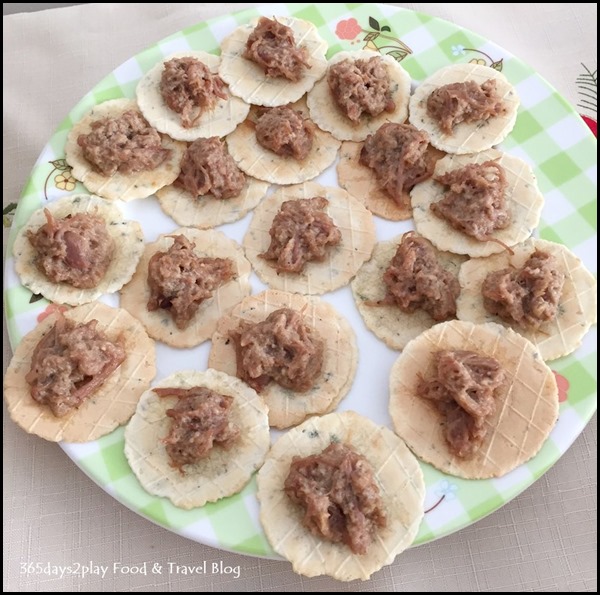 Ahem, yours truly assembled these with store bought ingredients. These are goose rillettes on cracked pepper crackers. Very tasty if I may say so myself! Took only 10 minutes to assemble these, although it took a great deal of time to finalise the idea and source for the ingredients. Thank goodness the crackers were sturdy enough to not become soggy from the goose fat, while still maintaining a nice crisp crunch. (I gave a cracker without the goose rillette to baby and he loved it!)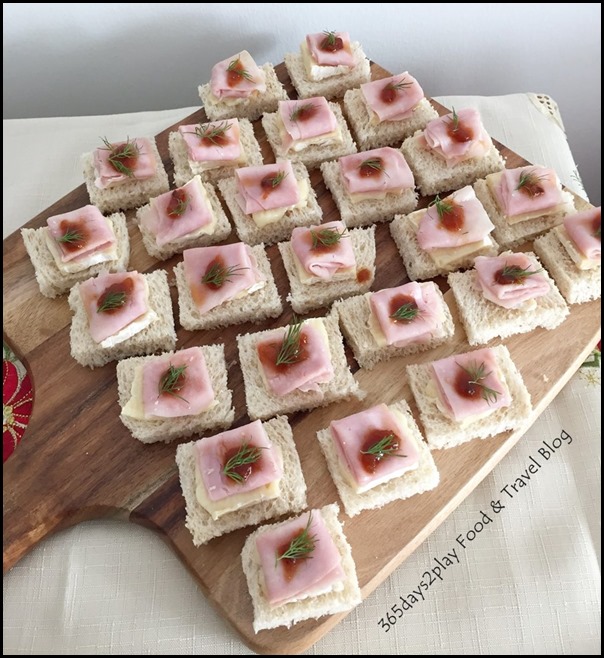 And the husband assembled these, which are champagne ham on brie cheese, topped with relish and a sprig of dill. A bit more effort to assemble as you have to fold the ham neatly, but it looks festive! We wanted to prepare more canapes, eg smoked salmon on cream cheese etc, all those lovely canapes you always see on TV or in cook books, but we had to be realistic that we would already have our hands full getting all the other party stuff sorted just before the guests arrive.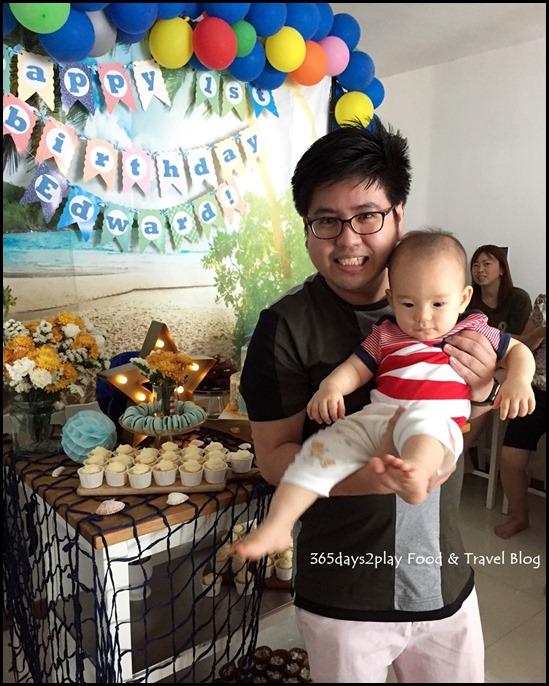 Here's a picture of my cousin successfully carrying Edward. He didn't fare so well during Chinese New Year and threatened to cry when people tried to carry him! He was in a much better mood during his birthday party because we forced him to nap before hand!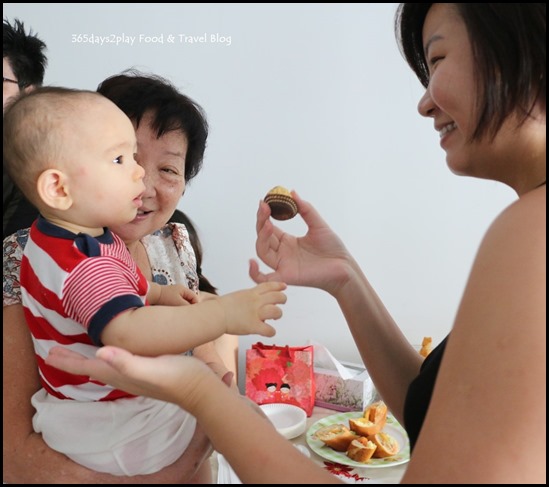 Here's a picture of my good friend trying to tempt Edward with a Ferrero Rocher. The same friend that made Edward eat tissue paper at 7 months when I had to leave them to go to the toilet….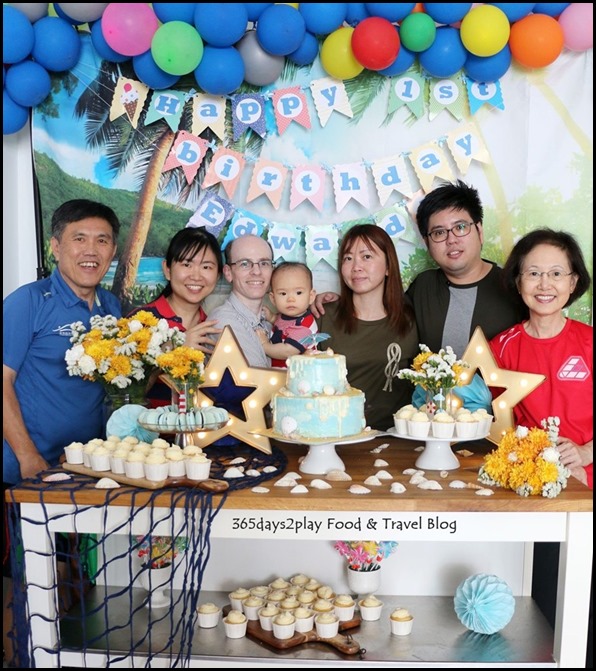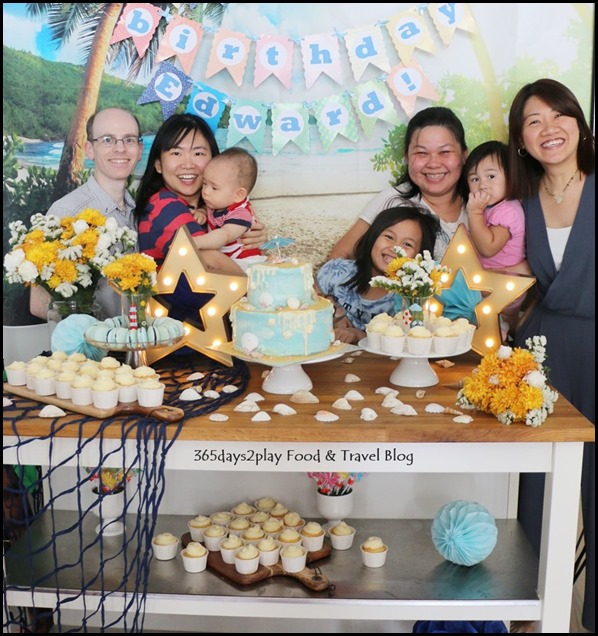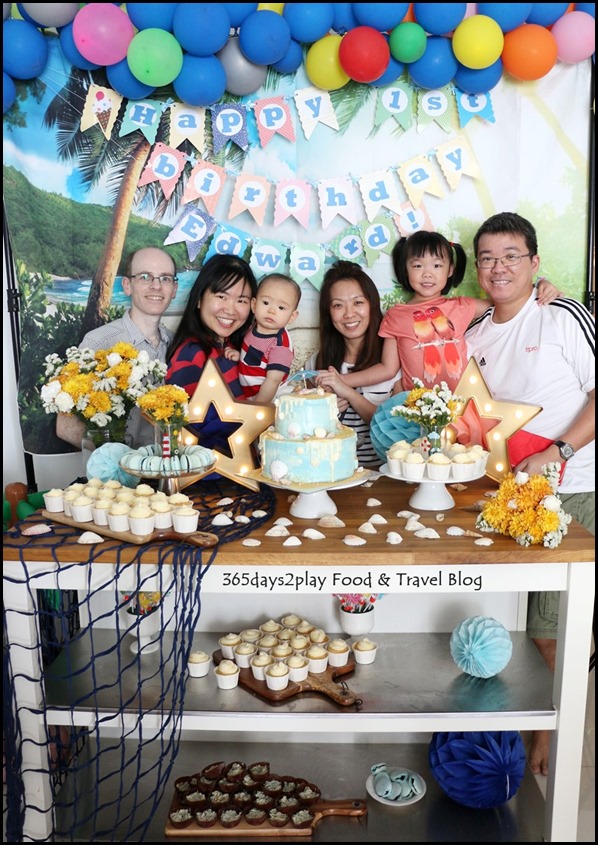 Some random photos that we took with a number of our friends who attended the party. Edward was doing well, managed to capture quite a number of shots of him looking in the direction of the camera. I say looking in the direction of the camera and not exactly at the camera because there were some helpful friends behind the camera man waving madly at Edward to attract his attention.
Btw doesn't the beach side backdrop give you the feeling like it's a photo booth? Love how all the pictures turned out!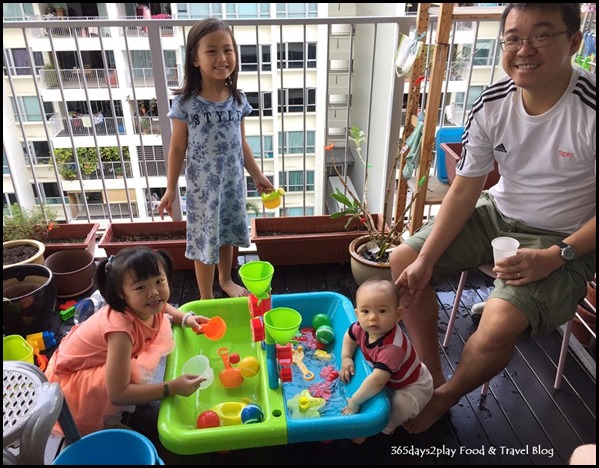 So happy all the kids had fun playing with this water table that we got from Mothercare Singapore. I was a bit worried that the older kids might not be interested, but they all loved it! The allure of water! Edward absolutely loves playing with the water table. Well he loves splashing so he just goes ballistic whenever you take him out of the bath tub to begin with. Hey Edward, did you know you are sitting on Uncle's foot?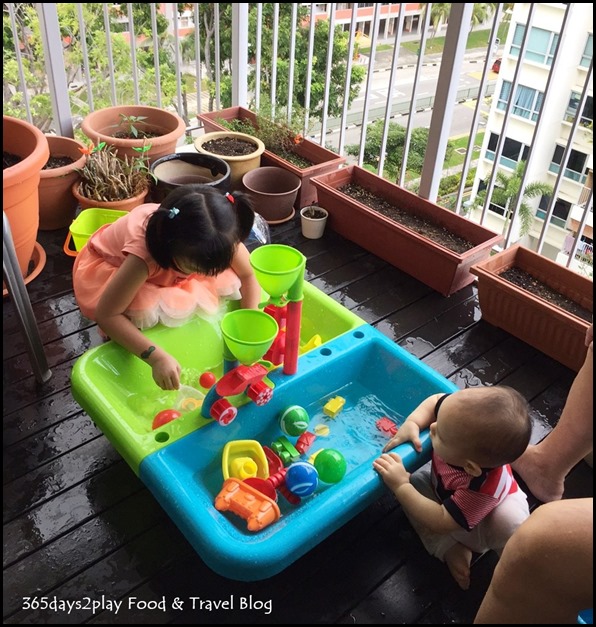 Another shot of the water play area. So colourful, the water table! I'd love it if I were a kid! Actually I love helping Edward to splash about. Oops….
Another parting shot of the dessert table before the cake cutting session.
It was a fun party with lots of memories made. A big thank you to all the guests who made time to attend.
Also a big thank you to Lydia Low Desserts for sponsoring the amazing dessert table! You can check out her website or Facebook for more photos of her dessert tables at previous events such as weddings and birthdays. I hear she even has a glamping business where you can rent a "luxury camping tent" complete with a bed inside for camping!
---
Add me on Facebook, Instagram and Twitter if you want to be kept up to date with the latest happenings in the food and lifestyle scene in Singapore!