Misato is tucked away right inside The Centrepoint, where the new Gastro+ area is (or where the old Marks & Spencers was). I've been seeing Misato pop up on my social media feeds and was wondering if it is just a fad. I have to say, after having tried their food, this place is worth a visit due to the affordable pricing, the fabulous matcha desserts and the exquisite dinnerware that makes you feel like you are dining at a posh Japanese restaurant.
I am told they spent $400k for the dinnerware alone when setting up the restaurant! It is a pity that most people will not realise this when walking past because the restaurant decor looks rather casual to the untrained eye. So you heard it here first! Please go check out Misato and enjoy the atas food at casual prices!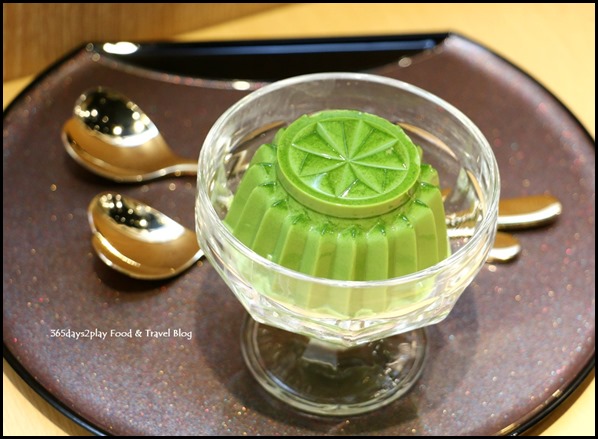 Matcha Bavarois (Premium green tea French pudding) $7.80
Back to the Matcha desserts. You might have seen this wobbly Matcha Bavarois on Instagram. This is not merely an Instagram-worthy dessert, it actually tastes as good as it looks. The matcha taste comes on strongly (very good quality Nara matcha imported from Japan is used), and the pudding is smooth and somewhere between soft and bouncy, if there can be such a thing. It's almost like eating matcha ice cream except in pudding form. Every bite was savoured! And it only costs $7.90!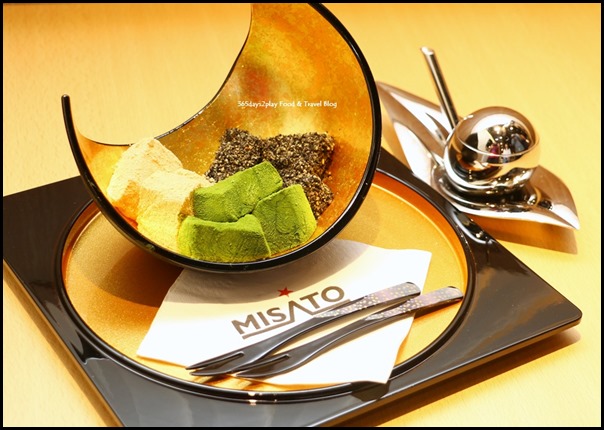 Sanshoku Warabi Mochi (Japanese mochi comprising 3 flavours – Goma, kinako and matcha) $8.80
The mochi was also fantastic. The experience of eating it was so different from any other mochi I've tried before. They have the texture pat down right. It has just the right amount of give such that it is not overly chewy. I can forsee that this would be great even as an afternoon snack, when you just want to pop something into your mouth, to go along with your tea.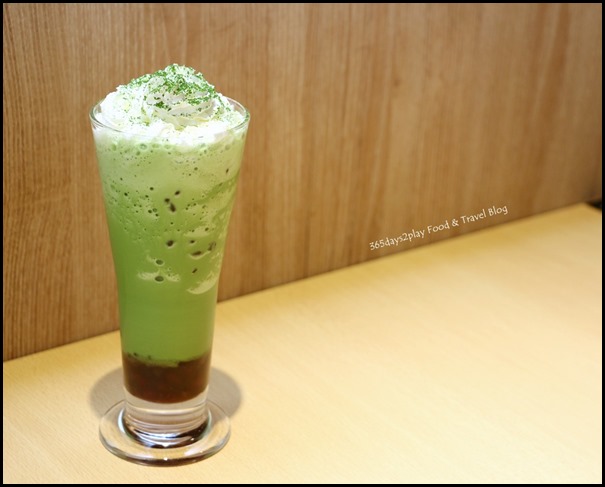 Matcha Ice-Blended $8.80
The Iced blended green tea is also a must. Once again, the green tea flavour is very pronounced, and there are some red beans at the bottom which you can mix into the drink for a change in flavour. It's actually not overly sweet, so I managed to finish the entire drink on my own despite having eaten so many other dishes already.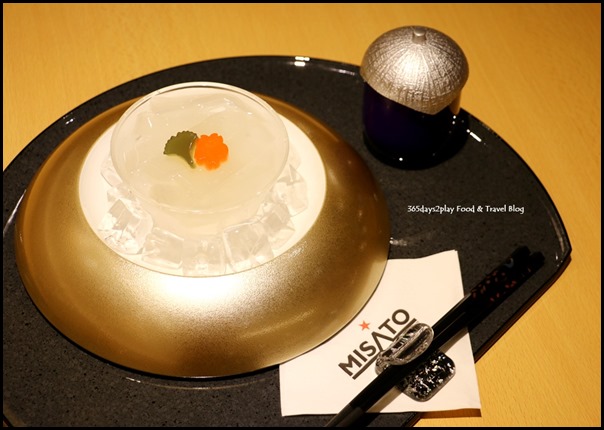 Kuzukiri (Japanese arrowroot slippery noodles served cold with kuromitsu dipping sauce) $8.80
This is a really interesting dessert in that the set up looks like it's for savoury noodles and you eat it with a pair of noodles. The arrowroot noodles has a chewy texture that is almost tasteless on its own. It's only when you dip it into the delicately sweet sauce, does the dessert come alive.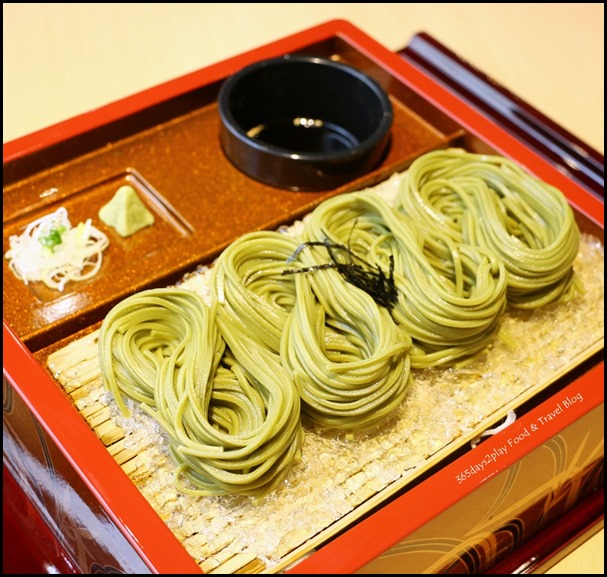 Cha Soba (Matcha noodles with homemade dipping sauce) $13.80
The cha soba is pretty good, taste and texture wise. Certainly better than what you get at the generic Japanese chains.
Handmade Gyoza (Steamed chicken and vegetable dumplings served grilled) $6.90 for 6 pieces, $10.90 for 10 pieces
Gyoza? Where's the gyoza???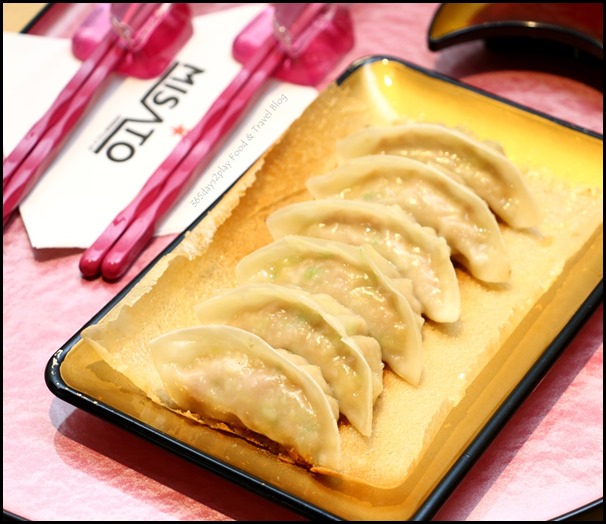 Tada! There's the gyoza, when you flip it over. They boil the gyoza first before grilling them. I'm not entirely sure where there is a need for that rectangular gyoza sheet, and actually it makes it rather inconvenient to eat the gyoza as you either have to pry the gyoza off, or break off the sheet with the gyoza on it, and it never tears where you want it to. The flavour of the gyoza filling is nice though.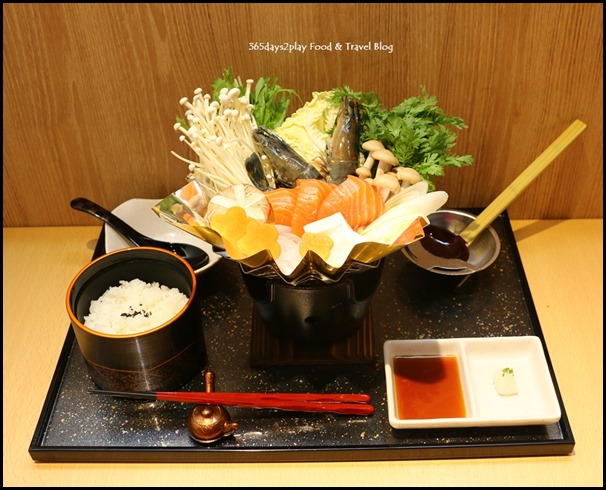 Seafod Kaminabe Set (Japanese hotpot with tiger prawns, Norwegian salmon, chicken, assorted mushrooms, toufu) $20.80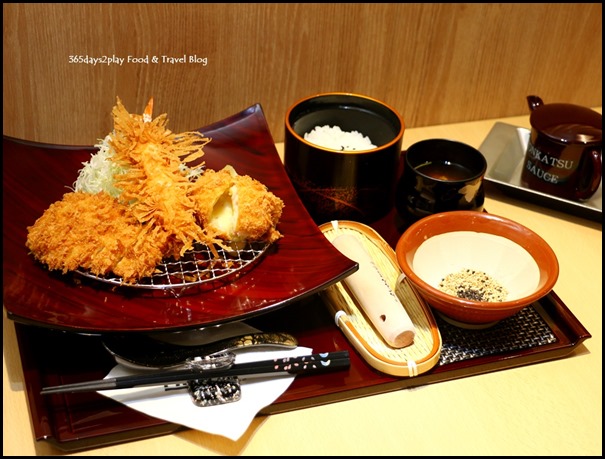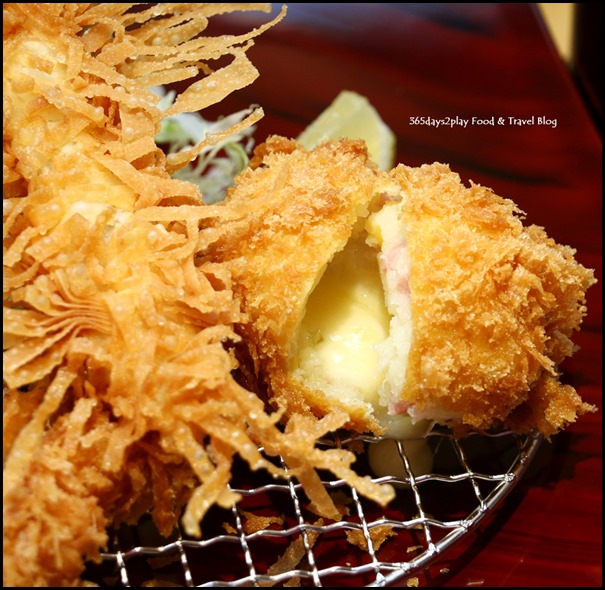 Mixed Fried Set (Bread crumbed chicken, tiger prawn and cheese korokke) $18.80
Just in case you were wondering if Misato serves any mains for lunch and dinner, yes they do. You can choose from various rice sets and noodle sets. I tried the Seafood Kaminabe and this Mixed Fried Set, both of which were enjoyable but not that different from what you would get at other good Japanese restaurants. Oh you may be happy to know Misato does not use MSG in its food, per its disclosure on its Facebook page.
However, what would get me running back to Misato again in a jiffy would certainly be its matcha desserts.
So if you are in the Somerset area and thinking of what to eat, or if you're already full from dinner but want something sweet to end off your day, I would highly recommend that you check out Misato. Their Matcha desserts are really good and priced at around $8 to $9, which is really value-for-money for the quality that is served.
---
Add me on Facebook, Instagram and Twitter if you want to be kept up to date with the latest happenings in the food and lifestyle scene in Singapore!
---
Misato
176 Orchard Road #01-33E The Centrepoint (Level 1, inside Gastro area, next to Coffee Bean) Singapore 238843
Operating Hours : 12 pm — 10pm (Last order 9pm ; Closed on Monday)
Tel : 6235 2822
Facebook : https://www.facebook.com/MisatoSingapore/
Email : misato_cuisine@yahoo.com.sg