Media Invite
I've been waiting for over a year for The Bird Southern Table & Bar to open at Marina Bay Sands in Singapore, and that day has finally arrived. The Bird, also known as Yardbird, is an award winning restaurant featuring US Southern cuisine and hospitality, founded by renowned restaurateur John Kunkel. Yardbird is known as The Bird in Singapore to minimise confusion with the same named Yardbird hailing from HK, which I hear is going to be opening in Singapore too sometime soon.
Why was I so keen for The Bird to open? Fried chicken! As you might guess from its name, it is most famous for its fried chicken and waffles with watermelon. But another reason is because I'm always on the look out for restaurants serving Southern food to see if they match up to what I remember of Southern food when I was studying in Atlanta years ago. Featured in their menu include other Southern favourites such as Shrimp 'N' Grits, Buttermilk Biscuits, and Butter Lettuce and Grilled Mango Salad.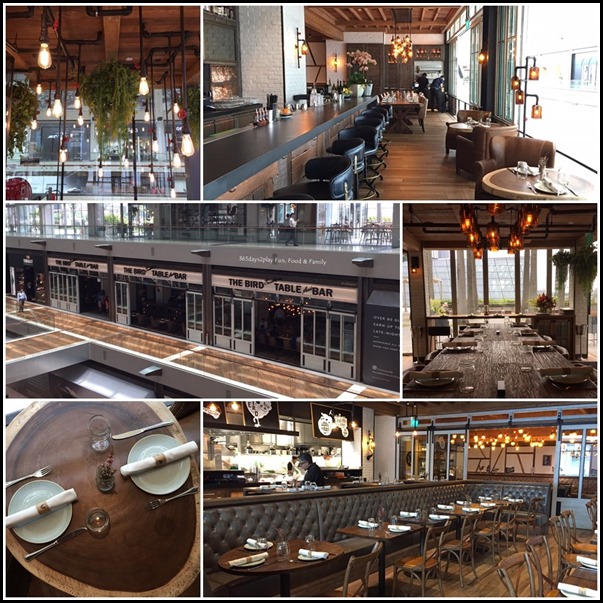 Even the modern-rustic design of The Bird is inspired by the Southern United States, with its use of reclaimed wood, recycled machinery parts and mason jars.
Here's what we had the opportunity to try during our media tasting session a few weeks back.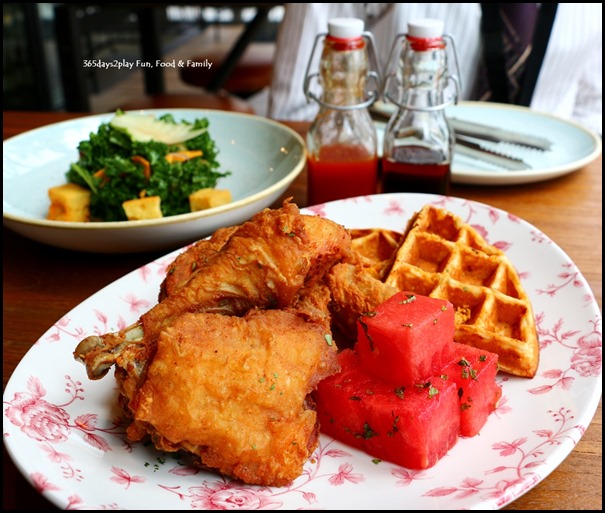 Chicken N Watermelon N Waffles
This is the famous fried chicken and waffles using a 100-year-old recipe, beginning with a 27-hour brining process, followed by dredging in a secret recipe of spices and flour, before finally being fried. It sure looks good, especially with the eye-catching cubes of watermelon, and especially if you order the full bird. Pictured here is half a bird. My dining companion and I both agreed the chicken was tender and juicy. But we were also kind of expecting a bit more, given that it's supposed to be the signature dish. Couldn't really taste any spice blend. We seldom find fruit served with fried chicken in Singapore so this was a refreshing take, even if watermelon is very common by itself here, and cheap too.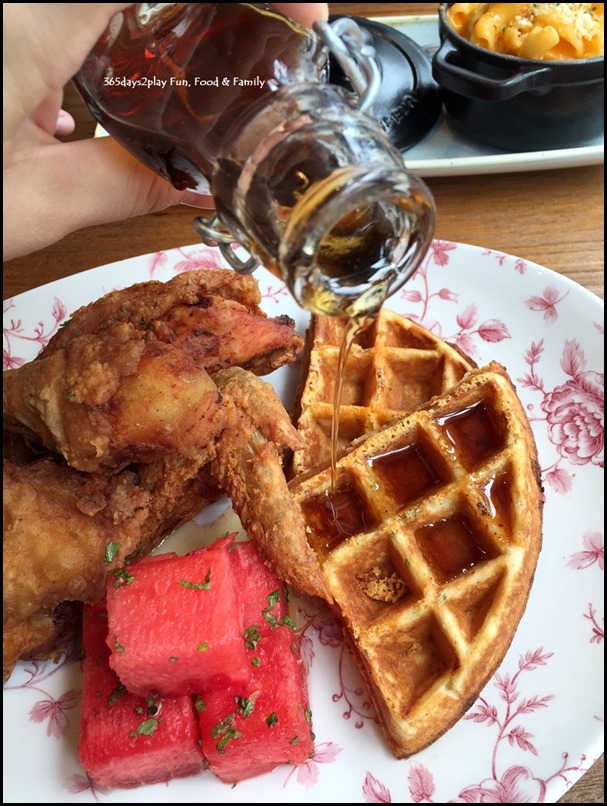 The Vermont sharp cheddar cheese waffles tasted good especially with the bourbon maple syrup.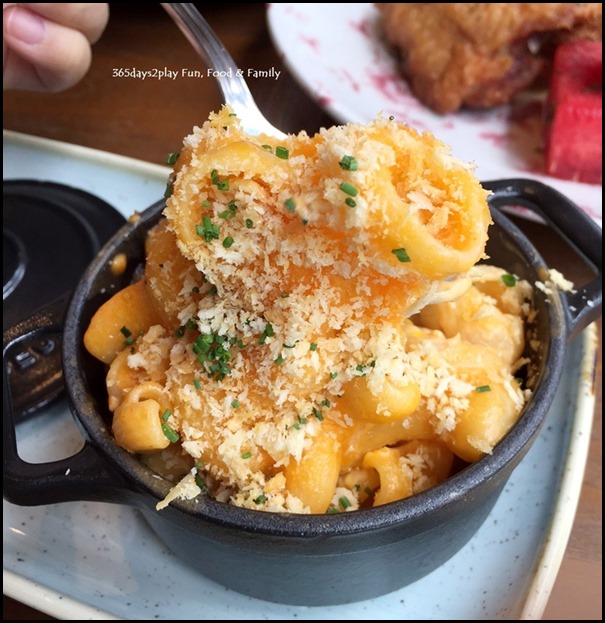 Macaroni & Cheese
This macaroni and cheese is made with 5 artisanal cheeses so it was very gooey. We waited a little too long to eat this because we were busy with the chicken, and it became stodgy. Personally, I would prefer a more all round creamy mac and cheese, as opposed to one with globs of gooey cheese dotted around, but if you want something with a strong cheese flavour, this would be it.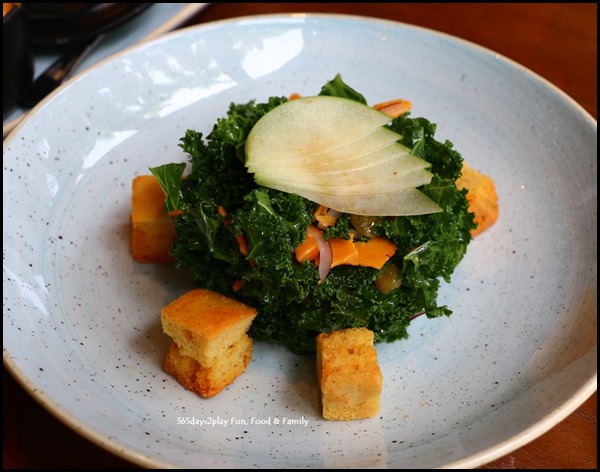 Kale Salad
When I was pregnant, I suddenly became adverse to eating Kale, which is really strange because I love veggies. Even though I know Kale is one of the power veggies, I avoided it. Until this dish. It was supposed to be another salad served for the media session, but the chef came by to tell us that the Kale was very fresh that day so he served this instead. It is the best version of Kale I have ever eaten. That cider vinaigrette with house-made moonshine raisins (?!) was sweet and tangy at the same time, I polished the entire salad clean!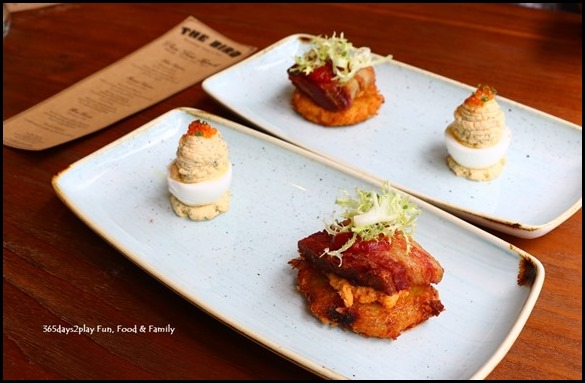 Deviled Eggs and Fried Green Tomato BLT
We also got to try 2 appetisers. Wasn't too keen on the devilled eggs as I'm not a fan of hard-boiled eggs, even if the yolks have been jazzed up with smoke trout roe. The fried green tomato BLT on the other hand was really good.  The house-smoked pork belly was a sizeable chunk and wasn't too salty. The juicy tomato also helped to cut through the grease so it was a very pleasant combination.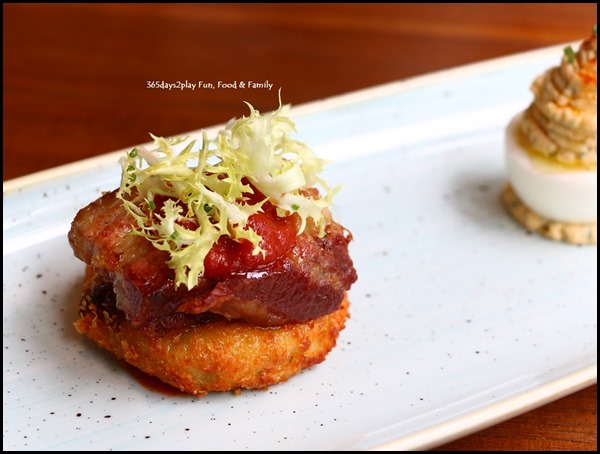 Here's another picture of the fried green tomato BLT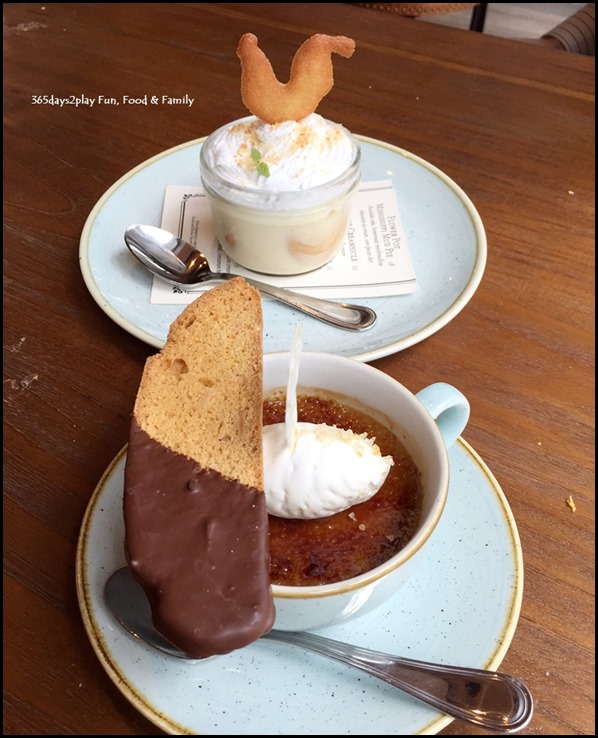 Cafe Creme Brulee and Banana Pudding
Coffee lovers would love this coffee flavoured creme brulee that comes with a generous amount of burnt sugar and an almond orange biscotti for good measure.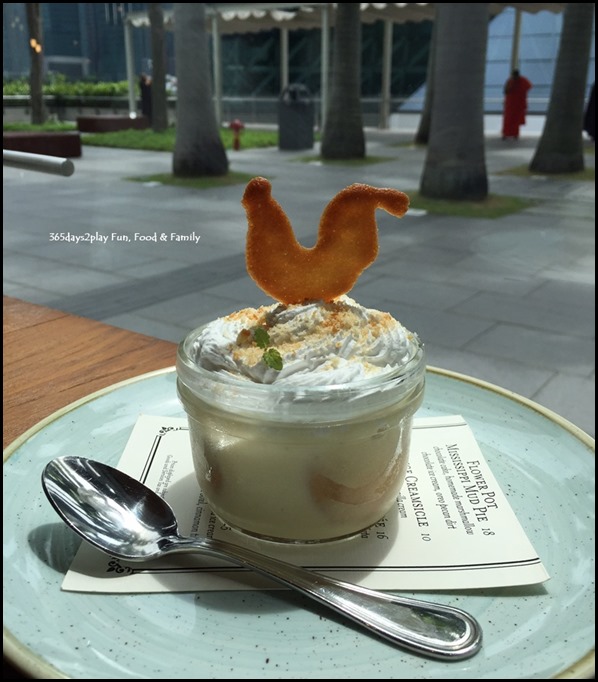 Run bird run!
My dining companioned loved this banana pudding comprising rum soaked banana cake and fresh bananas. I wasn't a fan of it because I felt the whole combination was too mushy.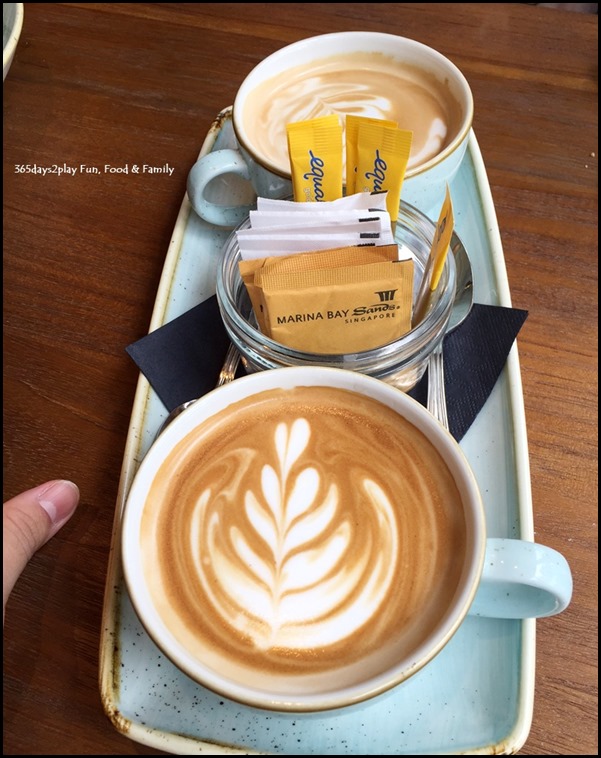 Coffee after our meal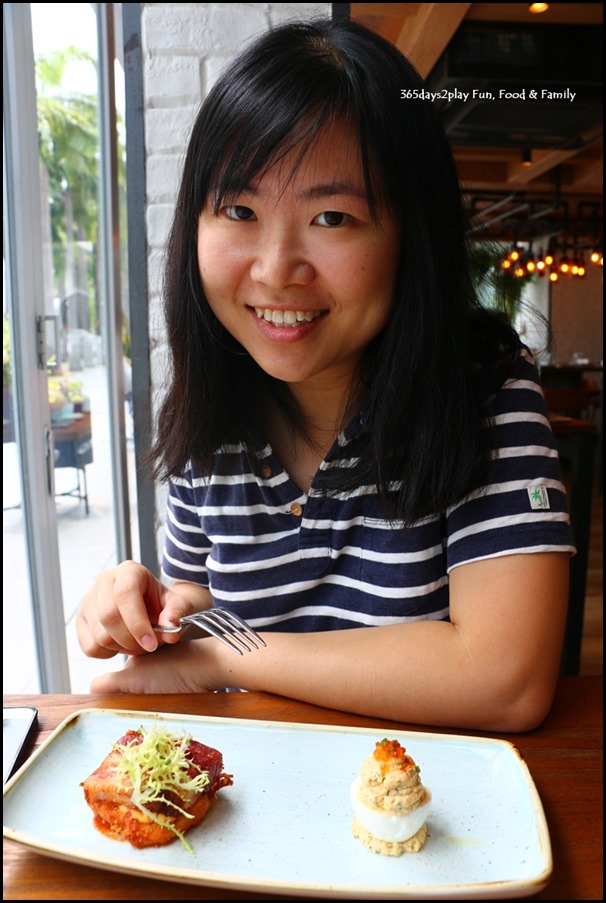 Although we didn't try any of the alcohol, you certainly won't miss the extensive beverage program as The Bird boasts a large selection of bourbon and many sought-after spirits from around the world. Rare bourbon favourites include Pappy Van Winkle, Jefferson's Aged at Sea and rare expressions of Blanton's.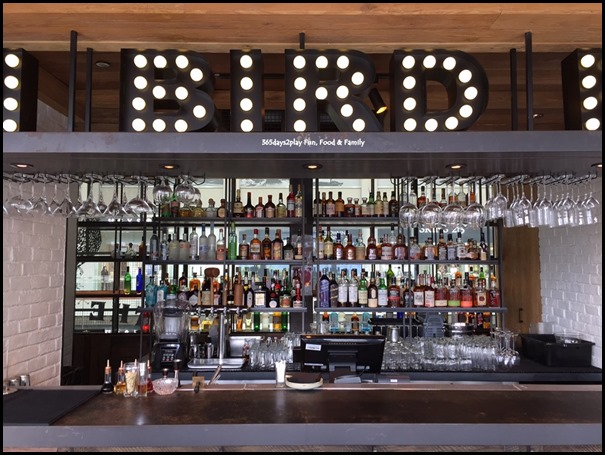 ---
Add me on Facebook, Instagram and Twitter if you want to be kept up to date with the latest happenings in the food and lifestyle scene in Singapore!
Other great F&B outlets at Marina Bay Sands you will want to check out!
---
The Bird Southern Table & Bar
B1-07 (Galleria Level) & L1-82 (Bay Level)
The Shoppes at Marina Bay Sands
2 Bayfront Avenue, Singapore 018972
Tel / Reservations : 6688 9959
TheBirdReservations@MarinaBaySands.com
http://www.marinabaysands.com/restaurants/american/the-bird-southern-table-and-bar.html
Open from 11am to 2am daily, The Bird offers lunch (11am to 4pm), dinner (4pm to 2am), and a signature weekend brunch (10am to 4pm).