[Media Invite]
Here's another update on another F&B business that has been around for awhile! Did you know the Marmalade Pantry has been around for 18 years? They opened in 1999, and after a few location changes, are now located at ION Orchard, Oasia Hotel Novena and Oasia Hotel Downtown. Thanks to the ION Orchard outlet, I've always had the impression that The Marmalade Pantry is the place to see and be seen, and I guess that is still correct because it is almost always full house there! If you want to beat the crowds, you can try the Oasia Hotel Downtown outlet, which is very much more spacious.
Anyway, The Marmalade Pantry has recently done another revamp to its menu, with a focus towards new interpretations to existing favourite dishes. The dishes are meant to be unfussy and to score on taste. Scroll down to see the new dishes, as well as the revamped line-up of cupcakes. Has your favourite cupcake been retained?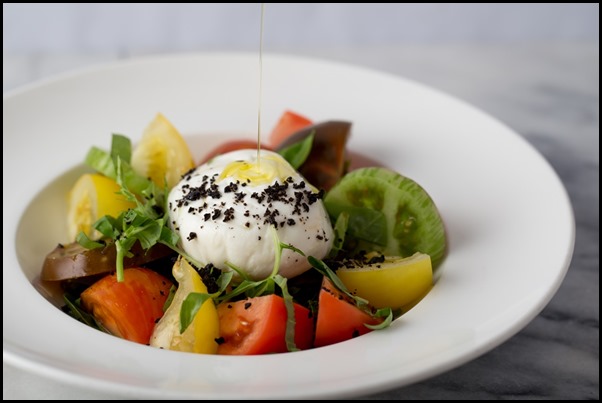 This Spanish Heirloom Tomatoes & Burrata Cheese is an elevated version of the traditional Caprese Salad, but using burrata and seasonal heirloom tomatoes. Arbequina (olive) oil is used.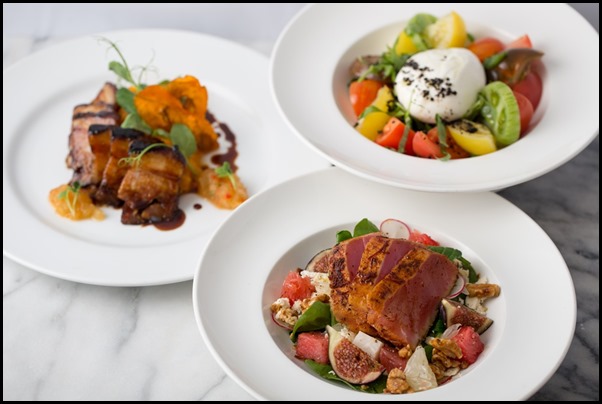 The Seasonal Citrus Fruits & Tuna salad has a lot of flavours going on, with the use of soft baby spinach, crumbled feta cheese, crunchy candied walnuts, ripe sweet figs and seasonal citrus.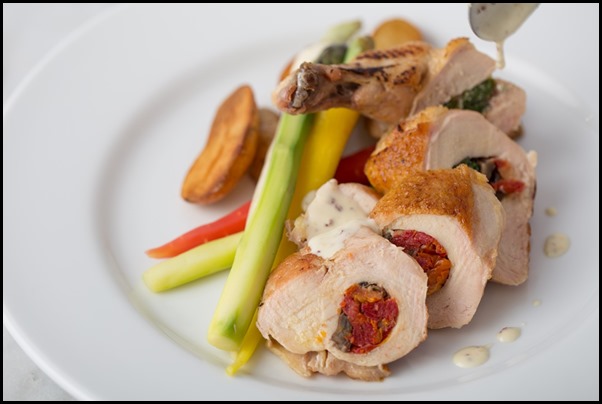 When it comes to chicken breast, I am always apprehensive, but this one passed the test because it was not stringy and dry. This roasted stuffed chicken uses free-range chicken breast, and is stuffed with baby spinach, sun-dried tomatoes and sliced portobello mushrooms before being baked.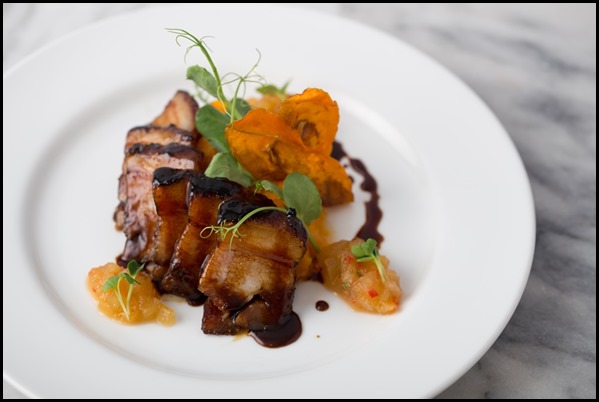 This Char Siew Kurobuta Pork Belly is inspired by Cantonese char siew, and has been marinated in soy and honey for 2 days before being sous-vide for 12 hours. If you want something with full-on flavours, this is probably the dish for you.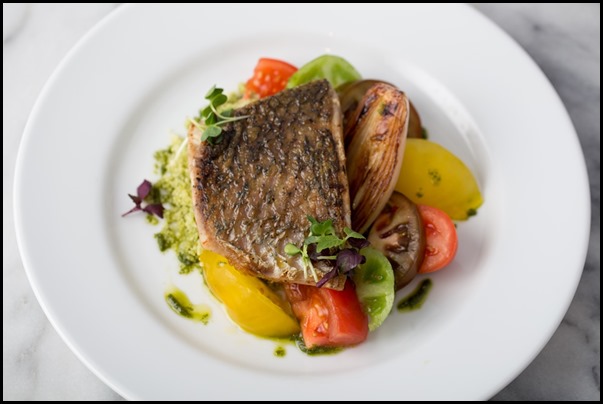 The Pan-Seared Barramundi uses sustainable line-caught fish, and is simply grilled and served on a bed of basil couscous. Those tangy heirloom tomatoes make their appearance again, and if you love tomatoes, you have got to try a dish with these tomatoes in them. They are so sweet and crisp! It also made me feel very healthy eating them!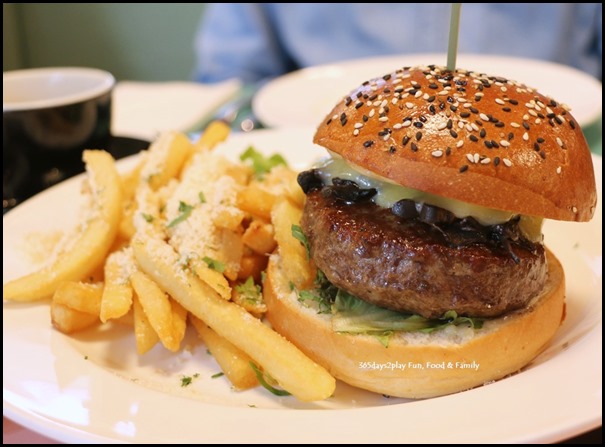 And finally, the Truffle Beef burger.There is a whole slice of black truffle tucked between that 200grams of USDA beef! That was one heck of a juicy patty because it was just oozing and oozing with liquid when we cut into it.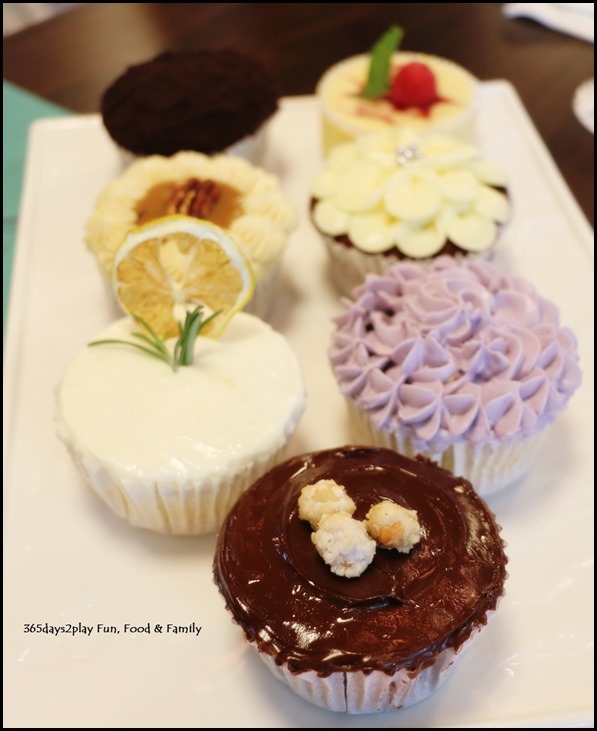 And these are the 7 cupcakes that you will now find at The Marmalade Pantry. Yes, only these 7. Some are revamps to existing favourites while others are totally new. All of them will also boast fillings in the centre. Not bad for $5
Hazel (chocolate cupcake, hazelnut spread, chocolate butter cream filling, hazelnuts)
Lavender Sugee (sugee cupcake, lavender butter cream, lemon curd filling)
Limonata (lemon cupcake, cream cheese filling, lemon icing, dehydrated lemon ring, rosemary)
Mudslide (chocolate cupcake, orange marmalade filling, hazelnut feuilletine, vanilla and chocolate butter cream)
Raspberry Swirl Cheesecake (cheesecake, graham cracker cookies, raspberry coulis)
Red Velvet (red velvet cupcake, cream cheese frosting, hazelnut spread filling)
Salted Caramel Pecan Tart (chocolate cupcake, salted caramel filling, toffee butter cream, pecans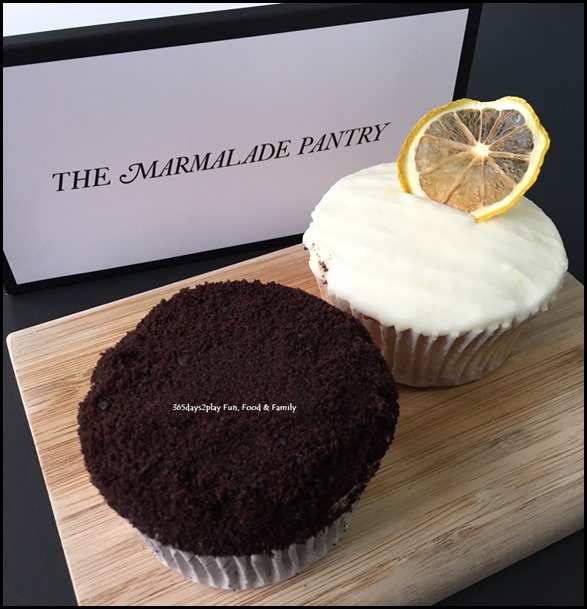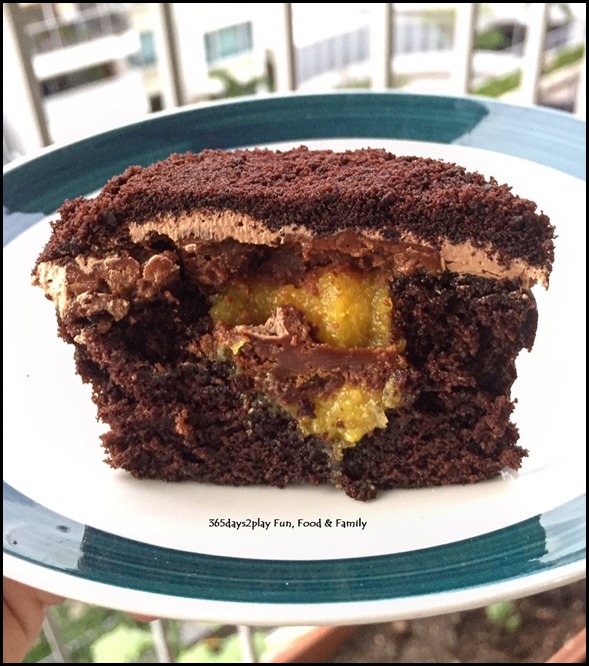 My personal favourite?? The Mudslide!!! I really like the crispy bits of hazelnut feuilletine interspersed throughout the chocolate buttercream.
---
Add me on Facebook, Instagram and Twitter if you want to be kept up to date with the latest happenings in the food and lifestyle scene in Singapore!
---
The Marmalade Pantry
At ION Orchard
#03-22, ION Orchard
2 Orchard Turn Singapore 238801
T: +65 6734 2700 F: +65 6734 2279
enquiry.city@themarmaladepantry.com.sg
Opening Hours
All Day Dining: (Mon—Sun) 10am to 10pm
Last Order is at 9.30pm
At Novena
#01-02/04, Oasia Hotel Novena
8 Sinaran Drive, Singapore 307470
T: +65 6664 0348 F: +65 6664 0300
enquiry.novena@themarmaladepantry.com.sg
Opening Hours
Buffet Breakfast: (Mon—Sun) 6.30am to 10.30am
All Day Dining: (Mon—Sun) 11am to 10.30pm
Last order is at 10.00pm
At Downtown
#01-01, Oasia Hotel Downtown
100 Peck Seah Street, Singapore 079333
T: +65 6385 0741 F: +65 6385 5207
enquiry.downtown@themarmaladepantry.com.sg
Opening Hours
Buffet Breakfast: (Mon—Sun) 6.30am to 10.30am
All Day Dining: (Mon—Sun) 11am to 10.30pm
Last order is at 10.00pm
Website : http://themarmaladepantry.com.sg/