[Sponsored Staycation]
When it comes to staycations, every hotel paints a different story. Some hotels offer all the bells and whistles for an ultimate pampering session. Some hotels offer numerous facilities, allowing you to maximise every corner of the property without ever leaving. For some hotels, it's location location location. Recently, I had the opportunity to check out one such hotel with a fabulous location right in the heart of Singapore's Civic, Museum and shopping district! Scroll down to find out more!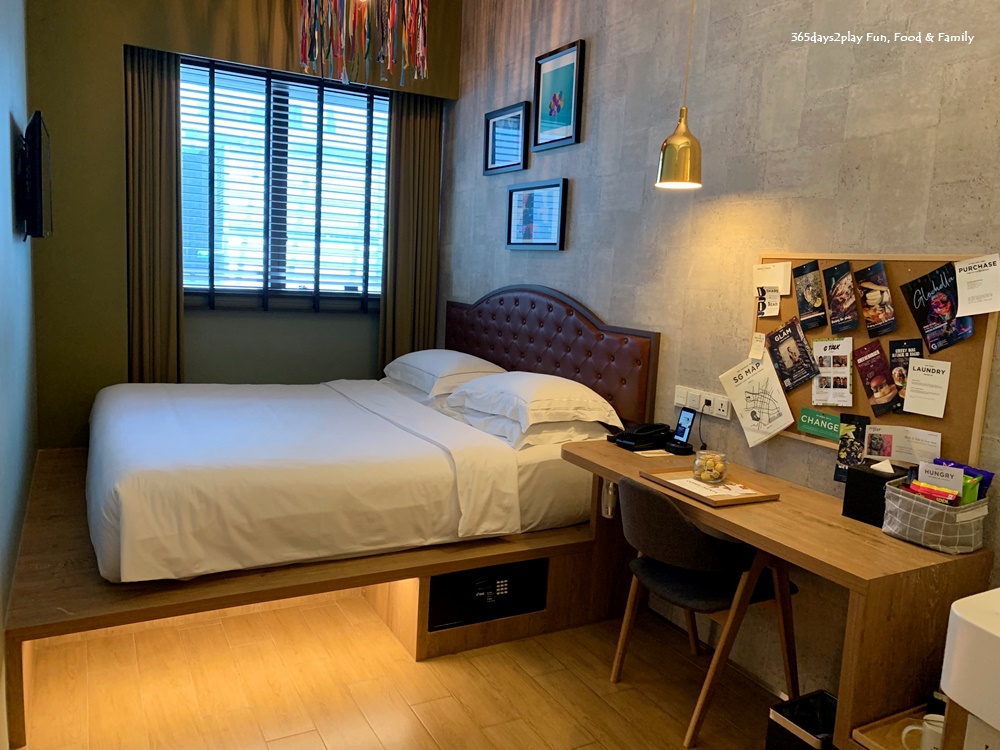 Hotel G is a quirky little hotel. The rooms aren't big. The room we stayed in is the "Great" room category (2nd out of 3 categories). 13 square metres sounds small, however as the beds are flushed with the walls, with a nook directly underneath the bed to store your luggage, you still feel as if you have ample space to move about the room. Trust me, I've been to other hotels with a slightly larger footprint for a room and those were more cramped! I must say the room we had exuded a lovely and cosy feel (especially when we were huddled on the bed binge watching the movies channel), yet without making us feel claustrophobic. I love the use of bright splashes of colour, such as in the ceiling feature, the artistic placement of several photographs, and even the understated grey wall to make sure that the colours don't go overboard.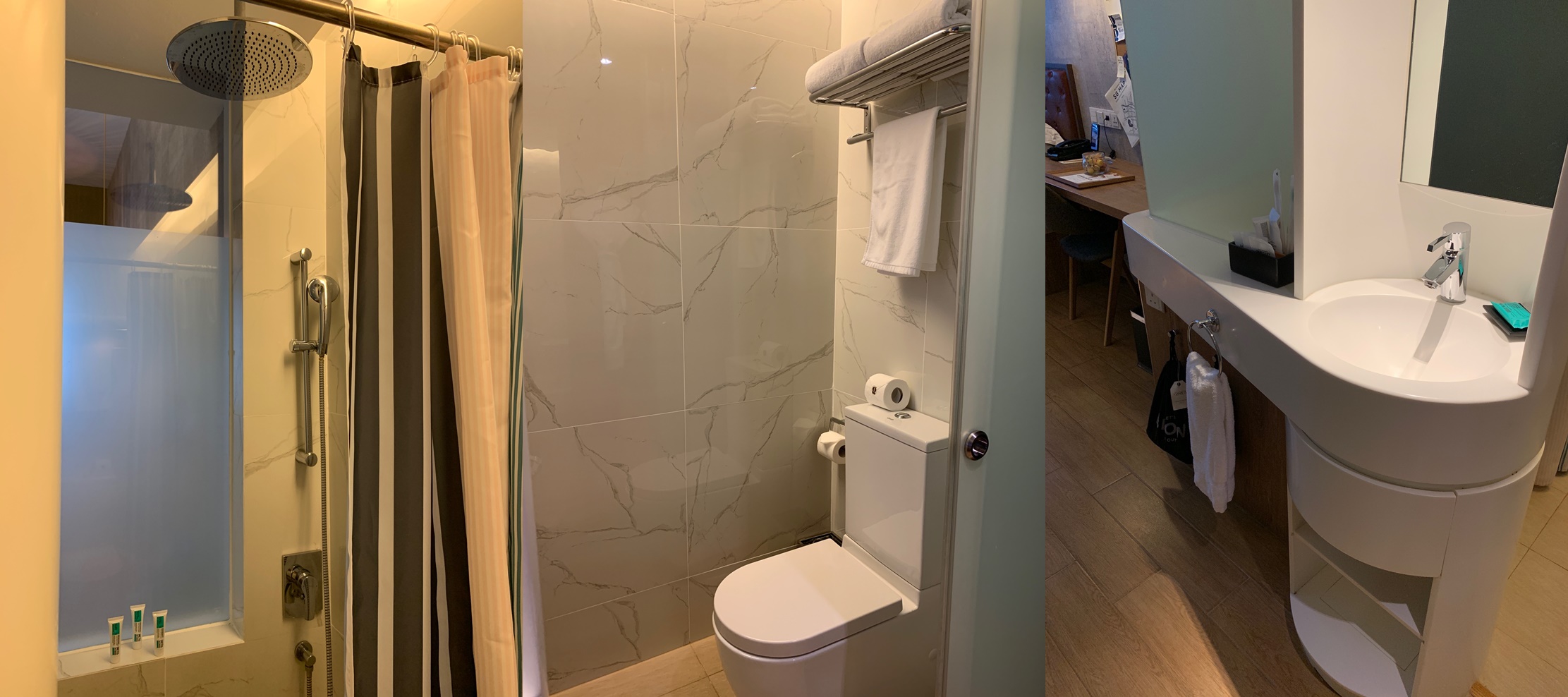 The bathroom area is pretty compact and no frills, but thankfully clean and new looking. Even boasts a rain shower. I was initially surprised to find the sink outside of the bathroom, ie in the room area. But this turned out to be a good thing because when pressed for time, both can use the bathroom and sink concurrently.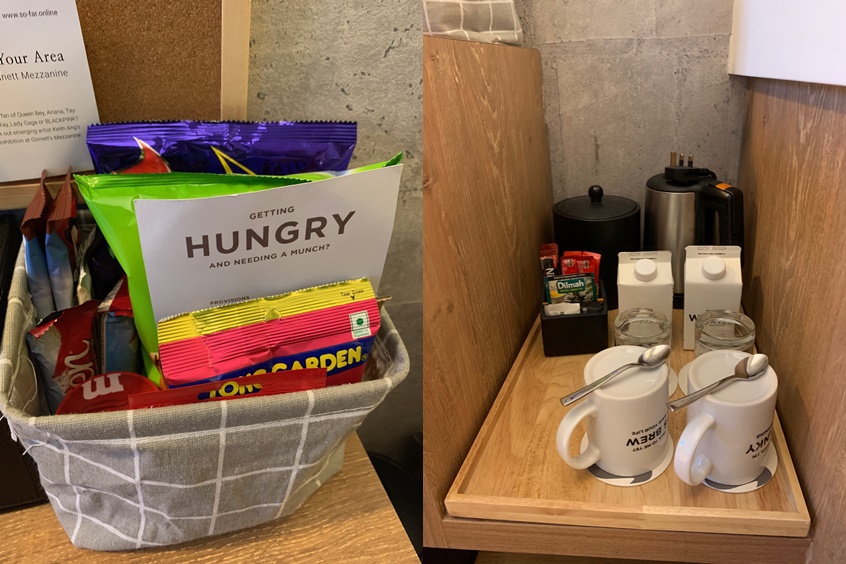 A Coffee and tea making set is available in the room. There are no fridges, but every floor provides an ice machine so you could still have your drinks cold if you so desire. Or you could fashion a chiller of sorts by filling the ice bucket with ice and immersing your item in it.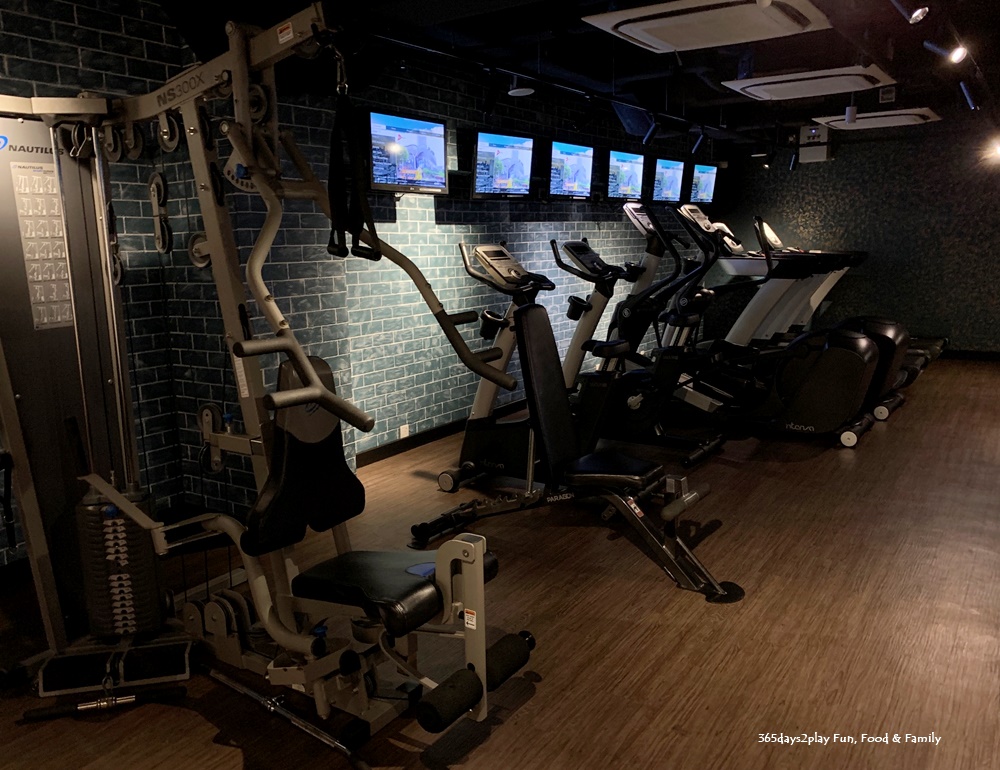 Facilities wise, the hotel does not have a pool, but it does have a gym of a decent size, which includes a couple of treadmills, bikes and punching bags. We actually visited the gym twice since it was so convenient to do so. First time in a decade that my husband and I went to the gym at the same time!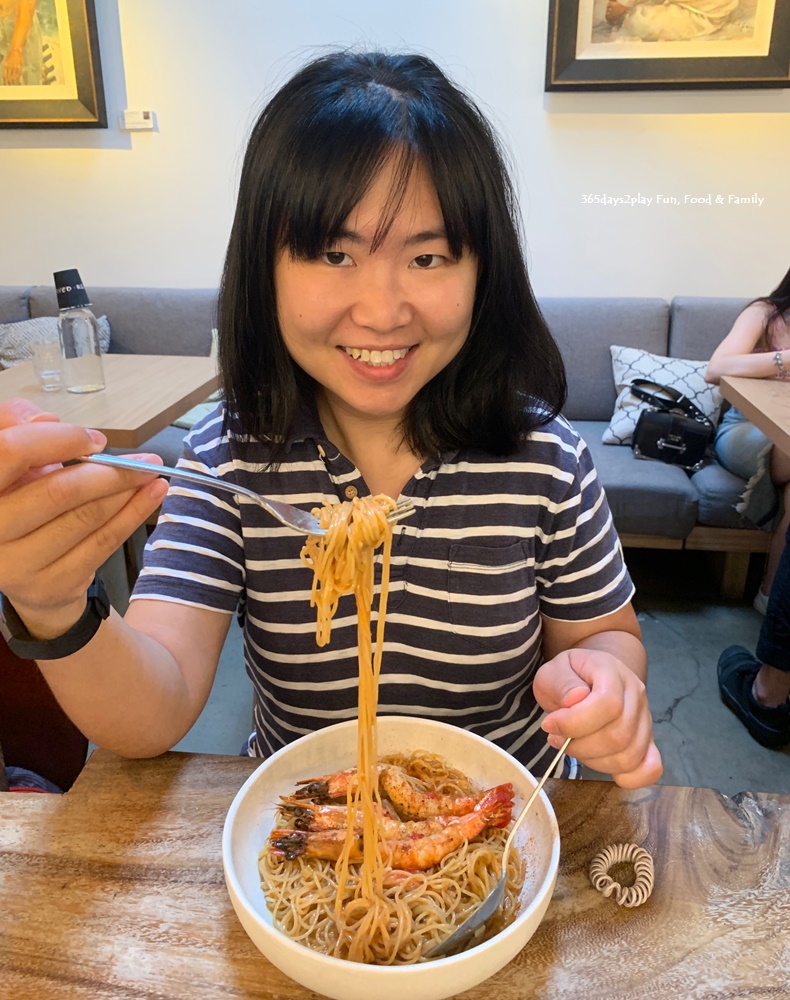 Me enjoying my Prawn Mentaiko Belachan Pasta
Now here comes the best part of Hotel G, one that left us with fond memories to cherish. Hotel G is located right smack in the middle of the Middle Road/ Prinsep Street area. What a difference a street makes. The bugis area is pretty commercialised, and therefore crowded and expensive. But just a stone's throw away, you have this area which is slightly less glamorous/touristy, but no less interesting. This area is chock a block with eateries of every kind. We spent our time getting lost in the various lanes, had an early dinner at Curious Palette, which offers a great version of the Prawn Mentaiko Belachan Pasta pasta.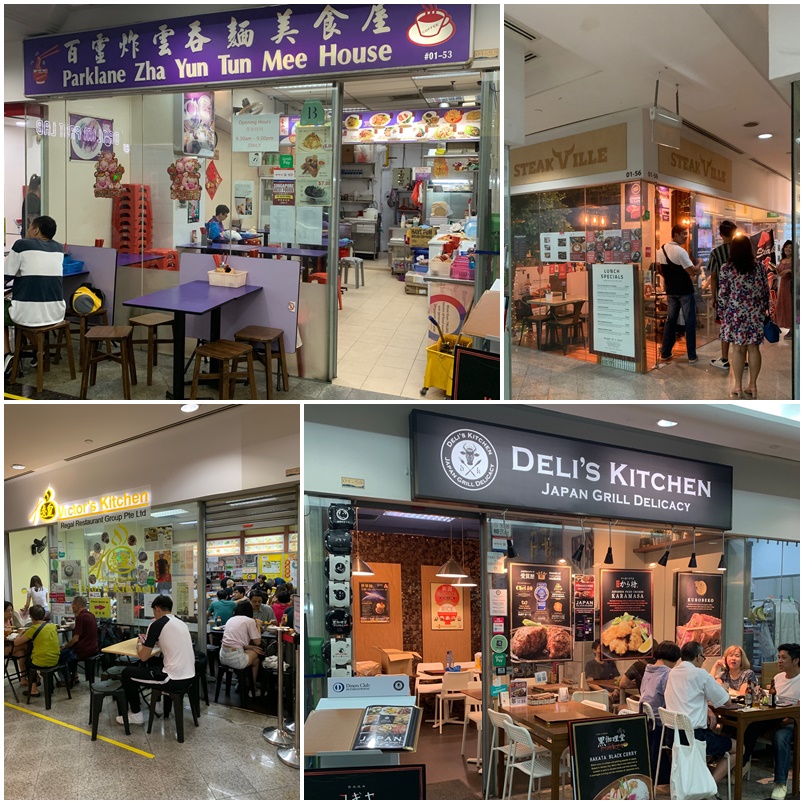 We then found ourselves in Burlington Square, with numerous cheap eateries including a cheap steak restaurant (SteakVille) and a cheap dim sum place (Victor's Kitchen). Regretted not having chanced upon this before our dinner but making a mental note to return again soon some day. We even had supper a couple of hours later at the Al Jilani Indian food eatery which is open 24-hours. The pratas there are really good. You will know which eatery that is, just follow the crowd! We had even wanted to visit the famous Kwan Im Thong Hood Cho temple at Waterloo Street, but couldn't manage to squeeze that into our itinerary given our 1 night stay!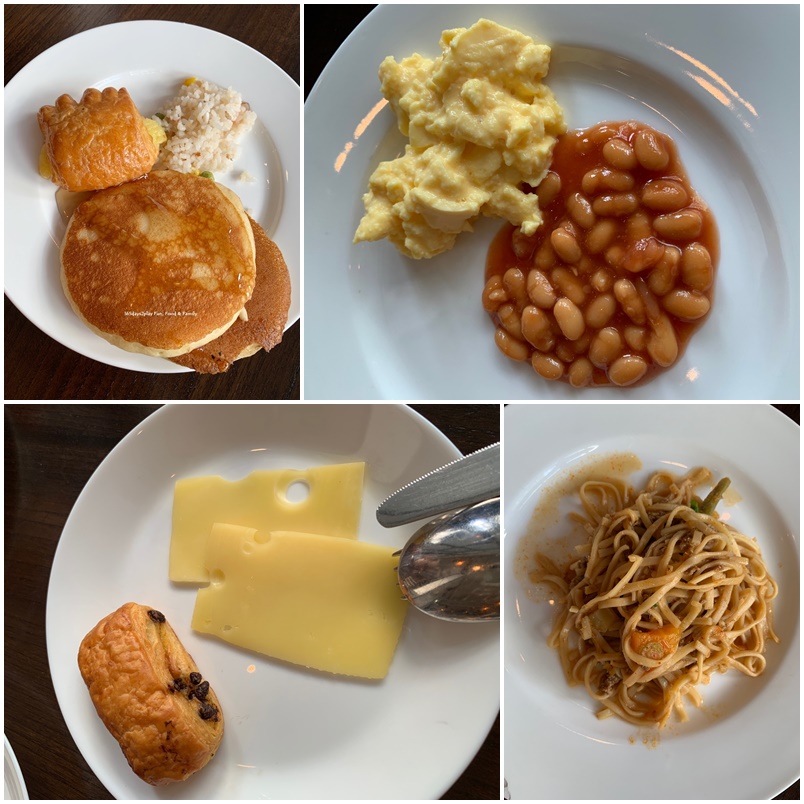 Our buffet breakfast was nice too. Although it isn't a huge spread, it still offers the usual suspects like pancakes, waffles, bread with condiments. Also has a cheese and yoghurt counter for the health conscious. Surprisingly they even had bread and butter pudding, which I gather must have been very good as it was completely wiped out during the time I was there. I on the other hand kept myself busy with this delicious tom yam yee mee, which had a piquant and savoury broth that kept me going back a grand total of 3 servings. You should also check out the food at Hotel G's Ginnett Restaurant and Wine Bar. The food is good and a number of promotions going on such as $8 burger and wines start from $6??
We felt young again, exploring Singapore with fresh eyes. It's been so long since we were last out like this, after Edward came into this world. I can't even remember the last time I had supper with my husband. What a memorable staycation this has been with Hotel G.
Scroll down for more photos.
Photos of the room
Random photos of the hotel
Buffet Breakfast
Sponsored staycation, however all opinions are mine.
---
Add me on Facebook, Instagram and Twitter if you want to be kept up to date with the latest happenings in the food and lifestyle scene in Singapore!
Food review of Ginett Restaurant and Wine Bar
Other staycation reviews in Singapore
---
Hotel G Singapore
200 Middle Road Singapore 188980
Website : https://www.hotelgsingapore.com
Email : res@hotelgsingapore.com
Tel : 65-68097988