Fans of Kia Hiang and its famous Claypot Chicken will be glad to know that a second outlet has now opened in the form of Myo Restobar. As the name suggests, Myo is a contemporary looking restaurant, located on the 19th floor of Oxley Tower at 138 Robinson Road. With its industrial decor complete with concrete floors, exposed light bulbs and even a feature wall with actual moving metal gears, you will be forgiven for thinking that this is a new player in the market.
The decor may be done up to cater to younger audiences and the office crowd, but Kia Hiang's traditional Cantonese favourites will still be available. Most famous would be the Kia Hiang Claypot Spring Chicken. The recipe used at Myo is exactly the same. What is new is that you can also opt for Organic Chicken instead of just the Spring Chicken, for $10 more.
In case you are wondering, there have been other Kia Hiang branches opened over the years, but these have since closed down. What remains is the original flagship at International Plaza, plus the newly opened Myo Restobar. And the name Myo, it is actually "mií o" in Chinese.
I was there to check out Myo Restobar a couple of days back. For a restaurant that only opened on 11 December 2017, and for one that isn't on the ground floor, there was a good buzz going on in the restaurant. A few of the diners were already repeat customers. The menu seems relatively affordable, compared to other Chinese restaurants in the CBD area, although perhaps the dishes are slightly on the small side. But the food in general is very good, and that's what counts right? Lunch sets are available from $16 onwards.
Scroll down to see the dishes I sampled and liked.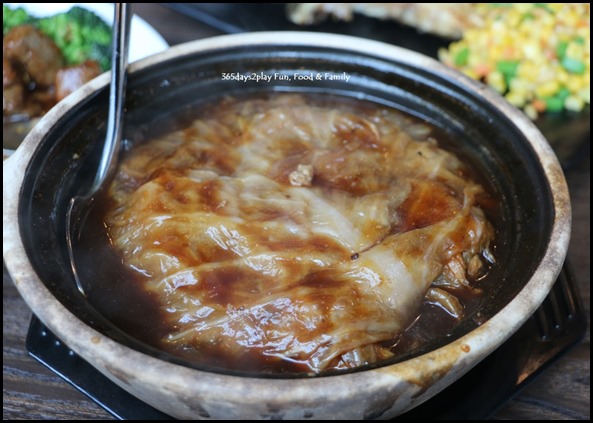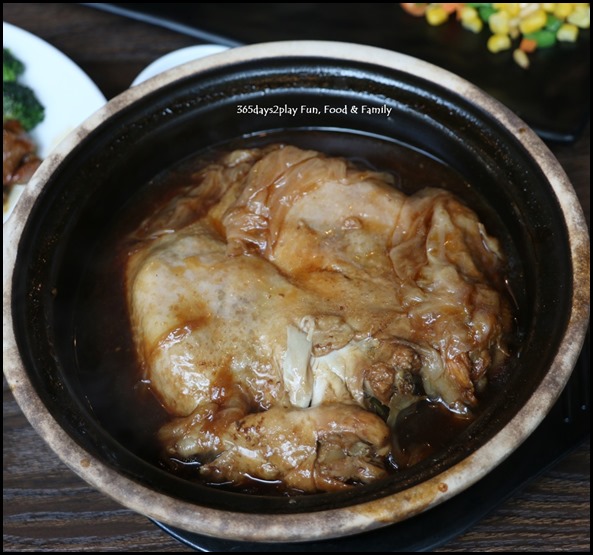 Kia Hiang Claypot Organic Chicken $28
This is definitely a must order whether you are at Kia Hiang or at Myo. It is this signature dish that has kept customers returning time and again for 40 years. The organic version costs $28 but the non-organic version costs only $18. $18 for 1 pot of fork tender spring chicken enveloped in soft cabbage and braised in syrupy secret herbal broth, it is really as delicious as it sounds and it doesn't have a strong herbal taste. I am told the cabbage has to be braised at a very low temperature for a very long time in order to render it this tender. In fact, you don't even need to order anything else. Just one claypot of this, plus lots of rice. Comfort food at its best.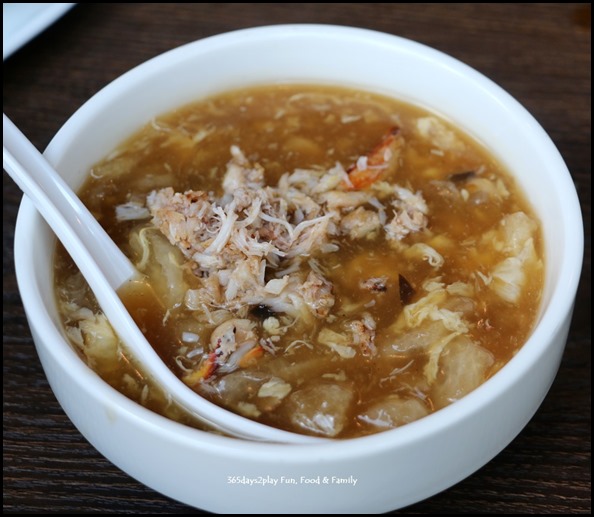 Fish Maw, Crab Meat in Superior Broth $9
This soup is also a must order, it is chock a block with ingredients and the portion size is generous too.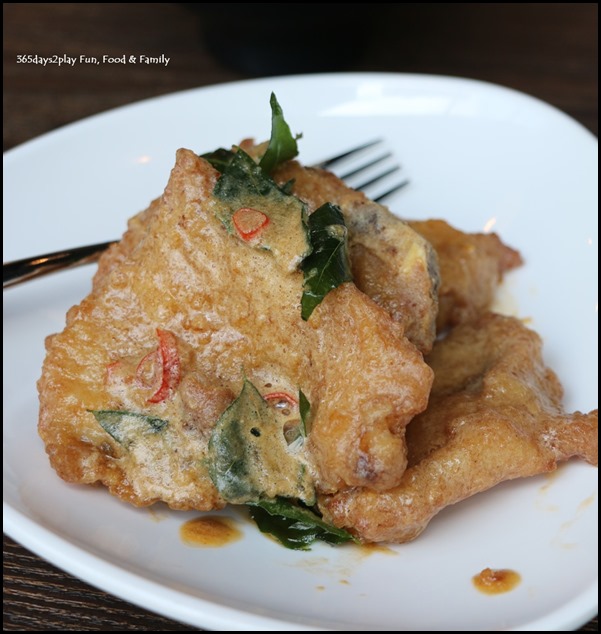 Pork Ribs in Salted Egg Yolk Sauce $3 per piece (minimum 3)
This wasn't originally included in our media tasting, but they'd asked us to order more. This caught my eye on the menu and I was so glad I ordered it. It kinda looks like pork cutlet, but there are strips of ribs in there. Love the salted egg yolk sauce! I'm afraid I have to admit I like salted egg yolk sauce with everything. Interesting that they price it on a per piece basis, which makes each piece sound quite affordable.
Angus Tenderloin Cubes with Garlic and Broccoli $18
A very appealing dish to the eye, this is also a very healthy dish that is high in folate and iron! Broccoli was still crisp and the angus tenderloin cubes was tender.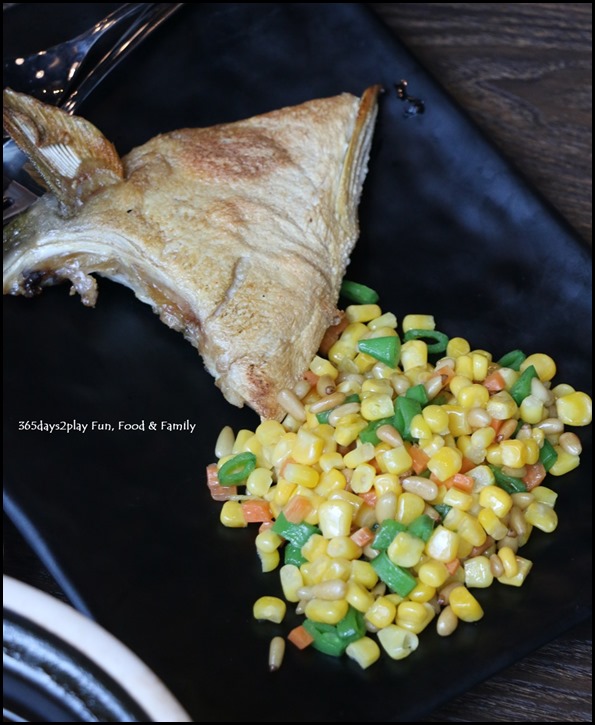 Baked Hamachi Collar $18
I thought the presentation looked a little weird for a Chinese restaurant, but hey this is a modern Chinese restaurant. Nevertheless, I quite liked the flavour of the Hamachi even though it isn't a "fatty fish" to me.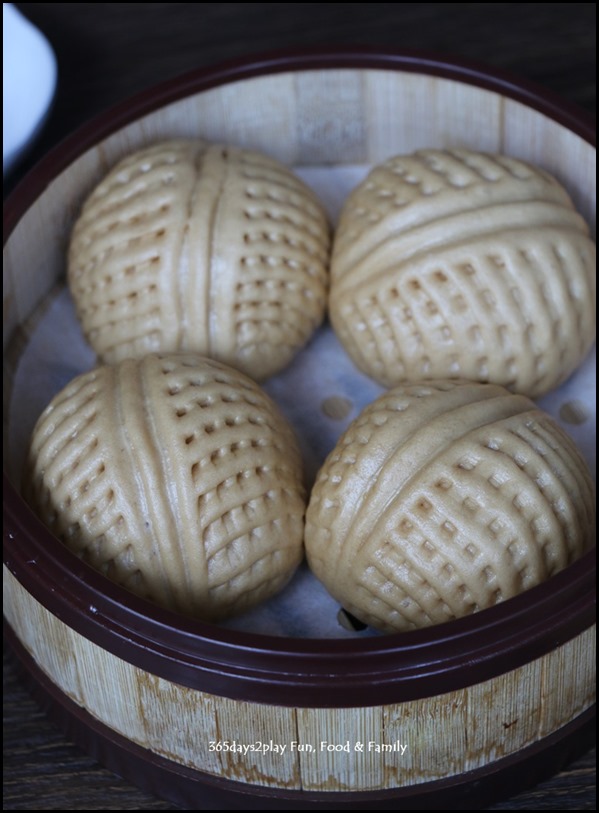 Healthy Walnut Buns $4 for 3
I'm not sure what to make of these buns. The skins are too thick for my liking, and the crushed sweetened walnut filling seems a bit out of place for dim sum, but after more bites, it kind of grew on me. I could envision myself eating this as a snack if I was peckish.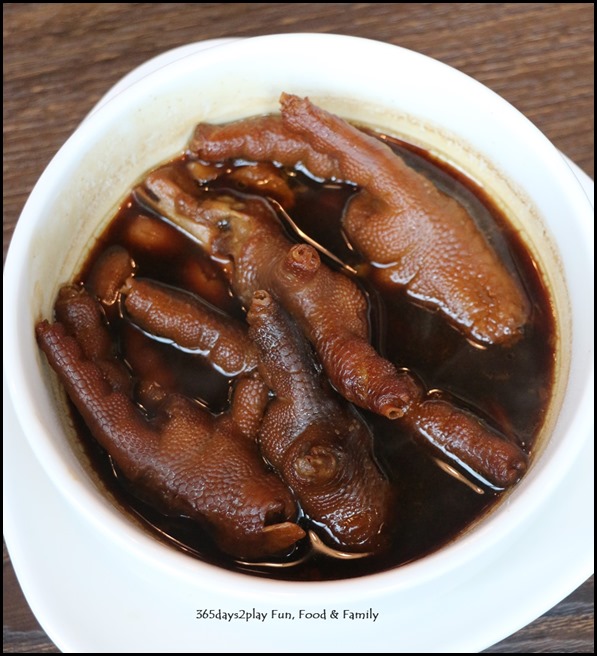 Braised Chicken Feet in Abalone Sauce $4.80
Not sure if I would have noticed that it was abalone sauce if it hadn't been stated on the menu, although I did feel as if these were braised in a somewhat more savoury sauce than usual. Very nice version of the phoenix claws, very tender and not rubbery.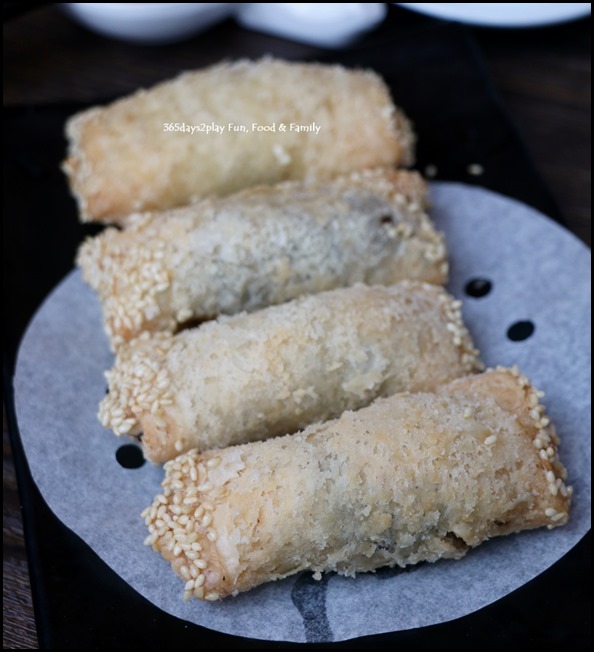 Flakey Angus Beef Pastry $5.80 for 3
Oh this is another must order. These came so piping hot that I burnt my tongue! The sweet filling of bits of angus beef is really tasty, and it's so rare to find dim sum stuffed with beef. Must order!!!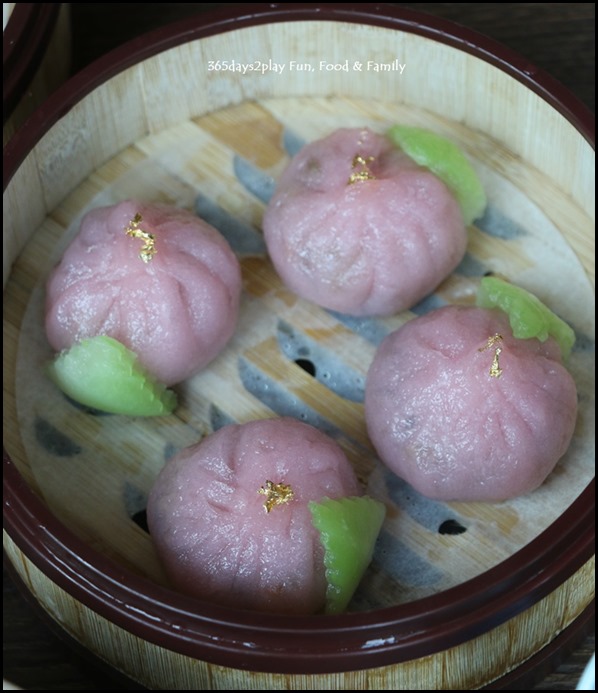 Gold Foil Dumplings with Assorted Mushrooms $4.80 for 3
Instagrammers would love to order this for the photos. Once again, the skins were a little too thick, but the vegetarian filling of radish was delicious.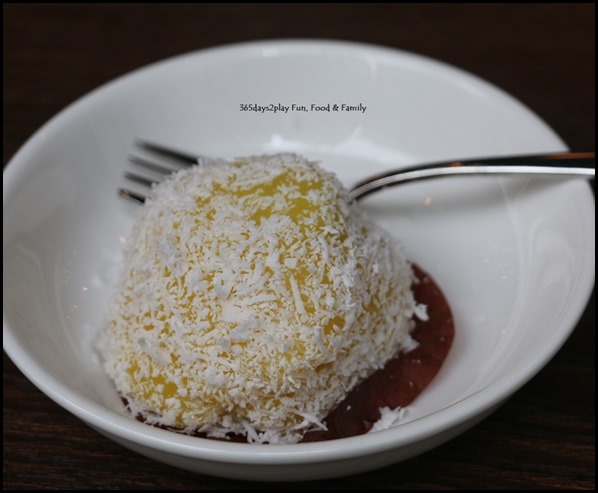 Durian Mochi
For the durian lovers. Currently going at $1 if you use their app to order the food.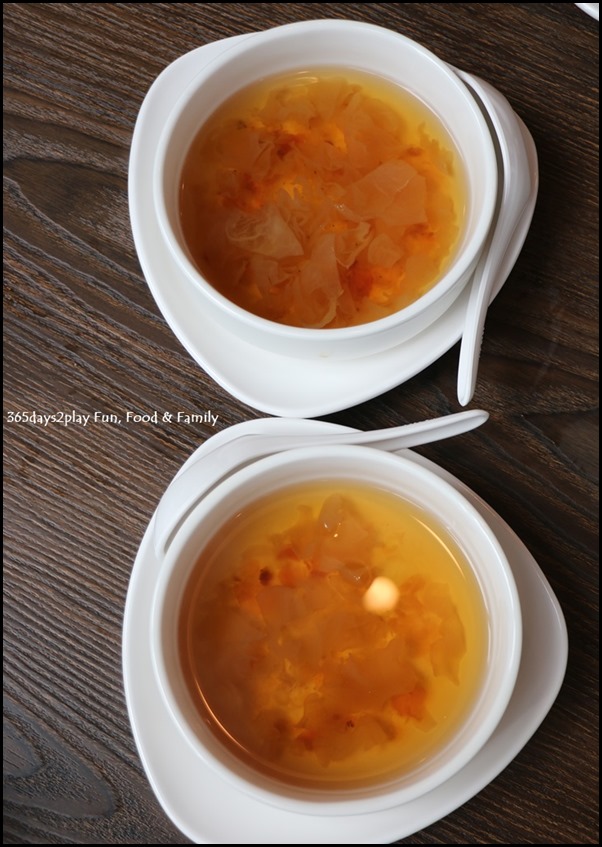 Double Boiled Peach Gum w Red Dates (hot) $4
And finally, for dessert I chose this Peach Gum soup. Had no idea what peach gum was, but you've probably come across bits of it it if you have ever ordered such dessert soups. Peach Gum is the solids of the sap that had been secreted from the bark of the Peach Tree. Its known for the beneficial properties on improving various skin conditions, and has a bouncy texture. A nice dessert that was refreshing and not too sweet, to end off a good meal.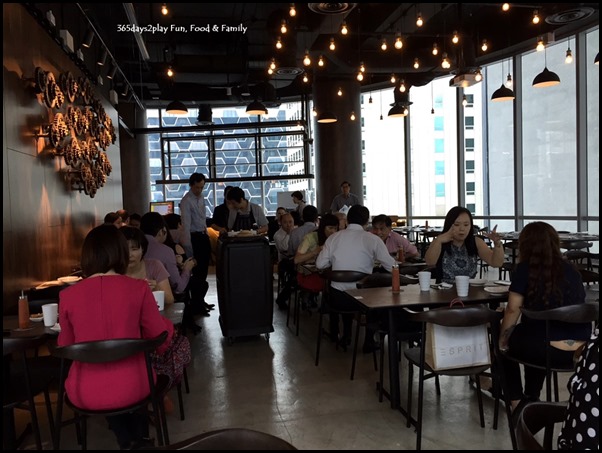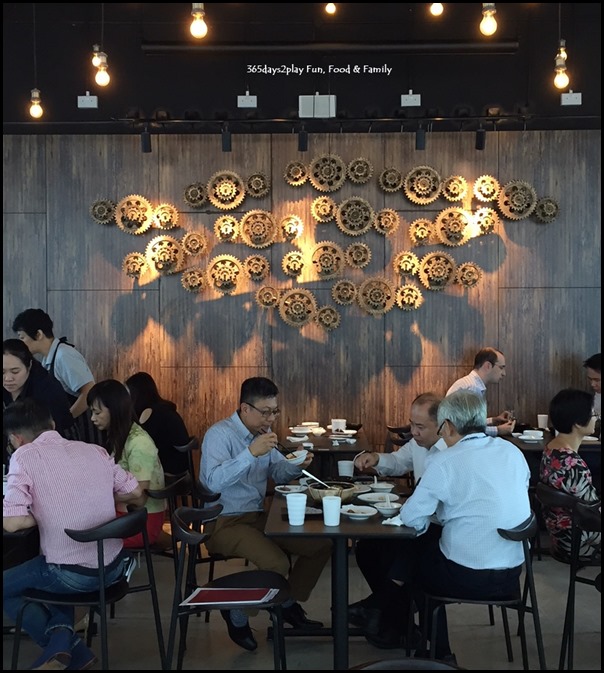 Check out the interior of Myo Restobar. Those cogs really do turn! I think you could get hypnotised if you watch it long enough! Wonder what's the relevance though.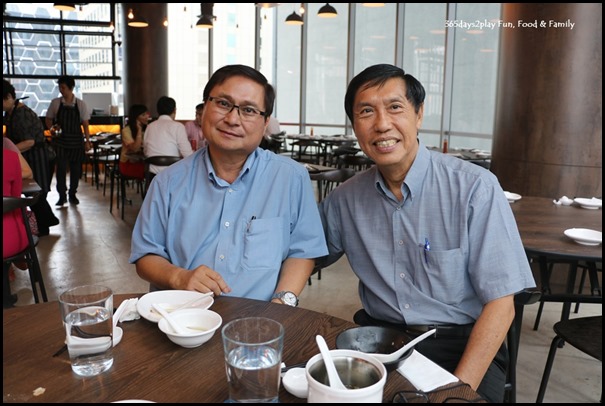 Here's a picture of 2nd generation boss of Kia Hiang Mr Ng Kia Jin (right) and business partner Mr Peter Chia. Incidentally, I found out that Peter used to be my ex-colleague. How small a world is that?
---
Add me on Facebook, Instagram and Twitter if you want to be kept up to date with the latest happenings in the food and lifestyle scene in Singapore!
Check out other restaurants in Singapore's CBD area
---
Myo Restobar
Oxley Tower (Lobby 1), 138 Robinson Road, #19-01, S068906
Tel: 6931 1247
http://www.myo.sg/
Opening Hours: 11am to 9pm, closed Saturday
*Opening promotion of 10% discount on non-set food items until 31 Jan 2018.