Finally made it to Barracks Cafe after having known about the place more than a year ago. It is yet another cafe in the Dempsey Hill area. It always surprises me how well packed the eateries at Dempsey Hill are. You practically need a car to get to Dempsey. Even though there is a bus stop right outside Dempsey, the steep hill surely must deter many? Well, Barracks Cafe was 99% full when we got there on Hari Raya Haji at 2pm, and we managed to snag the last table. 
The place is quirky. The furniture is a mish mash, some chairs cushioned, some with arm rests, tables made of wood or metal. You can choose to sit outdoors and they even have a cool looking greenhouse. I wonder if the diners in the greenhouse get a free suntan? Sitting outdoors is not that bad an idea because the tables overlook lots of greenery.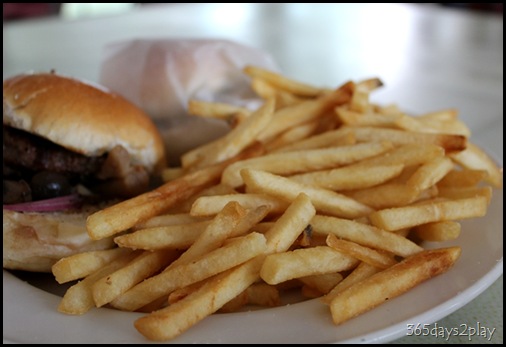 I ordered the Old Fashioned American Sliders $22 — You choose toppings for the meat patty. I chose sauteed mushrooms and onions. They also have toppings such as blue chese and bacon, truffled aioli, cheddar cheese and bacon.
I thought the burger was just average, something I would not remember at all. However, the truffle fries were really nice. They were too salty, but I really liked the interesting truffle flavour the fries had. Plus they were so crispy. I had fries for my mains, rather than the burger. To enhance them further, I dipped the fries into the creamy mixture in the salmon hash, and it was wonderful!
I know it's truffle season now, but it seems that truffle fries have been sprouting on the menus of many eateries. I don't think you need to be in truffle season to have truffle fries because it's probably just some essence they use. The other day, I saw that Fullerton Bay Hotel was also serving truffle fries, which I have heard is very good.
Oregon Salmon Hash — Creamy creamy creamy goodness. The cure for hangovers, so the menu says, and I don't think I could dispute that. This is comfort food. Salmon was nicely done and not overcooked. Only thing is, we were expecting a hash hash, but the potatoes were just cubed.
Barracks Cafe
8D Dempsey Road, Singapore 249672
Tel: 64757787    Fax: 64764462
Email: info@dempseyhouse.com
Website: http://www.dempseyhouse.com
Menus:
http://www.dempseyhouse.com/pdfs/Barracks/Menu/Brunch.pdf
http://www.dempseyhouse.com/pdfs/Barracks/Menu/Barracks%20Main.pdf