[Media Invite]
Prosperity Trio (Whole Roast Duck, Iberico Char Siu, Crispy Roast Pork) — $108 (Takeaway only)
How about living it up this Chinese New Year by getting Kam's Roast Golden Duck flecked with 22-carat edible French Gold Flakes? Kam's Roast usual Roast Duck costs $66, but if you want the Golden Duck, it costs $88. OK I guess most people would go for the original Roast Duck to save $22, but the Golden Duck might actually be a good gift for your business clients if you had to get a CNY gift for them!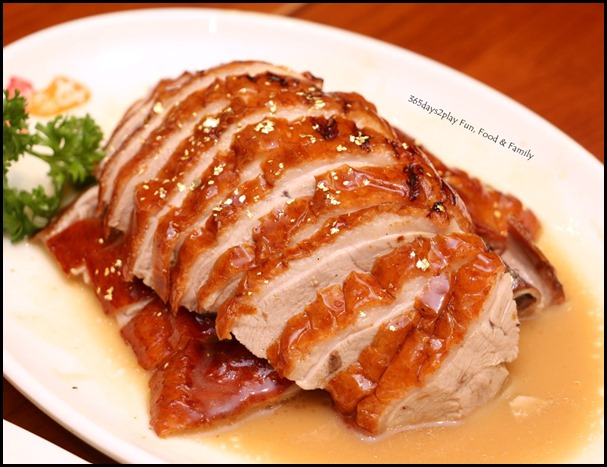 Here's another picture of a portion of the Golden Duck, sliced up. I'll be the first to tell you that the golden flakes are purely for aesthetic purposes as there isn't a shred of taste to them as far as I can tell. But it does look a tad more festive.
Crispy Roast Pork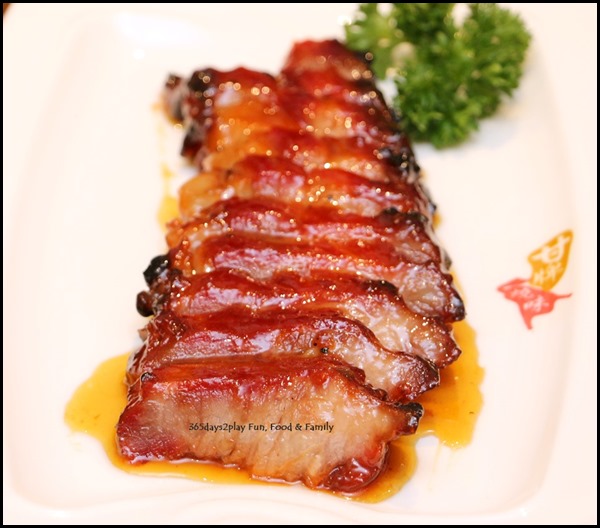 Iberico Char Siu
Waxed Lean Pork Sausage and Waxed Goose Liver Sausages $28 per packet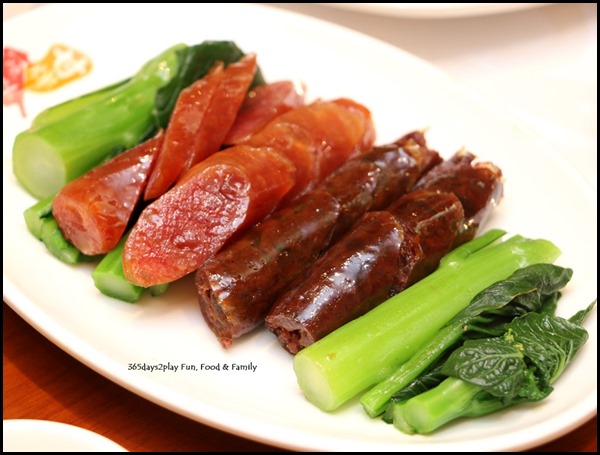 I have to do a shout-out on these sausages, especially the liver sausages. I really liked the liver sausages. I think it might be a personal preference thing because the lady next to me said she found it bitter. But if you like liver, I think you will enjoy the intense savouriness of this liver sausage, and in fact, I detected a bit of sweetness to the sausage too. Would pair so well with rice. A great time saver on days when you can't cook an elaborate meal, just dump a few slivers into your nearly cooked rice, and maybe steam or fry some veg on the side and you have got yourself a meal.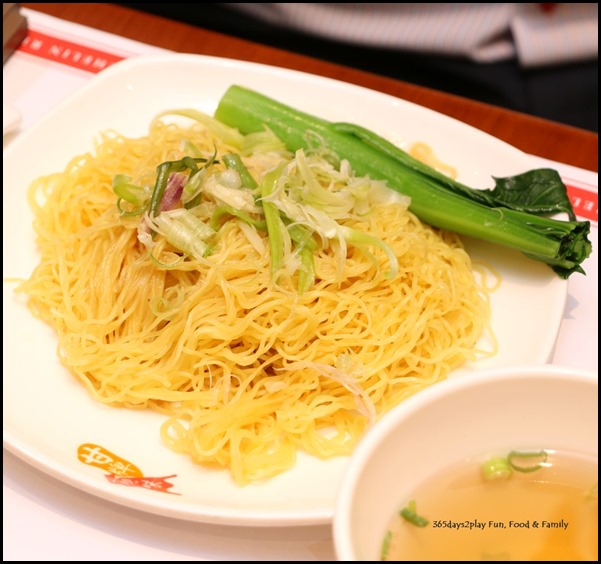 Btw if you're dining at the restaurant, I'd highly recommend trying the noodles. I had already ordered rice to go with my meal, but the rest at the table had ordered noodles and the noodles looked so good! They were glistening and just calling out to me. I had to order them in the end, and they tasted so nice I ate half a plate just plain like that!
If you're in orchard road and looking for a cheap restaurant meal, you just might want to visit Kam's Roast at Pacific Plaza. Set lunches start from $8.80.
---
Add me on Facebook, Instagram and Twitter if you want to be kept up to date with the latest happenings in the food and lifestyle scene in Singapore!
---
Kam's Roast
9 Scotts Road, #01-04/05/06/07, Pacific Plaza, Singapore 228 210
Tel : +65 6836 7788 | kamsroast.com.sg
WEEKDAY :11am to 10pm
WEEKEND & PUBLIC HOLIDAYS : 10.30am to 10pm
*Last Order 9.30pm
TAKE AWAY : Starts from 10.00am
HIGHT-TEA : MONDAY TO SUNDAY 2.30pm to 5.30pm (Excluding Public Holidays)
____________
Opening Hours for Chinese New Year
Eve of Chinese New Year, 15 Feb 2018: 11am — 3pm (Last Order at 2pm)
First Day of Chinese New Year, 16 Feb 2018: Closed
Operation Hours will resume as usual from 17 Feb 2018 onwards