The other day, I won some free tickets to go check out the Carnival of Butterflies at the HarbourFront Centre. It's a pop-up event by the Butterfly Park and Insect Kingdom as part of the CNY celebrations and will run until 25 Feb. The permanent Butterfly Park at Sentosa has been around since like forever, but I've never ever thought to visit. After visiting this butterfly pop-up event, I realise I have to go for the full experience!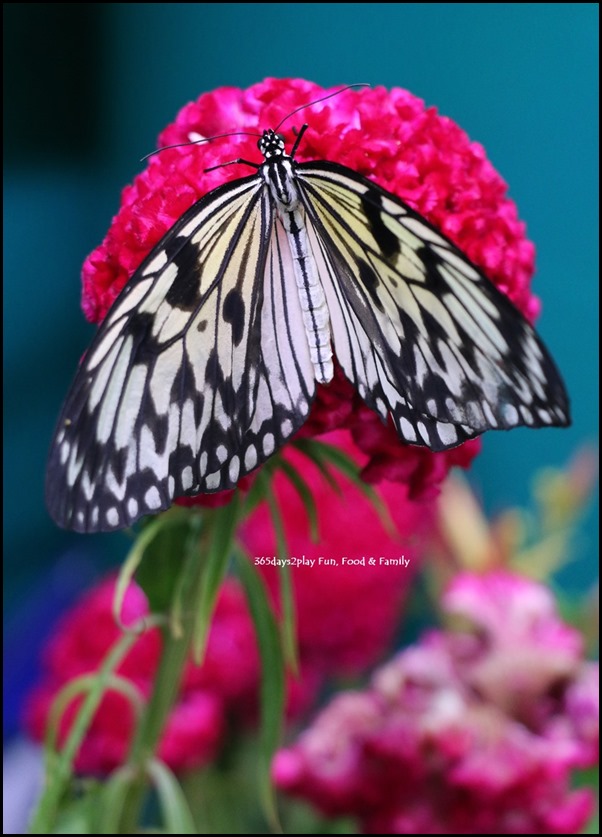 My best shot of the butterflies I think. Scroll to the end to see more butterfly pictures.
These days, nothing gets my butt moving faster than anything that's fun, experiential and educational for toddlers. See and touch butterflies? You got my attention man. The pop-up tent is actually quite small, you have to almost crawl through the entrance to get into the tent, although you can stand upright once you're inside.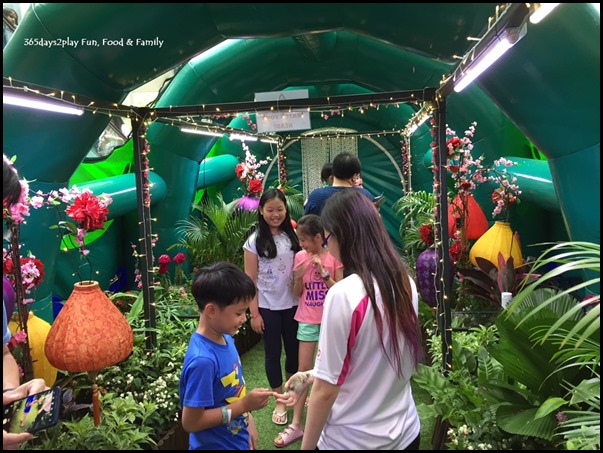 We went on the Saturday before Chinese New Year and it wasn't too crowded. In fact we were the only ones for a blissful 5 minutes. That was really good because we got to capture some nice shots without other people getting in the way. Unfortunately, the stark green tent and florescent lighting does mar the background, but if you take close up shots of the butterflies at selected angles, some good shots can be had. Scroll to the end to see more close up shots of the butterflies.
Here's Edward and Papa admiring the butterflies. Apparently there are supposed to be 5 different types of butterflies (Common Rose aka Singapore's national butterfly, Swift Peacock, Scarlet Mormon, Green Banded Peacock and Paper Kite), but we were told that some had died off. So when we were there, 90% of the butterflies we saw were the Paper Kites. The other 10% were hiding high up in the corners and were quite inaccessible.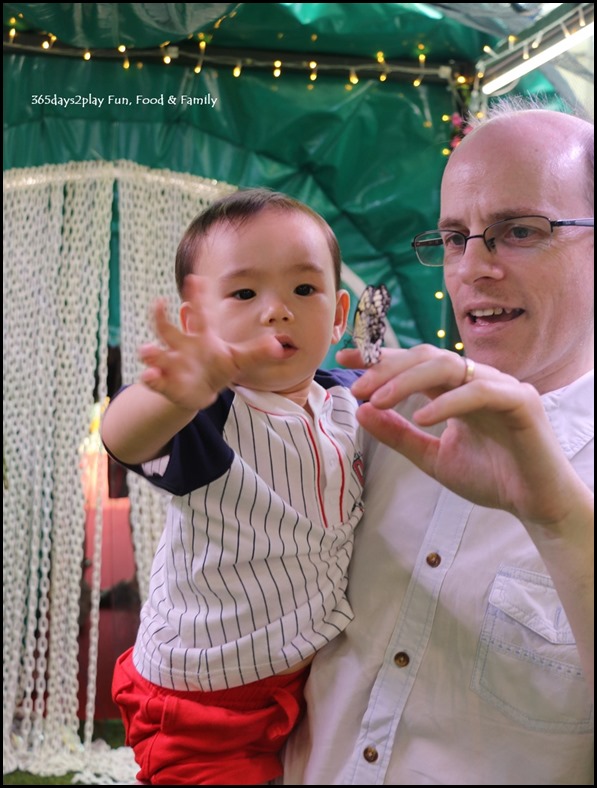 You can touch the butterflies very very gently, or have them perch on your hand or arm. That was certainly a great experience. I did not know that butterflies are so tame and brave as to want to be this close to humans? Most of the time, wild butterflies just fly around and move away from you when you come near.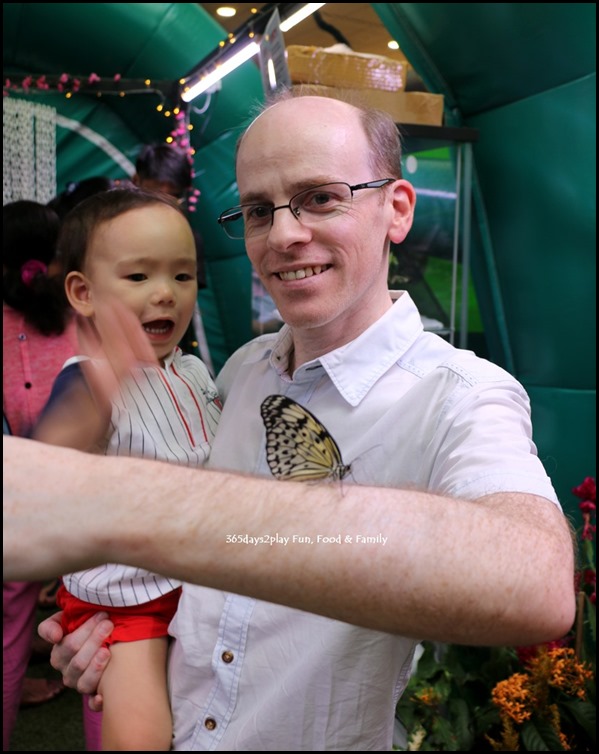 Edward looked like he wanted to make a grab for the butterfly but he didn't in the end. We tried to get one to perch on him but he didn't want that. Toddlers. To think that there was a period in time where he was just obsessed with butterfly pictures and stickers. It's different when you can see the real thing up close and personal, and it's not the same as the cutesy cartoons in the books.
Actually quite a number of the kids were hesitant to touch the butterflies. I wonder why? I hope it's not the parents being squeamish and passing down such fears to their children? We actually make an effort not to look scared or shocked when we see a cockroach. In fact we try to approach it to let Edward observe. Ok, I do anyway because I'm not afraid of cockroaches. Can't say the same for lizards though….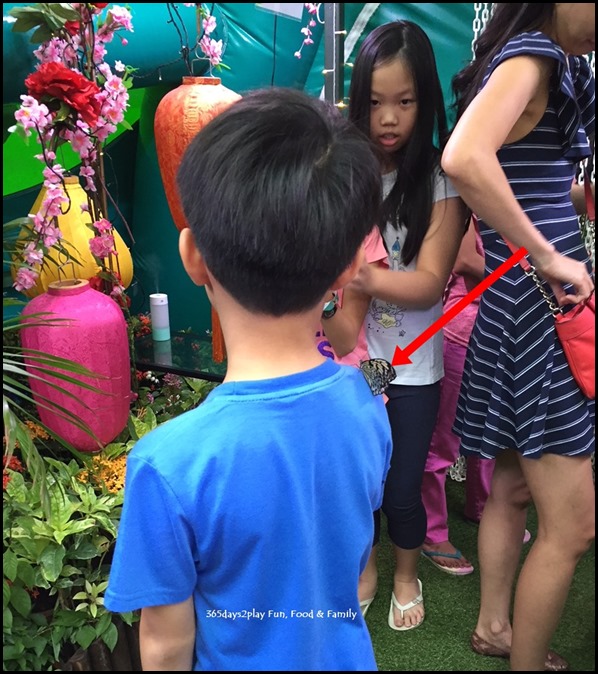 See this boy, I helped to put that butterfly on his shoulder. He was watching us and looked like he wanted to have a go but was scared to reach out to a butterfly. Look at the horrified look on his sister's face!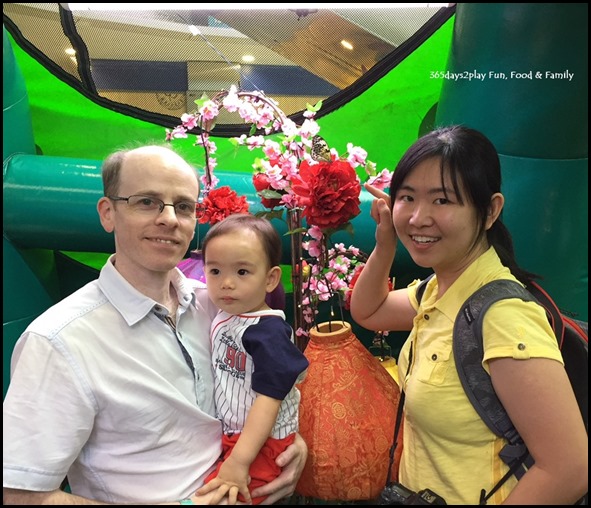 See what I mean by the ugly green background? The CNY flowers are pretty though.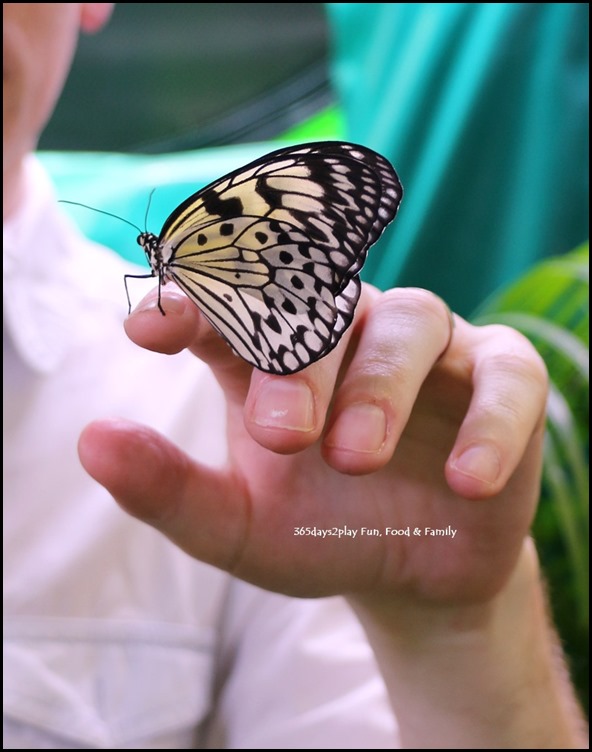 It's interesting that not only do they not mind perching on humans, they actually stay put for quite a while!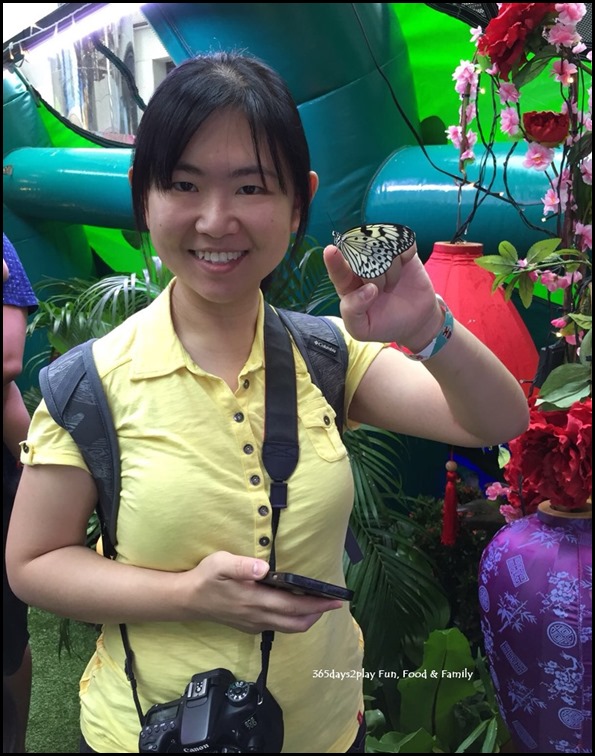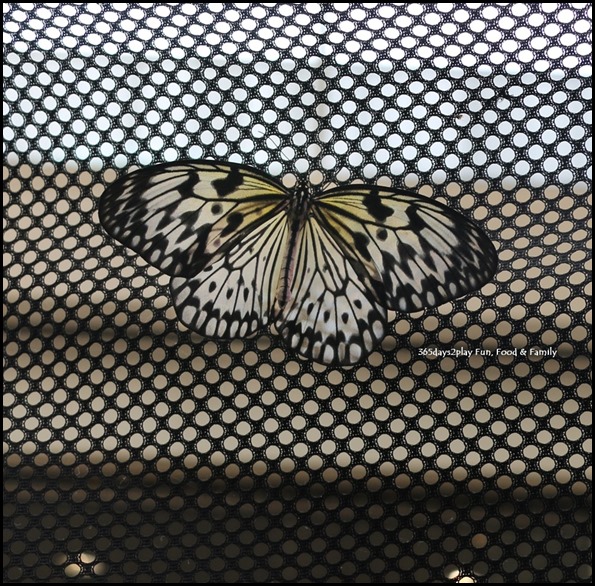 Almost looks like the butterfly is being camouflaged!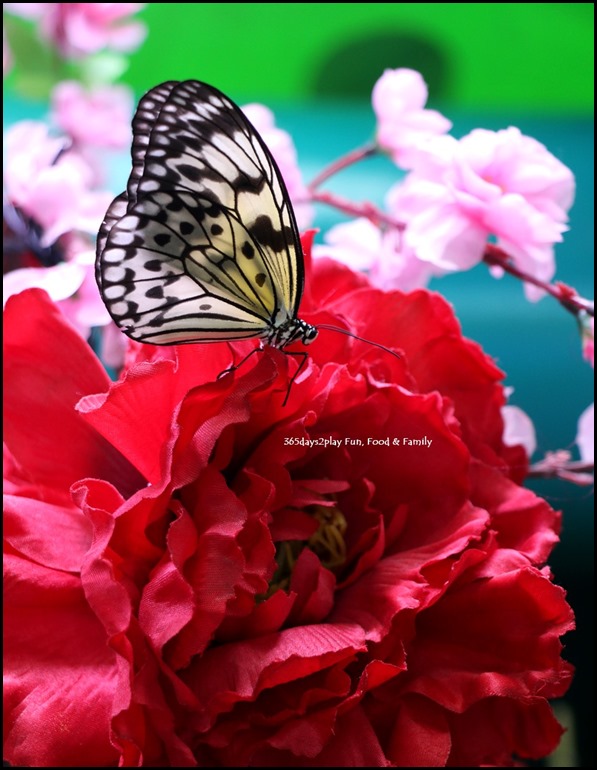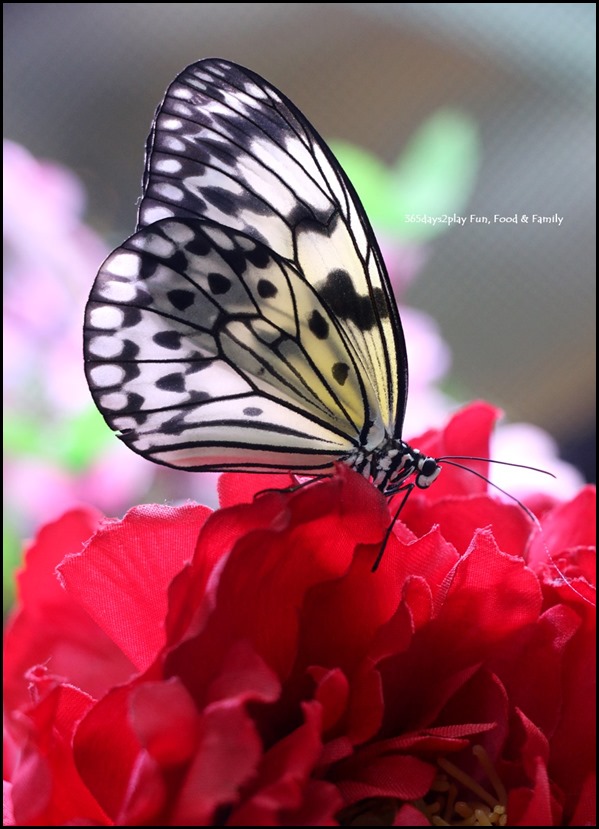 Best way to capture the butterflies is when they're perched on the pretty flowers I think. Then the contrast makes for nice photos. If they're not already perched on one, move them! Too bad when I was there, it was just the Paper Kites that I could photograph. I really have to make a trip to the Butterfly Park at Sentosa or the Butterfly Garden at Changi Airport!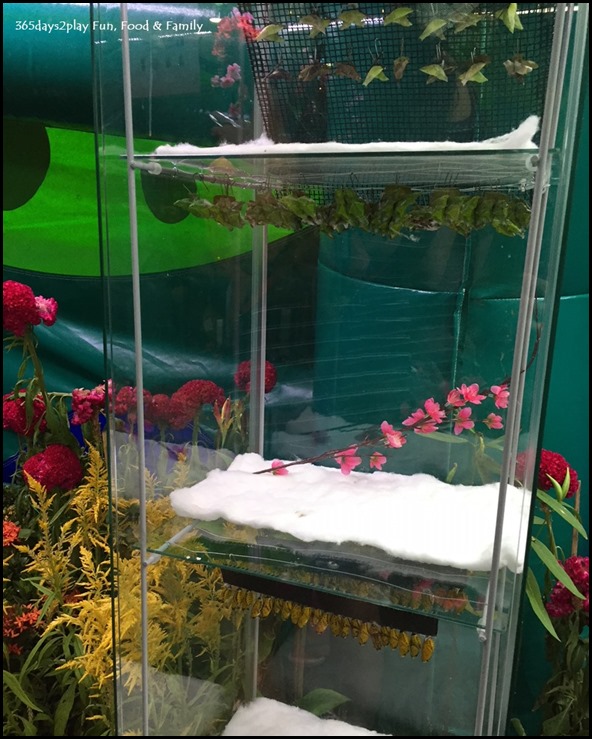 We probably should have spent some time looking at these as well, but we were too busy taking photos with the butterflies. Have to read up on a butterfly's lifecycle and introduce the concept to Edward. After all, one of his favourite books is The Hungry Caterpillar!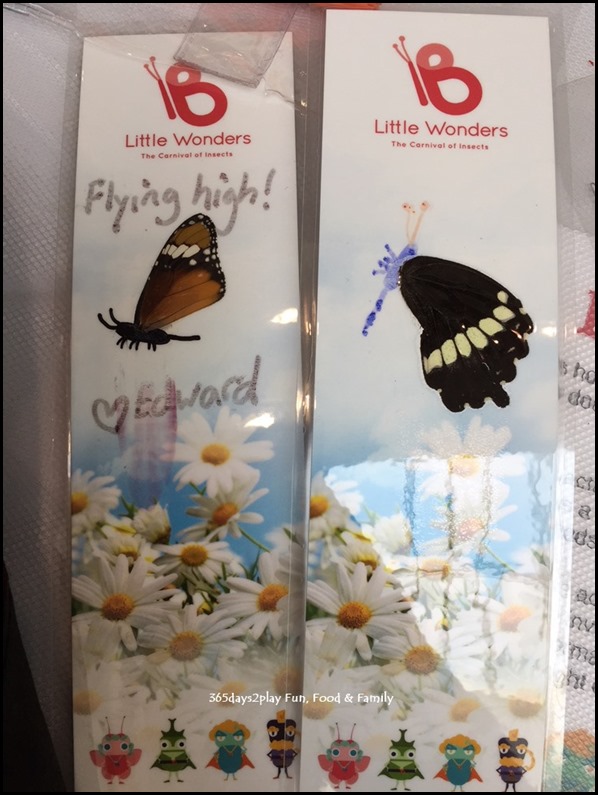 Aside from the tent with the butterflies, which must surely be the highlight, there are also some fringe activities such as this make your own bookmark thingy. The lifespan of a butterfly is about 2 weeks, so I assume these wings were obtained from already dead butterflies! All you have to do is decorate the bookmark, and the staff will place your chosen wing onto the bookmark and have it laminated. Each ticket allows you 1 bookmark.
---
Add me on Facebook, Instagram and Twitter if you want to be kept up to date with the latest happenings in the food and lifestyle scene in Singapore!
---
Carnival of Butterflies
22 Jan — 25 Feb 2018
HarbourFront Centre, Level 1 North Atrium
Spend $158 to redeem a pair of free tickets to the butterfly aviary. Amex cardholders need only spend $128.