[Media Invite]
Yes it's true, the Pizza Hut Pizza buffet is back, from 25 June — 26 August 2018. It'll be showcasing six new and improved Pan Pizza flavours. What's this new and improved Pan Pizza? They are familiar favourites tweaked to have a crispier crust, improved signature sauce and toppings closer to the edge of the pizzas, ie more topping to dough ratio.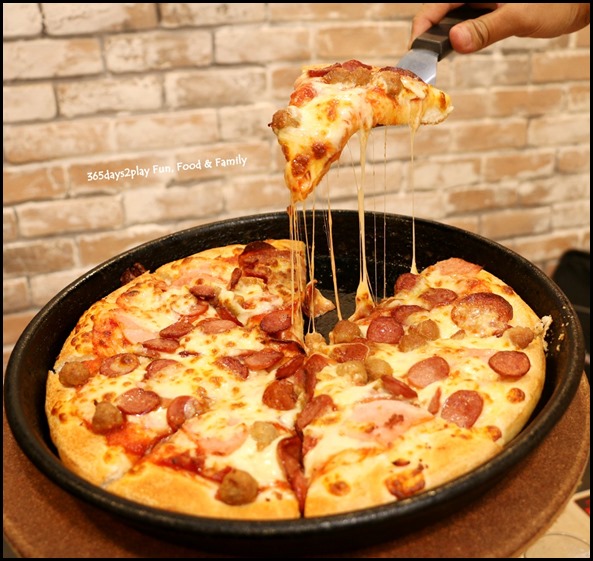 Do you love cheese as much as I do?
These are the six new and improved Pan Pizzas
Hawaiian — Chicken ham combined with pineapple chunks (hey my all time favourite!)
Chicken Supreme — Savoury chicken ham, spicy chicken chunks, roasted chicken, topped with onions, capsicums and mushrooms
Curry Chicken — Spicy chunky chicken, potatoes, onions and diced tomatoes cooked in spices
BBQ Chunky Chic — Spicy chicken chunks, onions and pineapple chunks with smoky BBQ sauce
Meat Galore — Chicken ham, pepperoni, minced beef and cabanossi sausage, with tomato mozzarella melt
Super Supreme — Ground beef, smoky cabanossi sausages, beef pepperoni, chicken ham, capsicums, onions, olives, mushrooms and pineapple chunks
So the above new and improved Pan Pizzas will be available at all outlets. They will also be available during the Pizza Buffet that will be held at selected outlets. For you pizza hut pizza lovers who can't get enough of their Pan Pizzas, now's the time to indulge!
25 June to 8 July: Bedok Mall, Harbourfront Centre, Jurong Point, Lot One Shoppers' Mall
9 July to 22 July: Bukit Timah Plaza, Causeway Point, The Seletar Mall
23 July to 5 August: Ang Mo Kio, Eastpoint Mall, NorthPoint City (North Wing), West Mall
13 August to 26 August: Bukit Panjang Plaza, Plaza Singapura, Sun Plaza, West Gate

Adults: $19.85 (weekday) | $22.20 (weekend) nett
Children aged 5-12 : $12.80 | $15.15 nett
Buffets are available in two 90-minute sessions on weekdays (6:15 pm to 7:45 pm, and 8:00 pm to 9:30 pm) and 3 sessions on weekends (4:30 pm to 6:00 pm, 6:15 pm to 7:45 pm, and 8:00 pm to 9:30 pm). Only the above pizzas will be served, along with soup of the day and 1 soft drink. Some add-ons such as mozzarella sticks and drumlets will be available at additional cost. Please make your reservations at http://pizzafestival.pizzahut.com.sg
But you know what I think is the best part of this Pizza Buffet? The fact that it's an ala-carte buffet, meaning the pizza slices will be served to your table piping hot, instead of pans and pans of pizzas being left on a buffet line. Piping hot pizzas means ooey gooey cheese!!!! And super crispy breadstick like outer-crusts! I remember going to Pizza Hut's pizza buffet several times years ago, and I always concluded that the buffet wasn't worth it because the pizzas were lukewarm and starting to get stiff. I would always throw a way a large part of the pizza base because it was greasy and hard when cold, rather than deliciously crispy when hot. I'm so glad they are going to be serving the pizzas ala-carte style, straight from the kitchen. I think it's going to be a winner!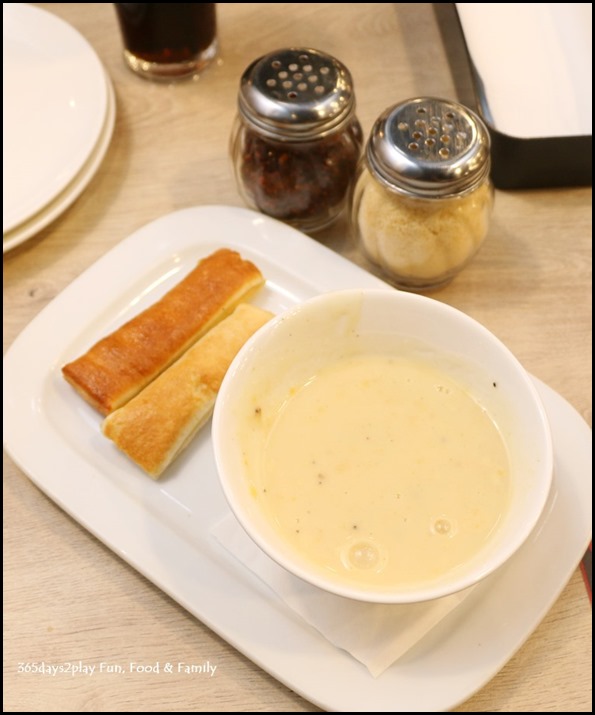 Breadsticks and soup of the day
Soup seems to have improved as in there are more ingredients in the soup now, for a bit more of a bite. Breadsticks were cold so I'd say save stomach space for the actual pizza crusts.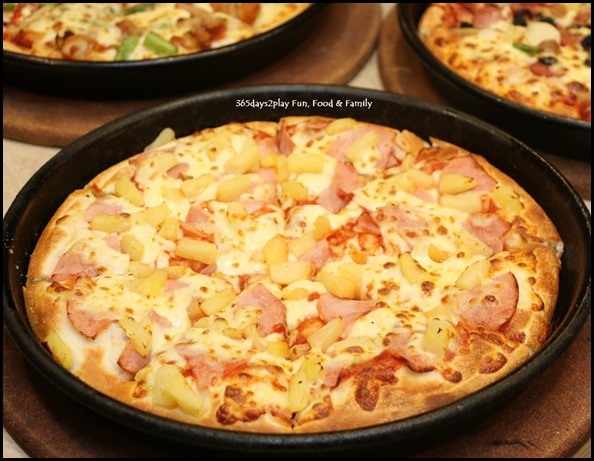 Hawaiian – My favourite!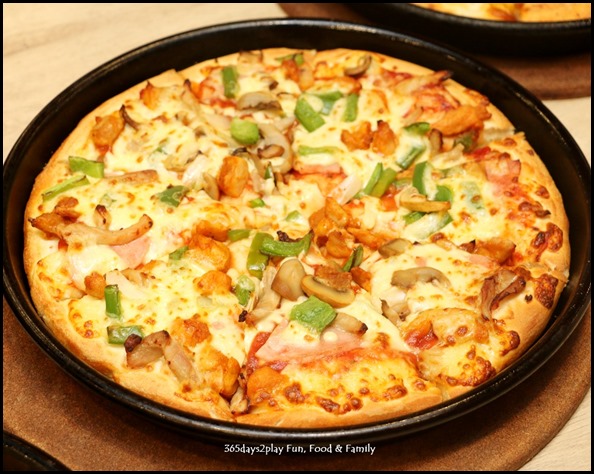 Chicken Supreme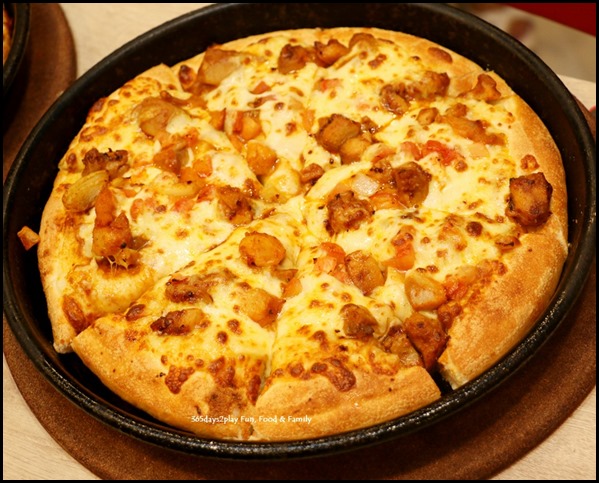 Curry Chicken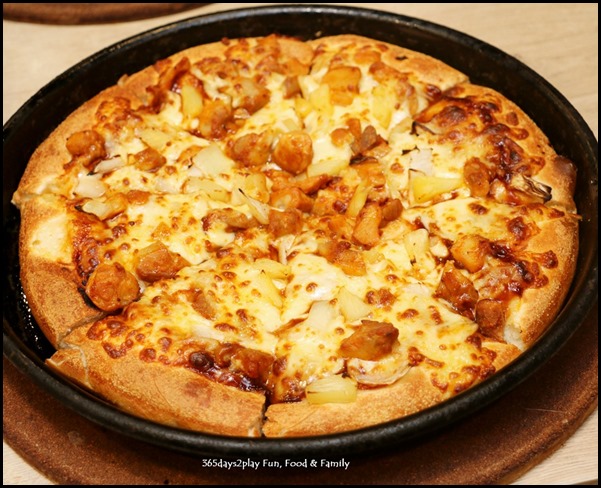 BBQ Chunky Chic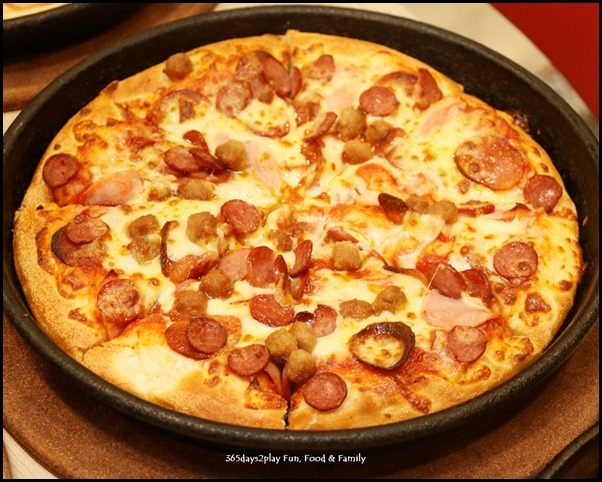 Meat Galore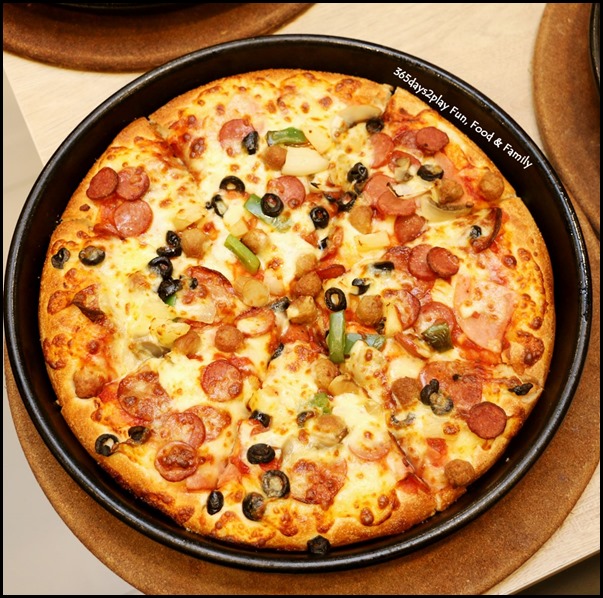 Super Supreme
This one has the most amount of veg, and if you like olives, go for this. The most instagrammable one too thanks to the colour contrast.
To be frank, I've always been a little hesitant to dine at Pizza Hut due to my childhood experiences. For very long, I've preferred Neapolitan pizzas (Italian style pizzas that are thin crusted and floppy) that you can get at any good Italian restaurant (eg Spizza). However, in recent years, I found myself going to Pizza Hut again specifically for its Pan Pizza. I really like the crispy (ok and somewhat oily) crusts, and I eat it like I'm indulging in crispy breadsticks with toppings. Of course it's not something that I can have often, and I treat it like a treat! So, I did enjoy the media tasting of the pizza buffet very much. As it is, I'm already salivating as I type this, and planning my next visit to Pizza Hut again.
If you love Pan Pizzas and can't get enough of them, this is the buffet for you! http://pizzafestival.pizzahut.com.sg
---
Add me on Facebook, Instagram and Twitter if you want to be kept up to date with the latest happenings in the food and lifestyle scene in Singapore!
---